March 15, 2020
Scholar-athlete Clare Minnerath '20 balances math and computer science research with hockey
By Vicki-Ann Downing
Clare Minnerath '20, a goalie for the women's ice hockey team, is as sharp in the classroom as she is on the ice.
The mathematics and computer science double major and member of the Liberal Arts Honors Program was one of two women chosen this academic year to receive the prestigious, full-tuition Clare Boothe Luce Scholarship, which recognizes excellence in academics and a commitment to STEM. Last summer, she was awarded a competitive internship funded by the National Science Foundation to spend 10 weeks on computer science research at the University of Colorado.
Minnerath accomplished this despite being sidelined with Hodgkin lymphoma for six weeks in 2018. After the diagnosis, she returned home to Sartell, Minn., to undergo six rounds of chemotherapy, missing the final month of her sophomore year. At her insistence, her final chemotherapy session was moved ahead so she could get back to campus to join her team in its first session on the ice and not miss a day of classes that fall.
Such determination is characteristic of Minnerath, who was named Hockey East Defensive Player of the Week in October 2019 after making a career-high 33 saves to preserve a shutout against No. 3-ranked Northeastern University.
"It's inspiring to see how competitive and determined she is to be the best she can be every day on and off the ice," said Matt Kelley, women's ice hockey head coach. "Our team and staff are so grateful to have a leader like her."
Balancing honors in academics with a Division I hockey schedule isn't easy, even if Minnerath makes it seem that way.
"It's a battle, that's for sure," Minnerath said. "I try not to miss the social opportunities as well. I do work on the bus rides. There's a lot of time management."
Minnerath began playing hockey in first grade, following in the footsteps of her older brother. Eventually, all five Minnerath siblings played the sport and the family added a hockey rink to their yard. Minnerath played goalie for the first time in fourth grade when her older sister's team was short a player. After that, she always volunteered to be in the net.
"They would rotate, but I always wanted to do it," Minnerath said. "It fits my athleticism."
At Sartell High School, Minnerath captained the women's ice hockey, soccer, and lacrosse teams while excelling in her studies. For college, she wanted to journey beyond Minnesota. She was recruited by PC and committed to play for the Friars just before her senior year. An invitation to join the Liberal Arts Honors Program was an added incentive.
"The research I've done with professors is something I never would have done at a larger university," Minnerath said. "Development of Western Civilization was challenging. It probably was the most work of any courses I've taken. It's something I am really proud of in my degree here. They do a good job preparing students in the honors program."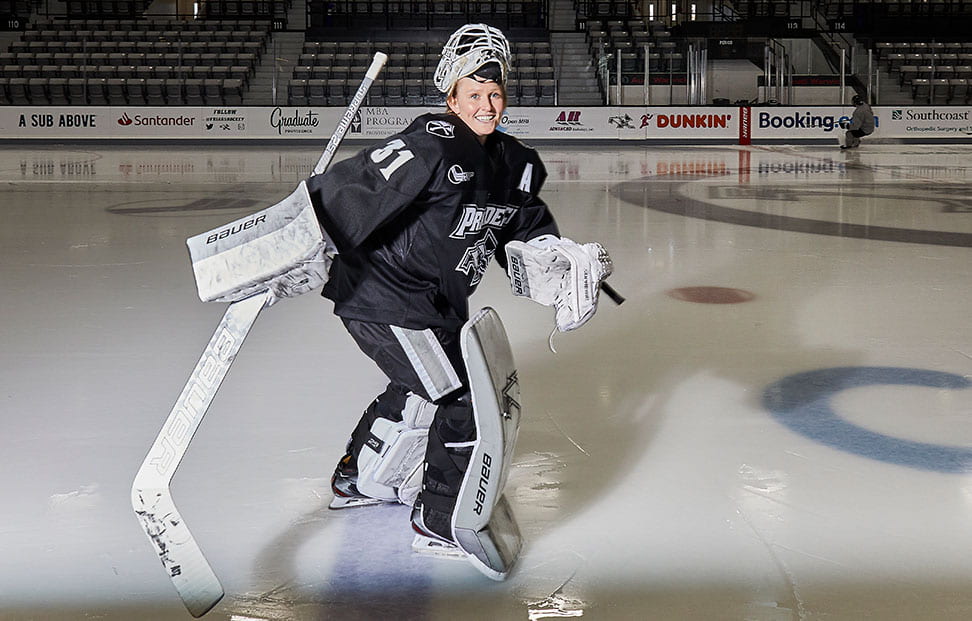 The Clare Boothe Luce Scholar Program, funded by the Henry Luce Foundation, makes it possible for two women each year at PC to be chosen as Luce scholars based on their academic standing, commitment to STEM, and interest in pursuing an advanced degree or career in the sciences after graduation. The award includes a full-tuition scholarship and a stipend for research with a faculty member.
Minnerath shared the honor this year with Julia Balukonis '20 (Hudson, N.H.), also a mathematics major.
Both have worked with Dr. Joanna Su, professor of mathematics, on topology research — the nature of how the surfaces of objects relate mathematically. To fulfill the Luce scholarship, Minnerath and Balukonis plan to teach computer science to girls at a neighborhood school in Providence.
"There are a lot of things worth mentioning about Clare — her intellectual ability, her precision in both mathematics and computer science, her balance between school and sports, her optimistic personality," Su said. "All of these may be matched by some of her peers, but her courage and strong will are second to none.
"Her peers always say, 'It's Clare!' meaning that her answer must be the right answer. I can see why they say that. In my research class last spring, we were trying to find a way to identify homeomorphic, one-dimensional topological spaces. Clare wrote a program solving this identification problem based on the results of another student in the group. Not only does this code give a new perspective to a mathematics problem, it received positive and popular buzz at the conferences we attended."
Minnerath also has worked with Dr. John Seiffertt, associate professor of computer science, on computational game theory — a computer simulation of the prisoner's dilemma. For the final semester of senior year, she is assisting Seiffertt with research in embedded systems — computer systems that have no computer interface and work with lower-level electrons.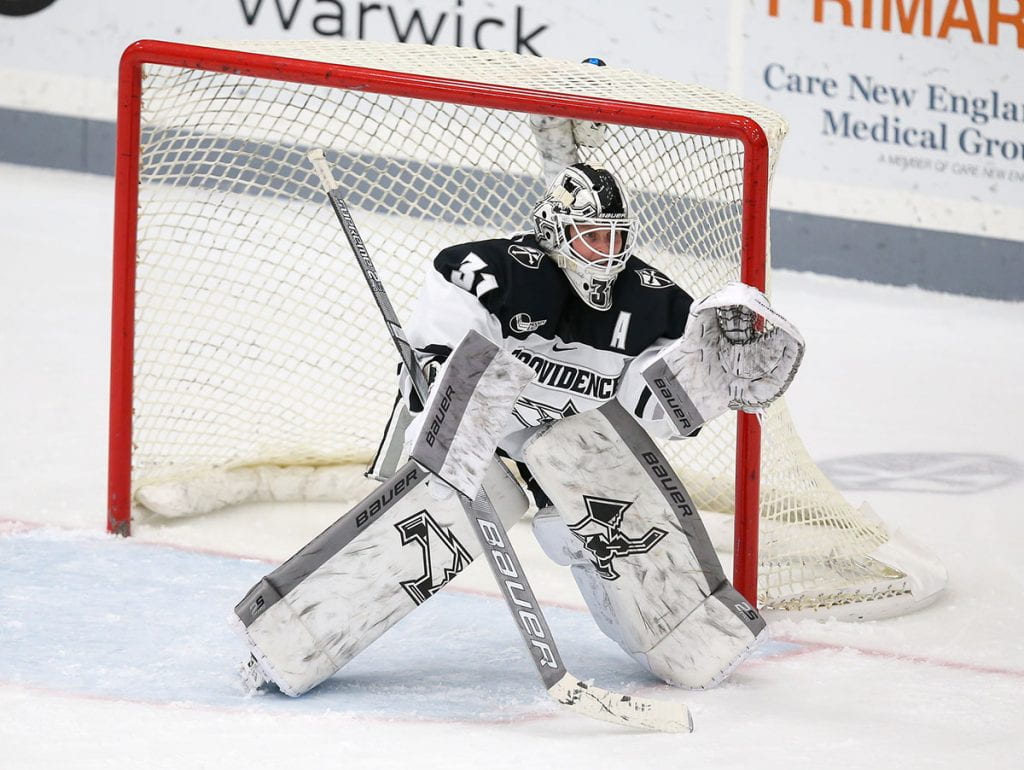 In April 2018, toward the end of her sophomore year, Minnerath was diagnosed with Stage 3A Hodgkin lymphoma. She felt a bump above her collarbone that she thought might be an injury or a cyst because she felt fine. But her mother suggested an MRI, and it revealed tumors in the lymph nodes throughout her chest. She needed six rounds of chemotherapy over the course of four months.
"The treatment is bad but the outcome is good," Minnerath said. "The goal was to get back to hockey for the next year and the medical team was on board with it."
That summer, while she underwent treatment, teammate Kate Friesen '19 stopped by to visit on a road trip to Minnesota. Other hockey alumni who lived in the state, Kendra Goodrich '17 and Blair Parent '18, visited as well. On campus, a "PC Beats Cancer" fundraiser raised $5,100 in Minnerath's honor. The money was donated to the Gloria Gemma Breast Cancer Resource Foundation.
When she felt well enough, Minnerath put on her skates and coached goalies at a rink near her home.
She recalls the sensation of returning to Schneider Arena for the first time in late August 2018.
"We arrived a day early and we got on the ice that day. I was so looking forward to it," Minnerath said. "It was quite a shock. I was like, 'Whoa, this is going to be a battle.'"
Cancer treatment damaged the nerves in her fingers and feet, affecting her balance. Jessie Fong, the team's assistant athletic trainer, developed an exercise program in the pool and on a stationary bicycle so Minnerath would not injure her joints. She also knit a hat to cover Minnerath's head after she lost her hair.
"I was bald for a long while of junior year, there was no hiding it," Minnerath said.
Su remembers her surprise when Minnerath returned to classes in the fall of 2018 to complete unfinished course work from the previous semester and "finish where she left off."
"Being a cancer survivor myself, I know how hard it must have been for her to stand on her feet this quickly, and how strong she needed to be to maintain all the excellence in academia and in sports," Su said. "She is the most strong-willed person that I have ever met."
By the fall of senior year, Minnerath's athletic testing scores were as good or better as they had been in her sophomore year. She continues to do balance exercises to combat numbness in her toes, and undergoes medical scans every four to six months.
Minnerath's family was able to watch her play in goal when the Friars traveled to Bemidgi State University in Bemidgi, Minn., in October. The family also visited Providence for Thanksgiving to watch the Friars defeat Brown University, 10-0, in the 25th annual Mayor's Cup, with Minnerath in the net.
For her honors colloquium last fall, Minnerath selected a Personalized Medicine course taught by Dr. Charles R. Toth, associate professor of biology. As a result, she now aspires to work one day in software for robotics, specifically the design and development of prosthetics.
After graduation, she plans to spend the summer traveling, then look for work in the software engineering industry before possibly attending graduate school.
Clare Minnerath: NCAA Woman of the Year nominee
Clare Minnerath '20 experienced Division I athletic competition, top research opportunities, and support from professors and teammates during her years at Providence College. Please consider a gift to make it possible for students with emergency need to continue to take part in all the College has to offer.
support emergency student need