July 13, 2022
School of Business workshop on diversity in case writing draws faculty from across the U.S.
By Vicki-Ann Downing
The Providence College School of Business hosted 30 faculty members from colleges and universities across the United States for a three-day, in-person workshop on writing and teaching business case studies to include protagonists and themes underrepresented in teaching materials.
Increasing diversity representation in business school teaching materials has been a priority of School of Business Dean Dr. Sylvia Maxfield, Ph.D. A review by the business school in 2019 highlighted what other national assessments have reported, that textbooks and case studies could be more reflective of contemporary business settings — showing people of color and women in leadership roles, for example.
This year's program followed a virtual workshop on the topic hosted by the business school in 2021 that was a sell-out.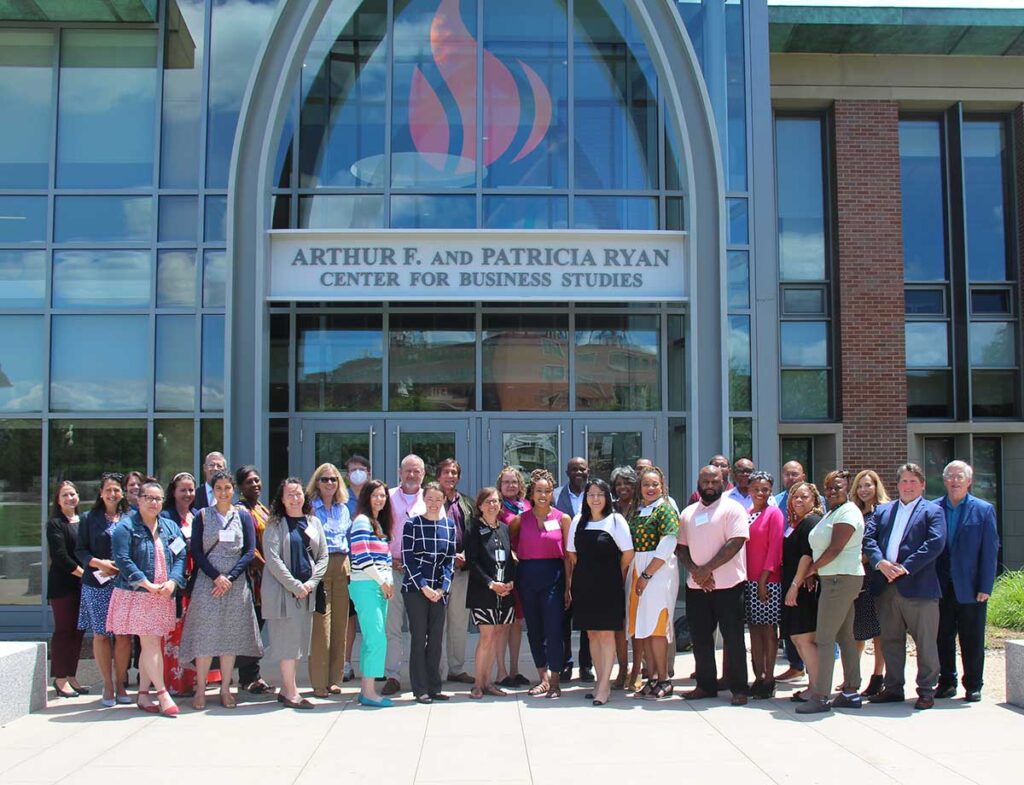 The PCSB-PhD Project Case Writing Workshop was presented by the business school in partnership with the PhD Project, an initiative of KPMG Foundation, Citi, AACSB, and GMAC that seeks to increase minority representation in business by increasing the number of business professors from diverse populations.
"Last year's virtual PCSB-The PhD Project was fantastic, but hosting this year's workshop in person at the Ryan Center for Business Studies was really special," Maxfield said. "Seeing ideas percolate and collaborations develop through face-to-face engagement was rewarding. I especially want to thank our sponsors, Sage Publishing and the PhD Project, and our instructors for making it possible. I can't wait to see the cases that are published as a result of this event."
Workshop topics included understanding the case writing and publishing process; creating a draft of a case and teaching note that included a person from an underrepresented population as a topic, a protagonist, or a focus; developing a community of case writers for continuing support; and growing case teaching skills in planning and delivery.
Workshop presenters were:
Andy Borchers, DBA, co-editor of the Journal of Critical Incidents and professor of management and associate dean of the Lipscomb University College of Business in Nashville, Tenn.
Ann Hackert, Ph.D., at-large director of the Society for Case Research and director of assessment and professor of finance at Idaho State University in Pocatello.
George L. Whaley, Ph.D., co-editor of the Business Case Journal, published by the Society for Case Research, and emeritus professor of human resources management at San Jose State University.
Morgan Bryant Reeder, Ph.D., assistant professor of marketing at St. Joseph's University in Philadelphia, attended the virtual conference in 2021 and signed up within an hour of receiving the invitation to the in-person program. She especially appreciated learning about the options for professors who wish to publish their cases.
"The conference was led by faculty who primarily sit on editorial boards for several peer-reviewed outlets for case studies, but also included representatives from Sage, a textbook publisher," Bryant Reeder said. "Some junior faculty, like myself, might seek outlets that satisfy the peer-review standard, while others who have achieved tenure and promotion but are still engaging in scholarly pursuits may be interested in different academic publications. It was great to have both perspectives."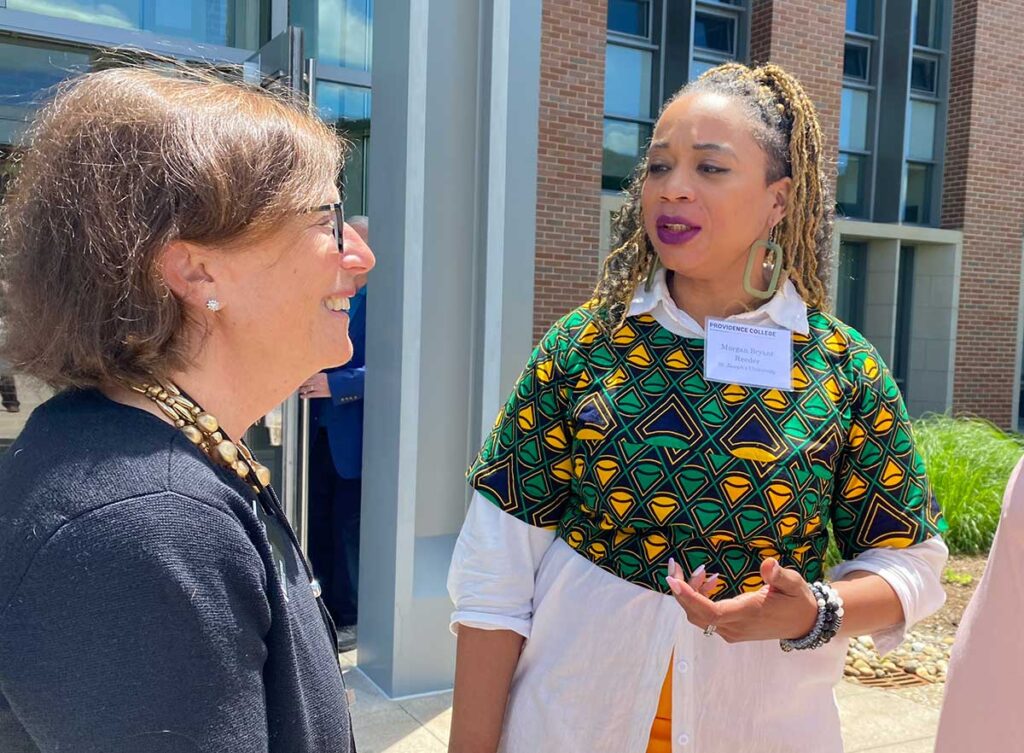 Stephanie Bryant, executive vice president and global chief accreditation officer for AACSB, the premier organization for business school accreditation, spoke via Zoom about the organization's support for scholarly research, including writing business cases.
"It was clear that a lot of consideration had been made to having an integrated perspective from key stakeholders," Bryant Reeder said.
Participants, who came from as far away as California and Texas, networked while enjoying breakfast and lunch on campus and experienced summer on the Rhode Island coast with dinner at a restaurant in Newport. They also brainstormed case topics and course materials, both in workshops and on their own.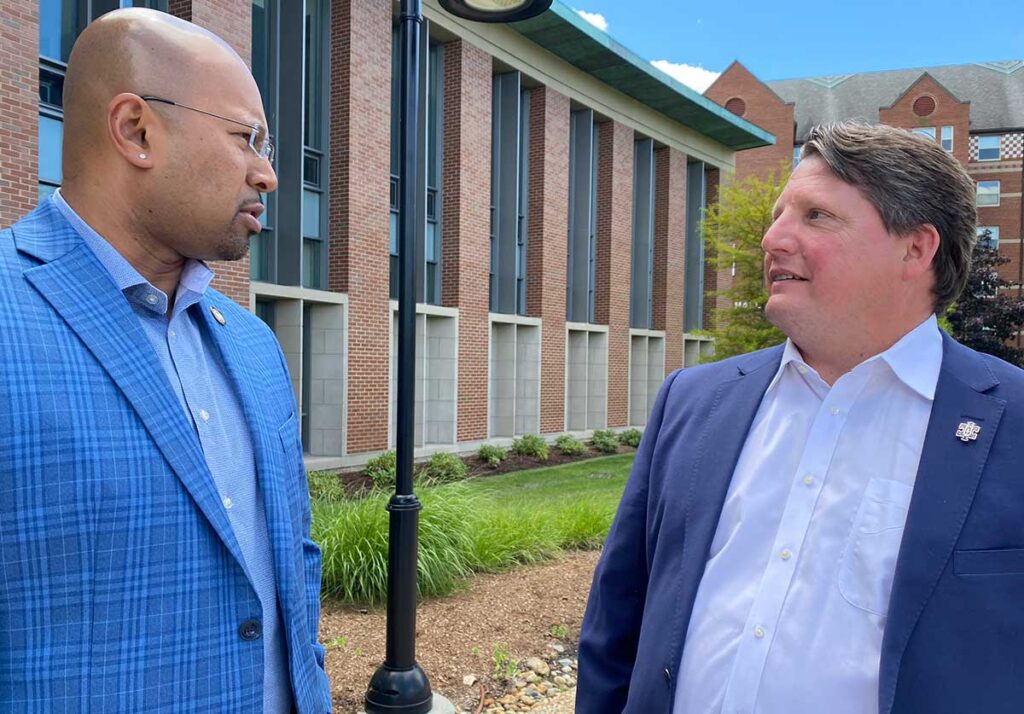 Sean Edmund Rogers, Ph.D., Spachman Professor of Human Resources and Labor Relations and interim vice president of community, equity, and diversity at the University of Rhode Island, said participants developed new writing partnerships, with several making plans to collaborate in the future on business cases dealing with issues of diversity and inclusion.
Bryant Reeder said she and another professor collaborated on a panel proposal for the upcoming Society for Case Research summer workshop in New Orleans.
"Hats off to Providence College and The PhD Project for investing in the creation of more diverse business cases," Rogers said. "Historically, business cases have lacked women and people of color as protagonists. Efforts like these truly help prepare students and future leaders for an increasingly diverse workforce and society.
"This case writing workshop, hosted through a partnership between Providence College and The PhD Project, is regarded as one of the best in the country for learning to integrate diversity into business case development," Rogers said. "I'm grateful to have had the chance to participate."
More Providence College news