July 07, 2022
Science researcher Colby Agostino '22 awarded prestigious Goldwater scholarship
Colby Agostino '22 is studying for a graduate program in biochemistry and molecular biophysics at the University of Pennsylvania.
By Vicki-Ann Downing
Colby Agostino '22, a double major in biochemistry and computer science at Providence College, has been awarded a Goldwater Scholarship — one of the most competitive and prestigious awards in the nation for undergraduates studying natural science, engineering, and mathematics.
Agostino, a junior from Andover, Mass., was one of 410 students selected from 1,256 nominees to receive the award. He is the fourth student in PC history to receive it and the second in the last two years. Emma McLaughlin '20, an applied physics major who received the scholarship in 2019, now is a Ph.D. student at Columbia University.
Agostino will receive $7,500 to offset expenses during his senior year, but the scholarship's value is beyond monetary. Students receive online mentoring and advice on graduate education. They are recognized as among the most promising undergraduate researchers in the country.
"It will help with my applications for graduate school," Agostino said. "I'll be applying this summer to large universities that prioritize research, ideally research at the interface of my two passions, computer science and biochemistry."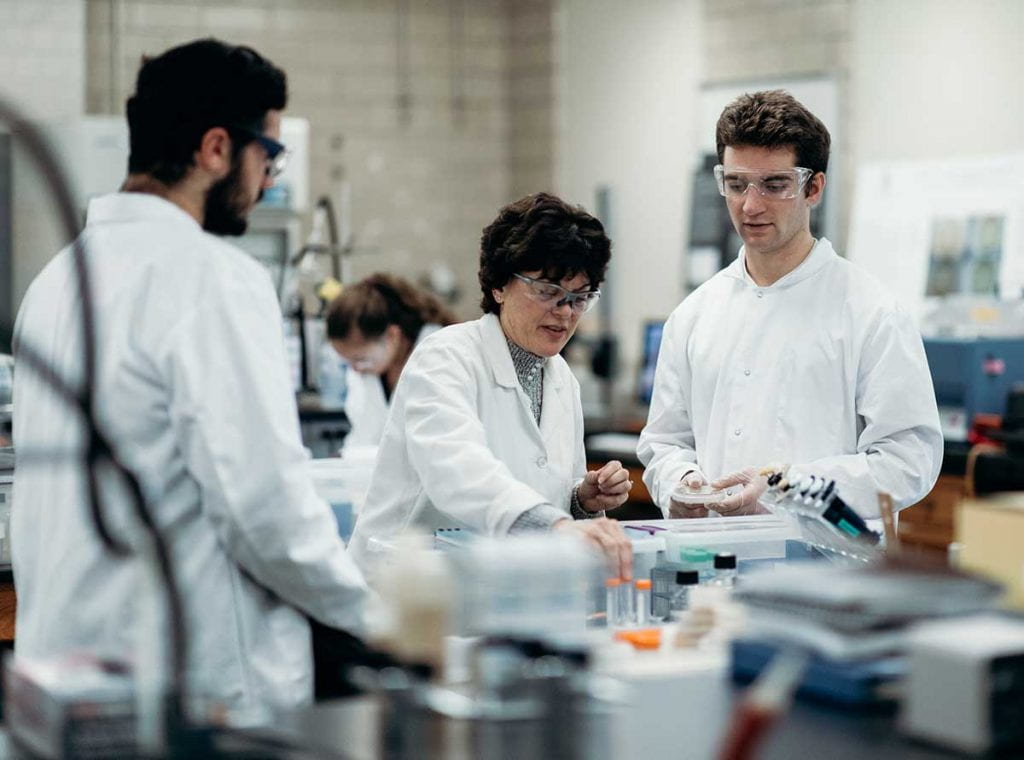 From the time he arrived at PC as a first-year student in fall 2018, Agostino has rarely left a research laboratory. For his Introduction to Biology course, he was assigned with other biochemistry majors to the lab of Dr. Kathleen A. Cornely, professor of chemistry and biochemistry. He continued to work with Cornely for the next two years, including both summers, when he was named a Walsh Student Research Fellow. Fellows receive a $4,000 stipend and $1,000 for materials through a bequest from the late Robert H. Walsh '39, '66Hon.
That early lab experience convinced him that research was his field.
"The first word that I think of when asked to describe Colby is quick," Cornely said. "He is so quick to learn a complex concept, a problem-solving strategy, a bioinformatics tool, or a technique in the lab. And he's also quick to participate in class, to lend a helping hand, and to assist a student who is struggling. The Goldwater award is huge. These awards are so competitive, and research-based, which means that larger schools usually have an edge on schools like PC. I think that it's really incredible that Colby won this prestigious award."
Cornely specializes in bacteriophage research through PC's membership in the Science Education Alliance, a partnership of Howard Hughes Medical Institute and the University of Pittsburgh. Phages are viruses that occur naturally in soil and have shown promise in treating drug-resistant infections. A phage collected by a PC student and genetically modified by Cornely helped save the life of a woman in England in 2018.
Agostino traveled with Cornely to present his research in the summer of 2019 at the 11th annual SEA Symposium at Janelia Research Campus in Virginia. During his sophomore year, he began working directly with ZoeJ, the phage that was used in the life-saving treatment. Cornely had modified a gene to make the virus more likely to infect a drug-resistant bacterium. Agostino worked to knock out a second gene, making the phage virus a double mutant.
"We started making real progress in March, and then the pandemic shut everything down and we got sent home in the middle of the experiment," said Agostino. "That was disappointing. I didn't think I would ever get to finish."
Agostino had hoped to spend the summer of 2020 at a Research Experience for Undergraduate program at a major university, but all programs were canceled by the pandemic before he could apply. From home, he reached out to his advisor, Dr. Seann P. Mulcahy, associate professor of chemistry, to ask if any professors needed help with computational research.
As it turned out, Mulcahy's National Science Foundation grant included a stipend to pay a research student. Agostino was able to do computational research for Mulcahy's lab for 10 weeks of the summer and into the fall — and he also returned to Providence five weeks early to complete his phage project for Cornely in July and August.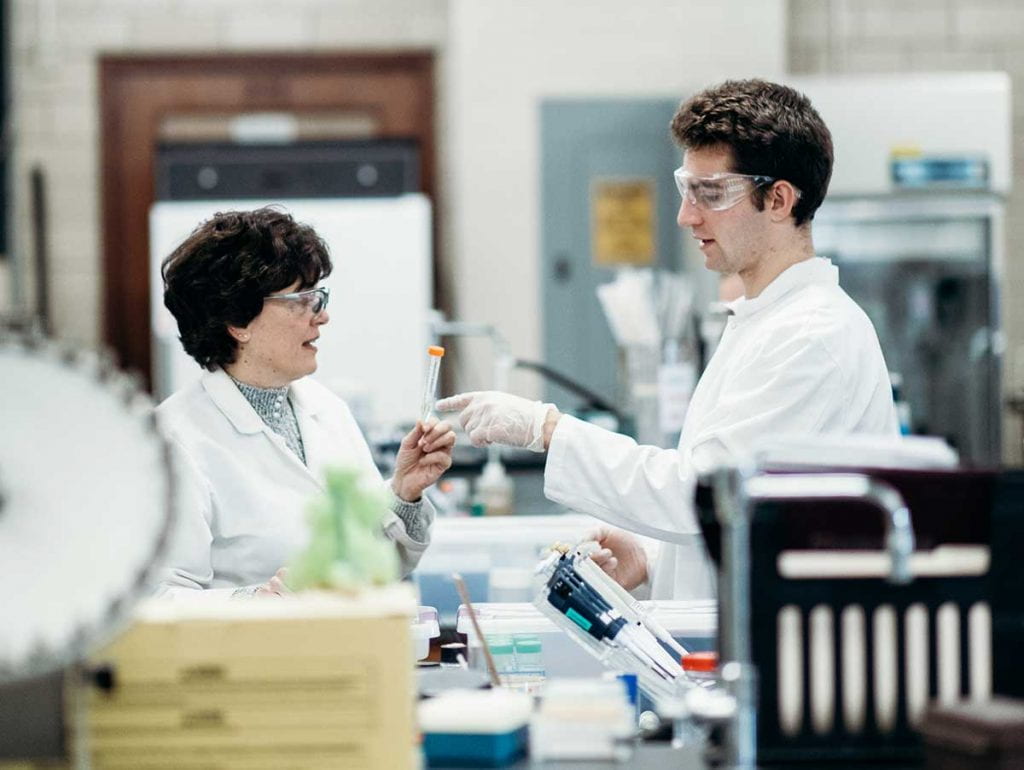 Mulcahy studies a class of biologically active molecules known as beta-carbolines.
"Over the course of our studies, we learned that some of these molecules were atropisomeric, meaning they had restricted rotation about a sigma bond and could be mirror images," Mulcahy said. "The major theme of our research is to develop new techniques for the synthesis of these molecules. A critical step to achieving this goal is to use high-end computational studies to direct our synthetic work.
"Using Spartan 18 remotely last summer, Colby built nearly 100 different molecules, minimized their equilibrium geometry, and performed a rotational energy scan using Density Functional Theory," Mulcahy said. "This is an incredibly remarkable feat to accomplish in a single summer. Without Colby's work to guide us, we would have been unfocused and flying blind in our experimental work. Over the last few months, he has been focusing on identifying the energy of a key intermediate in the pathway that we intend to use to make these molecules. His results thus far have been enormously impactful for the trajectory of our research, since it will guide us into informed decisions on substitution pattern, ligand design, etc., key factors that will determine the efficiency of our method."
Mulcahy was integral to Agostino's decision to attend PC. They met when Agostino visited campus for the first time with his parents at a day for accepted students. They arrived two hours early to look around and found Mulcahy working in his lab in the Science Complex.
"He took an hour out of his day to give us a tour of the science building," Agostino said. "He told us all about the renovations and about the science program. It was really cool that he interrupted his work to do that for us. It demonstrates what the chemistry department is still all about, personal relationships with students."
That evening, Agostino and his parents sat at Mulcahy's table at a dinner reception in Peterson Recreation Center.
"If I had to give one experience about why I came to PC, it would definitely be that connection," Agostino said.
Mulcahy remembers his first impression of Agostino.
"I was immediately impressed by Colby's intellect, ability to engage in conversation, and excitement for science," Mulcahy said. "Over the last three years, he has thrown himself into every academic opportunity offered to him. Colby is truly curriculum proof — nothing fazes him. He is incredibly gifted and talented, but he also knows the value of hard work. He is relentless in his pursuit of knowledge. He leaves no stone left unturned and asks insightful questions. He anticipates chemical problems and applies his knowledge to other areas well, and colleagues have said that he is always thinking one step ahead of them."
Agostino entered PC as a biochemistry major, then added a second major in computer science, inspired by a high school programming course. He continues to provide computational research for both Mulcahy and Cornely and also works as a laboratory technician for the chemistry department.
"I like computers, and I see them as a really powerful research tool that we should be tapping into more," Agostino said. "Why not use that resource to further science and better humanity?"
Agostino said he loves biochemistry because it provides a way to understand a complex world.
"Instead of one big, scary world in which you don't understand why things happen, you see everything in terms of chemistry," Agostino said. "You see that stuff happens because of the interaction of atoms. It definitely makes me feel more comfortable to understand the world as an orderly place rather than a confusing place."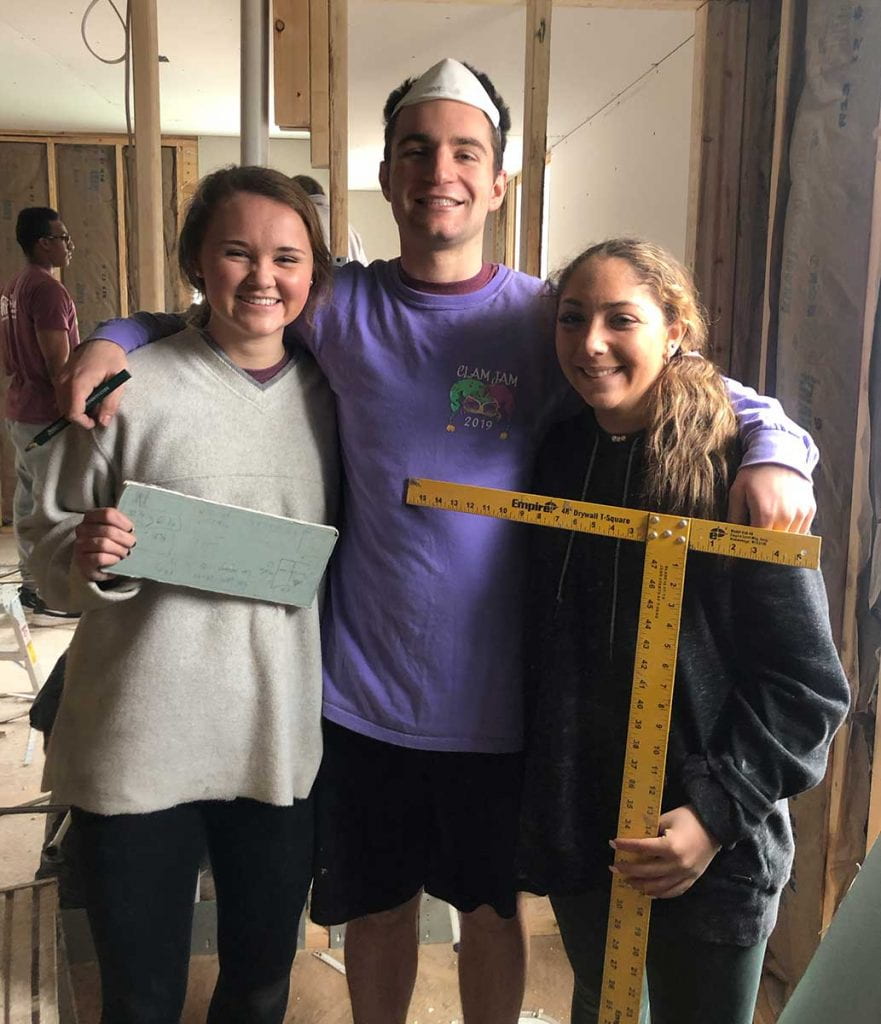 In March 2020, when PC announced that classes would be remote for the rest of the semester, Agostino was with PC's Habitat for Humanity chapter on spring break in York, Pa. He is the president of the chapter, which is part of Campus Ministry and recently signed a partnership agreement with Habitat for Humanity of Rhode Island-Greater Providence. He has worked on builds in Mechanicsville, Va., and York, Pa., on previous spring break trips.
Agostino learned construction in high school when his friend's father began building condominiums in his neighborhood. He walked over one day, asked for a job, and has worked for the company ever since.
Agostino also enjoys intramural sports, including indoor and outdoor soccer and basketball. Though writing and reading literature were never his strengths, he's discovered an appreciation for the liberal arts through courses such as the The Inheritance of Plato and the Philosophy of Science, and he looks forward to Biomedical Ethics with Dr. Licia Carlson, professor of philosophy.
It's been a productive three years for someone who found PC by accident. Agostino was months away from his high school graduation, with college acceptances in hand, when his younger sister toured campus as part of her own college search. She told him about the College's 3+2 engineering program, which allows students to study for three years at PC, then spend the next two years completing an engineering degree at Columbia University or the University of Washington in St. Louis.
"I thought that was cool and it interested me," Agostino said. "I looked at the application deadline. It was 8 p.m. and the deadline was midnight. I wrote the supplementary essay and submitted the application, and I was accepted into the honors program."
It has worked out well.
"I'm lucky — I love everything at PC," Agostino said.