April 25, 2017
Seafood joins menu of locally produced foods offered to students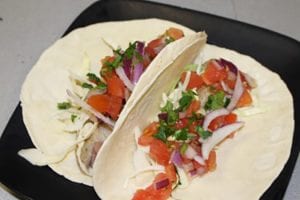 By Lauren Cotta '18
Providence College and its dining services partner, Sodexo, have added seafood to the list of locally produced foods offered to students at Raymond Dining Hall.
The latest addition to PC's local food vendors is Red's Best Seafood, a Boston-based fish wholesaler that collects from more than 1,000 independent New England fishing boats annually.
Once a week, Raymond Dining Hall features Red's Best Seafood as a main dish. The selection changes depending upon the catch of the day. The assortment includes pollock, haddock, and other white fish, allowing for an array of entrees ranging from stuffed cod to fish tacos. Every fish delivery arrives within 24 hours of being caught, allowing for prime freshness.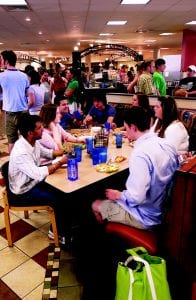 Alexa Merrill, executive chef of Raymond Dining Hall, said that students reacted positively to the seafood options with 100 pounds of fish being ordered and eaten each week. She added that several students complimented the new fish selection during a campus-run cooking class.
The addition of Red's Best fish builds on the assortment of fresh and healthy local foods and other products already offered at Raymond Dining Hall. Merrill discussed how the existing local food vendors, Sysco and Costa Fruit and Produce, have helped PC maintain fresh and quality produce for years. In addition, through Sodexo, PC has been a part of the Farm Fresh RI: Harvest of the Month program for several years.
The Harvest of the Month program provides fresh produce and dairy products from New England farms to Rhode Island cafeterias. Each month from September through February, the program features a different fruit and/or vegetable, such as apples, carrots, butternut squash, and herbs, depending on what's in season. Farm Fresh Rhode Island even provides each dining facility with colorful posters and sourcing information to help promote the produce and campaign for local farms.
Through this program, PC is supporting more than 60 local farms in Rhode Island and Massachusetts alone. Merrill explained how this support for local farms is integral for their sustainability.
"As a partner of Providence College, it's important to share how Sodexo supports the well-being of the community in our day-to-day operations," said Merrill. "The best way we can do this is by purchasing products from local sources such as Red's Best and by working with organizations like Farm Fresh RI."
Moving forward, Merrill said she aims to increase the variety of local foods offered and to align PC's menus with seasonal products in order to best serve PC students and the community.