May 18, 2020
Sean Richardson '20 mentors the marginalized
By Liz F. Kay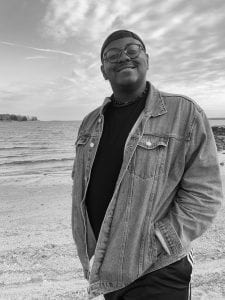 Sean Richardson '20 (Pawtucket, R.I.) came to Providence College to become a teacher but soon learned there was more than one way to educate others.
"It was like a big revelation, because I was like, 'I want to do something with education, but I don't want to teach,'" he said. "How can I teach outside of a classroom?"
He spent his time at the College advocating for others while on Student Congress, as a resident assistant, and as a mentor for younger students of color at PC. Soon, he will begin a graduate program in higher education student affairs at Boston College. In the future, Richardson is hoping to work with multicultural, first-generation, LGBTQ+, and otherwise marginalized student populations, "basically students who feel isolated in a way," he said.
"My foot is in many different parts of student life and in different pockets of student affairs … all of those different things definitely helped me manage my growth as a person of color at Providence College," he said.
Before he started his first year, Richardson spent five weeks in the third class of Friar Foundations, a program designed to ease the transition to college. "I think it really helped a person like myself, from an inner-city public high school," he said. "It helped me understand that college was the real deal."
"In a matter of five weeks, I was realizing I had potential as a learner, and I have potential to educate other people as well," Richardson said. He made his closest friends during the program, people he's still friends with today, and he served as a mentor in the program for two summers.
Richardson came to PC thinking he wanted to major in English and secondary education. However, after taking an introductory sociology course during Friar Foundations, he was inspired to change majors to sociology.
He also declared a major in public and community service studies even before he took Introduction to Public Service during his sophomore year because he had done a lot of service at his local Boys & Girls Club while growing up. "I said to myself, 'I know I'm really going to want to do this. I'm passionate about it,'" he said.
The two academic areas complement each other. "Public service is kind of like sociology, but with solutions for things," he said.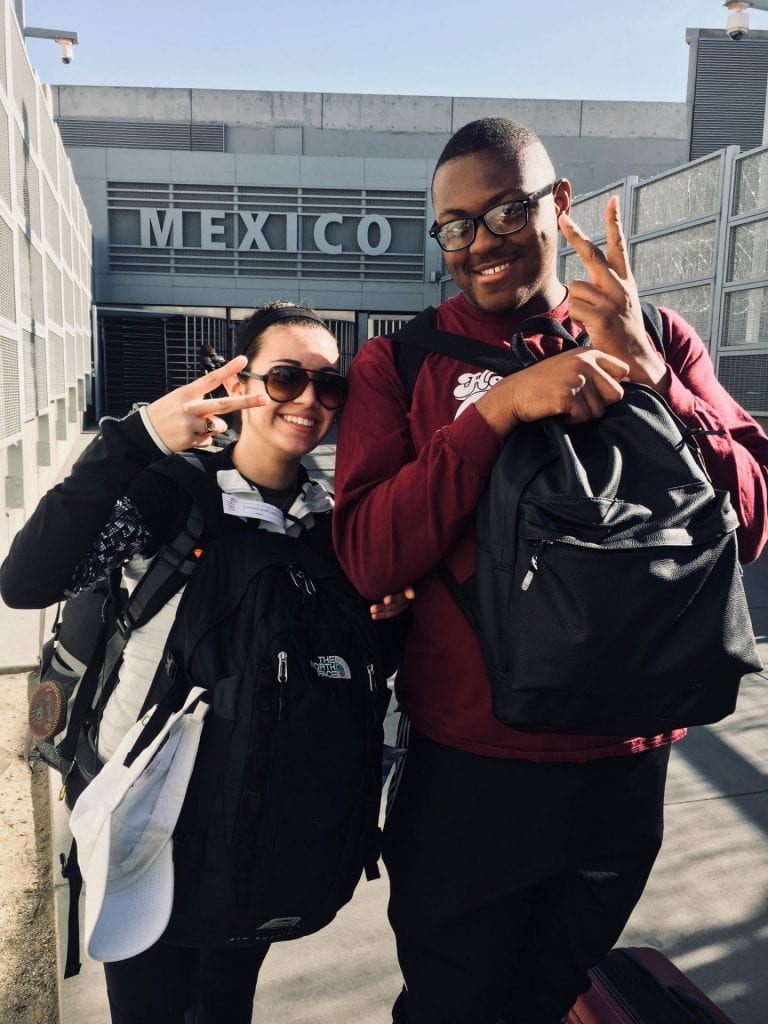 Richardson took his first airplane flight as a sophomore, traveling to San Diego, Calif., and Tijuana, Mexico, for Global Border Crossings, a global service-learning course taught by Dr. Kara Cebulko, associate professor of sociology. The students walked across the U.S.-Mexico border to work with Tijuana residents to build houses through the nonprofit Esperanza International.
The experience gave him and other students on the trip a chance to get to know the people in these communities.
"When I heard certain stories, I was just kind of like … people back at Providence need to hear these stories, because there's so much going on outside of PC but also outside of the United States that we don't even know about," he said.
Courses with Cebulko motivated Richardson to pursue the immigration advocacy track of the public service major. Last semester he did an independent study with Cebulko and the Providence Immigrant Rights Coalition, a PC student group, on how higher education institutions such as Providence College support undocumented students.
Richardson "lights up a room with his smile, compassion, and excitement," Cebulko said. "This energy spills over to his peers in the classroom, creating a more dynamic learning space for everyone — the other students and the teacher." 

She said that he has a real passion for learning, for conversing, and for making his local and global communities more equitable and inclusive spaces, but one of Richardson's greatest skills is his ability to bring people from different perspectives together to engage in challenging conversations.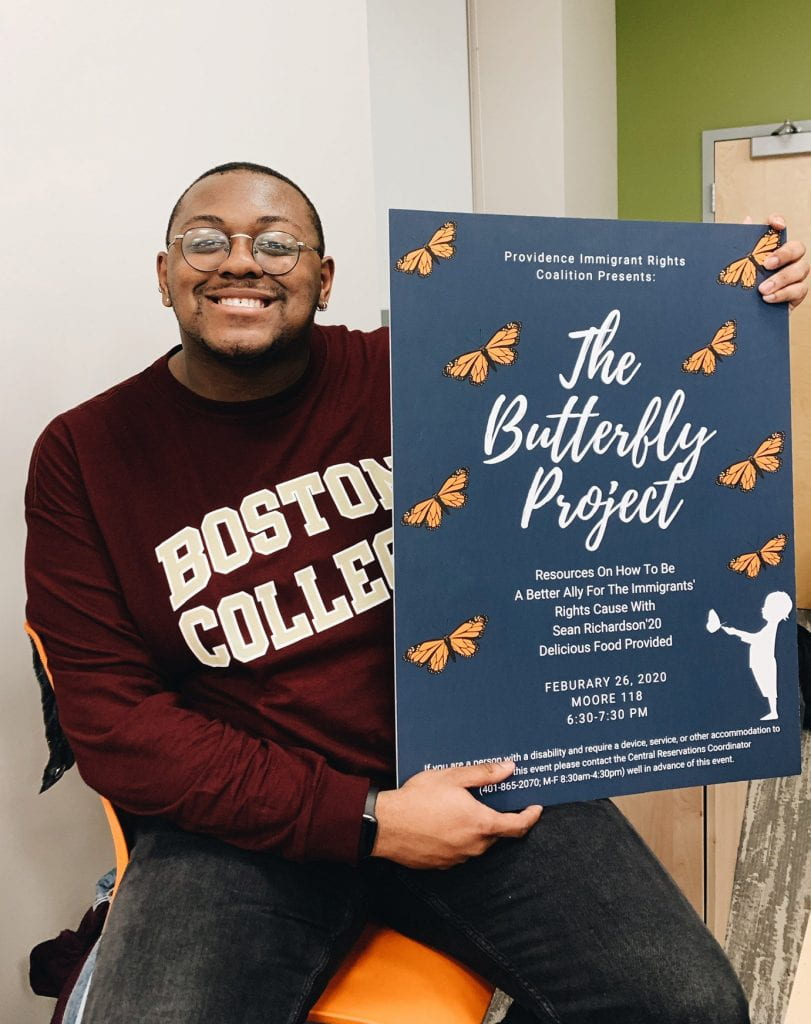 As part of his independent study, Richardson worked with the student immigrant coalition to organize an event called "The Butterfly Project" to share his research and talk to his peers about how to make PC a more inclusive space for students from immigrant families. He reserved a room in the Center at Moore Hall expecting 20-30 people, but more than 60 attended.
"This is a testament to Sean and his passion for this project — he reached out to his networks and people who had never considered attending an event like this found their way to Moore Hall that night," Cebulko said. "And for many of those students, it was their first time engaging in conversations about immigration on campus."
Richardson was on Student Congress for four years, starting as vice president of his first-year class and ending as executive vice president his senior year. Through Student Congress and Horizons, a mentoring program for multicultural students, he was able to advocate for safe spaces for students of color, as well as dining services, mental health initiatives and policies for sexual assault and diversity and inclusion. In addition, as an RA, including two years as a head resident assistant in McDermott and Fennell hall, Richardson said he was able to advocate for students in different circumstances.
Richardson had this advice for incoming students, "Take risks, know your worth, and don't settle."
When he looks back on his years at PC, one memory that stands out is performing as part of Motherland Dance Club during Late Night Madness his first year, with so many screaming students in the audience at Mullaney Gym. He was so nervous, but by the time it was over, he wanted to dance more. "It was very overwhelming, but it was so much fun," Richardson said.
He had never done anything like that before, but a lot of his friends were in the group. "I thought, 'You know what, let me try out a part of my more African side,'" he said. It was very manageable and a fun outlet for the stress of his first year.
When classes shifted online, and most students returned to their homes, Richardson remained on campus. He said that remote learning was a challenge at first. "There was a lack of routine, and that really threw me off. … I felt like the semester was over, but I'm thinking, well, that's not true." Ultimately, he was able to figure out what he could change about his everyday situation. Faculty were transparent about how the situation impacted them, as well, and were accommodating about changing assignments.
He described in a short pandemic story his decision to bleach his hair blonde to celebrate his 22nd birthday in April. "There's always something you can do to better yourself, whether it's dying your hair, or being dramatic," he said. "I said, 'OK, good — there's something I'm still in control of … I'm turning 22, so let me go through it right.'"
Please consider a gift to The Fund for Providence College to make it possible for all students to continue to experience the value of a PC education.
support emergency student need