May 19, 2019
Serve as lighthouses to others, Pemberton exhorts graduates 
By Vicki-Ann Downing
Graduates were urged to be lighthouses — beacons of hope and direction for the community, for loved ones, and for those in need — by Steve Pemberton, author and human rights advocate, who was the featured speaker at Providence College's One Hundred First Commencement Exercises on Sunday, May 19, 2019, at the Dunkin' Donuts Center in downtown Providence.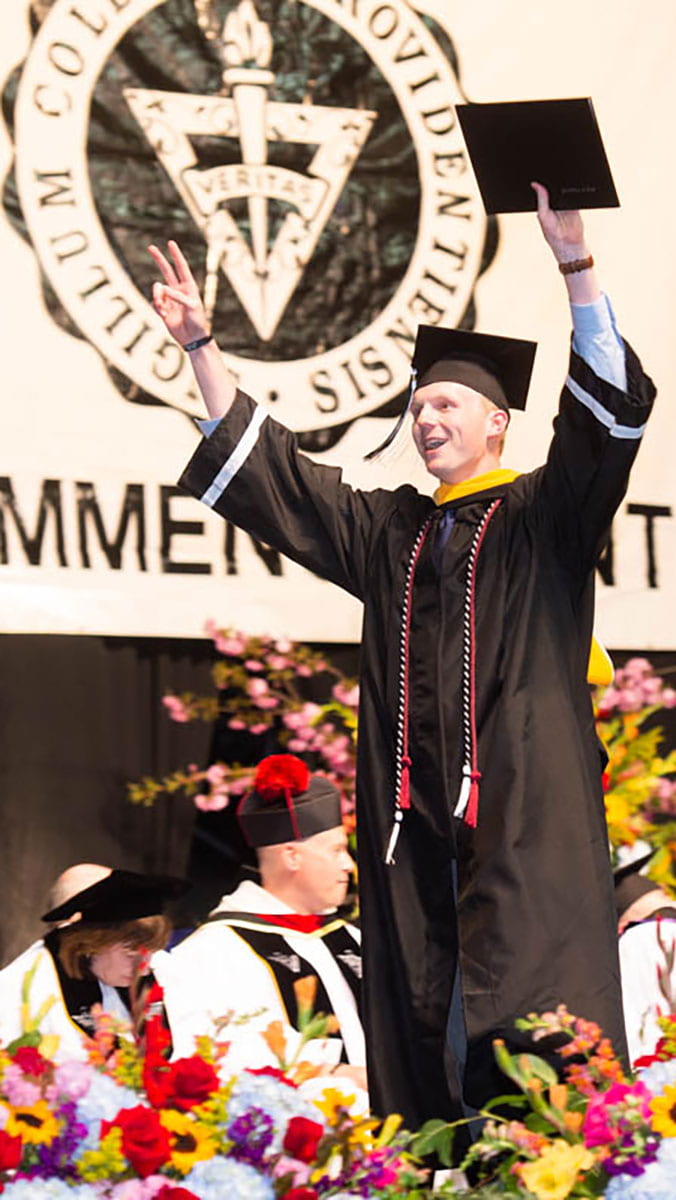 "Let your life be a lighthouse," Pemberton exhorted graduates. "Let your life be a lighthouse for this college that taught you. Let your life be a lighthouse for your community who raised you. Let your life be a lighthouse for your family who loves you. Let your life be a lighthouse for our nation. And most importantly of all, let your life be a lighthouse for another that needs you."
Pemberton, chief human resources officer for Workhuman, a social recognition and performance management platform based in Framingham, Mass., was presented a doctor of public service degree as one of six honorary degree recipients. The College conferred 1,188 degrees, including 961 bachelor's degrees to full-time undergraduate students; 202 master's degrees in business administration, education, history, mathematics, and theology; and 19 degrees to students in the School of Continuing Education.
An honorary doctor of science degree was awarded posthumously to Dr. Stephen J. Mecca '64 & '66G, longtime professor of physics who encouraged students to join him in research projects to improve health, sanitation, and education around the globe. It was accepted by his children, Dr. Laura E. Ray, Lisa K. Sallee '88, Stephen D. Mecca '88, and Michael R. Mecca '90 & '92G.
The other recipients were Sister Larraine Lauter, O.S.U., executive director of Water With Blessings, doctor of divinity; Marta V. Martinez '79, founder and executive director of Rhode Island Latino Arts, doctor of fine arts; Marifrances McGinn, J.D., retired vice president and general counsel for PC, doctor of civil law; and John M. Murphy, Sr., founder, president, and CEO of Beara Capital, LLC, who also established a scholarship at the College to honor Dr. Kenneth R. Walker '57 & '83Hon., doctor of commercial science.
College President Rev. Brian J. Shanley, O.P. '80 introduced Pemberton as an instrumental role model who rose above challenges to become a light for others, especially those denied opportunity. He is a successful business executive, impactful philanthropist, and a motivator beyond compare, recognized for his diversity and inclusion efforts in the workplace and beyond, said Father Shanley.
Pemberton grew up in foster care in New Bedford, Mass. After his graduation from Boston College, he began research and discovered that his mother had died from addiction and that his father, an amateur boxer, had died as a victim of gun violence. His story was detailed in his book, A Chance in the World: An Orphan Boy, A Mysterious Past, and How He Found a Place Called Home (The History Press, 2012), which was made into a movie in 2018.
During his address, Pemberton mentioned his longtime friendship with Ed Cooley, the Friars' men's head basketball coach, which began when both worked at the University of Massachusetts in Dartmouth and at Boston College, Pemberton in admission and Cooley in basketball. (Cooley's wife, Nurys Cooley '19SCE, received a bachelor of arts degree from the School of Continuing Education at the ceremony.)
"The lives that we live today as husbands, fathers, community citizens, and leaders in our respective professions were the lives that we dreamed of back then," said Pemberton. "If nothing else, our lives are proof and evidence to you that the whisper of a dream that lies in your heart today can actually, some day, one day, come to pass tomorrow."
Both Cooley and Pemberton were changed by people "whose goodness bent the arc of our lives," Pemberton said. For Cooley, it was Eddie and Gloria Searight, neighbors who took care of him in his youth. For Pemberton, it was John Sykes, a teacher at New Bedford High School, who took him in when he left an abusive foster home during high school.
Pemberton gave the graduates an assignment as their last professor, delivering their last lecture: "Let those who are your light know how important they are to you. Text them, call them … if they're not here, pray to them. Your assignment is due today."
Pemberton said he did not need to wish the graduates success, because their PC degrees made success for them more likely than not. Instead, he wished them something greater, fulfillment.
"I am not in a position to tell you what that actually looks like, in large part because I'm still trying to do that myself," said Pemberton, who is a husband and a father to three teenagers. "The fulfilled life is always one in motion."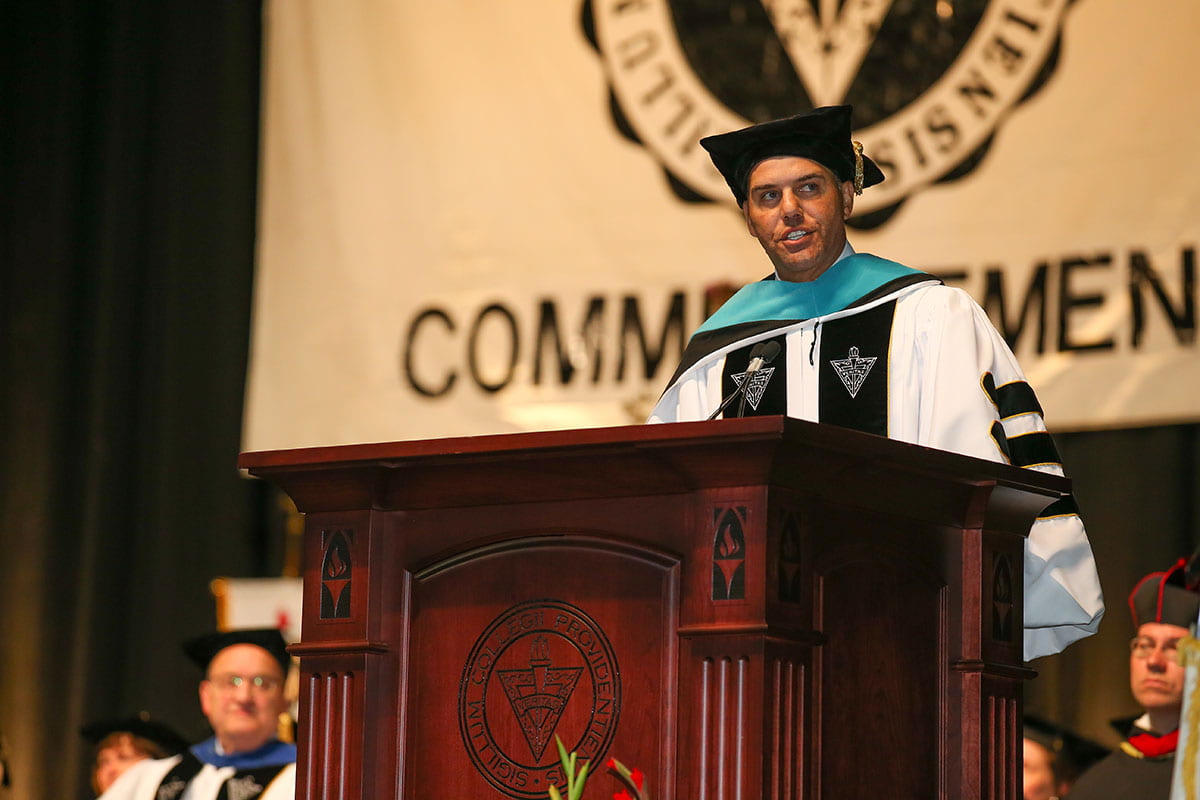 After being named commencement speaker earlier this year, Pemberton spoke by telephone with a group of student leaders to ask what message they would like to hear. Before the commencement ceremony, he walked among the graduates and introduced himself, and he mentioned several by name as "lighthouses" in his address.
"The lighthouse is a power structure in the sea. It needs no recognition. It seeks no reward. And though lighthouses are different sizes and colors … they are always illuminating the path to stability and safety," Pemberton said. "There are 21 lighthouses along the Rhode Island coastline, and now that we have conferred your degree upon you, there are over 1,000 more, because the most powerful lighthouses in the world are the human ones."
Full text of Pemberton's speech
In his remarks to open the ceremony, Father Shanley discussed the philosopher Susan Wolf's exploration of the central tension in ethics — how to reconcile the conflict between the natural human desire for happiness and fulfillment with the duty to respect and promote the good of others.
"In the end, Wolf suggests that love is the meaningful thread that weaves our lives together into a coherent whole," Father Shanley said. "Love gives you reasons that move you to connect to you to the world and contribute to it."
That love is God's love, Father Shanley said, and "in that love, you will discover how to balance your desire to be fulfilled with your desire to serve your neighbors in a life filled with meaning."
Mark E. McGwin III '81, president of the National Alumni Association, congratulated the class on joining an alumni network that is 55,000 strong. There were 96 legacy students among the graduates, including 24 who shared a legacy with both parents. McGwin noted that his sister, Maureen Geller '83, also is an alumnus.
"It is a day that the phrase 'Providence College family' takes on special significance," said McGwin, remembering how supportive Friar alumni in the Boston area were when he reached out to network and develop business opportunities there. "As with the day that you first set foot as student at Providence College … you are 'Forever a Friar.'"
Caroline Cook '19 (Hingham, Mass.), president of the senior class and a marketing major, shared memories, including storming the court at the Dunkin' Donuts Center when the Friars defeated top-ranked Villanova in men's basketball during junior year.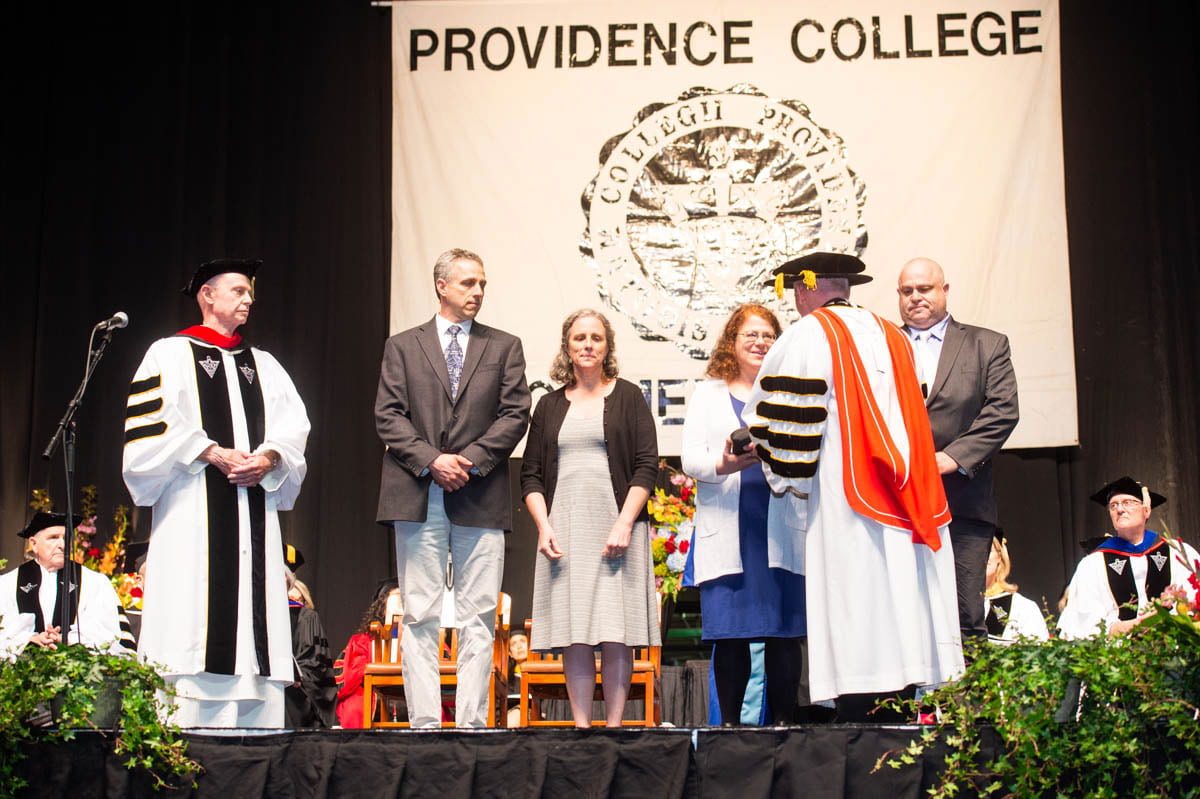 "We have gone through Civ, eating in Ray, living in Aquinas, going abroad, and living off-campus together, things that make the PC community as strong as it is," Cook said. "As we move into the next stage of our life, let's take the sense of community that made us feel at home with us."
Ariana Tomasi '19 (Kingston, Mass.) led the singing of "The Star Spangled Banner," performed by Providence College Symphonic Winds under the direction of Dr. Eric C. Melley, director of instrumental activities. Aisling Sheahan '19 (Scituate, Mass.) and Evan Brandow '19 (Mattituck, N.Y.) led the singing of the Alma Mater.
Very Rev. Kenneth R. Letoile, O.P. '70, chairman of the Providence College Corporation and prior provincial of the Dominican Province of St. Joseph, offered the invocation and assisted in conferring the honorary degrees. Rev. Peter Martyr Yungwirth, O.P., College chaplain, presented the benediction.
Providence Mayor Jorge O. Elorza, J.D. offered greetings from the city and congratulations to two of his friends receiving honorary degrees, Martinez and Murphy.
Commencement 2019 photos 1
Commencement photos 2