October 17, 2022
Service opportunity led Lydia Watson '22 to a love of teaching
By Vicki-Ann Downing
Looking back over her four years at Providence College, Lydia Watson '22 sees God's providence in every important decision she made.
Watson, who majored in global studies with two minors, marketing and Spanish, is now participating in a one-year service program with Seton Education Partners. She is teaching at Romero Academy at Resurrection in Cincinnati, a nonprofit that prepares students from pre-kindergarten through eighth grade to attend the city's most selective high schools.
Discovering a heart for teaching came to Watson in an unexpected way. As a volunteer in the Youth Education program offered by PC's Campus Ministry, she began teaching religious education classes and offering retreats for young people at two Rhode Island parishes, St. Brendan in Riverside and St. John Vianney in Cumberland.
"I loved teaching the faith," Watson said. "I began to think, 'Where could I do something like this for the whole academic year?'"
Watson said she never thought about a teaching career before college, but "God had other plans. My mother is a teacher. I love kids. I like to be creative. I don't want to be in an office space."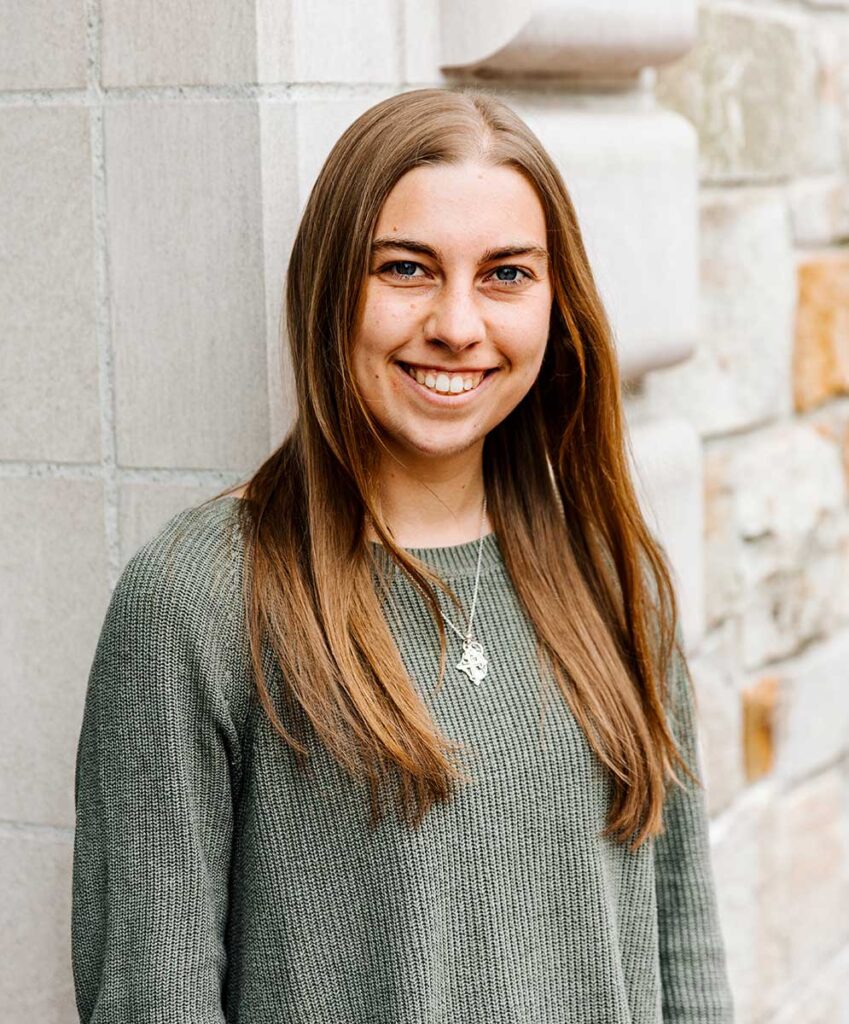 At the Academic Awards Ceremony prior to commencement, Watson received the Rev. Vincent C. Dore, O.P. Award for recognition and dedication to community service, especially working with young people.
Undecided about a major when she arrived at college, she recalls sitting in the hotel room with her mother and worrying about classes she had been assigned in anthropology and global studies — what were they even about?
As it turns out, she should not have worried.
"I loved anthropology," Watson said. "I loved learning about people and community. I loved global studies, too. We studied social issues, like the economy and fast fashion."
In a public art course with Nuria Alonso García, Ph.D., professor of global studies and of secondary education, Watson visited AS220, a home for public art in downtown Providence. With Jim Tull, adjunct faculty in global studies, she went to a community garden to learn about farming and composting.
"As a global studies major you get experience outside the classroom," Watson said. "You do a lot of reflecting and journaling. In our first year, we wrote about what it meant to be a global citizen, and then we repeated it senior year to see how our views had changed."
In Watson's sophomore year, she chose Dialogue, Inclusion, and Democracy as her Development of Western Civilization colloquium. It is taught by Nicholas Longo, Ph.D., professor of global studies and of public and community service studies, and Quincy A. Bevely, Ph.D., assistant vice president for institutional diversity.   
"I loved it. I think it's the only class that can truly fulfill the diversity requirement," Watson said. "We did affinity groups to hear from different people. It's the class that helped me grow the most. We talked about how Black students and other students of color experience race. It was a super brave and safe space. I learned so much and met so many cool people."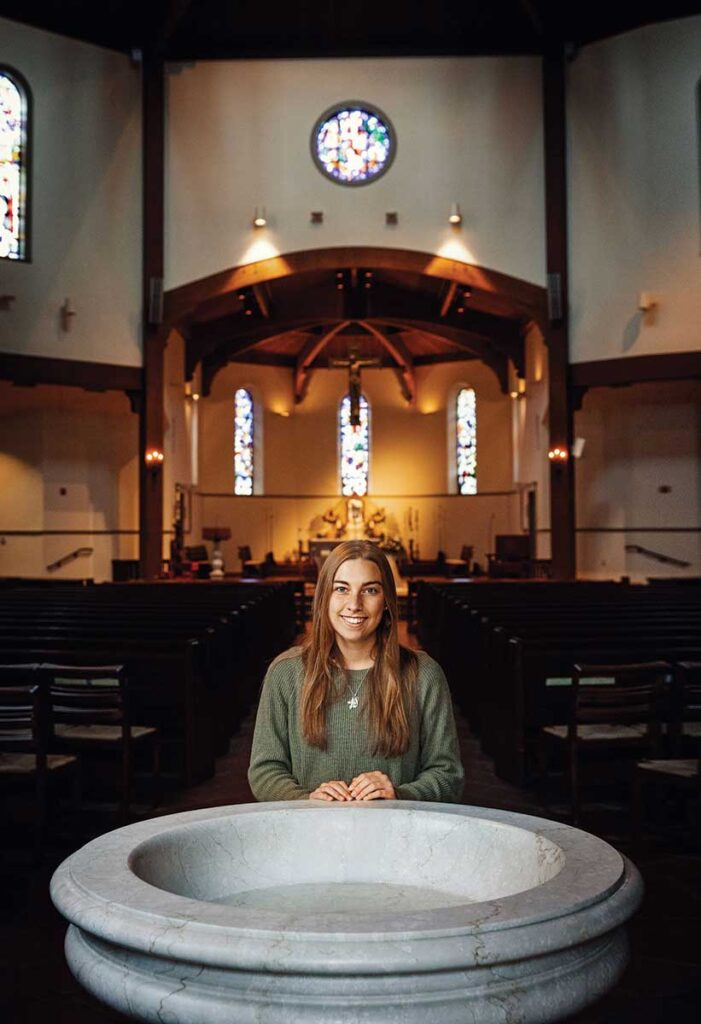 Global studies majors are expected to study abroad or participate in a "study away" program in the United States. Watson was ready to embark on a semester in Seville, Spain, for the spring of 2021. She even planned to take a flamenco class, but the pandemic canceled the trip.
Watson chose to minor in Spanish, which she has studied since kindergarten, as a tribute to her Cuban-born grandmother. She chose to minor in marketing for its creative aspect — she loves creating PowerPoint presentations. She interned as a sales representative at Mondelez International, the global snacks business of Kraft Foods.
"I had my own territory and stocked shelves," Watson said. "I took an interesting course in international retailing with Dr. Ronald Jelinek that was fantastic. I think I'm a teacher, though."
Watson was the oldest four children growing up in Fairfax, Va., and the first to leave home for college. She attended a public high school. At a college fair with her father, she heard a woman calling to her from across the room. It was the alumni representative manning the Providence College table.
"I loved what she had to say about the Dominicans and the community life at PC," Watson said. "She expressed so much joy."
Later, her father told her that he knew from that moment on she would attend Providence.
Watson applied Early Decision, making PC her first choice. After she was accepted, she decided to join FaithWorks, a service immersion program of Campus Ministry that allows first-year students to arrive on campus early and introduces them to service opportunities in the area.
"I decided on a whim," Watson said. "It was the last chance to register. I told my mother, 'I just need to do this for some reason, I don't know why.' It was divine providence again. I met so many of my friends through FaithWorks."
Watson found a welcoming community in Campus Ministry, where "people are so joyful. They find joy in the little things. Everyone says hi. When you walk in, it's 'How are you doing?'"
She played intramural ping pong and inner tube water polo, swam on the club swim team for two years, and was a member of the Irish Dance Team for all four. But her most formative experiences came through Campus Ministry. She sang with the Liturgical Choir at 7 p.m. Mass on Sundays, except during junior year, when COVID-19 prohibited singing and she was a greeter and usher instead.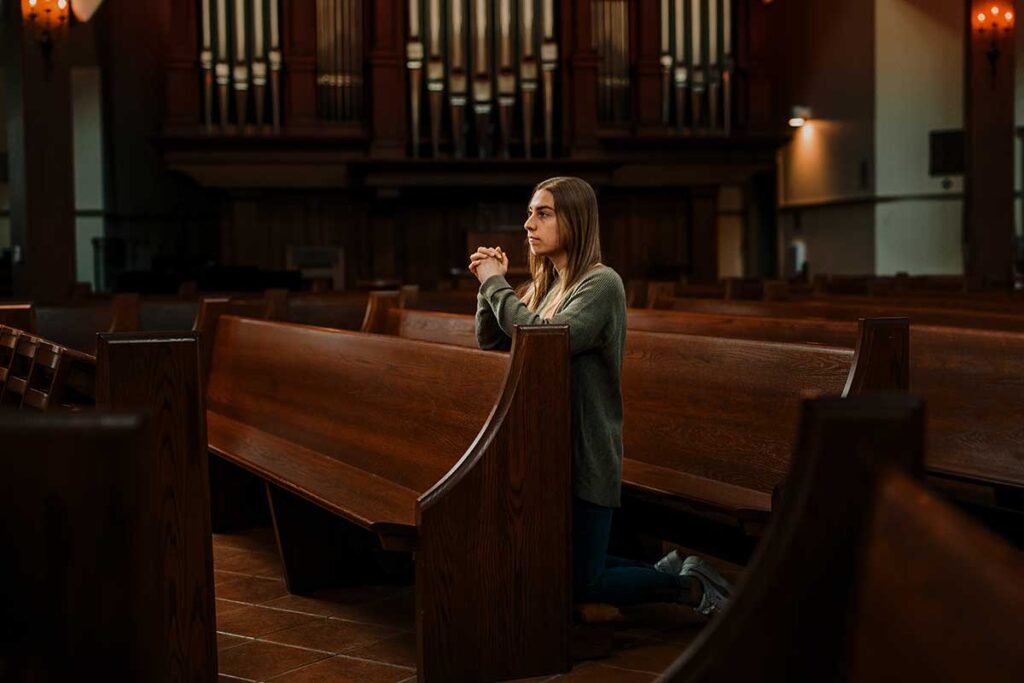 For a social media post on the Campus Ministry account, she wrote about her experience with anxiety during her sophomore year.
"I constantly worried about my family hundreds of miles away, balancing schoolwork, friends, and being the best version of myself," Watson wrote. "Being in a state of worry is overwhelming and not knowing who to turn to is frustrating."
Watson found calm by began attending daily Mass in St. Dominic Chapel and stopping by at other times, when the chapel was empty, to pray the rosary.
"It is just a place of peace and rest," Watson said. "There are so many things on campus to get involved in, but I really need to take time for myself and my relationship with God. Even on such a big campus, sometimes you can find a time when it's just you, and it's so quiet you can hear the creaks of the chapel. I can just relax and center myself."
Watson lived on campus for four years, in the Meagher, Aquinas, Suites (now McCarthy), and Mal Brown residence halls.
"Coming out of Slavin Center on the summer advising days, I held a door, or maybe the other girl did, and we got to talking all the way to the next event," Watson said. "It was Allison Kohne '22, my roommate forever after that. We are best friends. She is from the Midwest and going to Virginia to study math at George Mason. I'm from Virginia and going to the Midwest.
"This is my home," Watson said. "I'm so sad to leave."
More Providence College news