November 09, 2016
Shahid compels students to 'change what you cannot accept'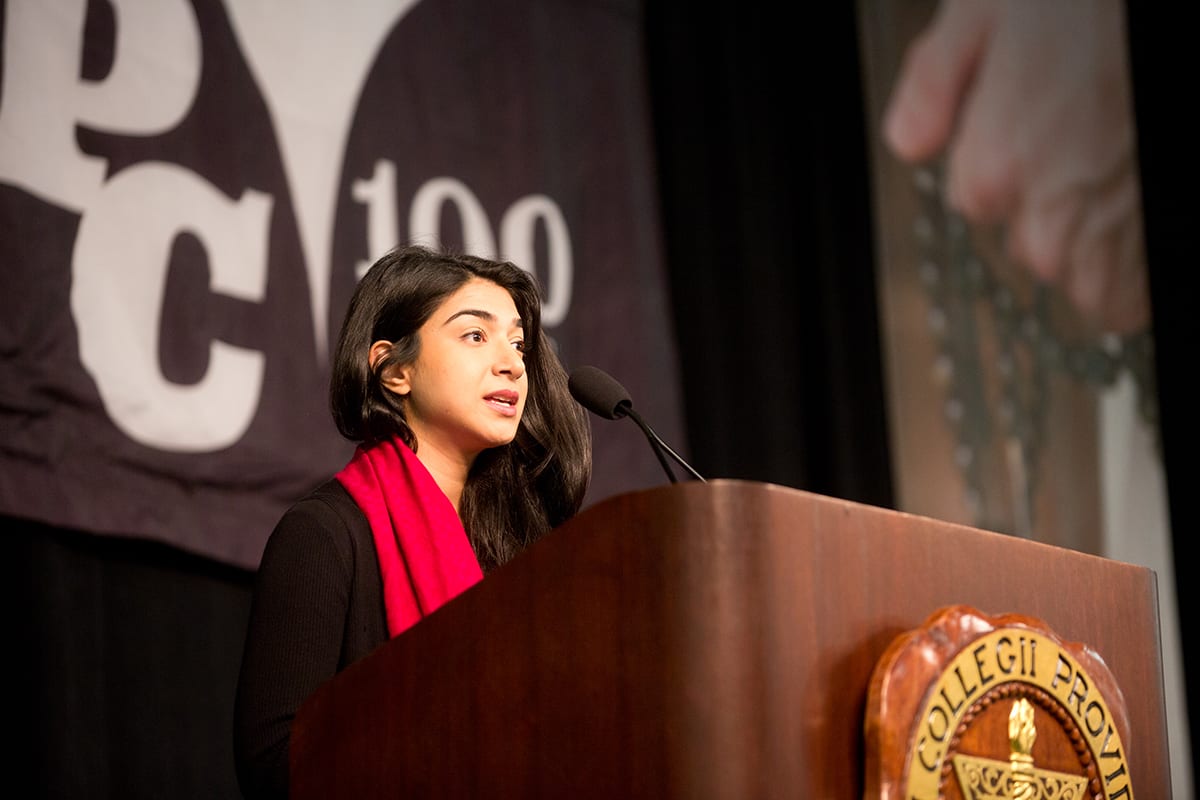 By REBECCA KEISTER
Growing up in Pakistan, where educational opportunities for girls were severely limited, Shiza Shahid might not have been able to fathom devoting her life to advocacy for social and educational equality.
But here she was, giving the keynote address to hundreds of first-year and transfer students, their families, faculty, and staff at Providence College's New Student Family Weekend celebration. The acclaimed social entrepreneur, television personality, and women's rights advocate advised members of the Class of 2020 to find and nurture their unique talents and passions in order to realize their potential and personal calling.
"I knew I was responsible to bring the change I wanted to see in the world, and that I would be successful if I let my passion guide me," Shahid said. "We are the caretakers of our common human destiny. Know that, you have the power to change what you cannot accept. We must never doubt our ability."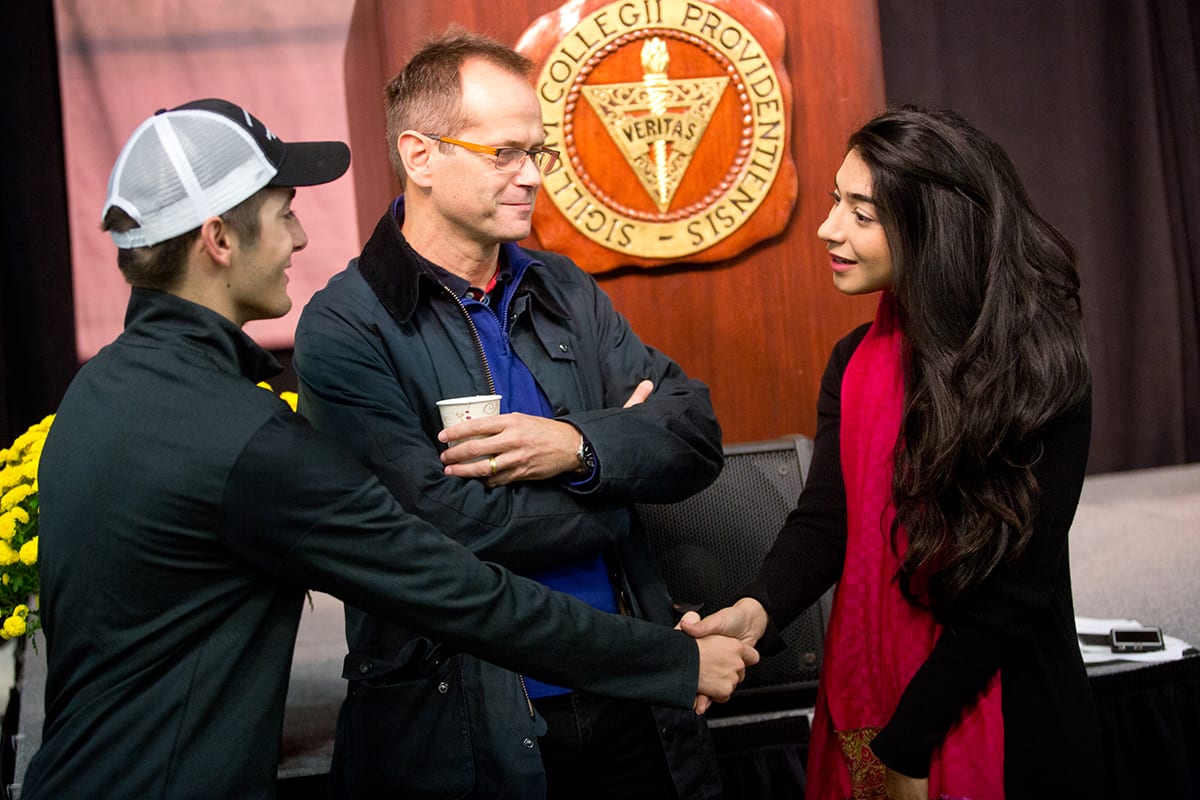 The Stanford University graduate emphasized that it is important to recognize opportunity and to be decisive.
"There are moments in your life when you have to decide who you are. In those moments, make that decision with your heart. Your heart already knows what is best for you," she said. "Apply that to something that not only fulfills you personally, but moves the world forward."
Shahid echoed the sentiments of College President Rev. Brian J. Shanley, O.P. '80 who, in his greetings to the audience, underscored the opportunities the College provides through education, fellowship, and service.
"Today, we celebrate the passion and gift that is education. Today is a day of gratitude," he said, referring to the College's founding as a home that would provide an educational opportunity for the underserved.
Father Shanley related his family's story as that of undereducated Irish immigrants — his grandparents — who established a new life in America after World War I, determined to give future generations of their family a better life than they had.
"Our whole family's life changed in two generations because of education, and that's what we celebrate in our 100th year," he said. "We change families' lives."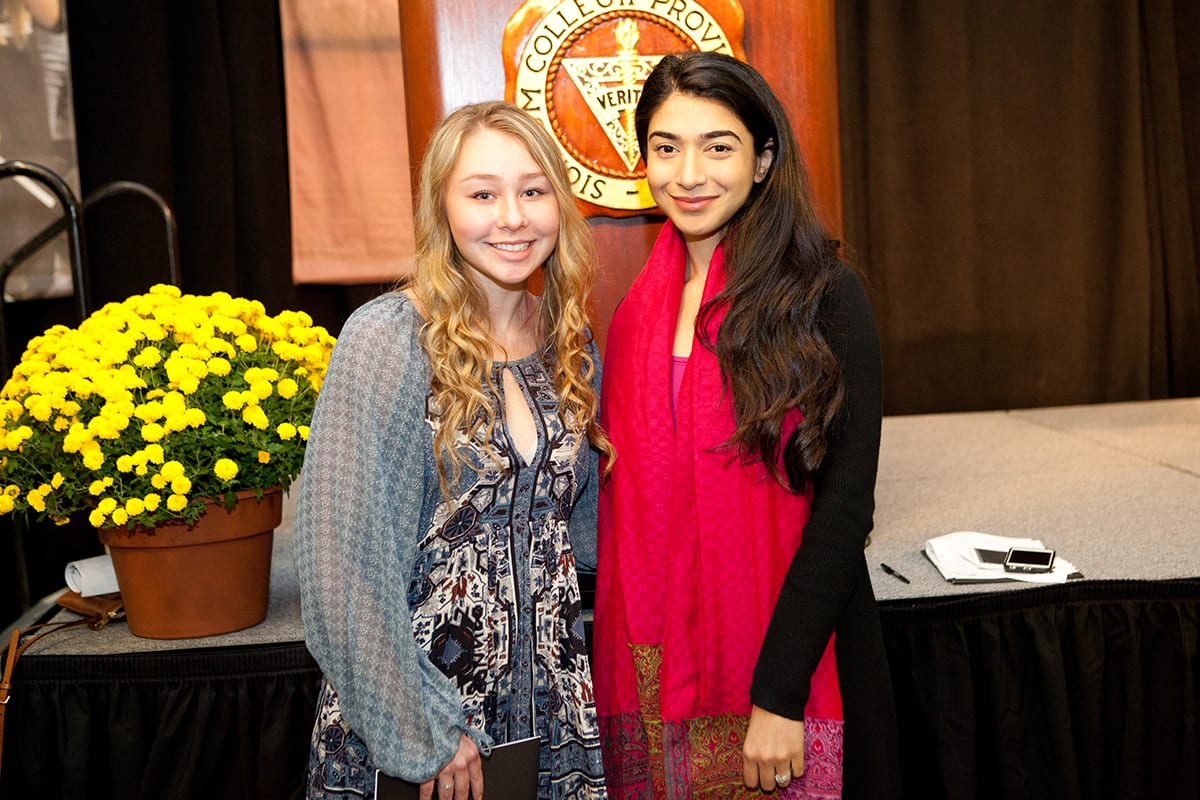 Indeed, this year's weekend for PC's new students and their families encapsulated many of the sentiments behind the College's centennial celebration. From social activities to a historical tour of the city, from opportunities to sit in on classes and to attend seminars on College programs, and more, families were able to experience the life their children are building as members of the Class of 2020.
Shahid spoke to those gathered about her life's journey — progressing from being a female in a place where it is shameful to be a woman to becoming a scholar with boundless professional potential. Along the way, she was inspired by the bravery of a young girl and convinced to use her talents and skills to pay forward the gifts she had enjoyed.
The girl who inspired Shahid is Malala Yousafzai, the youngest-ever Nobel Peace Prize recipient and the author of I Am Malala: The Girl Who Stood up for Education and Was Shot by the Taliban, this academic year's Common Reading Program book at PC.
Internationally renowned for standing up to the Taliban after they shot and nearly killed her for being a vocal advocate for female education in Pakistan, Yousafzai was a student at Shahid's summer camp. Shahid started the camp in Pakistan while she was a student at Stanford to empower young women to have a voice in their future.
Shahid remained by Yousafzai's side while she recovered from the shooting and together, they founded the Malala Fund with the aim of ensuring that every girl has access to free and safe primary and secondary education.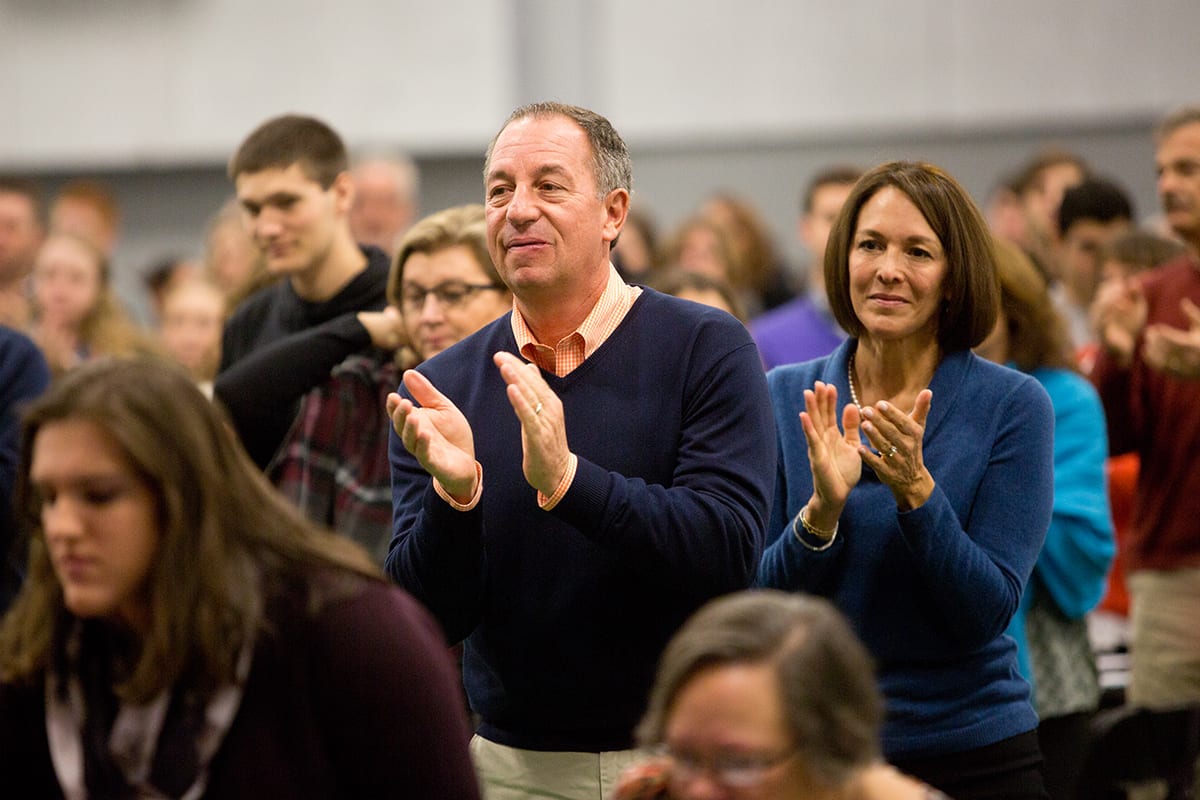 Shahid's message resonated deeply with several students in the Peterson Recreation Center audience.
"Her personal story is eye opening," said Shannon Moore '20 (Mansfield, Mass.), a history major who was recognized before Shahid's address as the winner of this year's Common Reading Program essay contest. "My main takeaway is that we all have this responsibility toward each other to see how we can broaden our perspective."
Jack Murphy '20 (Brunswick, Maine), a philosophy and Spanish double major, referenced the parable of the Good Samaritan in his reflection on Shahid's presentation. In Luke 10:25-37, he related, we are told that God wants us to share our blessings with those who aren't as fortunate.
A "blessing" we have now, he said, is the ability to connect globally and have a larger impact — thanks to tools such as the Internet — than any generation before.
"The world is getting smaller, and I think it's really important to know that everyone is our neighbor," he said.