April 19, 2017
Smooth Sailing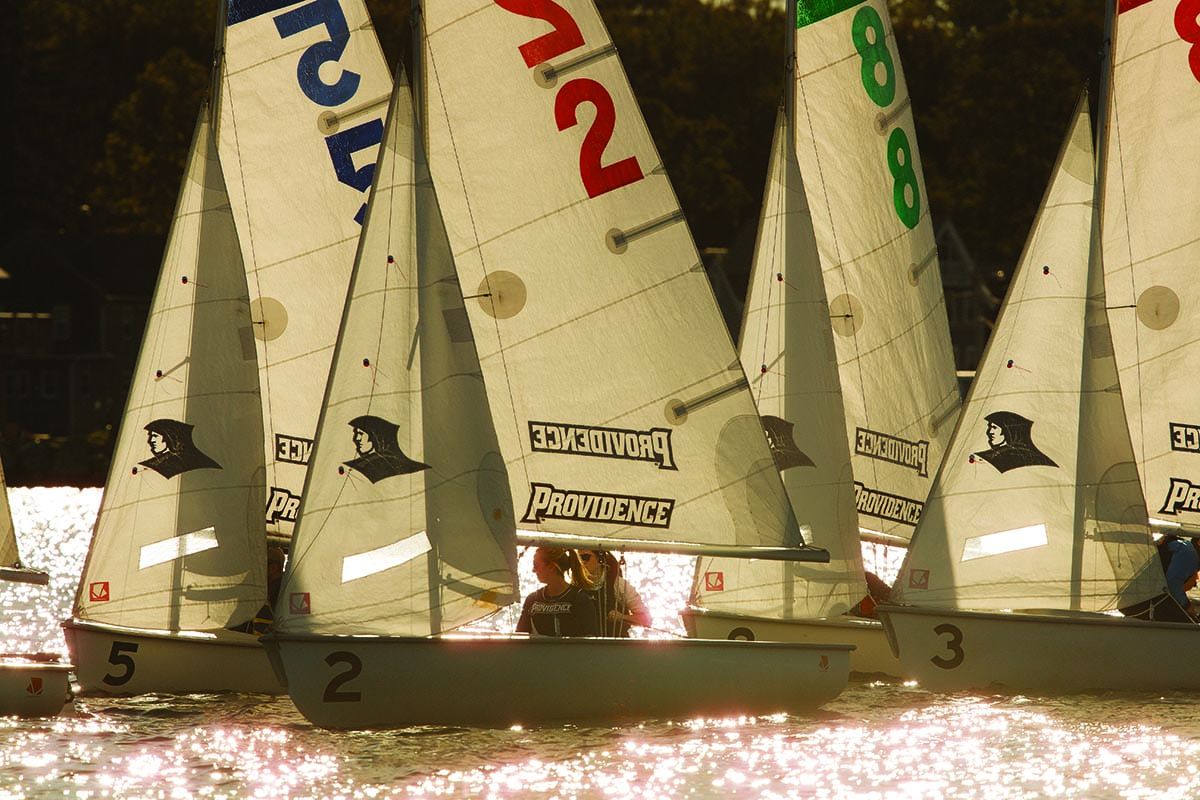 By Vicki-Ann Downing
Four afternoons a week, in the hours before sunset, the Providence College sailing team practices the techniques of jibing and tacking on the waters of the Providence River.
The team's 40 members include experienced sailors such as Ian Maccini '18 (Jamestown, R.I.), who learned to sail as a boy, and newcomers like Kerry Wheeler '17 (Fredericksburg, Va.), who never sailed until she joined.
The head coach, Dr. Timothy J. Maynard, a retired Navy officer, and the associate head coach, Tricia Sellon, a competitive sailor, shout directions from a motorboat as a dozen FJ dinghies — a skipper and a crew member aboard each one — follow a course marked by orange buoys, struggling to harness the fickle and elusive wind.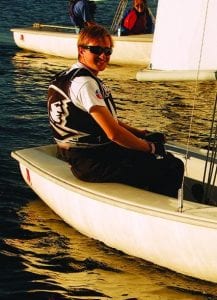 "The weather changes a lot," said Maccini. "In March, it's 25 degrees and snowing and really cold. In September, it's beautiful and 85 degrees, and you're in shorts."
The race team competes in the New England Inter-Collegiate Sailing Association and travels in the fall to such schools as Harvard University on the Charles River, Connecticut College on the Thames River, and the University of Vermont on Lake Champlain. Every October, the team welcomes 15 other New England colleges to the PC Invitational Sailing Regatta at its home base, the Rhode Island Yacht Club in Cranston.
The sailing team, a PC tradition since 1951, benefits from a strong alumni base that provides financial and instructional support. Alumni will join the team at its annual fundraising banquet on April 29 at the New York Yacht Club in Newport.
Early spring brings an eagerness to get back on the water — and less than ideal conditions. When a boat capsizes, students, wearing dry suits as protection from the cold, have about five minutes to right it.
"It's terrifying — and it's definitely my favorite thing," said Wheeler. "When you do go over, it's a great bonding experience with whoever you're with. I've had some crazy capsizes, but they've always resulted in better friendships and a lot of laughter."