December 14, 2020
Social work students organize T-shirt display to promote racial justice
By Charlotte Smith '20 & '21G
Providence College senior social work majors organized a student-designed T-shirt display known as T.H.I.S. (Together, Here I Stand) to inform and expand the education of students on anti-racism, diversity, and social justice.
Racial unrest in the country during the summer caused many students to ask what they could do to support and initiate change in the department and at the College. The social work majors were further inspired by the Instagram account BlackatPC, where alumni and students post anonymous stories of racial injustices and inequalities.

In September, Dr. Michael Hayes, assistant professor of social work and department chair, invited all social work majors, faculty, and staff to attend a Zoom meeting to discuss ways to show support for the Black Lives Matter movement.
After a robust exchange of ideas, students and faculty members agreed on an art display modeled after "The Clothesline Project," a display of decorated T-shirts made by survivors of sexual or domestic violence or those who lost a loved one to sexual assault. For the PC project, the T-shirt messages would promote anti-racism, with each shirt representing a person who stands with people of color in the fight against discrimination.
Once the idea was agreed upon, the next task was naming it. Kendra Bogosian-Marasco, director of field work, asked, "What are we going to name this?" And the beauty and simplicity of the acronym "T.H.I.S." or "Together Here I Stand" was born.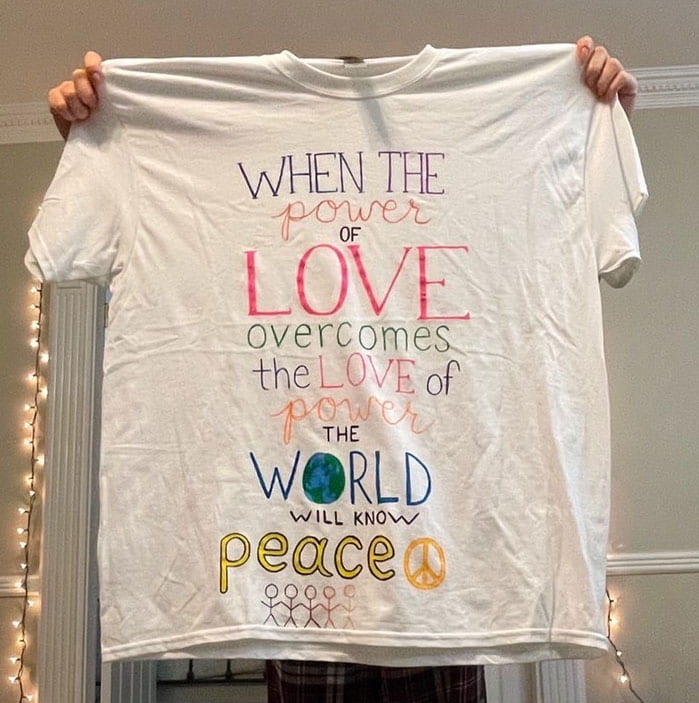 Students and faculty members met weekly to plan and bring the initiative to fruition. Olivia Yeaman '21 (Shelter Island, N.Y.) and Gisselle Baeza '21 (Providence, R.I.), along with Sarah Wojtusik, social work administrative assistant, were among those instrumental in organizing the event.
Yeaman said students wanted to ensure the event could be in-person due to "Zoom fatigue" and the sometimes-limited engagement of online presentations.
"While there are often anti-racism events that take place on campus, it seems that the same people show up every time," Yeaman said. "In order to reach a broader population of PC students, we wanted to create some type of display that could not be ignored."
To further the effort, and to make the event as COVID-safe as possible, leaders distributed kits that contained white T-shirts and fabric markers for students to decorate. After a week of advertising and distributing the kits, students and faculty were thrilled at the number of T-shirts sent back for display.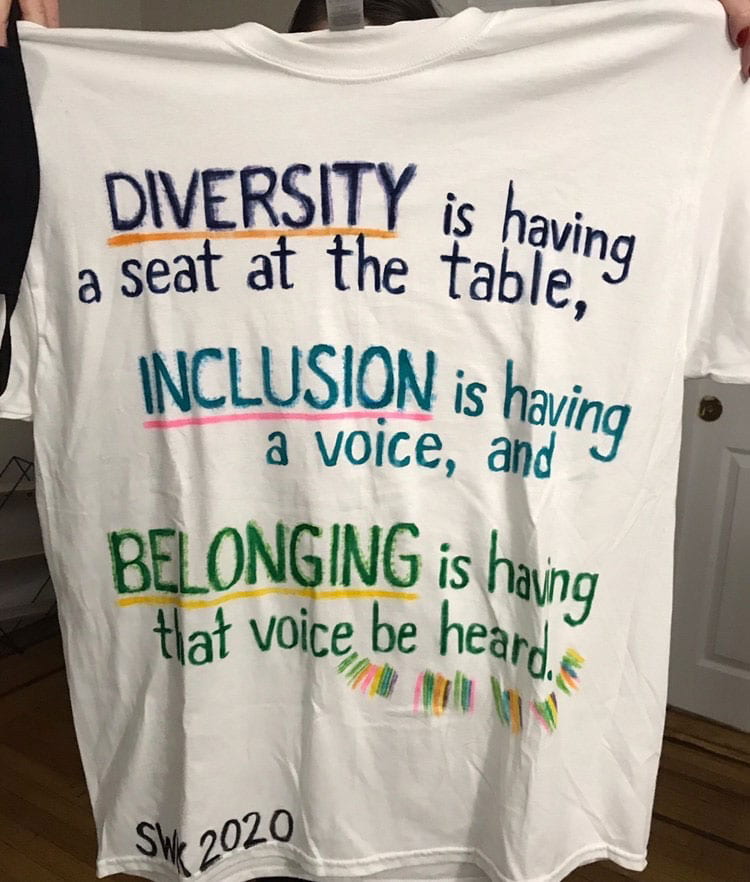 To maximize visibility to students, faculty, and staff, it was decided to hang the T-shirts in the Ruane Atrium of the Concannon Fitness Center, a central location that students pass by on their way to the fitness center, Slavin Center, and Peterson Recreation Center, the College's COVID testing site.
T-shirts contained a wide variety of messages and quotes intended to promote education on anti-racism. The hope of the founders was to create visual representations of the discrimination individuals face on a day-to-day basis, while inspiring students to get involved and join the fight against intolerance and promote social change. Some students are donating their T-shirts to be saved in PC's Archives and Special Collections.
"I saw how the display seemed to draw attention and catch peoples' eyes from the moment the shirts began being hung up. People were immediately stopping and noticing the designs created by students," said Baeza.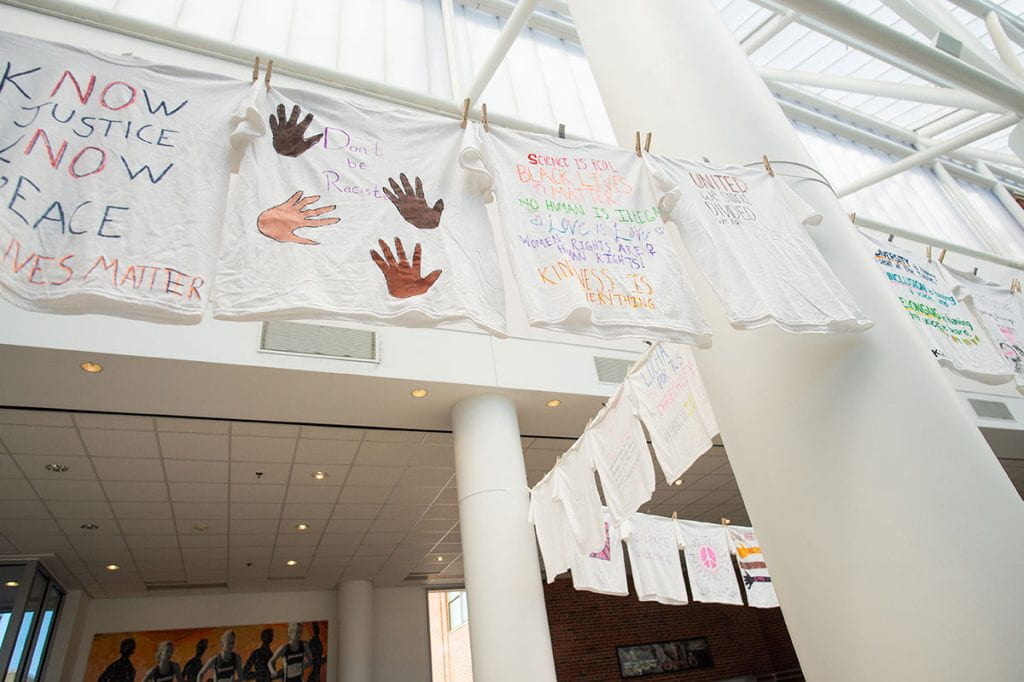 The success inspired the senior social work students to plan a follow-up event next semester on valuing diversity and promoting anti-racism.
"We would like to hold more events in response to the social climate," said Baeza. "We want to continue to spark conversation among all students, as racism is an issue that people of color have to face every single day."
Yeaman echoed this thought. "T.H.I.S. used art as a vehicle that allowed for people to share their stories while creating a sense of comfort. In our next event, we hope to continue to raise awareness about instances and impacts of racism by promoting and valuing diversity."