May 08, 2019
Special agent Nancy McNamara '84 exchanged retail career for leadership role with FBI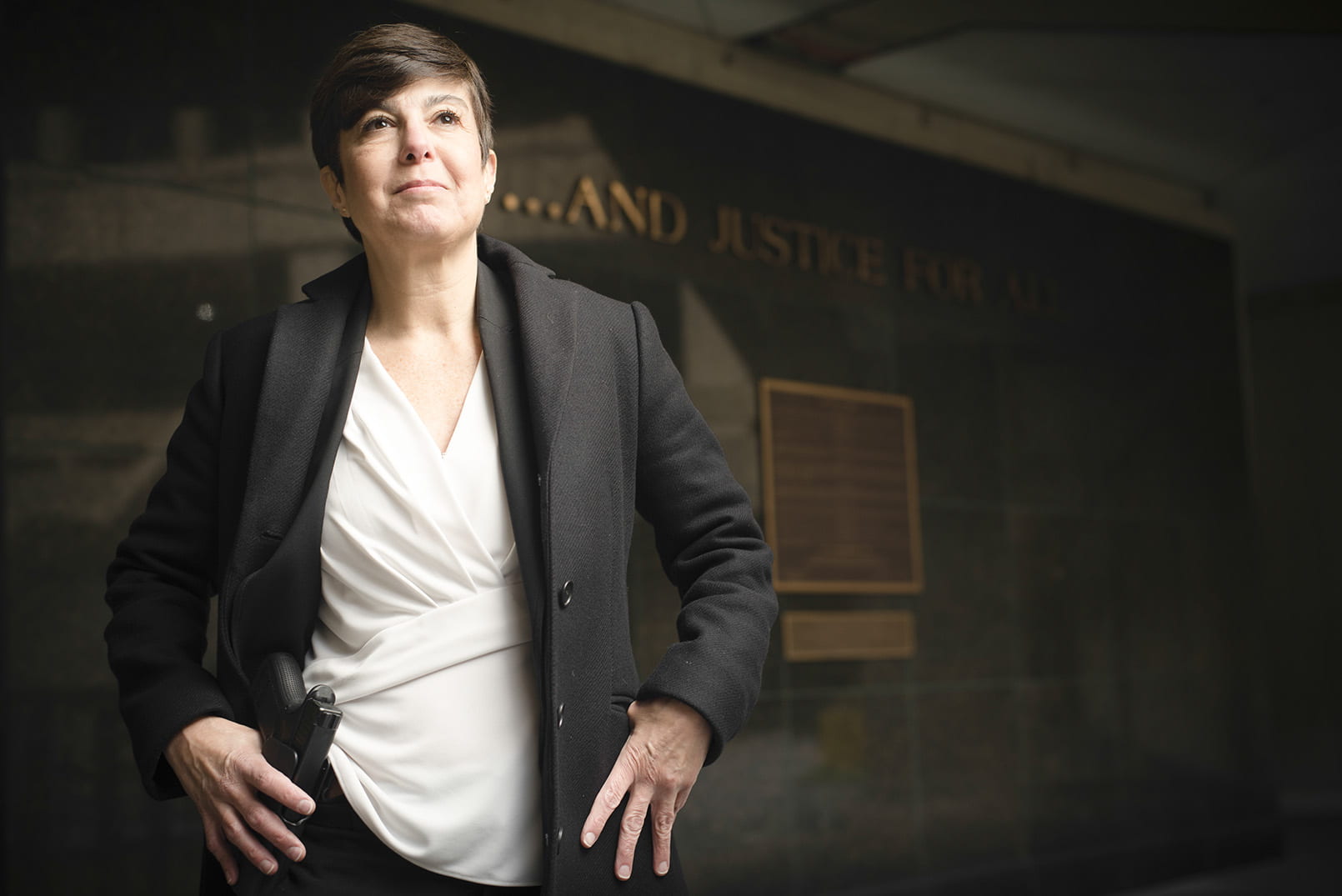 By Vicki-Ann Downing
The FBI headquarters in Washington sits bunker-like along Pennsylvania Avenue, a block of buff-colored concrete and inscrutable windows built in the Brutalist style of the 1960s and 1970s. Above the entrance, gold letters spell out the name of the agency's most famous director, J. Edgar Hoover. His name evokes the era of the G-Man, the incorruptible, professionally trained detective, always male, who fought crime in a crisp suit and a crew cut.
Nancy Cavallero McNamara '84 does not look like that. She is a woman, for one, small in stature, and quietly observant. On the sidewalk outside headquarters, she could be any woman on the way to the office. There is a Louis Vuitton bag over her shoulder and a Glock semi-automatic pistol somewhere on her person, because McNamara is an FBI special agent, too. In fact, as head of the FBI's Washington field office since April 2018, she oversees all of the FBI's special agents in Washington and northern Virginia.
McNamara is not one to boast of her accomplishments over more than two decades with the FBI, which includes assignments in New York City, Los Angeles, and Milwaukee. But as she leads a tour inside headquarters, everyone seems to want to take the time to say hello to her — the worker pushing the laundry cart near the fitness center located a level or two underground, and the executive on the seventh floor who's the newly appointed head of the cyber division.
McNamara, a business management major at PC, joined the FBI in April 1996 when she was 34 years old — three years shy of the cutoff — after working for almost 13 years as a store manager, buyer, and executive for Federated Department Stores, the parent company of Macy's. She survived 18 months of background checks and 17 weeks of grueling training at the FBI Academy in Quantico, Va. (Picture Jodie Foster in Silence of the Lambs.). Every year, she must pass a fitness test — sit-ups, push-ups, a 300-meter sprint, and a 1.5-mile run. It's not unusual to find her, in the pre-dawn hours, running three to four miles on the outdoor track around the courtyard at headquarters.
McNamara wanted to work for the FBI from the time she was a little girl in New Haven, Conn., reading Nancy Drew mysteries. She was attracted to the idea of solving crimes and righting wrongs. On a visit to Washington, her parents took her to see the FBI Museum. She remembers walking up to an employee and telling him she found the work interesting. He replied, "Well, you know, young lady, women can't become FBI agents."
That changed with Hoover's death in 1972. Today, one in five agents is a woman; it's a percentage that has been consistent over time. Because of mandatory retirements, the FBI is actively recruiting 900 new employees in the next year. Applicants must have a bachelor's degree and three years of work experience, but they can be accountants, lawyers, biologists, nuclear engineers, kindergarten teachers, or retail managers. McNamara learned at the academy that having a background in retail didn't make her any less able.
She describes a training exercise at Hogan's Alley, the replica of a town used for training at Quantico. The smallest person in the class of 52, she was paired with a Marine veteran. They were under fire, sheltering behind a car. The Marine ordered McNamara to move to an alleyway. She hesitated before obeying. After, the instructor asked her to stay behind and speak with him.
"I thought he was going to say I should have immediately obeyed the order," McNamara said. "We are a paramilitary organization. But he said, 'You hesitated because you thought it was a bad idea. Next time, don't go. It was a bad idea.' I thought, 'I'm the retail manager, and I was right. He's the Marine veteran who got it wrong.'"
The academy was humbling and challenging. "One of my classmates said it felt like being in kindergarten again. 'I want my mommy.' We were all people giving up jobs we were good at, making a lot of money. We all wanted to be the best and to do well. All of a sudden it was, 'I don't know any of this.' If you didn't score well, you got down on yourself. You had to be able to find strength, courage, and confidence to get through it."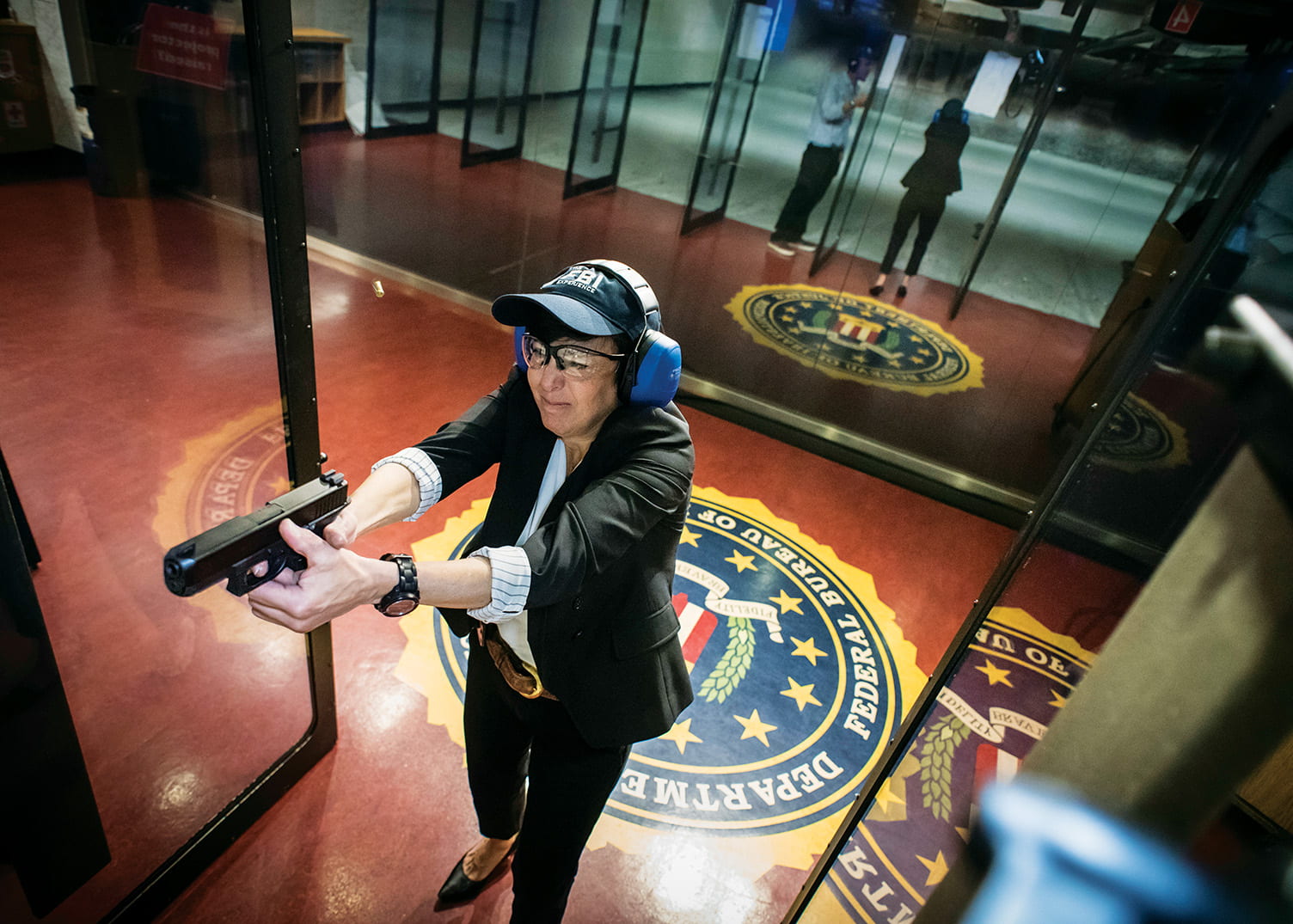 McNamara's first assignment was to New York City, where she investigated public corruption. Five years into her new career, on Sept. 11, 2001, terrorists attacked New York and Washington. McNamara was in Texas that day with fellow agent Matthew McPhillips '93 to interview a federal prisoner. They spent three days in San Antonio before they were able to fly back to New York to join their colleagues at Ground Zero.
It was a day that flipped the FBI's mission. Since its establishment in 1908 as the Bureau of Investigation, the FBI had responded to crime and enforced laws. But in the hours after 9/11, President George W. Bush asked FBI Director Robert Mueller what the agency would do to prevent another terrorist attack. Almost overnight, the FBI became a national security organization, with counterterrorism, counterintelligence, and cyber security among its top priorities.
Most of McNamara's career has taken place in the post-9/11 era. Now she is a bureau veteran. She has investigated white-collar crime in Los Angeles, was the first woman in charge of the FBI field office in Milwaukee, and headed the counterintelligence division in Washington. She also led the Inspection Division, which audits every field office and headquarters division to ensure compliance with policies and to assess the effectiveness and efficiency of FBI programs, field offices, and leadership.
While working in inspection in 2005, McNamara met Amy Hess, a former aeronautical engineer who now heads the Criminal, Cyber, Response, and Services Branch and is the top-ranked woman in the FBI. Hess is eager to share her thoughts about McNamara.
From the start, "Nancy was smart, a fast learner, and had an innate ability to identify which programs and people were performing well and which ones weren't," Hess said. "Moreover, she had a sharp wit and self-deprecating sense of humor, which helped everyone maintain perspective. Over the years, I've frequently sought Nancy's opinion and guidance, as have many others. She confronts issues head-on and isn't afraid to tell you when she disagrees with you.
"But what impresses me most about Nancy is how she's so devoted to her career, yet maintains a full life outside of work where she volunteers her time, flips houses, cooks, bakes, works out, hosts parties, travels to Italy, dog- and cat-sits, and remodels her home, all the while serving as the ideal sister, aunt, friend, and neighbor. She's touched many lives, and we are all better for it."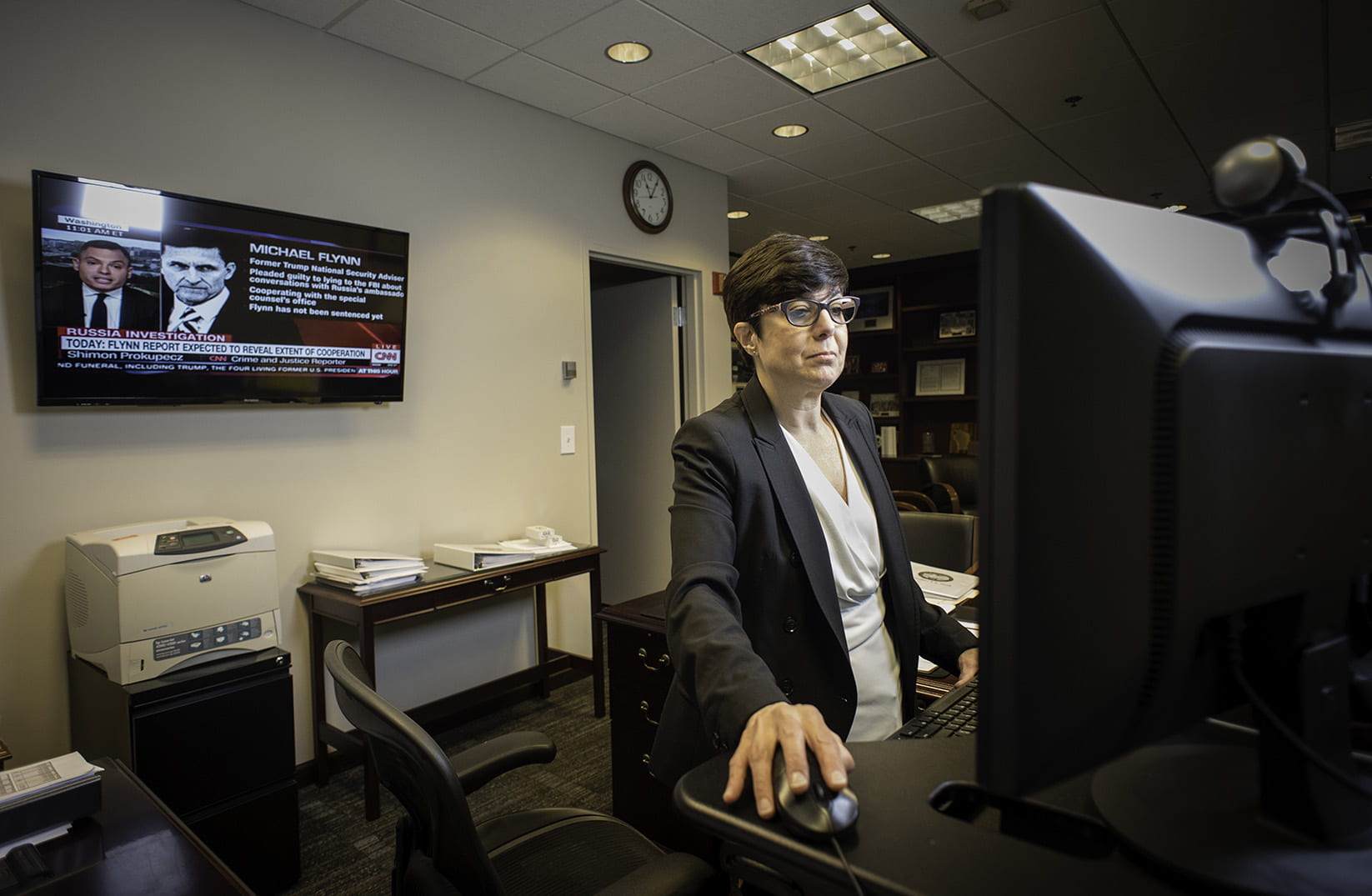 FBI employees take seriously the agency's mission to protect the American people and uphold the Constitution of the United States, McNamara said. Especially since the 2016 presidential election, the agency has been in the political spotlight, but to anyone walking the building's hallways, there is no sense of that.
"When people ask or make comments about politics and related controversies, I typically respond that FBI personnel do not discuss politics and are prohibited from openly endorsing or supporting a political candidate," McNamara said. "While I can't speak for everyone, from my experience, personal views about politics and support of candidates doesn't happen. We are taught at the academy to keep our views to ourselves, and I personally have followed this guidance throughout my career."
In November, McNamara will turn 57, the mandatory retirement age for a special agent.
Treasurer of the Board of Programmers as an undergraduate, she remains sensitive to the needs of students. She returns to campus to participate in career nights and has been a mentor for the Center for Career Education and Professional Development. Three years ago, she joined an alumni panel celebrating the achievements of 40 years of women at PC. She is the former president of the Fairfield County Alumni Club and in 2014 received the Personal Achievement Award from the National Alumni Association.
She is ready to speak with any young people who might be interested in an FBI career.
"For me, the attraction was the idea of seeing justice done," McNamara said. "I like the intellectual challenge of beating a bad guy who's smart and has good attorneys. I wanted to use my brain to solve problems. Becoming an FBI agent has given me the opportunity to do that."