August 10, 2017
Stained-glass windows grace the Ruane Center for the Humanities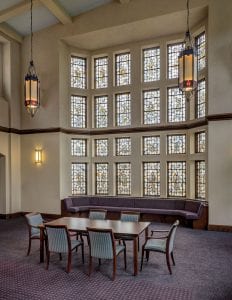 Twenty-four stained-glass windows, depicting 18 significant individuals in the history of Western civilization and six academic disciplines, were installed during the summer in the Fiondella Great Room of the Ruane Center for the Humanities.
The windows were designed by Sylvia Nicolas '01Hon., a  fourth-generation, master stained-glass artist from Mont Vernon, N.H., whose art graces St. Dominic Chapel.
Arranged in chronological order, the windows depict Homer, Sophocles, Plato, Aristotle, Virgil, Augustine, Catherine of Siena, Leonardo da Vinci, Michelangelo, Shakespeare, Galileo, Descartes, Newton, Mozart, Jane Austen, Darwin, Gandhi, and Martin Luther King, Jr.
Academic disciplines represented in six smaller windows are theology, music, literature, science, philosophy, and history.
The windows were made possible by a gift from Michael J. Joyce '84, a member of the PC Board of Trustees, and his wife, Jane (Aries) Joyce '89.
[Read more about the Ruane Center stained-glass windows.]
Click here to learn more about the historical figures represented in the windows and the symbols included in each panel.