July 22, 2021
Student-athlete Ashley Gigon '22 awarded SMART scholarship from Department of Defense
By Vicki-Ann Downing
Ashley Gigon '22, a pre-engineering major, student researcher, and sprinter on the track team, is the fifth student in Providence College history to be awarded a SMART scholarship from the U.S. Department of Defense.
Gigon, who lives in Spring Lake, N.J., is a student in PC's 3+2 engineering program. In May, she completed three years of study toward a bachelor's degree in physics. Beginning in the fall, she will study for two years at Columbia University for a second bachelor's degree in mechanical engineering. The SMART scholarship — the acronym means Science, Mathematics, and Research for Transformation — will cover the full cost of those two years.
Gigon also is guaranteed employment after graduation at the Naval Undersea Warfare Center in Newport, where she will be an engineer in the Undersea Warfare Analysis Department. She will receive training for the position with an internship there during the summer of 2022.
"I'm very excited that I received my top choice for a placement," Gigon said.
Gigon first heard about the SMART Scholarship Program in her first year at PC, when Robert Bretz '12 spoke to her Introduction to Engineering class. He was PC's second SMART recipient and also was placed at the Naval Undersea Warfare Center. Bretz, who now is a trade space analysis engineer at MIT's Draper Laboratory, helped Gigon through the application process. (PC's first SMART scholar was Catherine Beley '12, who is director of strategy and operations at DoorDash in Los Angeles. Ashley Richards '15 and Claire (Hosinksi) Shepherd '15 also received SMART scholarships and worked at Hanscom Air Force Base in Bedford, Mass.)
"It's a unique application process," Gigon said. "After you submit your application, a committee from the Department of Defense looks over all the applications, then selects a group of semifinalists who have the opportunity to be interviewed for placements. You may or may not receive an invitation for interviews. It all depends on interest."
Gigon was invited to interview for placements with the Army at West Point, at Niagara Falls, and at three locations in New Jersey. Newport was her top choice, in part because her father is a Navy veteran.
"Ashley is not only a scholar, but she is also an accomplished athlete," said Dr. Theresa Moreau, assistant professor of physics and department chair. "She has just finished her first three years of study at PC where, within the context of a liberal arts education, she has been getting a strong foundational background in mathematics and physics, with some chemistry and computer programming, as preparation for intensive engineering studies at our affiliate school, Columbia University, where she will complete her final two years in the program.
"She has managed to juggle a rigorous academic schedule, including independent research, with the demands of serious athletic commitments. We are very proud of her."
Gigon knew she wanted to study engineering in college because she comes from a long line of engineers, including her grandfather, who holds many patents. She discovered PC while searching for schools with a 3+2 program.
She didn't intend to be a Division I student-athlete, though.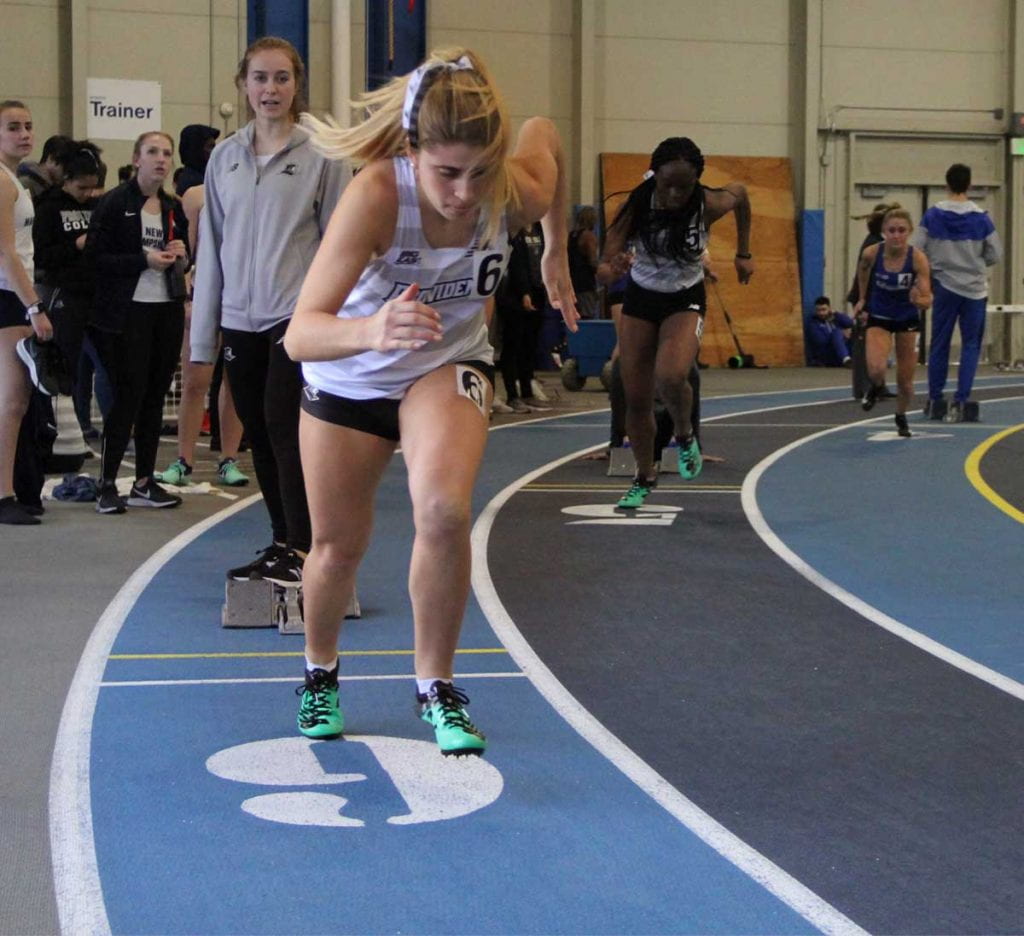 "I'm a person that always needs to feel busy," Gigon said. "When I first arrived at PC, I saw an opportunity with the women's track and field team. I reached out to the head coach, Steph Riley, who said, 'Come to practice, we'll see how your times are.' The girls liked me, and I started right away. The process of walking on was fast."
Gigon ran the 200-meter and the 100-meter all three years at PC. In high school, she was a three-sport athlete, playing soccer and lacrosse and running track for one season, but college athletics tested her ability to manage her time.
"We practiced every day, sometimes twice a day," Gigon said. "It was a three- to four-hour block. I would lift and we would do sprint workouts on the track and on hills off campus. Without my time management skills, I wouldn't have been able to complete everything. At one point, I was taking 21 credits and had a job on campus, as a notetaker through the Office of Academic Services."
Gigon also was a student researcher. She became interested in hydropower after a family trip to Niagara Falls in the summer of 2019. During the second semester of her sophomore year, she began working with Moreau to convert mechanical energy to electrical energy using piezoelectric crystals. In March 2020, when PC students were sent home because of the pandemic, she continued the work in her garage, helped at times by her father.
"By the end of the semester, I was able to light up an LED by hooking it up to piezoelectric crystals and applying a force to them," Gigon said. "They actually have used those crystals for certain systems in the Navy."
With a grant from PC's Center for Engaged Learning, Gigon bought a 3D printer and a soldering kit to attach the crystals to diodes. She taught herself CAD software so that she could design small turbines to print out on the 3D printer for testing.
This research continued to occupy her during her junior year on campus.
"My idea was that you could put a small turbine in a pipe that was attached to a kitchen sink or to some other household appliance that had running water that was being used but wasted," Gigon said. "If there was a small turbine in there, the mechanical energy of the water flowing through the pipe would spin the turbine, which would be attached to a generator to produce electrical energy."
Using CAD software and her printer, Gigon created tiny plastic turbines. She drilled a hole in PVC pipe and superglued the turbines in place. A metal rod coming off the generator was attached to the turbine. As the turbine spun, it turned the metal rod inside the generator and produced enough voltage to light an LED bulb.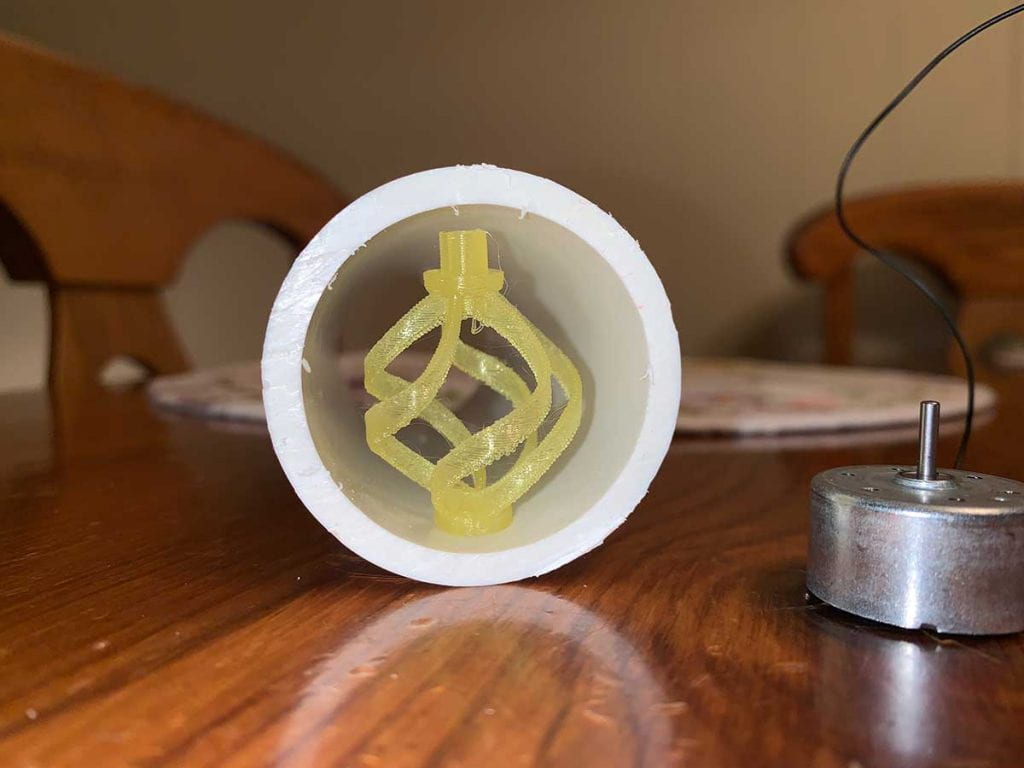 Gigon also took advantage of internships during her time at PC. During the summer of 2020, when her planned internship with Lockheed Martin was canceled by the pandemic, she participated in the Goldman Sachs Engineering Essentials Program, a virtual program with 170 students from all over the world, including India and China. She learned about software engineering and how to write code using Python.
Gigon was already aware of how business and science mesh, thanks to her participation in PC's business and innovation minor program. She was a member of the PC team that won third place in the first BIG EAST Startup Competition in New York City in 2019. She also spoke to the college's Board of Trustees about the minor program.
"The best part about my program and adding the business and innovation minor was learning how to build and engineer products, and how to sell them and make them profitable," Gigon said. "In my capstone course, we watched the documentary General Magic, about a start-up that all the big tech giants worked for in the 1990s. It was interesting to see how they failed because they didn't have a good balance between engineering and business."
This summer, Gigon has a paid internship in manufacturing engineering at Nordson in New Jersey, a company that works in engineering fluid dynamics, or EFD. At the suggestion of her advisor, Dr. Lynne Lawson, assistant professor of physics, she applied for and received a scholarship from the company last year.
Gigon found time last fall to reestablish the SPS Physics Society at PC, a branch of the nationwide Society of Physics Students. The group of about a dozen students participated in the University Physics Competition, in which teams have 48 hours to creatively answer one challenge question and compose a report.
"Physics is always a challenge and keeps me on my toes," Gigon said. "I am never bored with it. The problem-solving aspect continues to spark my interest."
She also enjoyed the Development of Western Civilization Program, which she believes made her a more well-rounded person.
"If I had studied only science, I wouldn't have been able to take courses in philosophy and theology," Gigon said. "I have the best of both worlds with the 3+2 combined plan program, achieving a liberal arts background and a strong understanding of physics and engineering."
Gigon also believes she was fortunate that all courses during her junior year met in person, on campus. It was important to experience as much of life on campus as possible, since she will spend her senior year at Columbia.
"My time at Providence flew by, but Columbia is close enough in distance that I will be able to return for all the senior events, and I look forward to participating in commencement in May," Gigon said. "I am very excited to start my next journey."
Ashley Gigon '22 explains her research
More Providence College news