February 15, 2022
Students compose, perform, and produce in new music tech major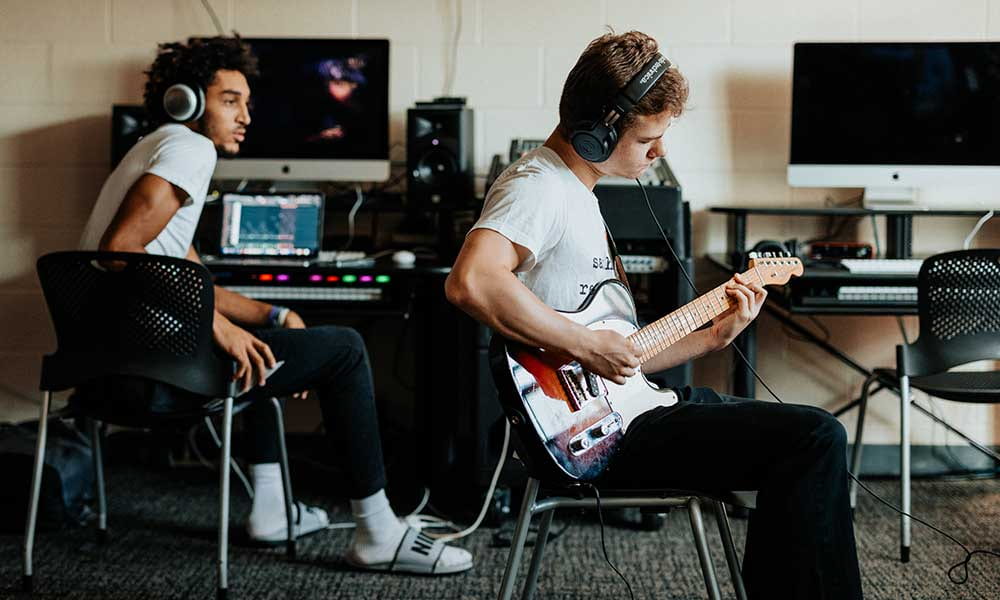 By Michael Hagan '15, '19G
Students are recording and producing original music in Providence College's new program in music technology and production. The program, which offers a major and a minor, is directed by Dr. William Longo, visiting assistant professor of music, who also teaches its courses.
"The program offers specialized coursework that's aimed toward writing, recording, and producing modern, professional-quality music," Longo said. "Its main focus is on creative composition and developing students' individual artistic voices while simultaneously providing critical hands-on experience with hardware and software used by industry professionals."
The program responds to long-term trends in the music industry, in which lines between performance and production have blurred. Advances in technology make production an even more significant part of the creative process for musicians. More than ever, producing music requires significant artistic capacity, and music technology and production students navigate the intersection of the creative and the technical at every stage of making music.
It's not an easy business.
"The digital era that we're living in has opened up incredible possibilities. The speed with which we can create music is kind of amazing, but the demand on creators can be really intense," Longo said.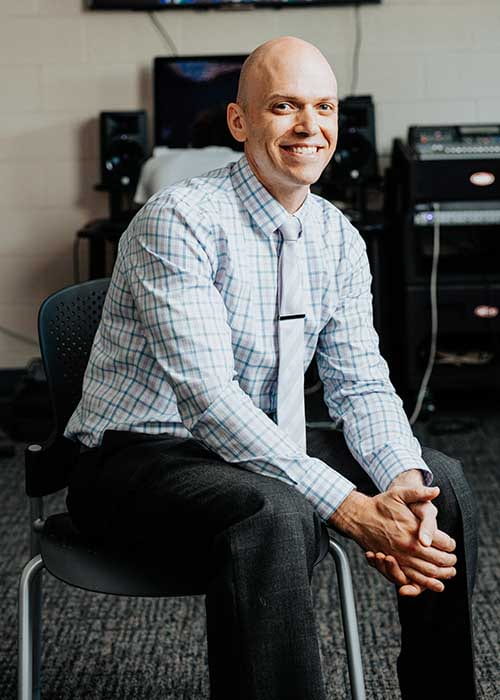 As a professional composer, musician, and producer himself, Longo is intimately familiar with the industry and its pressures. Before arriving at PC in August of 2019, he taught studio music and jazz along with theory and composition at the University of Miami, where he previously earned a doctor of musical arts (D.M.A.) degree. His primary instrument is the trumpet.
For Dr. Catherine Gordon, professor of music and department chair, developing a program and curriculum in music technology was a priority. "When we hired Dr. JoAnn Thomas to teach courses in music education, she immediately noted that the way music education is developing requires a lot of technology," said Gordon. It quickly became clear: "We needed to start teaching music technology."
During a year of exploration and research, Gordon found an ally in Dr. Sean Reid, provost and senior vice president for academic affairs. "He was excited about it from the start," said Gordon. Longo played a key role, writing course proposals at a speed and volume Gordon described as "heroic." Once thoroughly reviewed by the Faculty Senate, the proposal was presented to College President Rev. Kenneth R. Sicard, O.P. '78, '82G, who enthusiastically approved the new major and minor.
The program's appeal was immediately apparent, with four students declaring a major in the first year and even more attracted to the minor. There are currently five music tech majors and six minors. Others take music tech courses without officially declaring the major or minor. Even more promising is the significant interest in the major among applicants and admitted students. Thirty-two applicants to the class of 2026 indicated their intent to study music technology and production.
"Most of our music applicants this year applied in music technology. There's been a lot of interest from a many prospective students and their parents," Gordon said.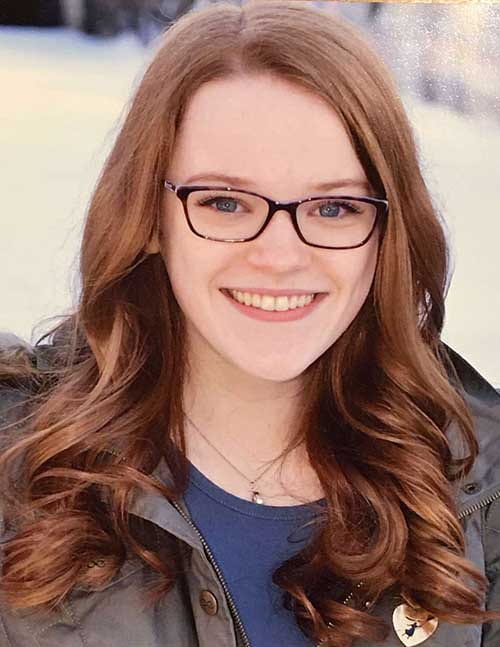 In addition to traditional courses in music theory, appreciation, and performance, music technology and production students take courses in recording technique, digital audio and musical instrument digital interface production, known as MIDI, and virtual orchestration. One of the most exciting courses is Songwriting, where student musicians like Clare Krug '24 (West Boylston, Mass.) execute musical projects from composition through production.
"In the spring semester of my first year at PC, I took the Intro to Music Tech course. By the end of the semester, I was able to produce one of my own songs. That was just a crazy concept to me. I was hooked," said Krug.
In Longo's Songwriting course, Krug composed an original pop piece. It began as a simple melody on her mind. "I just had this little melody in my head over and over again for a whole month. I thought it would be a really cool sound if I could find a way to use it."
She used it. It became the pre-chorus for "Good Riddance" — a track composed, performed, and produced by Krug. Combined with a melody that dances up and down the musical scale, its lyrics convey a sense of being on a carnival ride, as the song's first line describes. The song narrates a story of love and disappointment — of "red flags" ignored in the name of love that turns out too good to be true.
"Good Riddance" — an original song by Clare Krug '24
Commenting on Krug's work, Longo said, "It was really fascinating for me to see how it came together — to see Clare's process. Some composers start on the computer producing sounds. Clare took an old school approach, starting with the pad and pencil."
Krug wrote her lyrics on the whiteboard in the music tech production lab in the Smith Center for the Arts, the program's hub and home.
"I would write and erase and rewrite. I'd see how many measures I had to say what I wanted to say. After that, it just comes down to finding some kind of rhythm," Krug said.
"Harmonically and structurally, Clare did an amazing job. The arrangement and the timing of the different textures of sound is super well-conceived, and other musical decisions give it a more personal character," Longo said.
Our graduates are extremely well-rounded, people of character, and excellent musicians. I'm not bragging. It's the truth.

Dr. Catherine Gordon, professor of music
Krug and her classmates will be among the first students to graduate from PC with a degree in music technology and production, and Gordon and Longo know many more will follow.
"The breadth and depth of skills developed in our music technology major will prepare students for jobs immediately out of college, and if so desired, will prepare students for further study at the graduate level," Longo said.
Describing his goals as a musician, music tech major Hashim Hassan '23 said, "My goal is to become a world-class violinist, and skills learned in music tech courses will help me get there. Recording and engineering my own music will help me chart my own course without needing to outsource production. Hands on learning is the best way to get a feel for the industry."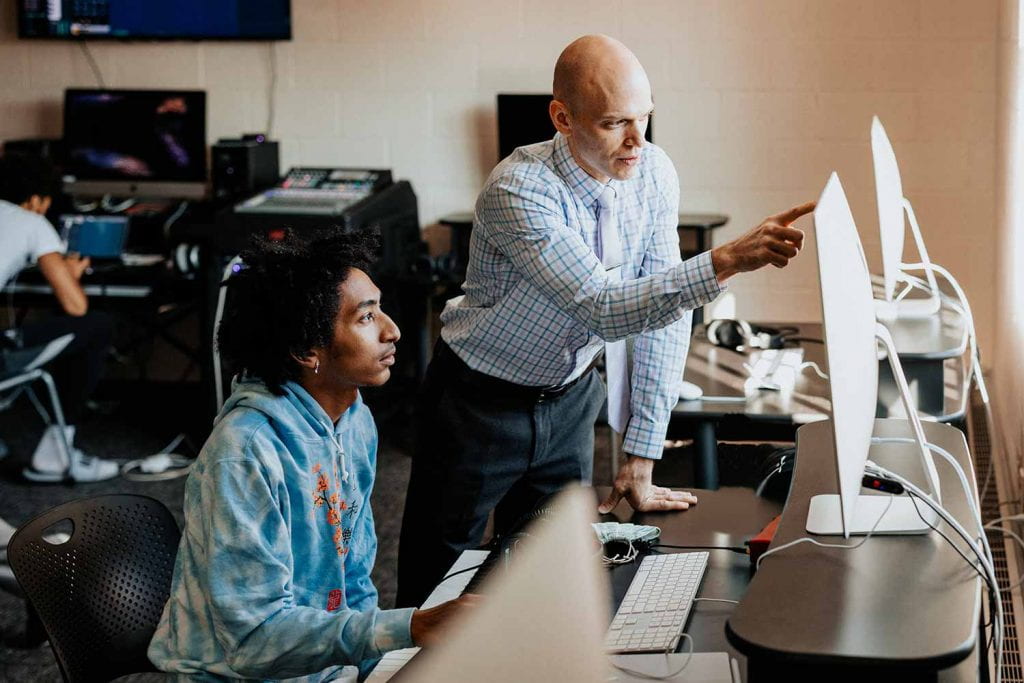 The music technology and production program builds upon the foundation of Providence College's music program.
"Our graduates are extremely well-rounded, people of character, and excellent musicians," Gordon said. "I'm not bragging. It's the truth. They get the best of all worlds: a comprehensive music education within the liberal arts."
Stressing that a degree in music is a sound investment, Gordon added, "Many of our graduates, especially those in music education and now, we hope, music technology and production, land jobs before they even finish their degrees."
Clare Krug '24 and Dr. William Longo on the Providence College Podcast
More Providence College news