January 07, 2014
Study nature, not books: Biological Imaging course lets students observe a whole new world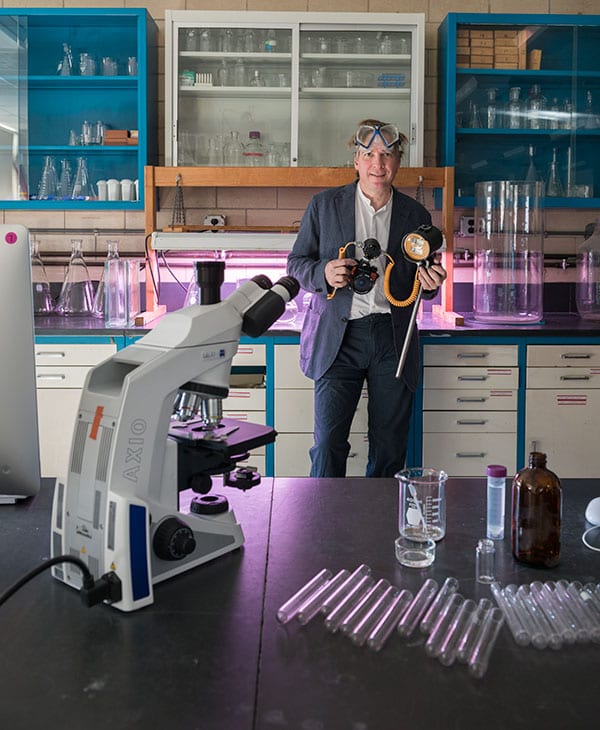 Seeing is learning for the Providence College students enrolled in Biological Imaging.
Through the course, biology majors develop in-depth skills using light, fluorescent, and electron microscopes, and high-end camera equipment.
"To be able to visualize a biological phenomenon is a huge component to scientific research," said Dr. Joseph A. DeGiorgis, associate professor of biology, who designed the course.
DeGiorgis, a neurobiologist, has taught it several times since 2008. This year, however, the students used research-grade microscopes, 27-inch iMacs, and professional cameras, thanks to College funding and alumni donations.
The microscopes used previously were maintained for decades. "It's unfair, in some ways, to send kids out the door knowing how to use a 40-year-old microscope," said Dr. Patrick J. Ewanchuk, associate professor of biology and assistant chair of the department.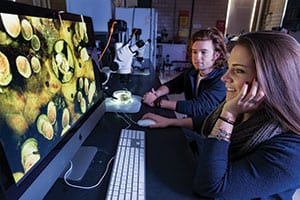 Alumni respond
Recognizing a need, Ewanchuk contacted a former student, Ryan Whalen '09, a major gifts officer in PC's Office of Institutional Advancement. Whalen invited Dr. John R. Mullen '78, a radiation oncologist in Maine, to visit campus in 2009.
Mullen toured the Albertus Magnus science complex, including the physiology lab, where students were using equipment he used as a student. He donated $10,000 to purchase three new physiology lab stations, and the College matched that. Now, the Department of Psychology also uses the equipment for teaching and research.
Mullen donated the same amount each year until 2013, when he contributed $25,000 toward Biological Imaging.
"I realize that I got a great education here, and it really promoted who I am as a researcher and physician," he said.
"I think it's really important to give back, and to give forward, too," he said. "You're making the place better for the students
that come behind you. You give forward to them, and hopefully they'll give back as well."
Fueled by personal passion
DeGiorgis became interested in biology as a diver, pursuing underwater photography. He majored in oceanography and marine ecology at Florida Institute of Technology and, through his graduate work at Brown University, became an expert on light
and electron microscopy. In addition, he has studied photography at the Rhode Island School of Design and the School of Visual Arts in New York.
DeGiorgis has a lab at the Marine Biological Laboratory in Woods Hole, Mass., the oldest private marine laboratory in the country. He often collects sea urchins, cold-water coral, and other organisms from Vineyard Sound for students to observe. He also gathers plankton by dragging a net behind his boat, or scrapes sludge from the side
of his dock.
"Under the compound scope, something that you couldn't see with your eye is now 20 inches long, across your computer monitor," he said.
Students begin by learning the principles of optics so they understand how these tools help them see.
"It's kind of like driving a car," DeGiorgis said. "Do you have to know how the car works in order to operate it? No. Can you drive it incorrectly or inappropriately? Of course."
The students use software to control the cameras on the microscopes, changing the aperture, shutter speed, and more. They can capture time-lapse video and high-speed images as well.
Students also can create "focal stacks" — splicing together several images, each with different areas in sharp focus, to create a crisp composite.
In addition, they learn to use the confocal microscope. It captures images of fluorescent light emitted from a single focal plane. By assembling a series of shots taken throughout a single sample, students can reconstruct a 3D relationship, DeGiorgis said.
"It's simple. Our undergraduates can do this stuff," DeGiorgis said.
Larger research universities have similar tools, but access is often restricted to post-doctorate and graduate students, he said. "The question is, is there a course that allows undergraduates to learn how to use the equipment, and then, at the end of the day, do they get to use the equipment? That is not that common."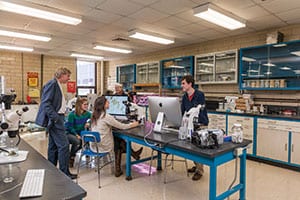 High ambitions for imaging
Ultimately, DeGiorgis wants to build a world-class imaging program at PC, making it the finest available to undergraduates. In addition to microscopy, he would like to offer studio lighting so students can photograph organisms in aquariums, as well as underwater photography equipment "so we can take it back into the environment."
He referenced 19th century naturalist Louis Agassiz, who wanted students to "study nature, not books."
"When you hold a sea urchin in your hand, you can appreciate that it's a pretty organism," DeGiorgis said. "When you look at it under the dissection scope, you can zoom in on all the fine structures — tentacles, tube feet.
"It just opens up a world that is not existent in our daily life," he said. "To look at a sea urchin up close — it's breathtaking."
DeGiorgis' enthusiasm is infectious. Once class begins, students strive to capture the best shots. They bring in spiders from home, or check out plants from a local botanical garden, and often continue through lunch breaks, the end of class, and on weekends.
"I'm used to upper-level biology classes that you read the textbook and take exams," said Erin O'Donnell '15 (Halifax, Mass.). "I've learned so much more because you don't have that structure. This class is almost entirely independent."
Stephen Rogers '15 (Baldwin, N.Y.) agreed. "It does make you look at things in a different way," he said. "A lot of science is just being able to see something."
Read more: See for yourself: Art, science professors collaborate for 'Surprising Realities' series