October 31, 2015
Submerged in research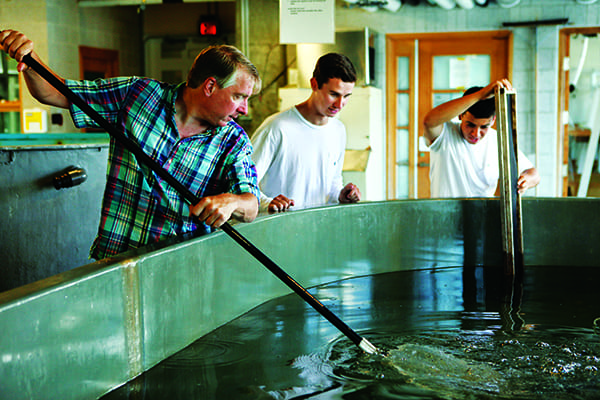 BY LIZ F. KAY
PHOTOS BY JOEL PAGE
Science is often described as a lonely vocation, with researchers toiling away in labs with little interaction with the outside world.
But that's not the case for Providence College students who collaborated with Dr. John H. Costello, professor of biology, and Dr. Joseph A. DeGiorgis, associate professor of biology, for 10 weeks this summer at the Marine Biological Laboratory (MBL) in Woods Hole, Mass. Founded in 1888, the MBL is a mecca of research and education in biology, biomedicine, and environmental science.
As undergraduates — four among 76 at the lab this year — they enjoyed the rare opportunity to investigate big problems alongside graduate and post-doctorate researchers.
"They get out of it what they put into it," DeGiorgis said. "It's not about the desk you're working at. At a place like Woods Hole, there are Nobel laureates walking around. You can submerge yourself in the research setting."
In addition to hands-on experience in their labs, the biology majors can participate in the community's collegial atmosphere. They are welcome to attend lectures in graduate courses offered at the MBL and daily talks by everyone from esteemed researchers to scientific leaders in government and industry, as well as regular conferences run by visiting international scientists.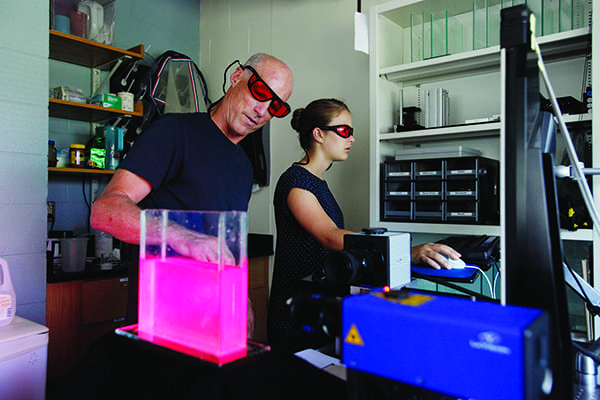 "We're always bouncing between rooms, asking for advice,"said Andrew Hopkins '16 (Glen Ridge, N.J.), who worked with DeGiorgis. "It's a great experience, being engulfed in science."
"For some people, it's a transformative experience," Costello said. "It's a little difficult not to be distracted — there are so many exciting lectures and presentations going on."
That's what happened to Rylie Walsh '12. After a summer of research with DeGiorgis and attending lectures on electron microscopy from the masters at the MBL, she abandoned her plan to become a physician's assistant. Now she's pursuing her doctorate in molecular and cellular biology at Brandeis University.
"It completely changed what I thought I was going to do," said Walsh.
Dr. Sean P. Colin '93, professor of environmental science at Roger Williams University in Bristol, R.I., was a student researcher with Costello. Today, the professor and the alumnus collaborate in their shared MBL lab.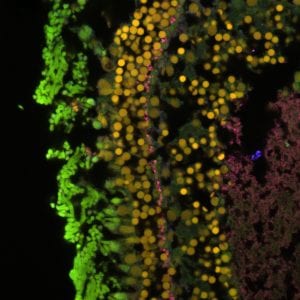 "There are a lot of great opportunities for students to get a taste of graduate work and get a feel for the exciting scientific community," Colin said. "Hopefully, it motivates them to stay with it."
Emma Lederer '18 (Millis, Mass.), who worked with Costello, said she had always been interested in marine biology and was grateful for the opportunity to explore the field so early in her college career.
"Not a lot of people get a job like this after their freshman year," she said.
The undergraduates are given real responsibility. In Costello's lab, she analyzed underwater video of  siphonophores, large, floating colonies of deep-sea creatures, as well as jellyfish.
"I have found it so interesting — finding patterns is so exciting," Lederer said.
Students at PC are ready for these tasks, Costello said. "All of the students have background in the essential math and physics and biology," he said. "They basically have the general background, but not the specific.
"We give them the refined methods. We teach them software and how to analyze images," Costello said.
"You're immersed," Lederer said. "They trust me with all of this work."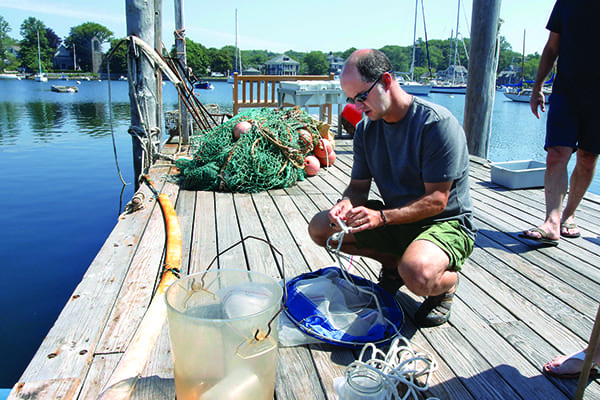 For Jillian O'Melia '17 (Bourne, Mass.), analyzing jellyfish propulsion with Costello fulfilled a long-standing dream. She grew up in the town next to Woods Hole and has visited the aquarium since she was a child, in addition to taking high school field trips to the lab.
She mentioned her research interest to her College adviser, who suggested she talk to Costello after learning how close O'Melia lived to the MBL.
"To be able to work down here and have the opportunity at our age, it's something that very few people could say their school presented them," O'Melia said.
DeGiorgis, a neuroscientist, studies amyloid precursor protein, which is associated with Alzheimer's disease. In the past, he has used squid as a research model, because they have very large neurons, but this year, his students have used confocal microscopes to identify it in goldfish retinas.
DeGiorgis has been at the MBL since the 1980s — first as a diver collecting research organisms in college, then as a graduate student, and now as a researcher himself.
"The place leaves a lot of people with a smile on their face, and when I run into people from the MBL, they speak very fondly of it," he said.
It doesn't hurt that the lab is situated against the picturesque backdrop of Cape Cod, a beautiful summer tourist destination. When the student researchers have downtime or after they finish for the day, they can walk to a beach to relax, in addition to sailing and other attractions.
"There's not a better place to be for a summer," said Nicholas DeMeo '17 (Falmouth, Mass.), who worked in the DeGiorgis lab. "We're really privileged to be here."