July 27, 2023
Summer research: A peek behind the curtain
By Kaitlyn Bresnahan '25
Campus in the summer is a strange experience. During the semester, you get used to a baseline level of energy that goes unnoticed in everyday life. Sometimes, like when there is a basketball game downtown or during a long weekend, campus gets quiet, but it's nothing compared to the summer. Being here during the summer feels like a peek behind the curtain: You see all the construction projects that begin the day after graduation, and the professors are much more laid back without classes to teach and exams to grade. Especially working in an ecology lab, I see professors, who prefer being out in the field to being stuck in a classroom, doing what they are most passionate about.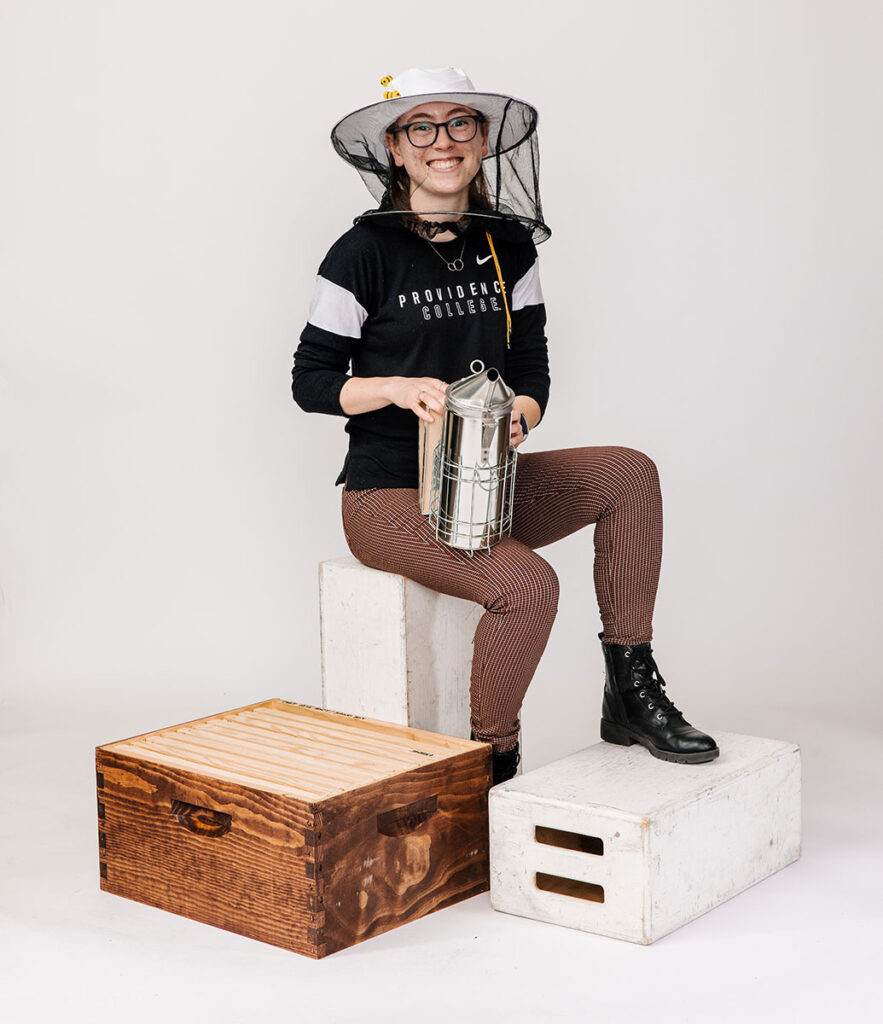 Dr. Rachael Bonoan, assistant professor of biology, is no exception. This summer, she showed up to research in overalls with her hair in braids, looking like a student ready for a field trip. Every bee we caught, she exclaimed, "It's so cute!" and her enthusiasm and passion were contagious. As a beekeeper, I know most about honeybees, but this summer I learned so much more about all our native pollinators in a way that didn't even feel like learning. One aspect of my research focused on plant-pollinator interactions in the campus's stormwater retention gardens, which we call bioswales. I sat among the beautiful blazing star, purple wood sage, foxglove, and tall blue indigo flowers, and noted which pollinators visited which flowers. I was often seen walking around campus with a net to catch whatever bees I could find, reminding me of when my siblings and I would catch fireflies in mason jars. Dr. B taught me how to identify bees and about their characteristics. This not only helped me to develop my field identification skills, but also built the lab's atlas of Rhode Island pollinators, and allowed us to give the college feedback on how these gardens are helping local pollinators.
Because our pollinators are so important, and because learning about all of this makes me so excited, I hardly noticed all the skills I gained — not only practical skills for a pollinator lab, but for all kinds of research. Quick thinking and problem solving are necessary when working with live animals, especially ones as fast and tricky as insects with a stinger. (I digress to say that most native bees rarely sting: The majority are solitary and live in individual holes in the ground without food stores or brood to protect and are therefore not aggressive.) Outreach is a huge part of our work because our native pollinators face challenges and need protection and help, so communication is another skill that my summer work helped me to develop.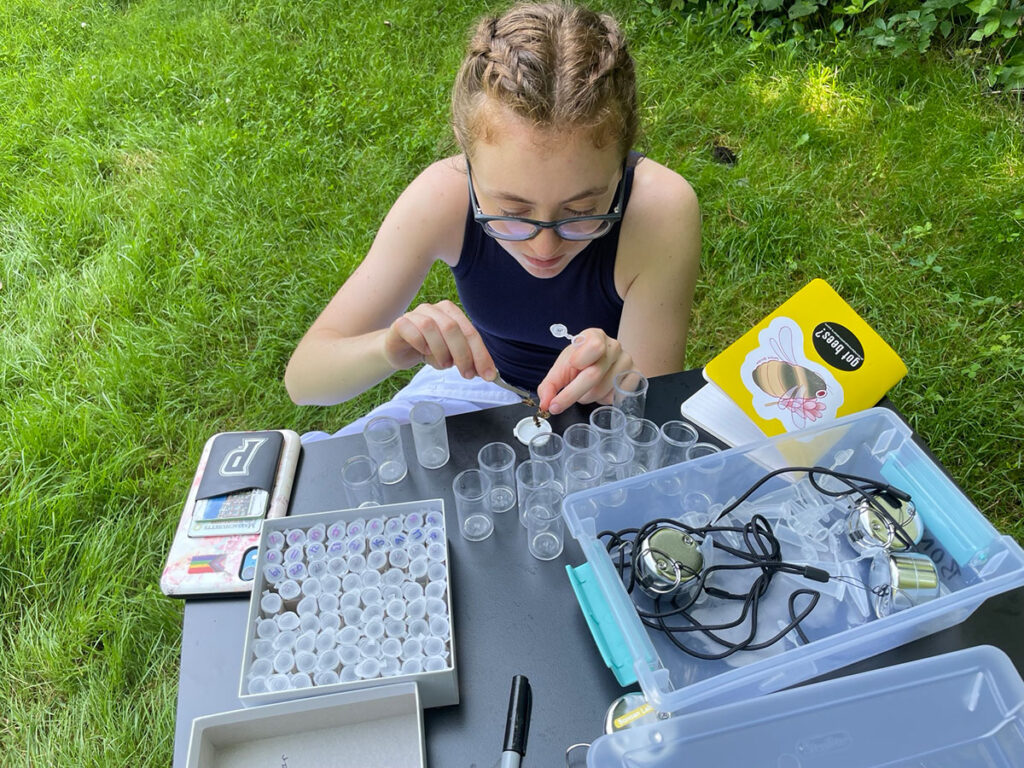 I also learned how to conduct my own research project, which is unique to Dr. Bonoan's lab: Each student has their own project to investigate. I worked with local beekeepers to examine the effects that drone comb removal for Varroa mite management has on honeybee hives. While Dr. B helped us to lay out plans and gather and analyze data, we were responsible for our protocols and our project goals. Having Dr. B to help me when I needed it boosted my confidence and allowed me to explore without the fear of messing up. The support from her, from other biology faculty, and from my other professors exemplifies PC: Friars help each other in the pursuit of veritas. The opportunities offered by PC are building the foundation I need for a successful educational experience, for my future studies toward a Ph.D., and for a life filled with the childlike joy of watching bees on flowers.
Kaitlyn Bresnahan '25, from Osterville, Massachusetts, was awarded a Robert H. Walsh '39, '66Hon. Student Research Fellowship to support her summer research on campus. She is a biology major and French minor and the sister of Chris Bresnahan '23. She wrote this essay for the Fall 2023 issue of Providence College Magazine.
A day in life of a researcher
By giving to The Fund at Providence College, you support robust student research programs, fueling curious minds with the resources needed for even greater discoveries.
More Providence College news
More from the Fall 2023 magazine