October 10, 2019
The Friar family returns to campus for Homecoming Weekend 2019
By Vicki-Ann Downing

Homecoming Weekend, Oct. 4-6, drew more than 3,000 parents, students, alumni, and families to campus for an unforgettable celebration of the Friar family.

The College's first Homecoming Weekend in many years featured dozens of events under spectacular autumn weather. It combined the best features of three traditional weekends, St. Dominic Weekend, traditionally held in October; New Student Family Weekend, formerly held in November; and Alumni & Family Weekend, held in February.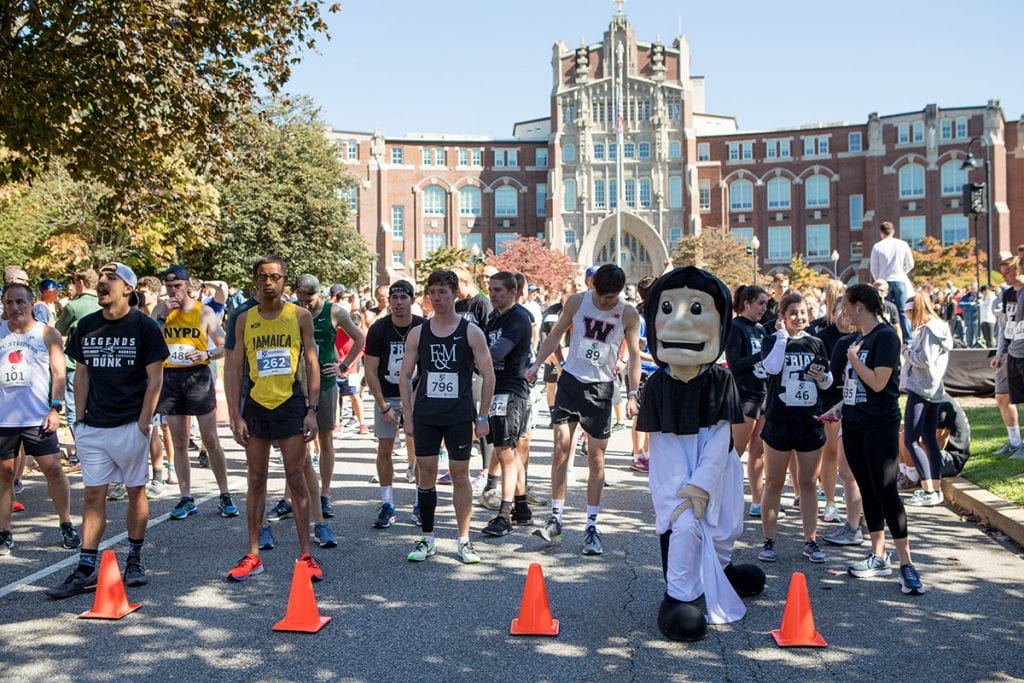 The 10th annual running of the Friar 5K, a benefit for the National Alumni Association Scholarship Fund, took place at noon on Saturday. The race began in front of Harkins Hall, wound through the Elmhurst neighborhood and part of campus, and ended on the Ray Treacy Track just in time for Oktoberfest.

More than 800 runners crossed the finish line. Michael Whalen won the men's race with a time of 17:10. Katie Zalaski '18 was the first woman to finish, with a time of 20:47.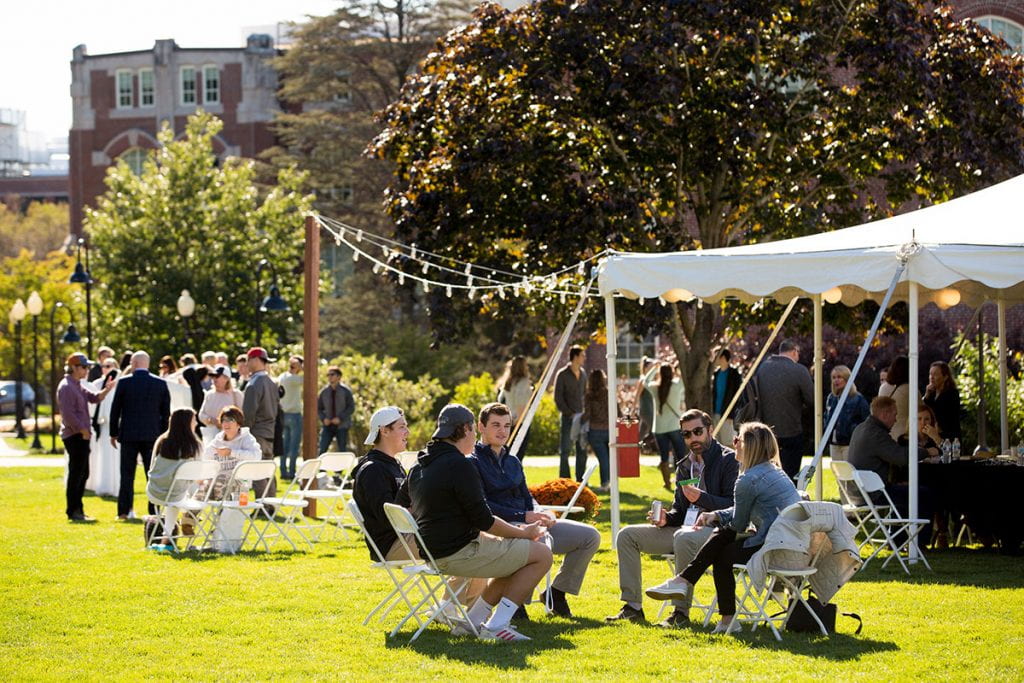 Oktoberfest was held on the Slavin Center lawn with music by Adam Hanna '18, food trucks, a bouncy house, face painting, and baby animals. A biergarten on the Aquinas Hall lawn included music by a traditional German band, the Jolly Kopperschmidts, and a commemorative mug.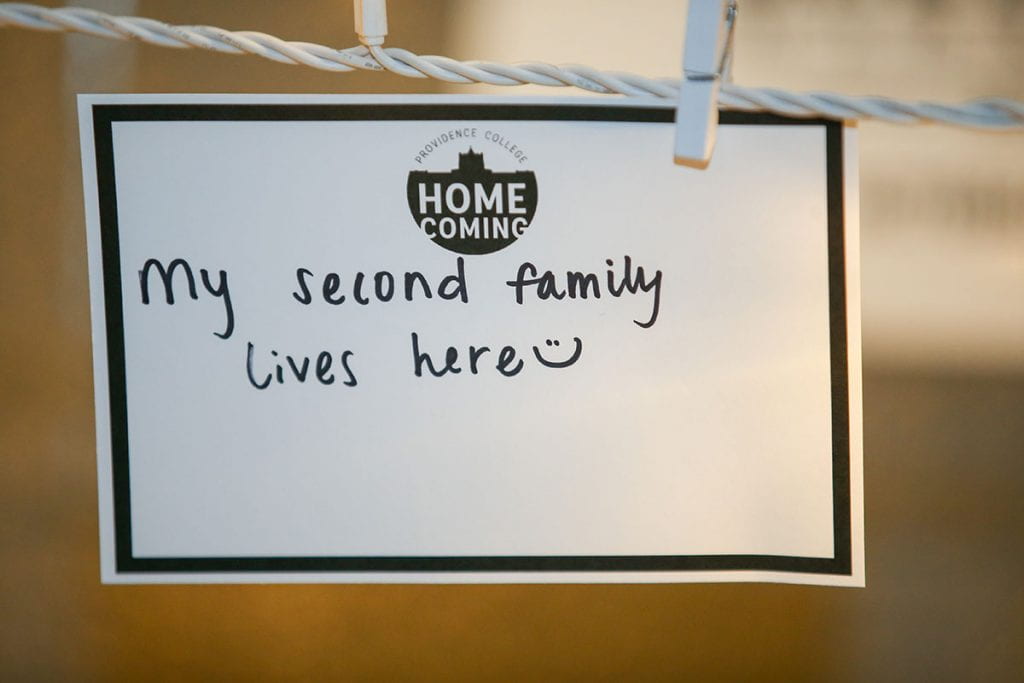 Throughout the weekend, parents and alumni were invited to attend panels on such topics as study abroad, career education, and Fulbright fellowships. Guests could walk through art exhibits, enjoy an a cappella concert, check out theatre performances and a dance class, and have a Jazz Brunch with Dominicans. There were men's and women's ice hockey matches, a men's soccer game, a field hockey game, and a rugby competition.

A Spanish Mass was offered on Saturday afternoon. On Sunday, guests could experience Mass styled after PC's traditional Sunday night "Last Chance Mass" in St. Dominic Chapel or attend a larger Mass in Peterson Recreation Center.



The importance of the humanities to success in business was emphasized by Arthur F. Ryan '63 & '90Hon., former CEO of Prudential Financial and one of the youngest presidents of Chase Manhattan Bank. Ryan was the keynote speaker at the annual Fiondella Lecture, which took place on Friday in the Arthur F. and Patricia Ryan Center for Business Studies.

Ryan and his late wife provided the lead gift for the building, home to the business school.

Ryan, a mathematics major, said he was often asked what college courses influenced his career. While math and business were important, humanities courses taught him "how to learn to learn, how to develop critical-thinking skills, what makes a leader, how to get people to follow you when you are a leader, and about doing the right thing," Ryan said.

Graduates who interview for a job with Google might be asked about grades and their major, but they will also be asked about their creativity, innovation and communication skills, and whether they can work as part of a team, Ryan said.

In his career as a business leader, Ryan learned about the importance of diversity — not just diversity of sex, religion, and color, but diversity of thought.

"People think differently based on where they were raised, how they were raised, and what their experiences were," Ryan said. "It was my job as a leader to take that and direct them to things we could accomplish as a group. People are encouraged to think for good reason. The amalgamation of their thinking is what produces the great solution. Every great solution I've seen has been the marriage of disciplines, not the singular focus."

Ryan was joined onstage by another math major, Elizabeth E. Flynn '82 & '17Hon., retired president and CEO of Marsh, Inc. Flynn worked for Prudential as a trainee early in her career and said that Ryan, who had thousands of employees reporting to him at the time, became a sponsor for her, advocating for her in the organization and giving her opportunities to advance.

Ryan was willing to take risks on employees, particularly women in leadership positions, at a time when others were not, she said.

In a discussion led by Dr. Alexander N. Moffett, associate professor of English and director of the Development of Western Civilization Program, Flynn said her study of mathematical theory helped her to think critically and to apply logic to solving problems. She said that learning to do what was right, morally and ethically, was part of the "heart and conscience" of PC.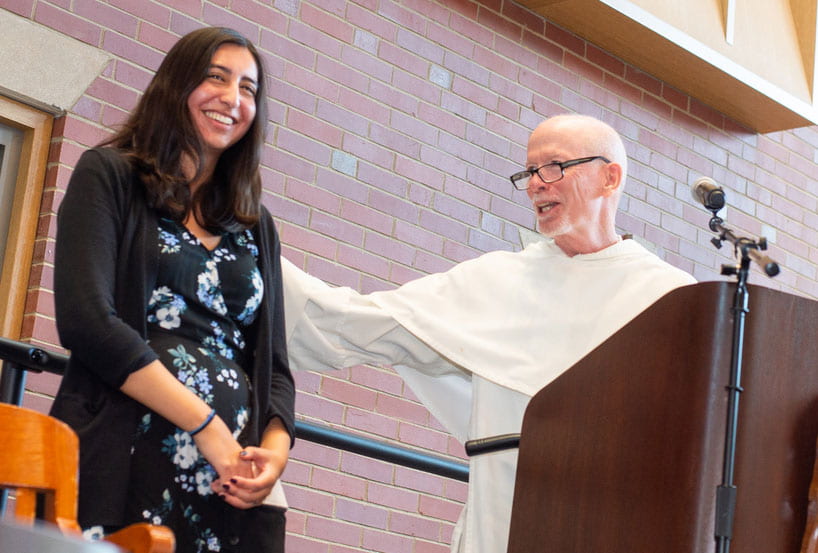 The Fiondella Student Academic Achievement Award, which recognizes academic achievement in the humanities and business, was presented to Nicole Jozwik '20 (Merrick, N.Y.). Jozwik is an art history major with minors in Spanish and in business innovation, with a concentration in design thinking. She is a member of the Liberal Arts Honors Program.

The Fiondella Lecture and Student Academic Achievement Award were established by Robert W. Fiondella '64 & '16Hon. and his wife, Carolyn Fiondella.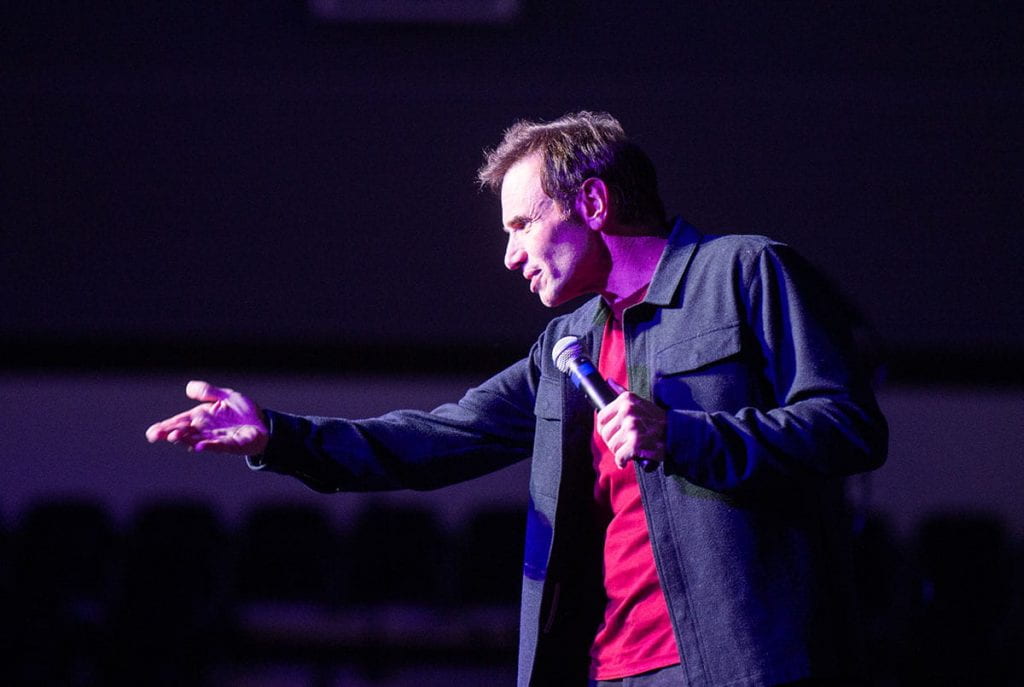 Paul Mecurio '82, an accounting major at PC who became a comedian, entertained on Friday night in Mullaney Gym at Alumni Hall. Mecurio is a writer for The Late Show with Stephen Colbert and won Peabody and Emmy awards for his work on The Daily Show with Jay Leno. He is a graduate of Georgetown University Law School and worked as a lawyer and investment banker on Wall Street before writing for television.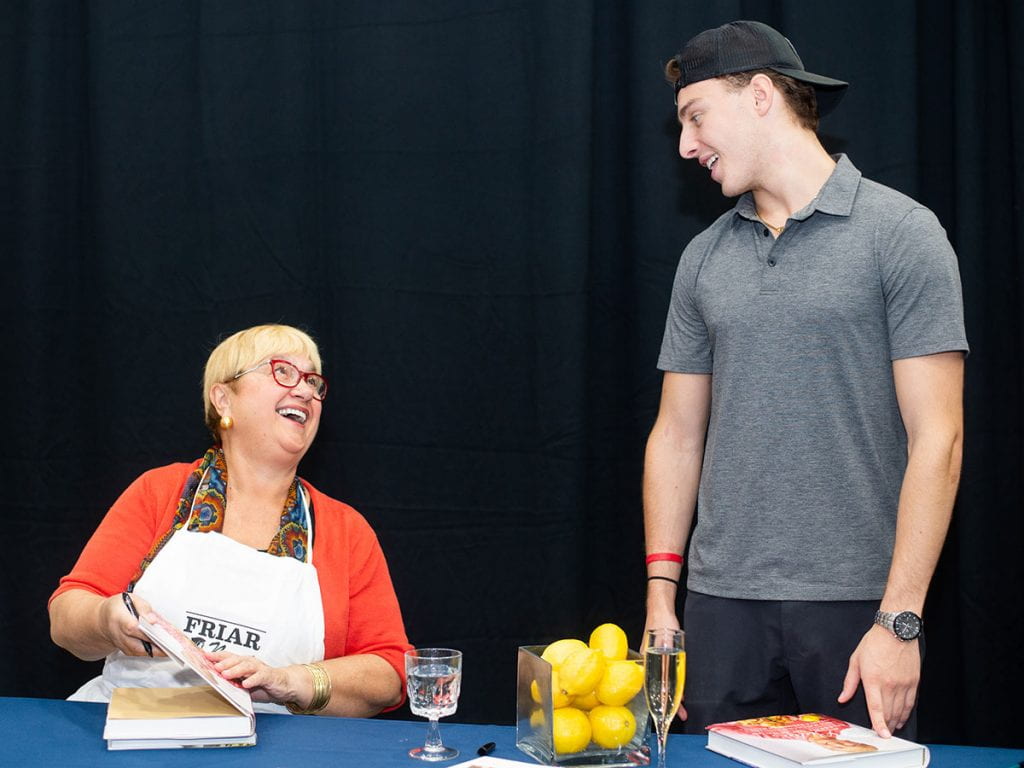 Lidia Bastianich, the New York restaurateur, cooking show host, and author, discussed her book, My American Dream: A Life of Love, Family and Food (Knopf, 2018), in Mullaney Gym on Saturday afternoon. She was introduced by her grandson, Miles Bastianich '22, and told about cooking an Italian dinner for him and his friends on a single burner stove in McDermott Hall.
The conversation was facilitated by Edward A. Iannuccilli, M.D. '61, a retired physician who has written books about growing up in an Italian-American family.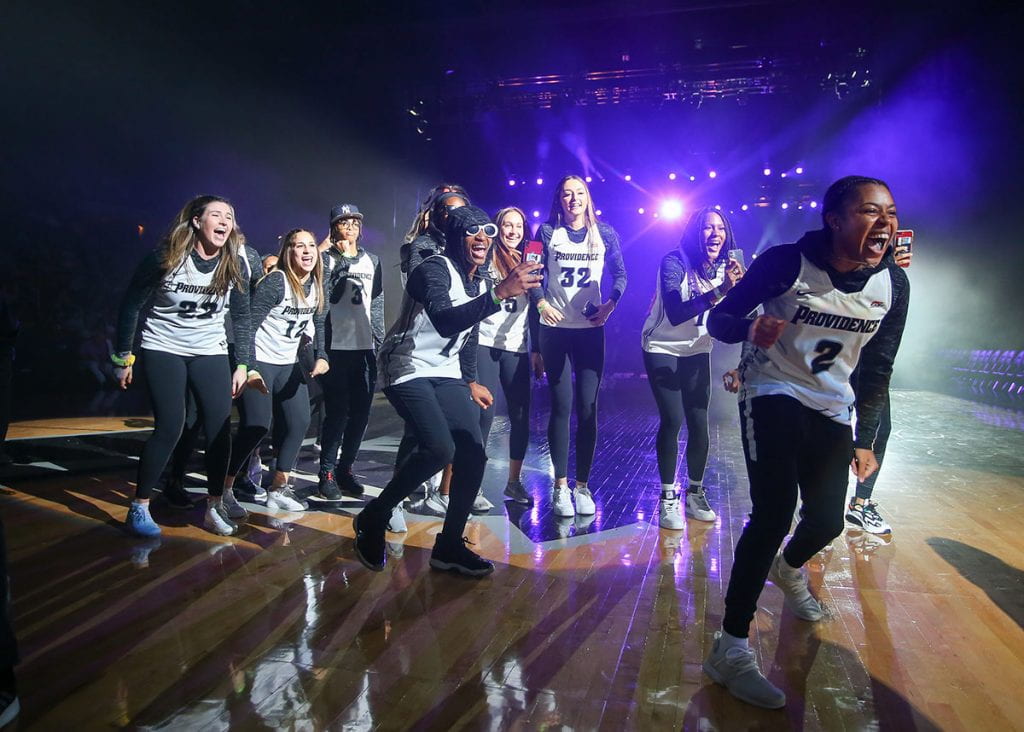 Late Night Madness, the official start of the men's and women's basketball seasons, moved downtown to the Dunkin' Donuts Center for Homecoming Weekend. In addition to student performances, the Saturday night show featured singer John Legend, the Grammy Award-winner singer and songwriter; rapper A Boogie wit da Hoodie; and Red Panda, the acrobat Krystal Niu.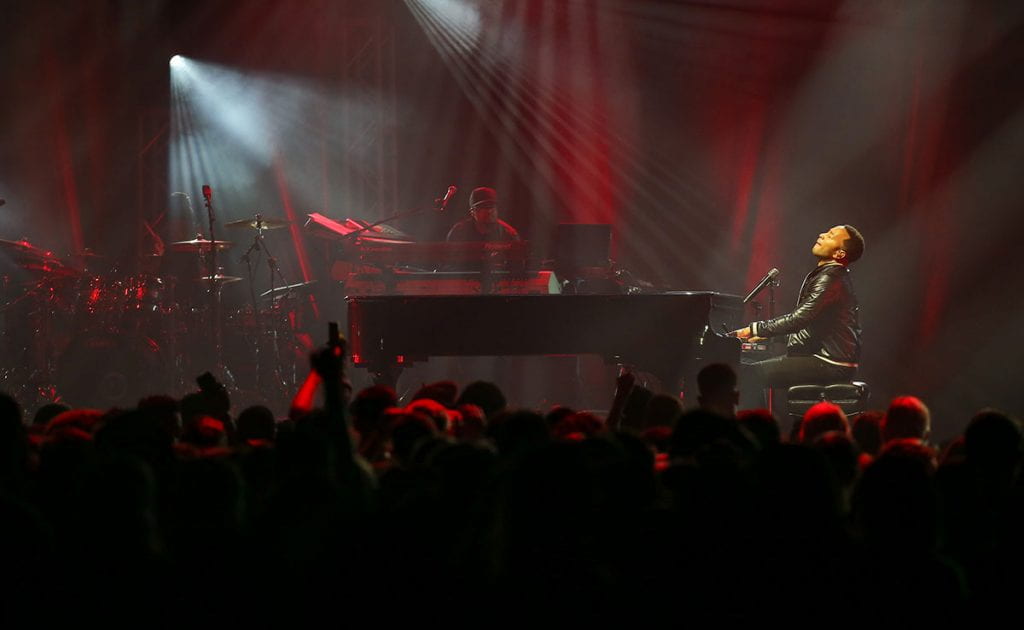 HOMECOMING 2019 PHOTOS