September 19, 2019
Theatre department to host regional premiere of 'Something Rotten!'
By Nick Wesman '20G
This fall, the Department of Theatre, Dance, and Film will host and perform the eastern regional college premiere of the hit Broadway show Something Rotten!
Providence College will be one of the first two colleges in the country to perform the musical comedy that garnered nine Tony Award nominations and one win in 2015, said James M. Calitri, associate professor of theatre and managing director of theatre.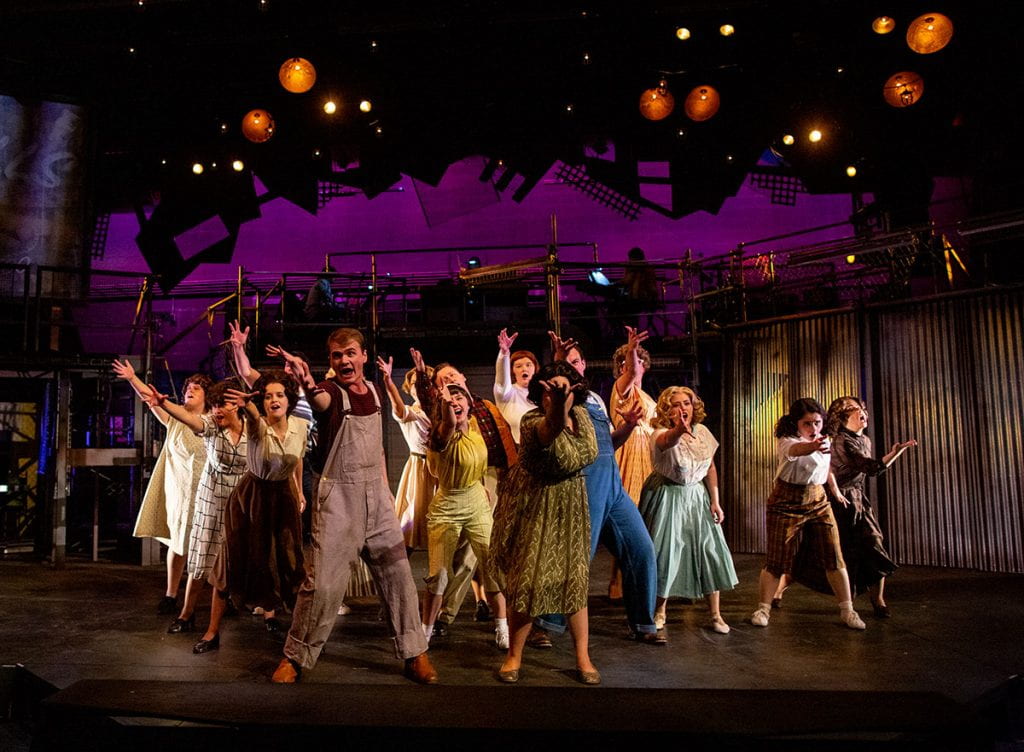 Calitri, who is directing the production, noted the unique opportunity the premiere provides for students.
"It's special that our students are literally the first college students to be doing these characters. It's nice that they get to create these new characters and look at them in that way," he said.
The show, which will run Oct. 25-27 and Nov. 1-3 in the Angell Blackfriars Theatre of the Smith Center for the Arts, is the fictional story of the creation of musical theatre in late 16th century London. The story centers on the brotherly playwriting tandem of Nick and Nigel Bottom. The brothers are trying to break through in a theatrical landscape dominated by the Bard of Avon himself, William Shakespeare. Slapstick and farce carry the day, as the hapless Bottoms' confusion leads to the development of the musical as a new genre of theatre.
The show is littered with homages to well-known musicals and jokes at the bard's expense. Though there is plenty for musical theatre and Shakespeare mavens to unpack, Calitri said Something Rotten! can be enjoyed by anyone, traditional musical fan or not.
"It's sort of like the Pixar version of theater. If you're an adult and you watch a Pixar movie, you get that level of adult humor," but there are plot lines and jokes within Something Rotten! that will entertain even Shakespeare or musical novices, he explained.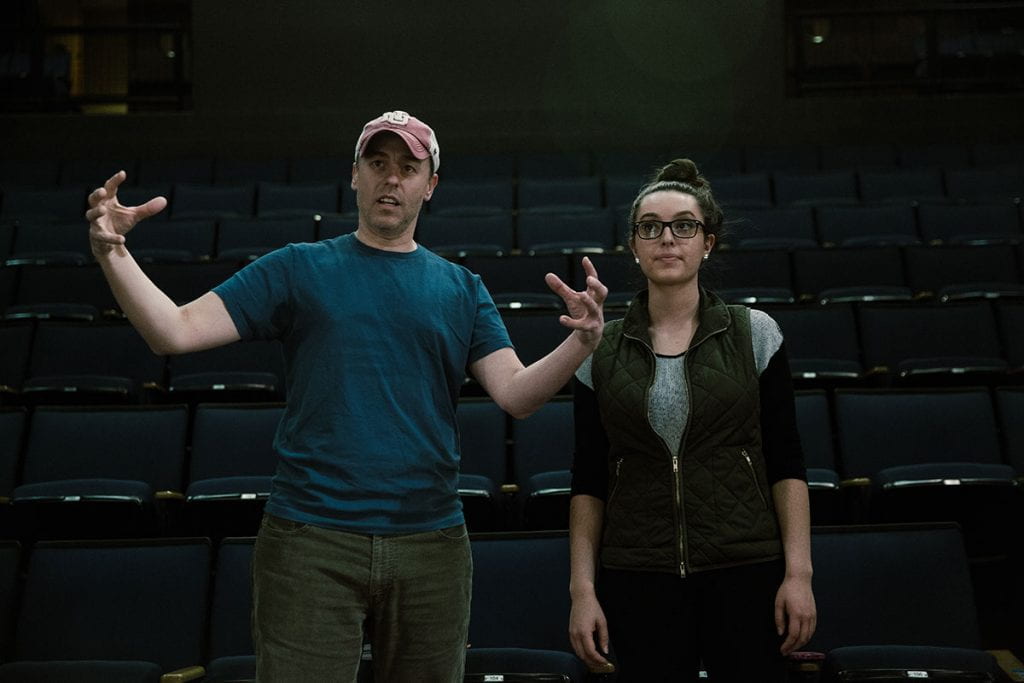 In true musical fashion, everything about Something Rotten! is big, from the English Renaissance-era costumes to the songs and dance routines. It's so big that Something Rotten!, as a musical comedy about the creation of musicals, tends to parody itself, Calitri said.
"The show is literally about producing big musicals. It has to be exaggerated. The whole point of the show is that people love musicals because they're so big, and they're so loud, and they're so funny, and they're so colorful. But then you have to show them a big, loud, funny, colorful show," he said.
---
Homecoming Weekend Sneak Peek
• Friday, Oct 4, 7 p.m.; Angell Blackfriars Theatre
Something Rotten! Open Music Rehearsal
---
In keeping with the English Renaissance theme, the stage in Angell Blackfriars Theatre will be designed to resemble London's Globe Theatre, where many of Shakespeare's works were performed.
Cast as Nick Bottom in the upcoming production, Dan Jameson '21 (Albany, N.Y.) is excited for PC to put its stamp on the show. According to Jameson, theatre students were excited when they received news of the honor, but with rehearsals underway, the attitude has shifted toward one of resolve.
"In that time, we were all devouring the soundtrack and like 'Oh my gosh, this is so funny!' It's a little business as usual (now), but everyone seems in a better mood," said Jameson.
"I think people realize that this is something new and we are all building it together," Calitri added.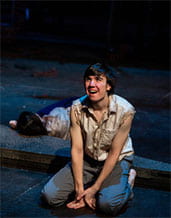 It was a stroke of serendipity that led to PC's designation as the host of the production's regional college premiere. The national tour played its final show at the Providence Performing Arts Center. Calitri, who attended the performance, knows one of the show's original producers, Dan Markley, and was introduced to the producer's colleagues. When asked if he'd be interested in the college rights to perform Something Rotten!, Calitri leapt at the opportunity.
"You only have that one shot at being the one who gets (the rights) first, and there's a zillion colleges around the country. Somebody knows somebody and you just get lucky enough to host it," he said.
Calitri and Jameson believe the honor is indicative of the theatre department's reputation in the performing arts community. Just last spring, several theatre students took home honors from the Kennedy Center American College Theatre Festival regional competition. Jameson advanced to the national competition in Washington, D.C.
"The reason Dan Markley offered it was because he had been here and he had seen the shows and worked with the students. I think that's the best testament to the department in that someone who has won multiple Tonys came here and was like, 'OK, they can do this,'" Calitri said.
"We see it as a fun challenge. We're challenging ourselves, challenging the department, because it's a big show," Jameson said.
The musical will run the weekends of Oct. 25-27 and Nov. 1-3, with Friday and Saturday shows beginning at 7:30 p.m. and Sunday performances starting at 2 p.m. Tickets are $5 for students, $10 for PC employees and seniors (65+), and $15 for adults. Tickets can be purchased through the Smith Center Box Office, open 1 p.m. to 4 p.m. Monday through Friday. Orders by phone can be made at 401.865.2218 or online at https://theatre.providence.edu/box-office/.
Other programs for the 2019-20 mainstage season:
• Angell Blackfriars Fall Dance Concert; Nov. 15 & 16, 2019
• The Maids, directed by Erin Joy Schmidt; Jan. 23-26, 2020
• Beasts, an original play by Thomas Edwards '20; Feb. 13-16, 2020
• Creative Writers Festival, written, directed, and performed by PC students; March 21 & 22, 2020
• Peter and the Starcatcher; April 3-5 & 17-19, 2020
• Student Film Festival; April 30, 2020