November 04, 2022
This is … Civ in London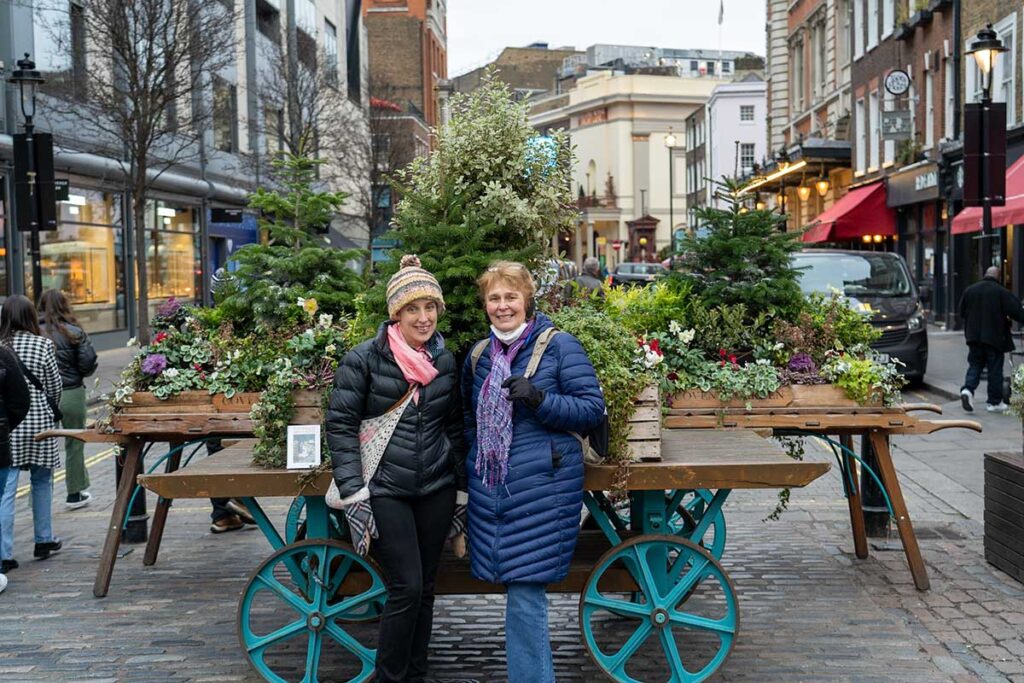 By Margaret M. Manchester, Ph.D. '83G Associate Professor of History
When the Center for Global Education and the Development of Western Civilization Program sent out a call for proposals for faculty interested in participating in a new Civ in London program, my colleague, Dr. Stephanie Boeninger (associate professor of English) and I immediately set to work drafting a course. We proposed focusing on war from historical and literary perspectives, using race, class, and gender as lenses to examine ancient Greek warfare, World War I, the Mau Mau Rebellion in Kenya, and the Troubles in Northern Ireland. We were ecstatic when we were selected to lead the inaugural program, with 13 students, from January to May 2022.
Each week we offered a one-hour lecture/discussion session and a three-hour seminar. One week we assigned several essays on women and warfare in ancient Greece and the play "Lysistrata" by Aristophanes. After discussing the play, we took the students to the British Museum, a five-minute walk from our center in Bloomsbury, and directed them to specific exhibits featuring artifacts from ancient Greece. We asked them to look for evidence of the variety of women's roles during the wars. It was a wonderful and fully integrated unit, where the literary readings and the art and artifacts reinforced and illustrated.
Several times during the semester, we met at a museum or an art gallery for our seminar. We visited Westminster Abbey, the Imperial War Museum, and the National Army Museum, and we lined up an art historian to lead a tour of World War I art at the Tate Britain. A weekend trip to Belfast and Derry in Northern Ireland included visits to significant historic sites and guided tours led by people who experienced and lived through difficult times there. We also traveled for a week to Greece.
In addition to our team-taught colloquium, each of us offered a course that fulfilled a PC core requirement. Mine focused on World War II and England, and Stephanie offered a course on contemporary drama. Students visited the Churchill War Rooms, the HMS Belfast (the first ship to fire at Normandy), and Bletchley Park (where the Enigma Code was cracked). We all attended three plays offered in London's West End. Yes … an instructor's dream come true!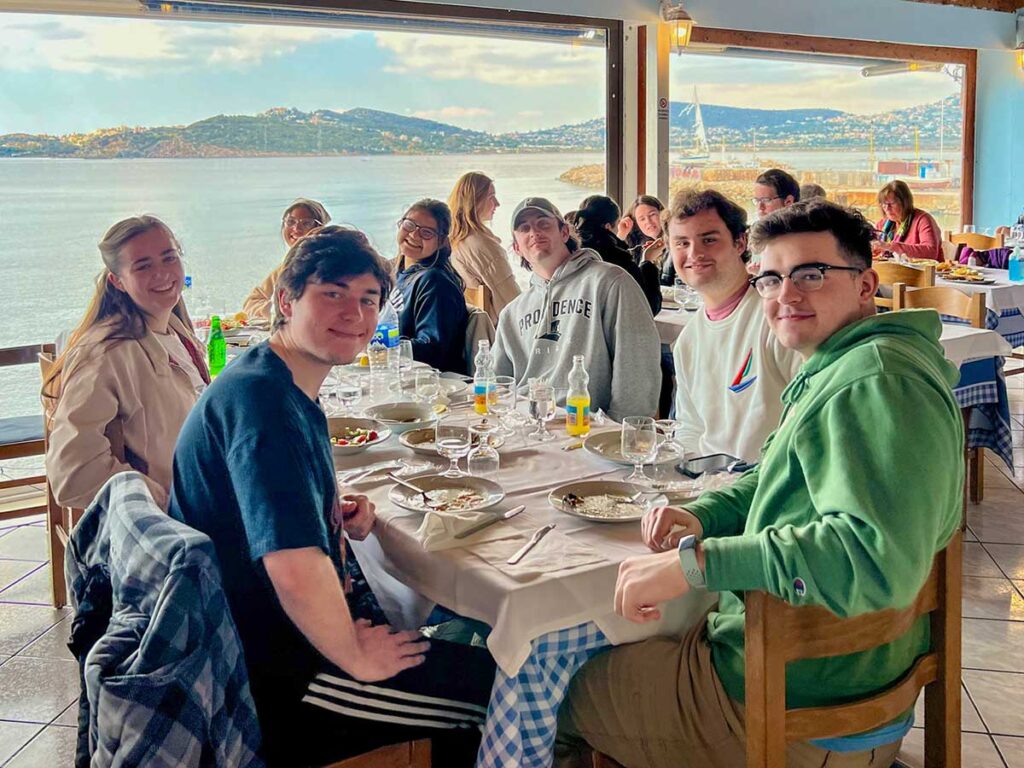 On our Civ in London blog, students related their site visits to the course readings and themes, and also discussed and reflected upon their travels, their experiences living in London, and whatever they found to be significant in their lives as PC students studying abroad.
While we loved the educational opportunities, we also appreciated the benefits the students derived from living and learning in London. They took advantage of the cultural and culinary opportunities, they got to know the city well, and they seized upon the chance to travel widely (and inexpensively) using London as their base. They discovered that historical experiences we studied continue to have an impact on English and European culture. Somehow, history is more imminent and interconnected, perhaps because the European experience of war has been so qualitatively different from that of the United States.
Our students, who came from a variety of backgrounds with a diversity of majors, became noticeably more self-aware, both as individuals and as Americans. For many, it was their first time traveling outside of the U.S. They developed great time management skills. They learned to navigate a large and bustling metropolitan center using the Tube, buses, and walking. Many had never used public transportation before. Those who had been shy or diffident grew more confident. They made new friends. Whether it was trying a new cuisine or traveling to a new place, they began to venture further out. You can read about their impressions and experiences at prov.ly/civ-blog.
We believe their experiences in our classroom and in London will contribute to a lifelong love of learning and travel. In keeping with PC's mission, it was a truly transformative experience for all involved and we are grateful to Providence College and the DWC Program.
Civ in London will continue in Spring 2023 with faculty directors Elizabeth Bridgham, Ph.D., and Robert E. Stretter, Ph.D., both associate professors of English.
More about Civ in London on the PC Podcast
More about the Development of Western Civilization Program
More Providence College news