May 13, 2019
Three Providence College seniors awarded Fulbrights to teach in Malaysia, Spain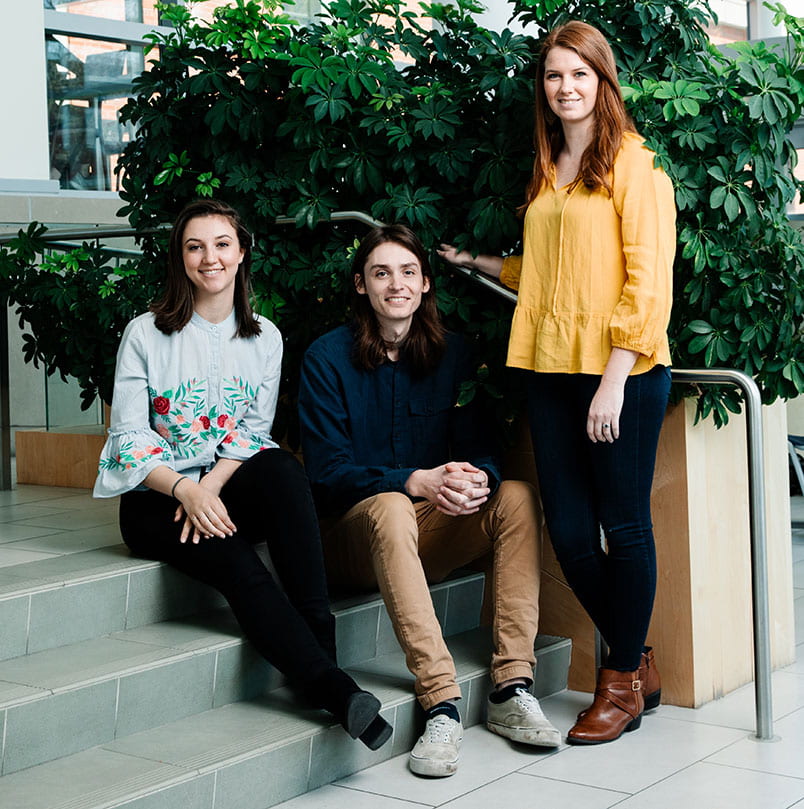 By Vicki-Ann Downing
Three Providence College seniors have been awarded English Teaching Assistantships from the Fulbright Program, the flagship international exchange program of the U.S. government, and will spend the 2019-20 academic year teaching English in Malaysia and Spain.
Kevin Cranney '19 (Exton, Pa.), Elena Morganelli '19 (Upton, Mass.), and Emilee Serwan '19 (Centreport, N.Y.) represent the most PC seniors ever selected by the Fulbright Program in one year. Cranney will teach in Malaysia, while Morganelli and Serwan will teach in Spain.
Each year, the Fulbright Program sends 1,700 scholars to more than 155 countries to study, research, or teach. The first PC student was awarded a Fulbright in 1955. Since 2010, 14 graduating seniors and six young alumni from the College have received Fulbrights.
"The applications from members of the Class of 2019 were particularly strong this year, and we are thrilled that for the first time three graduating seniors will serve as Fulbright ambassadors," said Dr. Darra Mulderry, director of national and international fellowships in the Center for Engaged Learning.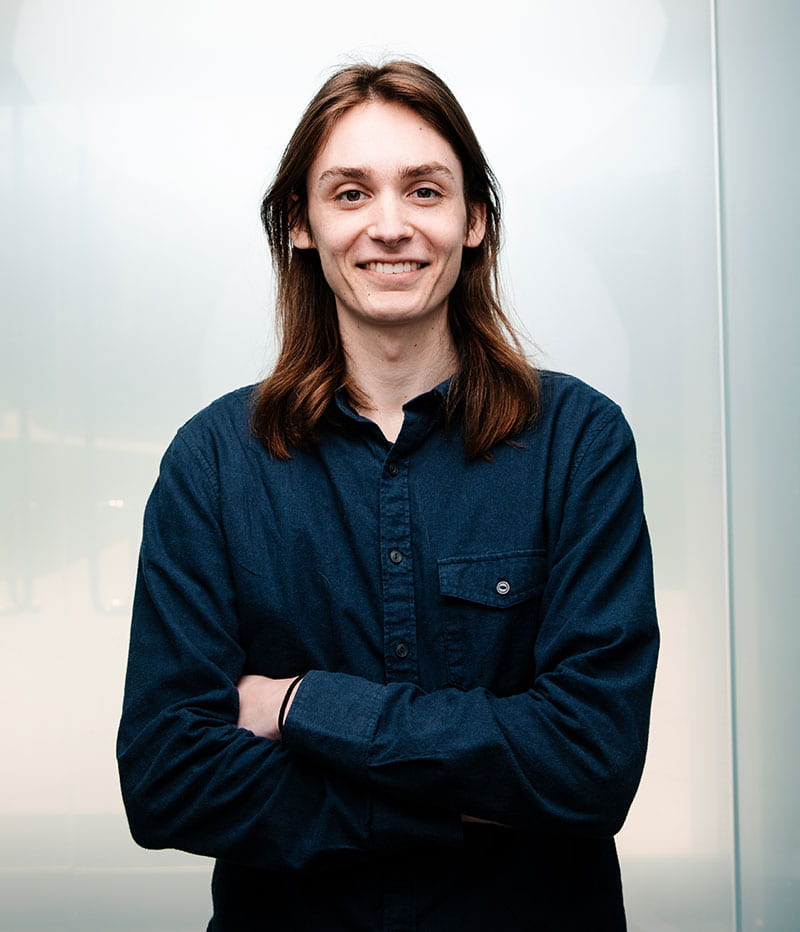 Kevin Cranney '19 will spend 10 months living in rural Malaysia, a southeast Asian nation that is largely Muslim, with a tropical climate and some of the oldest rain forests in the world.
"I wanted an experience unlike anything I've had before," said Cranney, a history major. "It will be an incredible learning opportunity for me."
Teaching appeals to Cranney, especially teaching in unconventional settings. In high school, Cranney recorded instructional videos about how to study for the Advanced Placement U.S. History examination and received thousands of YouTube views. He has spent the last four summers teaching 11-year-olds at a nature and adventure camp in Pennsylvania, shooting bows and arrows, overturning logs to find salamanders, and venturing out in canoes and into streams to search for macroinvertebrates — crayfish, insects, even water snakes.
"In just nine weeks, I witnessed the profound impact active, curiosity-driven outdoor education can have on maturing but malleable middle-schoolers," Cranney said. "I believe outdoor education can be beneficial to all, but I have seen its most dramatic positive effects on children with behavioral disorders."
Cranney graduates with the highest academic rank of seniors majoring in history. At the Academic Awards Ceremony for the Class of 2019, he will receive the Rev. Cornelius Forster, O.P. Award, recognizing excellence in European history.
Inspired by Dr. Jeffrey Johnson, professor of history, Cranney developed an interest in American labor history of the 19th and 20th centuries. For his senior thesis, he researched the Wiggans Patch Massacre, a murder in the coal region of northeast Pennsylvania in December 1875. He traveled to the Schuylkill County Historical Society in Pottsville, Pa., to read original newspaper accounts of the event.
"I reasoned that I was one of the few people to lay eyes on the articles since 1875, which makes any research historian excited," Cranney said. "Writing my thesis, I saw myself as a storyteller."
Johnson said Cranney effectively used primary source research from the historical society and from the Library of Congress to "craft his wonderful narrative."
"Kevin is a gem," Johnson said. "He has a passion for detailed research and telling meaningful stories about the past. He is an excellent scholar who not only writes elegantly, but is also an exceptionally pleasant person."
Cranney looks forward to experiencing the biodiversity of Malaysia. He will pack his trombone. He has played since fourth grade and is a member of PC's Pep Band.
"I'll be sharing American music," Cranney said. "Music is an international language of expression."
Cranney was familiar with PC because his cousins attended. The Development of Western Civilization Program, taught by faculty from English, history, philosophy, and theology, especially appealed to him.
"Looking back, what a wonderful program it is," Cranney said. "I learned so much. I really developed as a human being. Coming in as a freshman from Pennsylvania, I wasn't sure how the social life would be. But you find your niche. I've made the best friends I've ever known here."
Cranney is a member of the Liberal Arts Honors Program and participated in its spring break trips to Ireland during his first year and to Florence during his junior year. He has been a 2019 class representative in Student Congress for three years and is History Club secretary.
The academic year in Malaysia runs from January to November, so Cranney will not leave until early 2020. In the meantime, his neighbor in Pennsylvania is from Malaysia, so he hopes to spend time learning more about the language, culture, and food before his departure.
Cranney would like to teach one day. When his Fulbright experience is complete, he hopes to study for a Ph.D. in history, "but the Fulbright may provide other paths, and I am open to that as well," he said.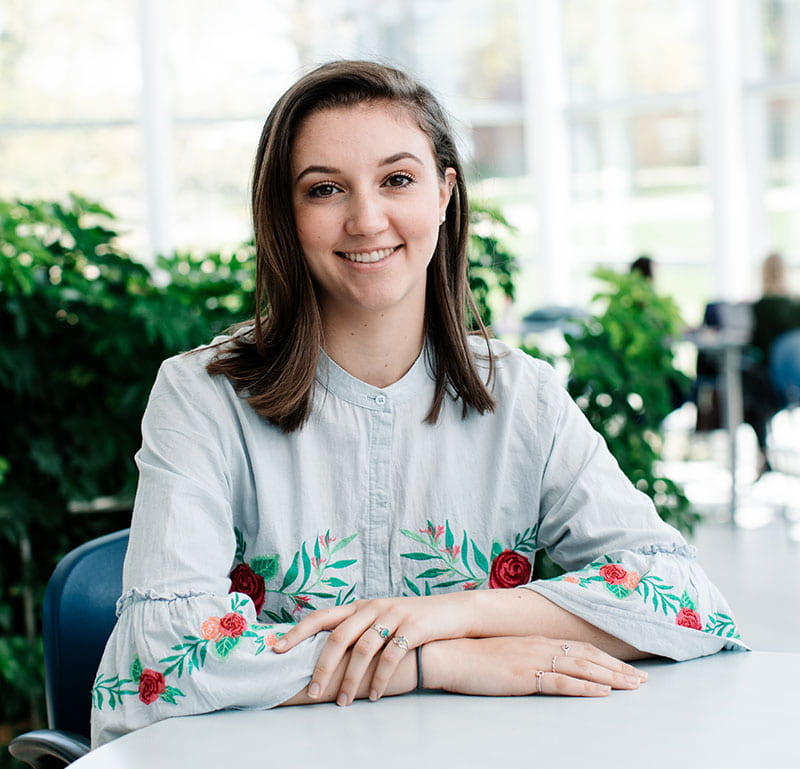 In the Galicia region of northwest Spain, Elena Morganelli '19 will use the lessons she learned during a semester in Argentina to teach high school students about American art and culture — from the Precisionism style in Georgia O'Keeffe's Blue Morning Glories to the flappers and jazz clubs of the Roaring Twenties.
While studying in the Transnationalism and Comparative Development program in South America, Morganelli learned about realism in Spanish literature, pre-Colombian Spain and Latin America, and the human rights activism of Rigoberta Menchú in Guatemala. She lived in Buenos Aires and traveled to Paraguay, Uruguay, and Brazil.
"Developing language skills while also having an understanding of a culture can challenge students to think critically about how the language they are learning has brought about change, give them an appreciation for historical transformation, and introduce a broader set of vocabulary," said Morganelli, who majored in both global studies and Spanish at PC.
That she would spend so much time away from home surprises Morganelli, who grew up in a town of 7,000 with only two traffic lights and was sometimes timid about her future.
"I would think to myself that I could one day do these things, but I could never imagine them coming to fruition," Morganelli said.
The global studies major appealed to her because it is interdisciplinary, requiring students to study political science and take two advanced foreign language courses, and to study abroad.
Her Introduction to Global Studies course with Dr. Trina Vithayathil, assistant professor of global studies, "really opened up my eyes to thinking about my position in the world, as well as realizing the effects of a globalizing world," Morganelli said.
"For anyone thinking about taking a language, do it," Morganelli added. "It gives you a leg up socially and in the professional world."
Dr. John B. Margenot III, professor of Spanish and a member of PC's Fulbright Campus Evaluation Committee, was Morganelli's academic adviser and professor.
"Elena is very serious about her work, poised and mature," Margenot said. "In addition to her strong interpersonal skills and intellectual ability, she brings to the classroom a unique brand of enthusiasm that is pleasantly contagious. Elena's excellent Spanish and cultural awareness will enable her to interact meaningfully with Spaniards of all ages. In short, Elena will be a fine ambassador for American culture and values during her stay as a Fulbright recipient in Spain."
Morganelli's Spanish has become so proficient that she sometimes thinks and dreams in the language. In Argentina, she learned the Castellano dialect and now looks forward to learning Galician "to experience and absorb the distinctive gestures and character of the language."
Music and dance are important to Morganelli. A trumpet player since fifth grade, she is a member of PC's Pep Band and traveled to BIG EAST basketball tournaments at Madison Square Garden in New York City and to NCAA tournaments for men's basketball in Ohio and men's hockey in Buffalo, N.Y. A dancer since childhood, she is a Dance Club member and choreographer and presented her final choreographed dance in April.
Morganelli will be in Galicia from September to May. Its capital, Santiago de Compostela, is home to the Camino de Santiago, the Way of St. James.
"I do not want Galicia and Spain to just feel like a travel stop, but more like a home in which I can teach my students that they are part of a globalized world, yet have the power to be a force of innovation within their hometown," Morganelli said. "The relationship of the global and the local is integral to every place."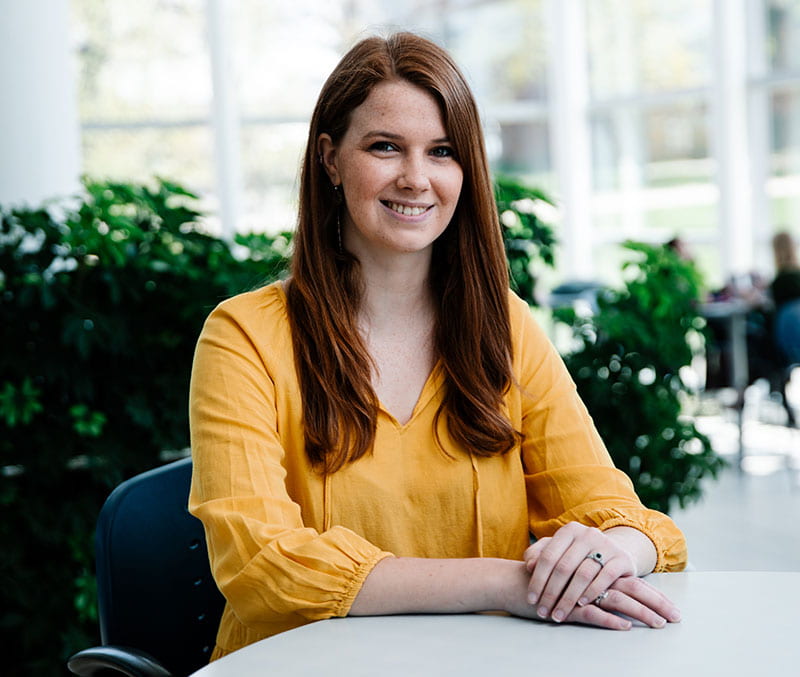 Emilee Serwan '19, who majored in both global studies and history with a minor in business studies, will bring both a local and an international perspective to her teaching year in Madrid. She has taught English to children and recorded oral histories with immigrants in Providence, and she has studied in London while interning for Parliament.
"I want to immerse myself in a Spanish community while teaching my students about U.S. culture and history in English," Serwan said. "I want to read Spanish newspapers and converse with citizens about their opinions on politics, the economy, healthcare, and education. The world is at a crossroads; on-the-ground insights must inform policy; and I want to learn the Spanish point of view."
Last fall, Serwan went to the Center for Career Education and Professional Development to revise her résumé and seek advice about employment after graduation. There she met Kelley Garland '16, a graduate assistant studying for a master's degree in educational counseling, who spent a Fulbright year in the Czech Republic. Garland also majored in global studies, and she suggested that Serwan consider the Fulbright Program.
Serwan began her application that day and worked through multiple drafts with Mulderry.
"It's such an awesome opportunity and honor" to be selected, Serwan said.
Serwan already had a job lined up after graduation as a research analyst in New York City. She found it through Center for Career Education's Career Expo last fall. She asked George Mason '84, the adjunct professor in charge of her business studies capstone, about business firms at the expo that hired liberal arts majors and approached them with her résumé. She declined the job offer in order to take advantage of the Fulbright.
Global studies is a great major because it is so interdisciplinary, Serwan said. She has been a student worker in the global studies office for 2 1/2 years and served as a global studies peer mentor and co-leader, advising first-year students and sophomores about study abroad options, understanding requirements of the major, and life at PC.
Serwan spent a semester in London studying history and interning at the House of Commons for Dawn Butler, shadow secretary of state for women and equalities and a member of the Labour Party. She accompanied Butler to meetings and social events, answered constituent letters, and conducted research to aid with party briefings.
A member of the Liberal Arts Honors Program, Serwan wrote her senior honors thesis about Queen Victoria, concluding that Victoria reigned independently and was not controlled by the men who surrounded her. Her thesis adviser was Dr. Karen Holland '73, '84G, & '96Ph.D., assistant professor of history.
Through the global studies program, Serwan worked with Welcoming Rhode Island to create oral histories by interviewing immigrants from Liberia. She was invited by Dr. Nuria Alonso García, professor of global studies and department chair, to help facilitate a global studies course, Case Studies: Best Practices in Oral Histories. The class created a neighborhood tour of stops and sights important to the Broad Street community in Providence, including markets, parks, and images of local heroes. Serwan also completed an independent study with Alonso García in which she spent Saturdays at the South Providence Library teaching literacy and creative writing to Spanish-speaking children ages 5-12.
Serwan will be an excellent cultural ambassador, said Alonso García, who was awarded a Fulbright in 2014 to teach English as a foreign language to faculty and students in St. Petersburg, Russia.
"After several years of collaborations, I have learned from Emilee powerful lessons about youth education, civic engagement, and leadership, and I have been inspired by her earnest commitment to cultivate sustainable soils for all to learn and grow," said Alonso García.
"Emilee is a humble leader, a thoughtful peer mentor, and an audacious educator who honors participatory learning, fosters cross-cultural dialogue, and believes that academic learning serves social justice."