May 18, 2021
Through a different lens
By Eva (Weston) Irby-Davis '75
Come, take a walk with me.
Time. A celebration. 50 years in the making. Knowing what I know now, would I want to go back and do it again? I think not. Once lived is enough. We are older, grayer, and thicker, but for some the clock has not moved much. Same day, different time; it's all about time and reflection.
Make something good out of a bad situation. Rev. Robert A. Morris, O.P. '46, '82Hon., Dr. Pat MacKay '20Hon., and Dr. Rodney K. Delasanta '53, among many others, created the Martin Luther King Jr. Scholarship Program after Dr. King's assassination in 1968. It was a time to help promising students of color, who may not otherwise have had an opportunity, attain a college education. My dad was all about education and making sure his daughters would be able to take care of themselves, married or not. It was not about finding a good husband, but about being all we could be.
Providence was not the metropolis it is today. Back then it was in bad condition and the mob was active. We had no desire to head downtown. Providence College decided to allow women to become part of the all-male domain. Some upperclassmen were not so thrilled, but who was asking them? I was so proud to be a part of this historic event. When I was accepted, my great-grandmother asked why I would want to go to a school that would cause my father to work even more to pay for it; I lucked out and was offered the MLK Scholarship. Responsibilities.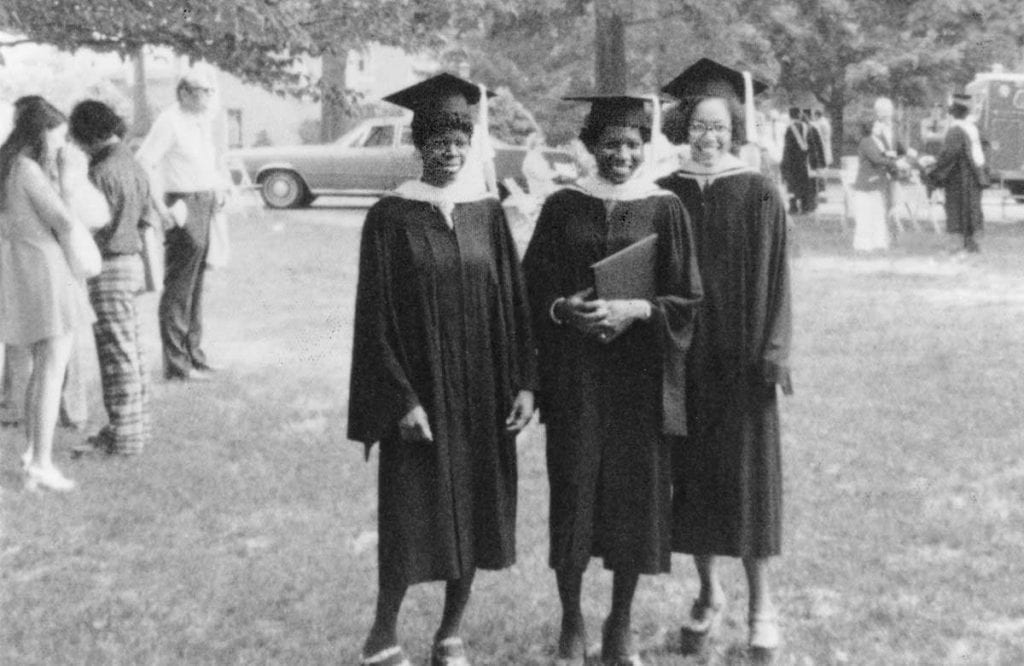 I was looking for a chance to find out what it really meant to be young, gifted, and Black. Having grown up in a predominantly white community in Bellingham, Mass., I found myself quite naïve. I was a stranger in a strange land. I did not know how to stand up for myself. You get mad, frustrated, and want to give up before you've even got started. (I even had a faculty member ask me "had the standards been lowered to allow us in?"). Al Cooks '72, a senior at the time, said, "Hang in there, it does get better."
I had to figure out how to fit in; an aspiring young woman forging a future. To be judged on my capabilities and character, not the color of my skin. It was exciting to be a part of the enthusiasm and hunger felt in Aquinas Hall, our residence, our fortress against the many men on campus. We were looked upon as helpless and in need of protection, when we were itching to let loose our wings and fly. We went from a guidebook of instructions called "When the Girls Come" to men outside our dorm chanting, "Let the girls out." We, in turn, had to have all window shades drawn at dusk.
Different. Hot pants, platform shoes, afros. Relationships. Do you really love me? Did people other than ourselves understand? Did they care? Could they empathize? Or were we just being tolerated? Our humanity makes us the same, but you find the color of our skin a threat. All that we strive for — to be of a same caliber, equal — is found to be a problem. People of color were said to be taking away jobs they didn't deserve.
I managed to navigate through it all successfully, graduate, and am here to say I still love Providence College, the people I met and the time I spent there, and I continue to return to it. From Joe Brum '68, '18Hon., who told the first group of cheerleaders to wear our uniforms and big smiles when we went to the State House to raise travel money. Father Morris, who took every step along our journey with us, our rabbi. Off-Campus Connections, in which we brought students to alumni homes for dinner and conversation. Concerts, weddings, funerals, until we said, "Goodbye for now." Bob Ferreira '83 and all staff through the years in the Office of Institutional Advancement, who worked with Black alumni to put on events for us. My eight years on the Alumni Board of Governors representing alumni/alumnae of color and my time with W.I.N. (Women's Involvement Network). Dr. Wilesse Comissiong and Dr. Robert Hamlin '79G, who guided us academically and were a harbor for students in the Balfour Center and remain personal friends forever. And lastly, my biggest thank you goes to the women and men I befriended and love as family. You have all touched my life more than you know through the good and bad.
This is us. We will forever bleed the black and white and will be in that number when the saints go marching in. Go Friars. God bless.

Eva (Weston) Irby-Davis '75 returned to Bellingham after graduation to marry and work five years in the school system. She also worked 10 years for her father, Dan Weston, whose business, Weston Graphics and Advertising, printed The Cowl. She retired after nearly 20 years as a security supervisor and now is married to Mallory Davis '81, who pastors their church in Westerly, R.I. She encourages all alumni of color to check out the Friar Faces group on Facebook.
Celebrating 50 years of women
More from the Spring 2021 issue