March 15, 2020
Tianyi Yuan '20: From China to Providence, for the study of God
By Vicki-Ann Downing
Though he is an international student from China, a Communist and atheist nation, Tianyi Yuan '20 has spent four years at Providence College immersed in the study of God.
In September, Yuan will enter a graduate program at Harvard Divinity School to study for a master's degree in theological studies, specializing in Nestorian and Syriac Christianity. His goal is to one day obtain a Ph.D. and teach in China or in the United States.
Yuan's interest in Christianity was sparked by his desire to understand the concept of the Good, the One, the "unmoved mover" of ancient philosophy. That intellectual quest led him to major in theology and in philosophy, to minor in classics, and to study classical and Biblical Greek, Latin, Sanskrit, a language of ancient India, and Syriac, a dialect of Aramaic spoken by Christians in ancient Syria and Persia. His Bible, a gift from his father, contains text in both Mandarin and English.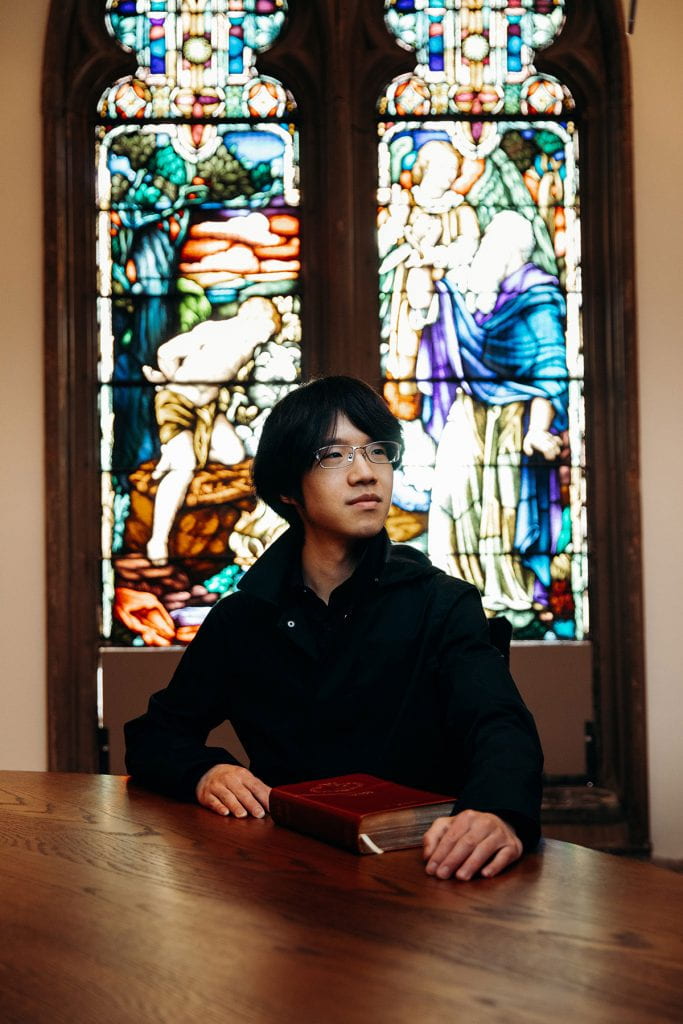 In the summer of 2019, Yuan was awarded $4,700 from PC's Undergraduate Research Grants Program for research in China. He traveled throughout the country to locate and view the monuments and relics of Nestorian Christianity, also known as the Church of the East, a sect that spread to China from Syria and Persia in the eighth century. Among them was the Xi'an Stele, a 9-foot tall limestone block dating to 781 that documents 150 years of early Christianity in China.
"This is a very specialized area of scholarship, primarily because few western scholars have the historical and linguistic training to master the primary and secondary literature," said Yuan's faculty mentor, Dr. Arthur P. Urbano, professor of theology. "Tianyi was interested in how this branch of Christianity preserved its Syriac Christian identity while interacting with other Persian and Asian religious and philosophical traditions."
Yuan produced a 52-page research paper on his summer experience and considered using it as a writing sample in his applications to graduate school. But when he returned to campus in the fall, he discovered yet another research interest, a comparison of his high school hero, Chinese philosopher Wang Yangming, with the existentialist philosopher Jean-Paul Sartre.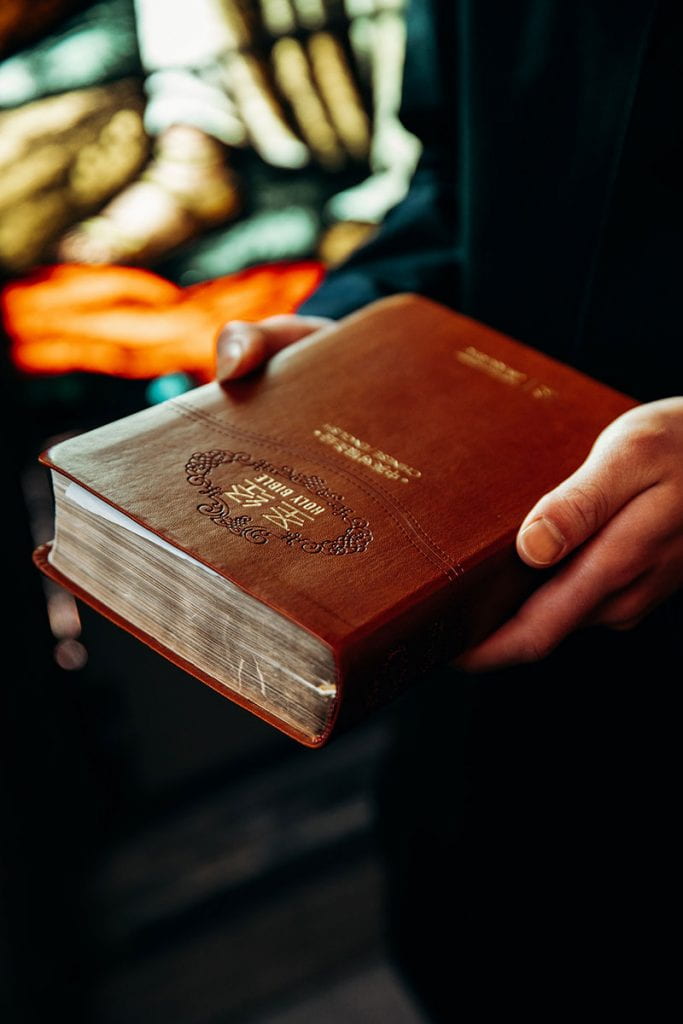 Academic success has not always been Yuan's story. His father sent him to high school in the United States knowing that he would not have scored well in China's competitive national examination that determines every student's future. It was a reboot for Yuan and he was determined to make the most of his second chance.
Yuan was born in Beijing. His early years were spent at a boarding school in the capital among schoolmates who were the sons and daughters of military personnel. The structure and discipline appealed to him. When he was 8, his father, who worked for a German company, was transferred to Shanghai, China's business center. Yuan's new school was filled with the sons of businessmen from throughout Asia. The purpose of their education seemed to be to produce public speakers who would always say the right thing, Yuan felt. Disenchanted, he faltered in the classroom.
"It was an atmosphere that I did not like very much for at least seven years," Yuan said. "My grades just dropped. At 15, I was an incorrigible student. I could not succeed academically in China. My father said, 'Maybe if I can change your environment, you can do better.'"
Yuan enrolled at John F. Kennedy Catholic High School in Somers, N.Y., and lived with local families for four years. He dedicated himself to the pursuit of virtue. He learned the martial art of Kendo, which aims to develop the spirit. He avoided popular culture and video games.
"I pursued a kind of purity and simplicity," Yuan said. "I wanted to start over again."
Like most Chinese citizens, Yuan's parents do not practice a religion. Yuan first learned about Christianity during a Bible study course in his senior year of high school. A host family recommended that he apply to PC.
In April 2016, Yuan attended A Night in Friartown, an overnight program for accepted students. He made time to visit the Campus Ministry Center, located downstairs in St. Dominic Chapel. There he spoke with Kelly Hughes '14, a campus minister who now works at Boston College, about what he could learn studying theology at PC.
Yuan also stopped by a presentation for parents about PC's Development of Western Civilization Program. When it was over, he sought out the then-director, Dr. Sandra T. Keating, associate professor of theology. Keating encouraged Yuan's interest in DWC and provided a list of the books he would read in the program.
"In retrospect, my 'accidental' visit to Campus Ministry and Dr. Keating's DWC panel convinced me that PC would be an excellent fit," Yuan said. "I still think it was truly a day of providence."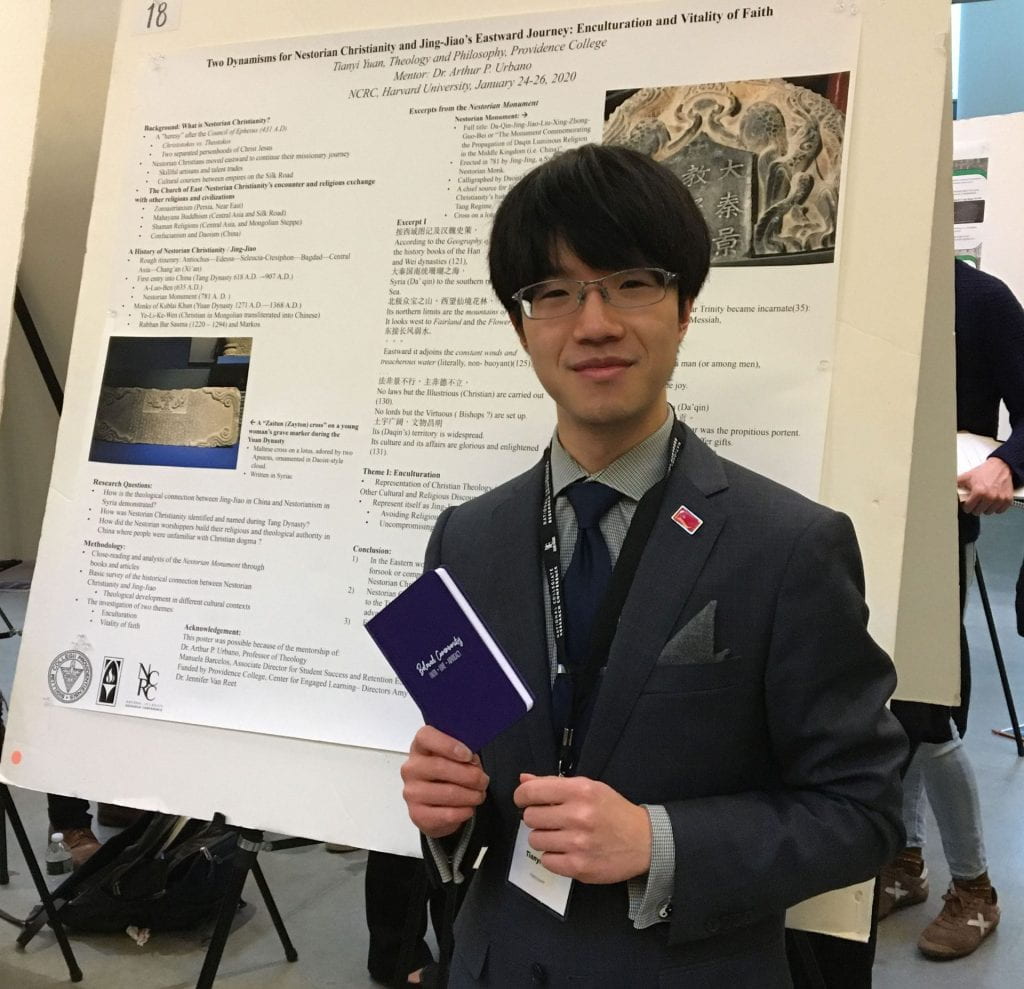 Where other students enrolled in five courses each semester at PC, Yuan always took six or seven. He worked late into the night in his single room in Fennell Hall.
"He is an impressive student, disciplined and diligent, and still maintains a good sense of humor," Urbano said. "I have been quite impressed with the breadth of his knowledge and his curiosity always to learn more. He is a deep thinker and asks a lot of questions."
Yuan was one of only 230 students in the United States selected to present research at the National Collegiate Research Conference at Harvard University in January.
A member of Schola Cantorum, he sings at Mass each Sunday in St. Dominic Chapel, has attended daily Mass at St. Thomas Aquinas Priory, and participated this year in PC's Rite of Christian Initiation for Adults program. He remains proud of his Chinese heritage and culture and is dedicated to the Confucian model of living a life of morality and virtue.
At Mass, "I sit and contemplate what I have learned in my studies, from PC, and from my friends," he said.
On Aug. 15, 2020, before beginning his graduate studies, Yuan received the sacraments of baptism, Eucharist, and confirmation in an RCIA Mass in St. Dominic Chapel. His confirmation sponsor was Grace Maffucci '22 (Mamaroneck, N.Y.), with Dr. Keating as proxy. He chose Francis Xavier as his confirmation name, honoring the Jesuit saint and first Christian missionary to Asia.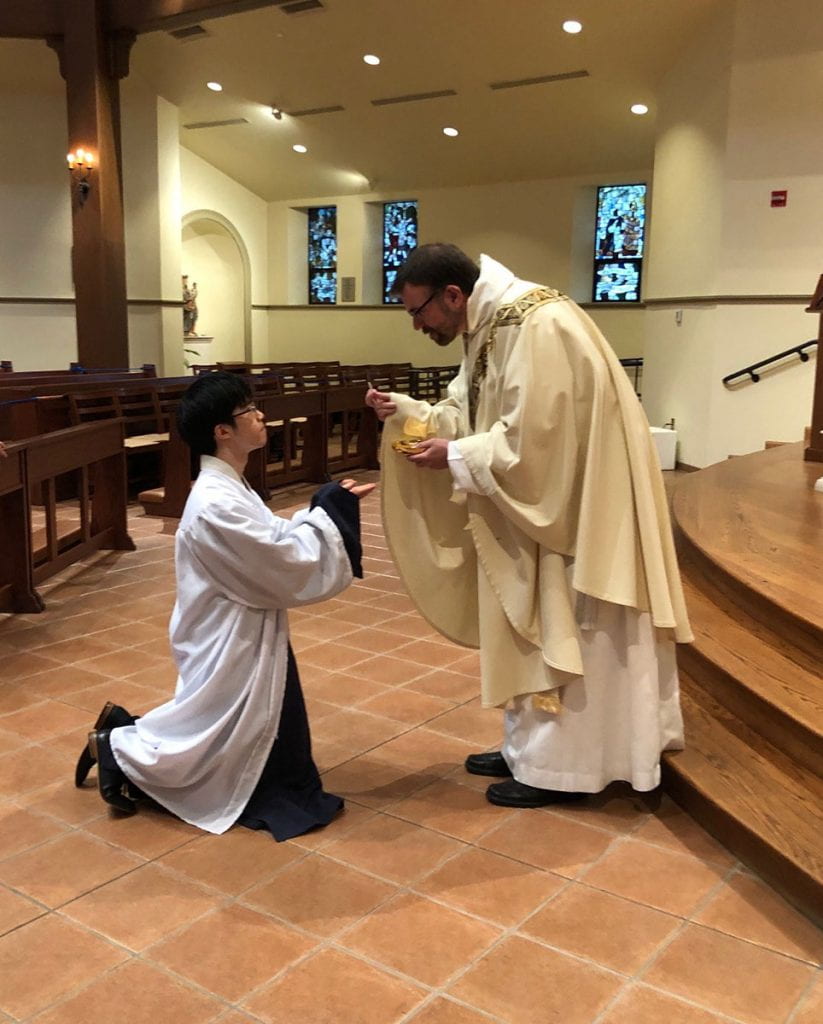 Yuan's research presentation and poster
Tianyi Yuan '20 explored his passion for theology and philosophy at Providence College. Please consider a gift to PC to allow students with emergency need to continue their studies in the subjects they love most.
support emergency student need