May 18, 2021
Top of her game: Doris Burke '87, '92G, '05Hon.
By Kirsten Fleming '00
Doris Burke '87, '92G, '05Hon. was cooking dinner in her daughter's Philadelphia apartment in 2016 when she received an ominous text from a friend who was working the Raptors game in Toronto.
The message instructed her to turn on the game and read: "You are about to blow up the internet," Burke recalled. Immediately, the NBA analyst for ESPN went to the darkest place.
"I was rifling through my head. My great fear was that I said something I shouldn't have," she said.
But the fuss wasn't about what anyone said. Rather, it was what someone was wearing. Specifically, Canadian superstar rapper Drake, who turned up at the game, kitted in a black sweatshirt emblazoned with Burke's smiling bespectacled face and the words, "Woman Crush Everyday."
"My daughter and I just looked at each other. We didn't know how to react. I was stunned and flattered," said the mother of two, sounding like a recently crowned prom queen who doesn't know she's a knockout.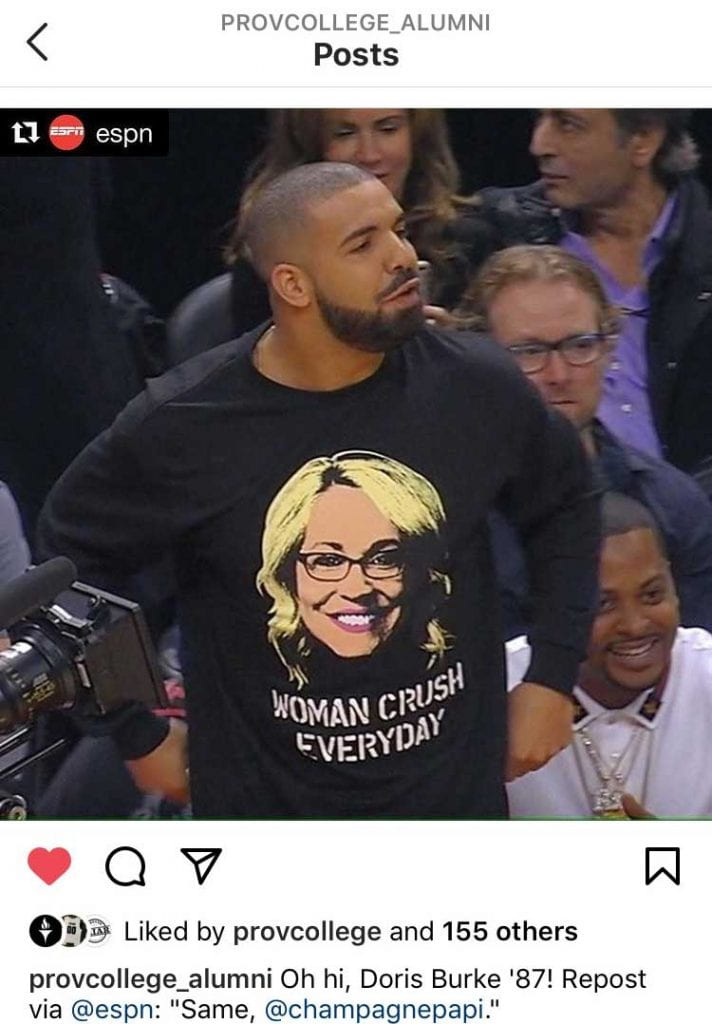 In a courtside interview, the "Hotline Bling" rapper piled on the praise for her talent, and added a schmoopy declaration. "I love Doris with all my heart, so I hope she knows that," he said.
Drake's affection for the 55-year-old is a consensus in the hoops world. Widely known as a basketball savant with a no-frills broadcasting style, she has been openly praised by players like LeBron James and JJ Reddick and championed by industry giants like Mike Breen and Jeff Van Gundy.
But as Drake's sartorial tribute boomeranged around the internet beyond hoops circles, it became clear that it wasn't just a cute viral Twitter moment. For Burke, it was a full pop culture coronation — catapulting her into another echelon of celebrity.
When Burke finally met the rapper at a game a year later, she thanked him for the gushing gesture.
"I appreciated that here was a guy who is a huge basketball fan, and a generational talent, and yet he enjoyed when I called games, and him acknowledging me publicly did have a profound influence on probably another demographic. It was a powerful thing," she said.
Not that she needed the validation or a run on Drake T-shirts (That one and a handful of other Doris shirts are available online for $20.). But it underscored a sentiment that Burke — who started her broadcasting career in 1990 when there were few women in the field — often repeats: "It takes everyone for a change to happen."
In other words, she not only needed the same talent, knowledge, and work ethic as her male counterparts, she also needed her peers and the players to embrace her.
"If LeBron has no objection to me interviewing him, why should the fans?" she said.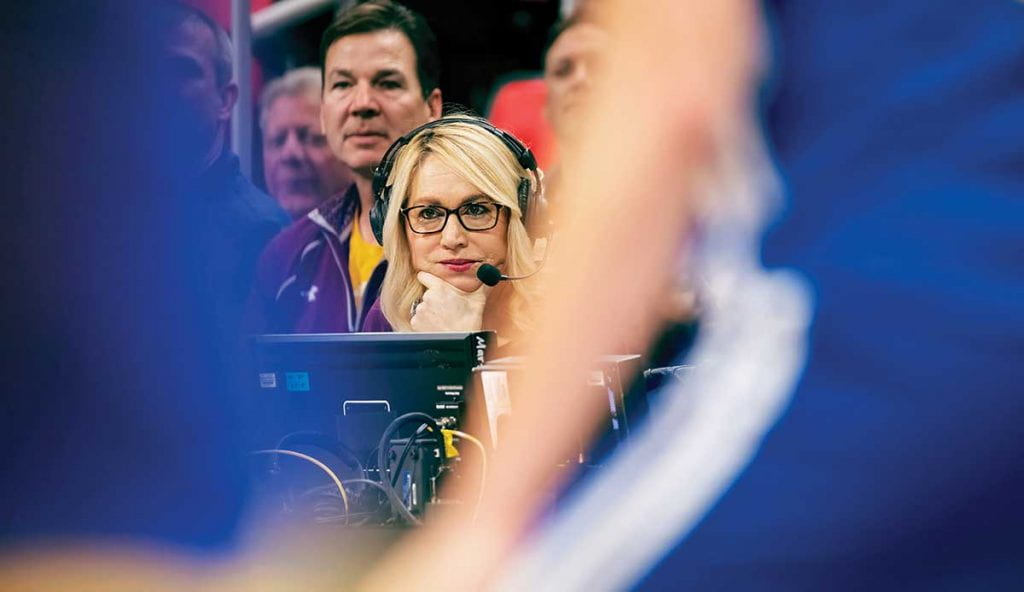 According to ESPN colleague and longtime NBA player Jalen Rose, her former co-host of "NBA Countdown," that was never a hard sell for people in the basketball orbit.
"Let me pay homage to greatness," said Rose, who is the son of late Friar great and NBA all-star Jimmy Walker '67. "You have people from Magic Johnson to Drake to anyone in corporate America to Lebron James who understands that Doris Burke is not only a basketball intellect. She also can do this while wearing high heels, dribbling a basketball behind her back live on national television."
He was referring to the 2016 Memphis Grizzlies game when she hustled off the floor in pumps (not the Reebok variety), seamlessly bouncing the ball behind her back.
"I want everybody to know what they see as a public persona or whatever she has been able to accomplish as a terrific broadcaster, she is a much more wonderful human being," added Rose.
The ESPN suits agreed. Before the 2017-18 season, she was promoted to full-time, regular-season NBA analyst, making her the first female to fill that role. It might have been the glossiest pinnacle, but it was the latest in a litany of norm-shattering moments on Burke's résumé. Employed by ESPN since 1991, she's been covering both men's and women's college basketball, as well as the WNBA. And in 2000, she was the first woman to call a Knicks game on both radio and television.
It's a remarkable bundle of feats for someone who often says her trailblazing career happened by "accident."
Her playing career, though, seemed to be preordained; guided by a moving van and an object left behind.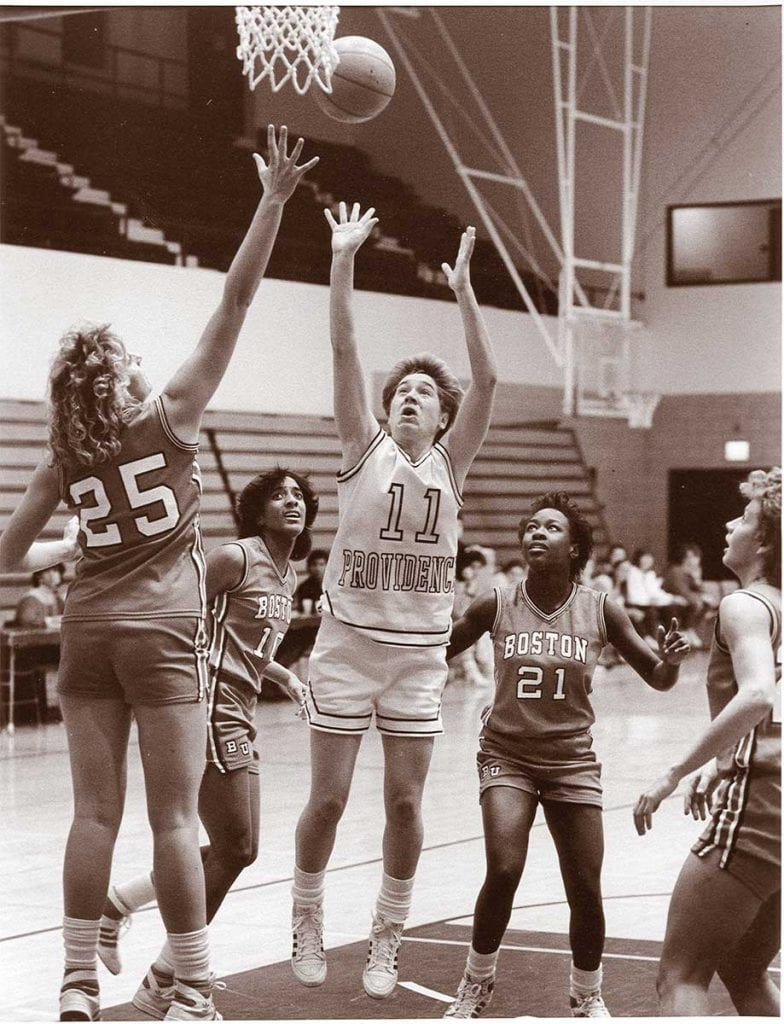 The youngest of eight children, Burke, née Sable, was born on Long Island. At 7, her family moved to Manasquan, a beach town on the Jersey Shore.
"We pulled up in a moving van, and a 7-year-old isn't going to be much help," she said. The previous owners of the home left a basketball in the yard, which her mother employed as a babysitter. She sent her youngest to the adjacent Indian Hill Park to occupy herself while the adults tended to the business of moving house.
Something clicked that day, and she became a creature of the court, conjuring up game scenarios, reconstructing plays she'd seen on Saturday college basketball games, and untangling whatever messy knots life had thrown her way.
"You give me a problem to work out, you give me a ball, and a court, I will be fine," she said.
It was there she also showed an early propensity for crashing the boys' party. At a town gathering about 10 years ago, an older classmate recalled having to once physically remove her from the court.
"He said he and his friends would be playing full court, and I would be sneaking out there while they were on the other end. He said, 'I remember distinctly we are coming full throttle at you and I had to pick you up and race you off the court, or you were going to get run over by a bunch of teenage boys.' I sort of remember those boys coming and messing with my sanctuary."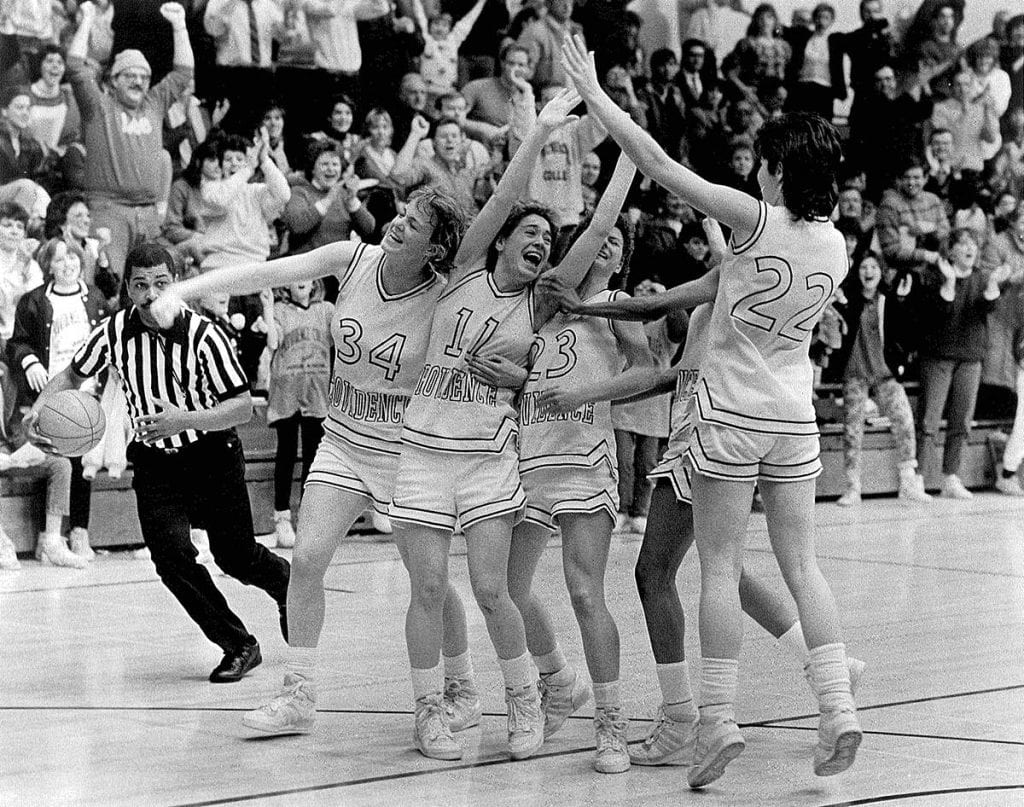 Burke was a standout point guard at Manasquan High School and later at Providence College, where she is "99 percent" sure she majored in education with the expectation she'd become a teacher and coach at her Jersey alma mater. She switched to health service administration and social work and upon graduating in 1987, became an assistant coach with the PC women's team. On the court, she was a three-time All-BIG EAST selection and was named a District I All-American, and currently ranks second all-time in career assists with 602.
After two years, she left coaching to start a family, and moved to broadcasting, first calling PC women's games on the radio — a pivot done without the benefit of a fancy broadcasting degree.
"I felt prepared professionally, though I had no clue what that meant for me," she admitted. "I entered this profession with zero communications training."
She was also shy. And her first foray into television was not seamless. She could barely make eye contact with the camera, but like many performers, Burke had an alter ego. Within the confines of the hardwood, a cocksure personality emerged.
"I do marvel that the first game I ever did was in Alumni Hall at Providence, and the red light came on and I refused to look at it because it scared me," she recalled. "I guess I knew it was live television and there was a level of anxiety that came with it. But once I sat down at the table for the first time, the game started and I settled in."
Luckily at the time, there was no social media to capture the flub.
"I think unequivocally, if social media were a part of everyday lives early in my career, I don't know how I would have had the confidence to withstand the criticism," she said.
Not that the internet isn't good for a few laughs now and then.
"Recently on Twitter somebody said, 'Some days she looks 40 and some days she looks 70,' and I thought, 'Geez, is that a relative of mine?' Because that's exactly how I feel. Some of the stuff people write is funny," said Burke.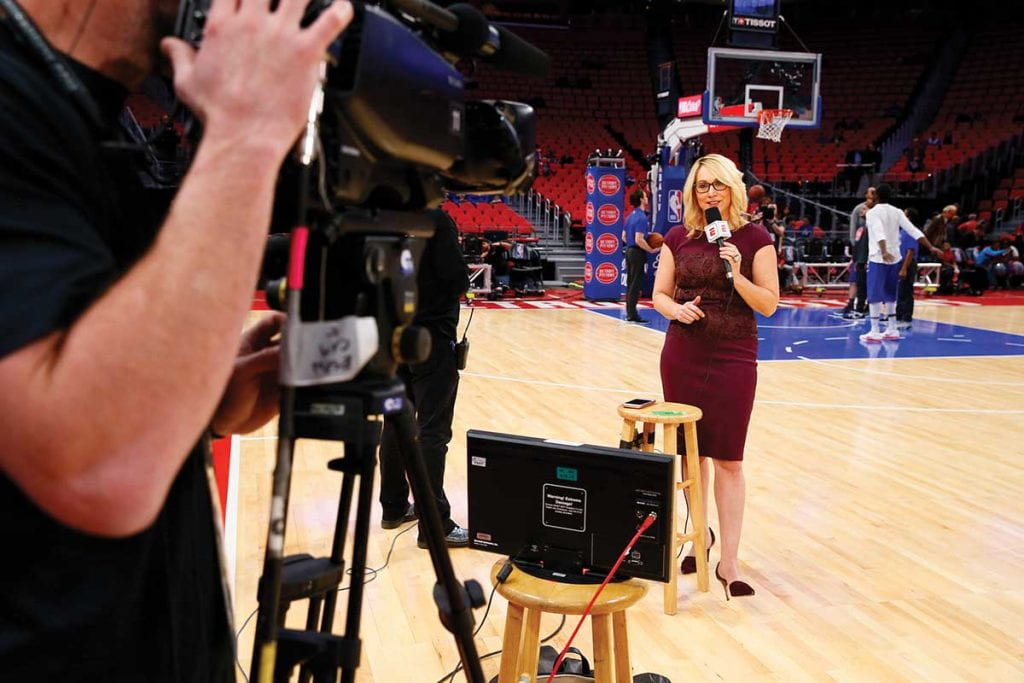 Upon her groundbreaking promotion at ESPN, Burke was profiled for HBO's "Real Sports" and revealed that it was Van Gundy who pushed her to ask for the role, telling her: "You earned this opportunity."
Their association dates back to PC, where they met when Van Gundy was a graduate assistant under then coach Rick Pitino, and it's been an invaluable relationship for Burke.
"He is also the one pushing back on [negative] things people may have said over the years," she said.
Burke also leans on her fellow female broadcasters, some of whom have broken the same barriers in other pro sports, including Jessica Mendoza in Major League Baseball and Beth Mowins in the NFL.
"We have a text thread with me, Beth, Jessica, and Maria Taylor. The other day we were just appreciating the fact that it's become normal to hear Beth on a Sunday doing her thing," she said.
And then there is her "hero" and long-standing friend, Holly Rowe. About 20 years ago, Burke asked to meet the sideline reporter after seeing her interview Bobby Knight, then at Texas Tech, when he was down 15 points at the half.
"She didn't blink about having to interview the most cantankerous man in college basketball. Of all the people I've seen interview him, she was the most successful," said Burke. "If you are a woman in the broadcasting business and you aren't supportive of other women, you are doing something wrong."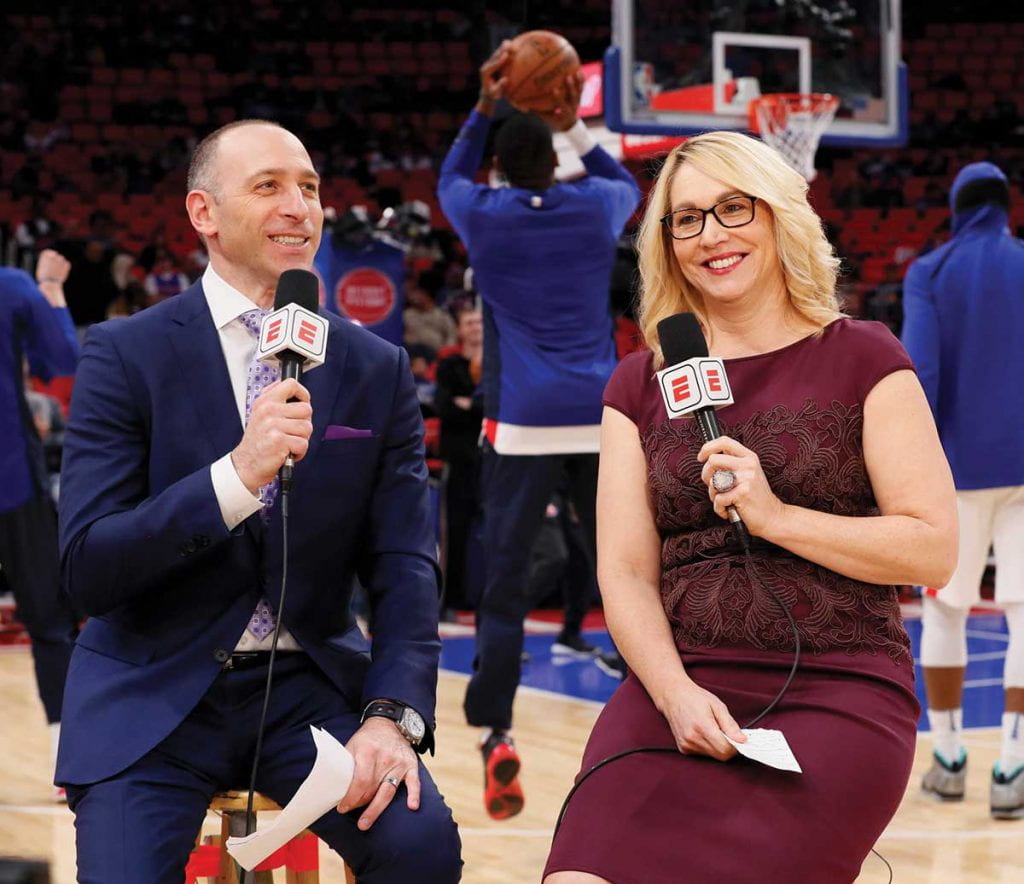 Burke hasn't played basketball since a few weeks after her son, Matthew, was born. Golf is now her game. She is part of a regular foursome made up of three University of Connecticut grads they call "the Big Easters," and it's a bonding outlet for her and Matthew, who is a golf pro in Massachusetts. It was also the only escape from hotel confinement during her 67 days in the NBA bubble last summer.
"It was hard at times," she said of the stretch. "The one thing you could do was play golf. At some point, I said I can't play anymore," she said.
But after countless rounds, exhausting days covering both hoops, and the reaction within the league to the civil unrest erupting around the nation, Burke exited the bubble 12 days earlier than her colleagues. She was summoned out of her sweet spot by the only people who could pull her away: her children.
Her daughter Sarah, an attorney, was married in a small ceremony in September.
"I genuinely raised nice children," she said in a rare moment of self praise, detailing the long stretches of time she'd be away from home. "It's not a typical schedule, and one that does come with challenges as any working parent will tell you. But I do take enormous pride that I was able to navigate both worlds."
Now that Burke is at the top of her game, she's hoping her presence becomes less of a headline sparking novelty. For example, during last year's NBA finals, she asked to work as the radio analyst, as she had left the bubble early and there was a shuffling of staff.
ESPN agreed and sent out a press release, noting that she was the first female to take on that role. Instead of popping the champagne, Burke bristled at ensuing fawning stories over the announcement.
"Basically I thought, 'Is it a big deal?' I remember thinking the NBA fans and players are used to me. So is this really a story?" said Burke.
"I guess I long for a time where press releases like that are not important. Hopefully at some point that becomes the case."
Kirsten Fleming '00 is senior features reporter for the New York Post.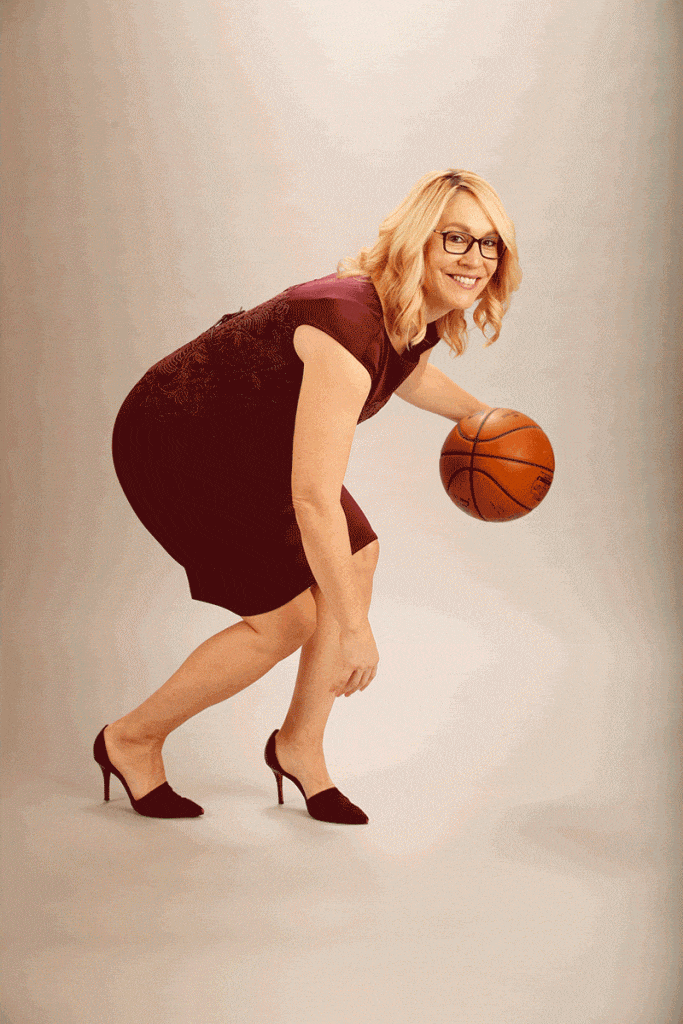 Celebrating 50 years of women
More from the Spring 2021 Magazine