February 11, 2019
Top professor Eric Sung uses photography to teach students new perspectives
By Vicki-Ann Downing
In his mission to create art through photography, associate professor Eric E. Sung has traveled with students to Death Valley, to Ecuador, and to Japan. He learned to operate a drone camera so his students could study architecture from an aerial perspective. He even became a certified scuba diver to photograph landscapes under the sea.
Sung loves to dive in winter, when the water off Beavertail State Park in Jamestown, R.I., is so still that objects are crystal clear. Sometimes he emerges with his dry suit covered in ice and snow.
"Every decision for me is dictated by my photography," Sung said. "A lot of people can dive, and a lot of people can do photography, but not a lot can dive and also do photography, and those who do are photographing fishes. So much more can be done underwater.
"It's all blue ocean," Sung said. "We are surrounded by it, but we have not seen it yet."
Sung's ability to teach students how to see, and to document what they see through photography, was recognized when he was selected to receive the 2017-18 Joseph R. Accinno Faculty Teaching Award, Providence College's highest teaching honor. Administered by the Center for Teaching Excellence and the Teaching Award Selection Committee, it is awarded each year to the faculty member who best exhibits excellence in teaching, passion and enthusiasm for learning, and genuine concern for students' academic and personal growth.
"Professor Sung has been one of the most influential people I have met at Providence College — he has completely changed the way I approach art and look at the world around me," said Catherine Day '19 (Rehoboth, Mass.), a studio art major with a concentration in photography, who studied in Florence, Italy, during the fall 2018 semester.
"He has a vast knowledge of photography and art, but also an ability to create a learning environment that provokes his students to think critically and outside the box, while simultaneously encouraging them to grow in self-confidence and style," Day said. "Never before have I been so challenged by a professor's questions and had such enlightening debates as I've had in Professor Sung's classes."
Sung received the College's first Innovation in Teaching Award in 2016-17. He especially enjoys teaching interdisciplinary courses. His willingness to connect with faculty and students beyond his department made him the natural choice to be program director for PC's new Business Innovation minor. Designed for non-business majors, the minor combines courses in accountancy, computer science, and art and art history, and features four tracks: organizations and entrepreneurs, global engagement, applied science, and design thinking. Offered for the first time in September, it has already attracted 70 students.
Olivia D'Elia '19 (Watertown, Conn.), a studio art major with a concentration in photography, said the art department at PC is a close-knit group.
"Professor Sung knows how to tell us where and how we can improve, but also encourages us to continue in areas where we are excelling," D'Elia said. "In our critiques, he encourages conversation and wants us to create a community where we can challenge each other and provide our opinions. He is so supportive and understanding, and I will definitely be keeping in contact with him well after I graduate."
In May, Sung will accompany 26 students to Hungary and Germany through a Maymester course, Flashpoints: The U.S. and the Cold War in Eastern Europe, which he will teach with Dr. Margaret M. Manchester, assistant professor of history, and Dr. Eric D. Bennett, associate professor of English. The group will study the impact of the Cold War on European and American culture through architecture, art, and music.
Six-week Maymester courses, which begin in May after the academic year ends, combine classroom instruction and international travel. In 2017, Sung went to Japan with Dr. Colin Jaundrill, associate professor of history, to teach Japan and the U.S. from 1853 to the Present. He now is planning a 2020 Maymester course trip to his native South Korea, which would be a first for PC.
"I learn a lot from the other professors, and our students learn how much they can do simply by reaching out to people with different perspectives and fortes," Sung said.
Sung has made two trips to Ecuador as part of Visualizing Peace and Justice, a course that explored how art and photography can bring about social change, engage political activism, and create spaces for reconciliation. He often travels to New York City with students to visit the Metropolitan Museum of Art and small, for-profit galleries that contain cutting-edge works by emerging artists.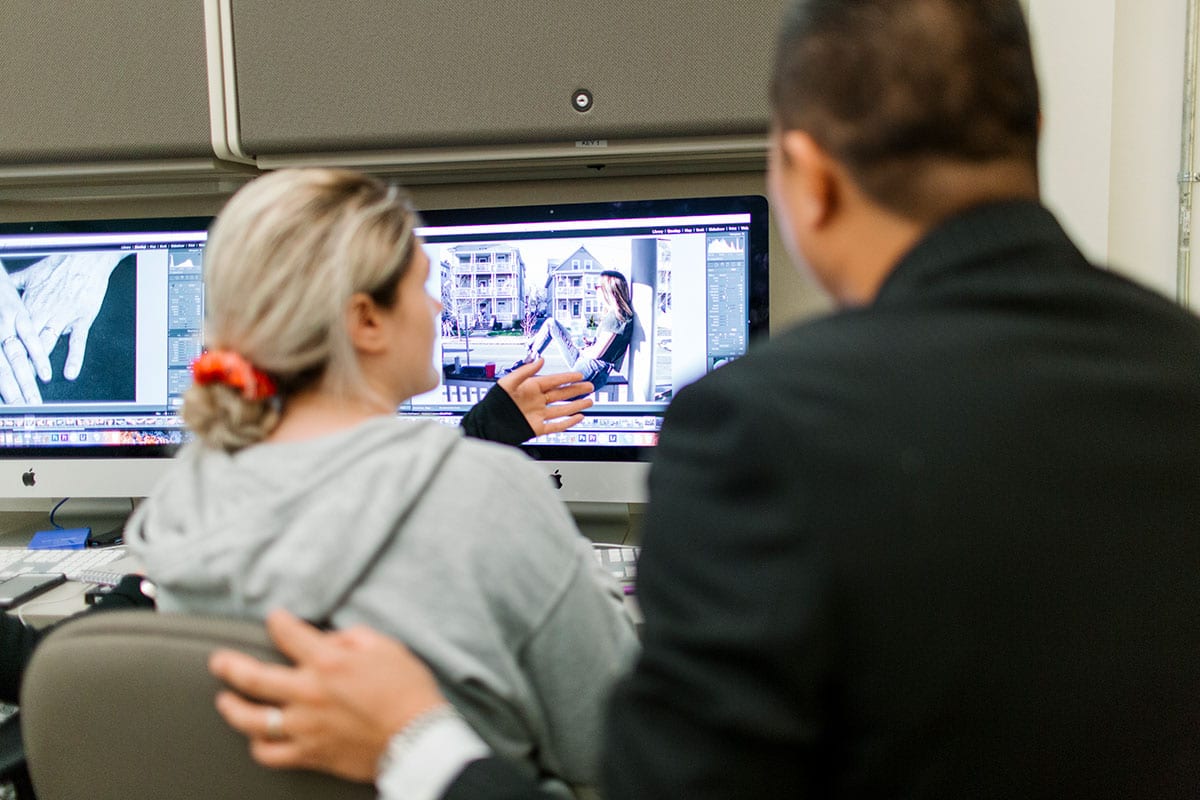 In March 2016, when Sung was scheduled to attend a conference in Las Vegas during spring break, he told students that if they were able to meet him there, he would drive them out to Death Valley so they could follow in the footsteps of landscape photographer Ansel Adams and other masters. Four students joined him on the trip and presented what they learned at PC's annual Celebration of Scholarship and Creativity in a project titled "Revisiting the American Landscape in the West."
"We see photographs every day," Sung said. "Our cell phones have cameras. There is an illusion that everyone is a photographer. That is not true. What does it mean to live the life of a photographer for four days? We woke up at 4 a.m., drove to Death Valley by 7, stayed until dark, and got back to our hotel close to midnight. The students said it was transformative."
For a course called Development of North American Architecture, which Sung taught with Dr. Ann W. Norton, professor emeritus of humanities in art history, he introduced drone photography so students could see study structures from the air. He also used a drone camera in his Community Lens course, in which students venture into the community to help local children photograph their neighborhoods, and in Digital Workflow in Large Format Photography, in which students learn to create mural-size, detailed portraits and architectural photographs.
The point is not to teach students how to use a drone camera, but to let them see from a different perspective, Sung said. He prefers not to teach courses based on software or machines because students learn more about the operation of the machine than what they can do with it, he said.
At PC, photography students have access to both a digital darkroom and a film darkroom in Hunt-Cavanagh Hall. When Sung joined the faculty in 2008, he could have chosen to have the chemical darkroom demolished, but he opted to keep it.
"It wasn't because I see a greater value in a chemical process darkroom," Sung said. "I kept it because it's important for our students to experience what it means to use a medium, not in current use, that produces a photograph that is interesting. I want them to understand that it's not the medium that dictates the makeup of the work, but the photographer."
Sung learned about technology in graduate school at the University of Indiana in Bloomington, where the darkroom was all digital and students were expected to become "web and GIF designers, digital photographers, and geniuses at digital imaging," he said.
"I feel so fortunate that I learned how to do all of it," Sung said. "It helped me to learn that change is deeply embedded in the nature of photography. What we teach today our students may not use in the future. Photography is about image making, not technical understanding. Our students need to learn how to figure things out on their own and not be all about procedure."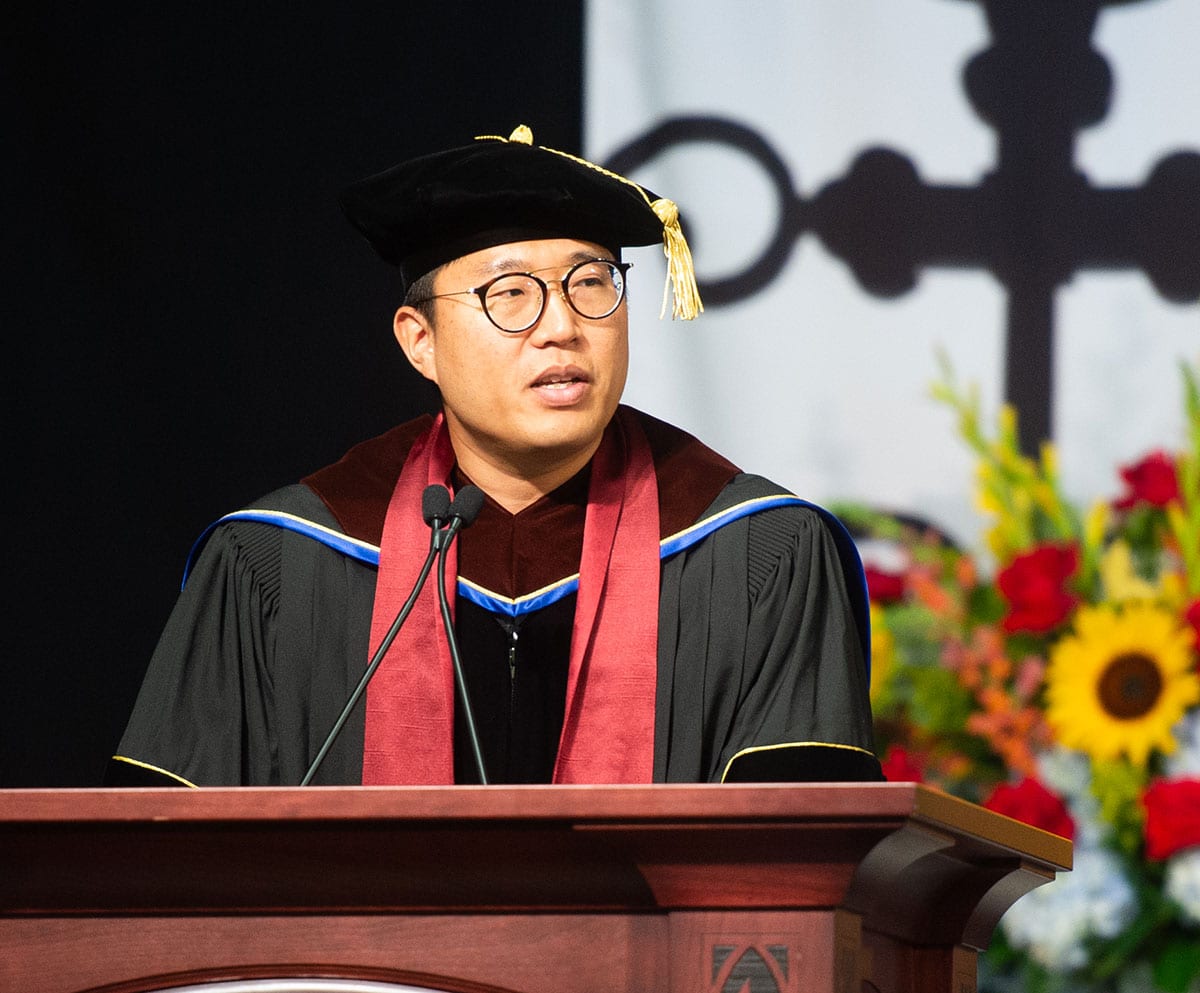 Sung didn't start out to study art. Born in Seoul, he was 15 when he moved to New Jersey with his family. In college, he planned to study business administration.
"It's what everyone else studied, and it was the strong suggestion of my family," Sung said. "I went without exactly knowing what it entailed. I never thought I would be an art major."
During his first year at Richard Stockton University, a primarily liberal arts college like PC, Sung took an art course with Michael McGarvey, an illustrator and graphic designer.
"It was a life-changing experience for me. I didn't know art could be like that," Sung said. "After that, I had a class with Wendel A. White, who was a Guggenheim fellow. He was an artist, social activist, a teacher, and internationally renowned photographer. He later became my friend and role model. I still talk to him."
Sung didn't own a camera until college, when he bought a Canon, a film camera. Then he saved his money from summer jobs to invest in a Hasselblad, the camera that Neil Armstrong brought to the moon. It cost him $8,000 at the time.
When he graduated in 2000 with a bachelor's degree in studio art and a concentration in photography, "I felt so hungry," Sung said. "I needed to learn more about the medium."
Sung attended a post-baccalaureate program at the Maryland Institute College of Art, then decided to pursue a master's degree. He was one of only two students accepted to study photography in a three-year master of fine arts program at Indiana University.
In addition to technology, the program introduced Sung to the benefits of working with other academic disciplines, and to teaching.
"We explored how art can branch out to other disciplines," Sung said. "We worked with composers in the music school who were doctoral candidates or teachers. That led me to video art. We worked with the composers to add a visual component to their programs."
Sung was offered the opportunity to teach not as a graduate assistant but as an instructor, the equivalent of an adjunct faculty member. He taught Introduction to Photography to undergraduate students.
"I decided to do it because I wanted to understand a younger student's mindset," Sung said. 
"I wanted to see whether I could explain to others what is profoundly obvious to me. That's what teaching is, really. I liked the dynamic.
"Art-making, especially photography, is all about communication," Sung said. "My audience reads my photography. How what I present is conveyed to other people — I get to practice that in the classroom. And then I also study how students present their photography to me."
As a professor, he is always learning. After studying scuba diving with a private instructor, Sung practiced in the pool at PC's Taylor Natatorium.
"In the ocean, at 60 feet down, it starts to get really dark," Sung said. "It's like the surface of another planet, so foreign to me, and yet it's not even an hour away from my home. I saw a striped bass the size of my leg. There is no sense of gravity there. It makes it feel like I'm in the middle of space."