May 14, 2018
Top scholar Kristin Hayman '18 kicks academic pursuits into high gear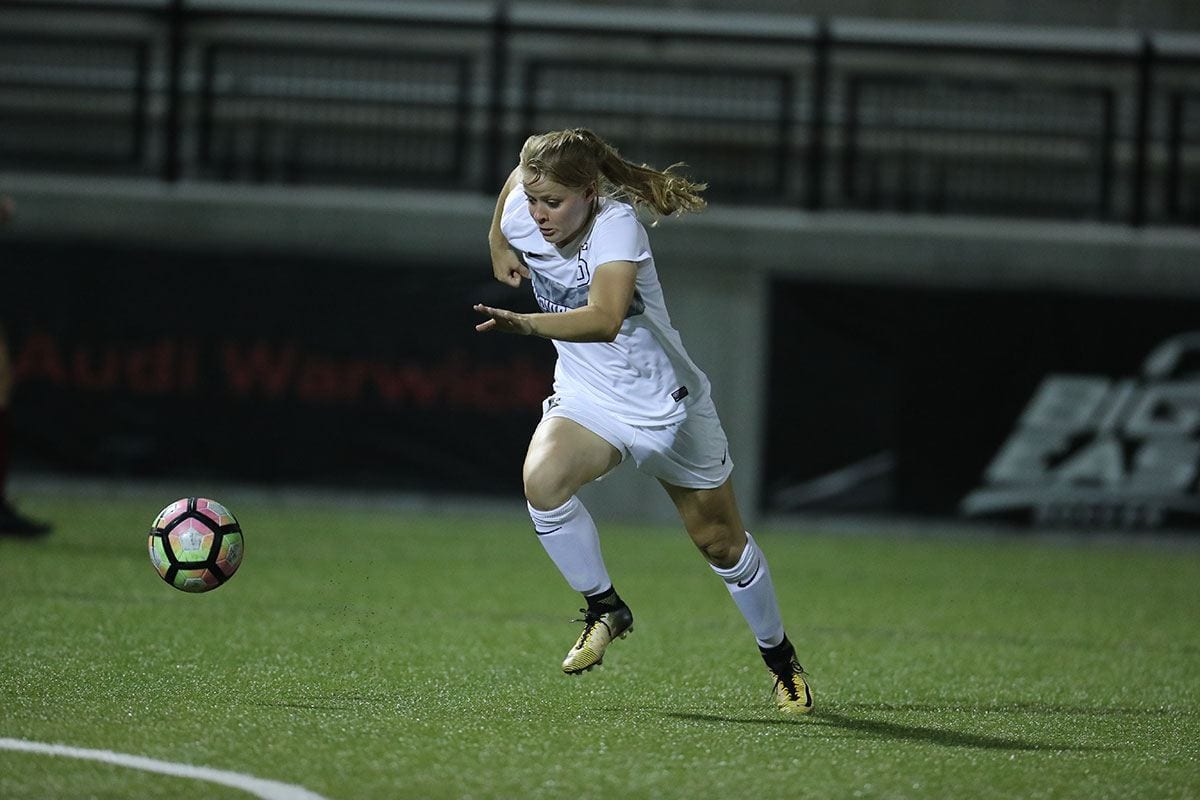 By Vicki-Ann Downing
The student with the top academic rank in the Class of 2018 is Kristin Hayman '18 (Redmond, Wash.), a biology major and women's soccer player.
Hayman transferred to Providence College from Gonzaga University at the start of her junior year. She attained a perfect 4.00 grade-point average during her two years at PC while playing in 34 games as a center midfielder. Combined with her transfer credits from Gonzaga, where she studied human physiology, she is the top students in the class and will graduate with summa cum laude honors.
"It's a unique story," said Sam Lopes, the head women's soccer coach. "You move across the country, primarily because you're looking for a different opportunity from a playing perspective, but you don't want to do it at the expense of the academic side. Kristin is a prime example that you can do both. She was able to deal with the rigors of being an NCAA Division I athlete, playing in a major conference like the BIG EAST, and still excel in a rigorous major."
To catch up as a transfer student, Hayman was required to study two semesters of Development of Western Civilization, PC's signature academic program. One of her favorite classes was her DWC colloquium, Love Never Fails: Grace, Truth, and Freedom in the Nazi Era, taught by Dr. Vance G. Morgan, professor of philosophy, and Dr. Raymond L. Sickinger '71, professor of history and of public and community service studies.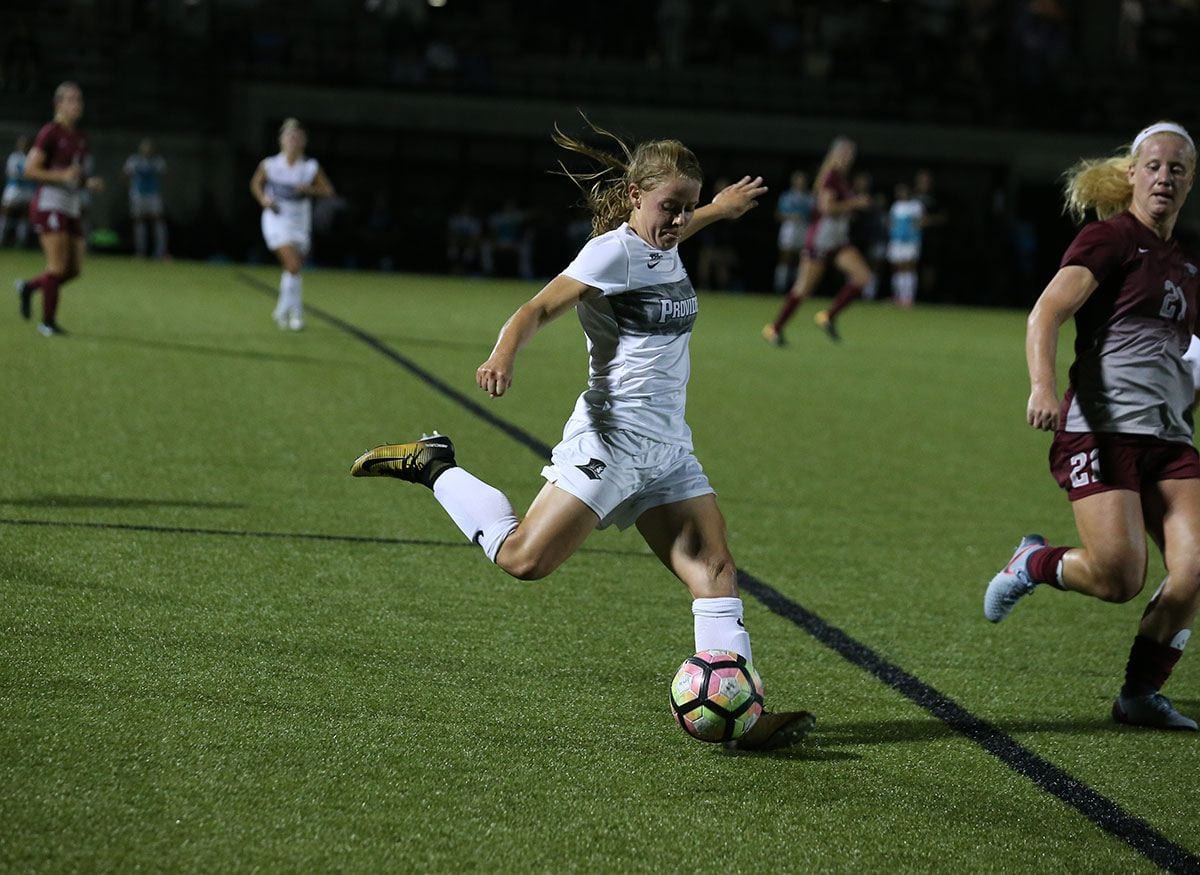 "We looked at everything from the perspective of trying to find positive voices and people that had a positive impact on that time in history, along with learning a lot of interesting things about that period, good or bad or in between," Hayman said.
Hayman credits her academic success to her ability to manage time. She has played competitive soccer since age 6 and excelled academically in high school, but was "taken aback" when she first realized how demanding college would be.
"It struck me that I really needed to be organized because at the end of the day, one of the big factors is being able to get enough sleep," Hayman said. "I thought, 'Wow, I wouldn't feel good about showing up to practice without a good bit of energy.' In high school I was organized, but I got into bad sleep patterns. At that age, it was OK. In college, it is a big transition to balance the academic workload. It's an adjustment, for sure."
Denise A. Godin, senior associate dean of undergraduate and graduate studies, got to know Hayman during the transfer process.
"She was a transfer student willing to swap one U.S. coast for another to complete her undergraduate education — we had that in common," said Godin, who transferred from the East Coast to the West Coast as a student. "It was clear from the outset that our advising relationship was a definite partnership. We kept each other honest and accurate as we mapped out her program of study each semester."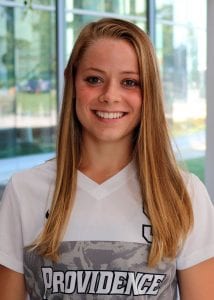 Godin said she didn't notice Hayman's academic success until her senior year.
"I was both excited and nervous for her. After all, this was a dedicated athlete in a rigorous program of study," Godin said. "She politely shrugged off my excitement and reminded me through her words and actions that it was her humility and work ethic that better reflected her brilliance."
As an athlete, Hayman was impressive, too, Lopes said.
"People won't realize all the other intangibles you can't learn from a GPA or the grades you get," Lopes said. "She is mature, well-spoken, a great leader, and timely with her words. Sometimes people who want to be leaders feel they should always talk to be heard, but she has the gift to speak at the right time, with the right words, to be powerful.
"Kristin is hardworking, intrinsically motivated, and very coachable, wanting to get feedback. She was the first to arrive, the last to leave, and always gave an honest effort as if it was the last game of her career."
At the soccer team's annual banquet in January, Hayman received the Maximize Today Award, presented to the player who has excelled athletically and academically. She also was recognized by the College Sports Information Directors of America, which named her to the 2017 Academic All-District Women's Soccer Third Team for achievements athletically and in the classroom.
Hayman will present the class oration at the Academic Awards Ceremony on Saturday, May 19, at 11 a.m. in the Peterson Recreation Center.
She would like to pursue a career in which she could make a positive impact on the environment, possibly studying to become an environmental engineer. But more immediately, she has hired an agent to explore the possibility of playing professional soccer in Europe.
"I want to keep playing if I can," Hayman said.
Being a student-athlete is "obviously a lot of work and not for everyone, but if I were to go back and do it again, I wouldn't hesitate," she said. "A huge part of what I've taken away is the teammates that I spent so much time with, on and off the field together, the memories we've made, and those teammates being really good friends."