November 02, 2022
Tower at Fort Knox honors Sgt. Major Fortunato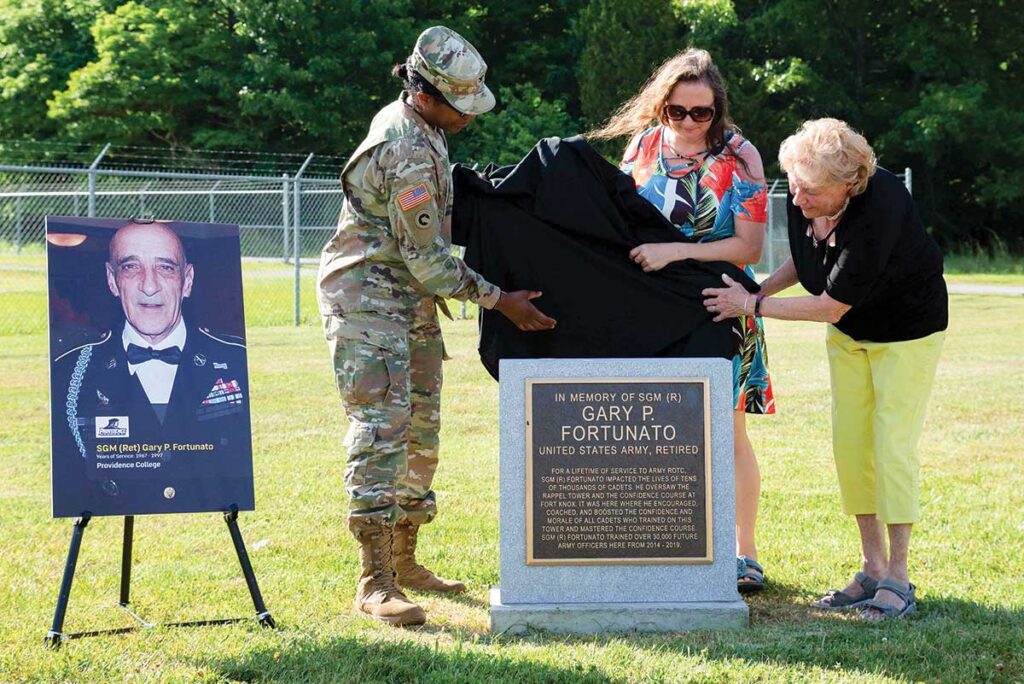 When Sgt. Maj. Gary P. Fortunato '00SCE died unexpectedly in April 2020, the loss was felt beyond Providence College, where he was an instructor in the Patriot Battalion ROTC Program for more than 20 years.
Sgt. Maj. Fortunato also spent five weeks every summer at Fort Knox, Ky., overseeing the Confidence Course at Advanced Camp, the five-week training camp that cadets attend before their senior year of college. Many consider the 64-foot rappel tower to be the most challenging part of camp and remember Sgt. Maj. Fortunato's encouragement helping them master it.
In June, the Army dedicated the Fort Knox rappel tower in his memory. The SGM Gary Fortunato Memorial Rappel Tower at Training Area Facility 5947 was dedicated in a ceremony attended by Sgt. Major Fortunato's wife, Carol, and daughter, Judy.
"It was here where he encouraged, coached and boosted the confidence and morale of all cadets who trained at the tower and mastered the confidence course," a plaque reads. "SGM Fortunato trained over 30,000 future Army officers here from 2014-2019."
Sgt. Maj. Fortunato, a New Jersey native, was drafted into the Army in 1967. He saw duty in Vietnam, Operation Desert Storm, and Operation Desert Shield, retiring in 1997 with more than a dozen awards and citations. For another 23 years, he served as a military science instructor for Patriot Battalion at PC. He was inducted into the Army ROTC Hall of Fame in 2021.
More from the Fall 2022 magazine
More about PC veterans