October 31, 2015
Transforming Ghana from a lab in Providence
By Vicki-Ann Downing
In the laboratory of physics professor Dr. Stephen J. Mecca '64 & '66G, student researchers solve problems — real-world problems affecting lives in Ghana, and around the world. Each summer, Mecca brings students to the West African nation to test the solutions — and to explore new ways to help.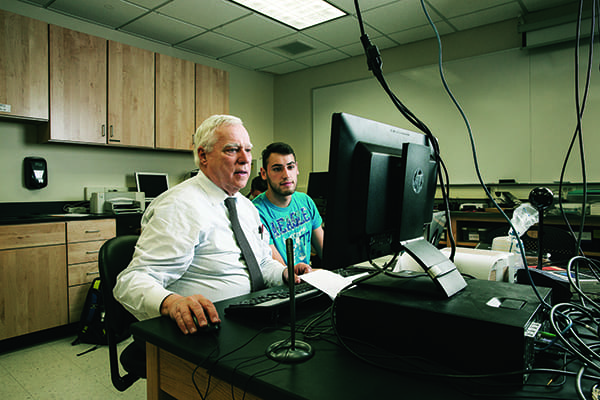 When Brian Nicholas '18 (Garden City, N.Y.), a pre-engineering major, works in the research lab of Dr. Stephen J. Mecca '64 & '66G, professor of physics, he is surrounded by students tackling projects in sanitation, technology, and health — "everybody working together to solve problems the best way they can," said Nicholas.
Five years ago, Mecca and his students developed a toilet with a valve that flushes with less than a cup of water. The toilets, easy to construct with materials readily available in the developing world, were introduced in Ghana and now are in 15 countries, including, most recently, Haiti, Bolivia, and Uganda. Nicholas' job is to test new materials for the valve that will work with varying climates.
Other students are focused on bringing technology to remote areas of Ghana that lack Internet access. Jack Ricci '17 (Wrentham, Mass.), a pre-engineering major, is working on alternative power sources for "Lab in a Box," a computer tablet loaded with educational materials hosted on a tiny server.
Students of all majors are welcome in Mecca's lab. The construction manual for the toilet was translated into Spanish by Alejandro Ayala '17 (Millerton, N.Y.), who majors in accountancy and finance. A Haitian Creole version was devised and tested by Phionna Claude '18 (Dedham, Mass.), a psychology major.
"Dr. Mecca makes it known that if students have an interest and are willing to make a commitment, he has plenty of projects for them," said Ricci. "He always says he has more projects than he has researchers.
"When you're dealing with research, the details can be theoretical and seem far-fetched to the average person. In Dr. Mecca's lab, we work on complex problems using difficult scientific concepts, but we know the work has a purpose — a humanitarian purpose. That's the most rewarding part."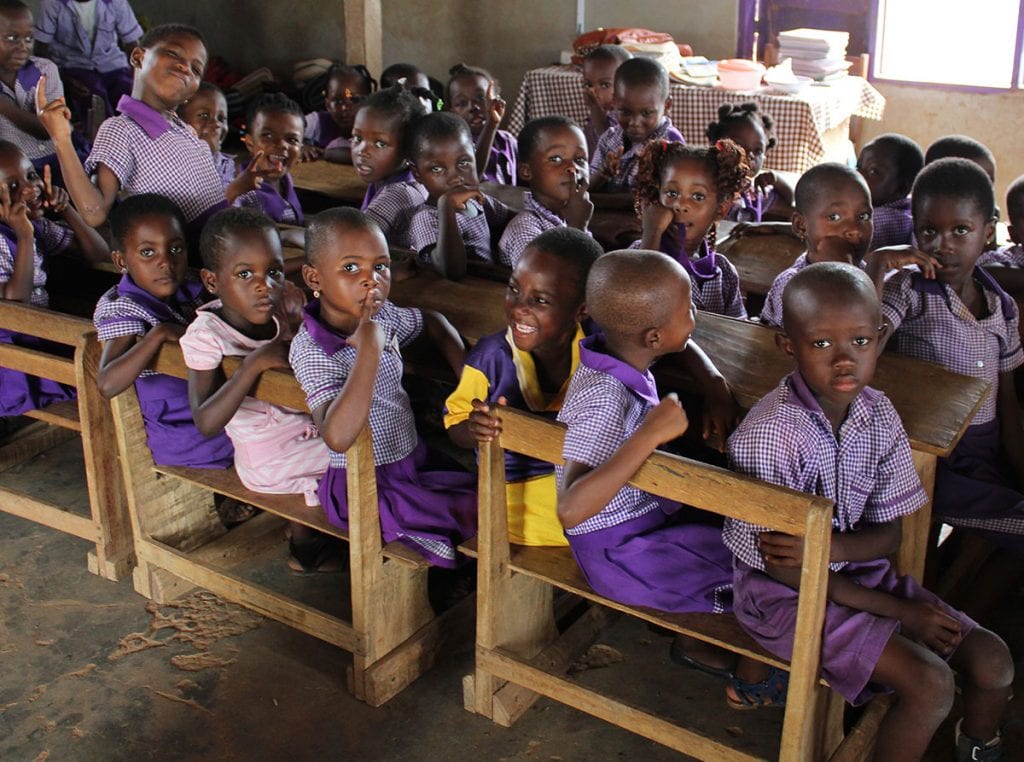 Every summer since 2010, Mecca has brought students to Ghana for community-based service internships.
Last May, seven students spent three weeks with him in Pokuase village outside the capital, Accra.
Lauren Cramer '17 (North Kingstown, R.I.), a double major in psychology and social work, shadowed village nurses, watching them weigh babies and administer vaccines at health clinics. Now she works in Mecca's lab helping to create a tablet loaded with educational and diagnostic resources to assist the nurses, who have no such tools available to them.
"I never thought I would be working in a physics lab," said Cramer.
Julia Guerette '16 (Seattle, Wash.), a health policy and management major, studied public health in Argentina, Vietnam, and South Africa but found Ghana eye-opening.
"We were there during the rainy season, and it really does pour," said Guerette. "There was a lot of flooding, and because of the inadequate sewerage system, contamination would come up from ditches at the side of the road. The nurses couldn't travel because it was dangerous to everyone's health, so in addition to causing illness, the flooding was keeping health care from being administered. That connection between weather and health was very interesting to me."
Rebecca Simon '18 (Stratford, Conn.), an elementary and special education major, visited schools to check how they are using the nearly 250,000 books and hundreds of computers donated through Mecca's connections. While some schools have active libraries, others mistakenly lock away the books to protect them, Simon said.
"Dr. Mecca told us the schools had very limited access to books and educational resources," said Simon. "That was not something I ever had to think about. I always had books, and I always had a computer, and the world was always so available to me. When I got to Ghana, that was a life-changer for me — seeing those kids who, when we gave them a book, were just so happy, and read and read."
Every year, students are changed by Ghana, Mecca said.
"They see that there are problems in the world that are bigger than they are."
S-Lab in Providence and Ghana