May 16, 2019
Twins Katrina and Judith Dayaw '19: Same majors, same science lab, same graduate school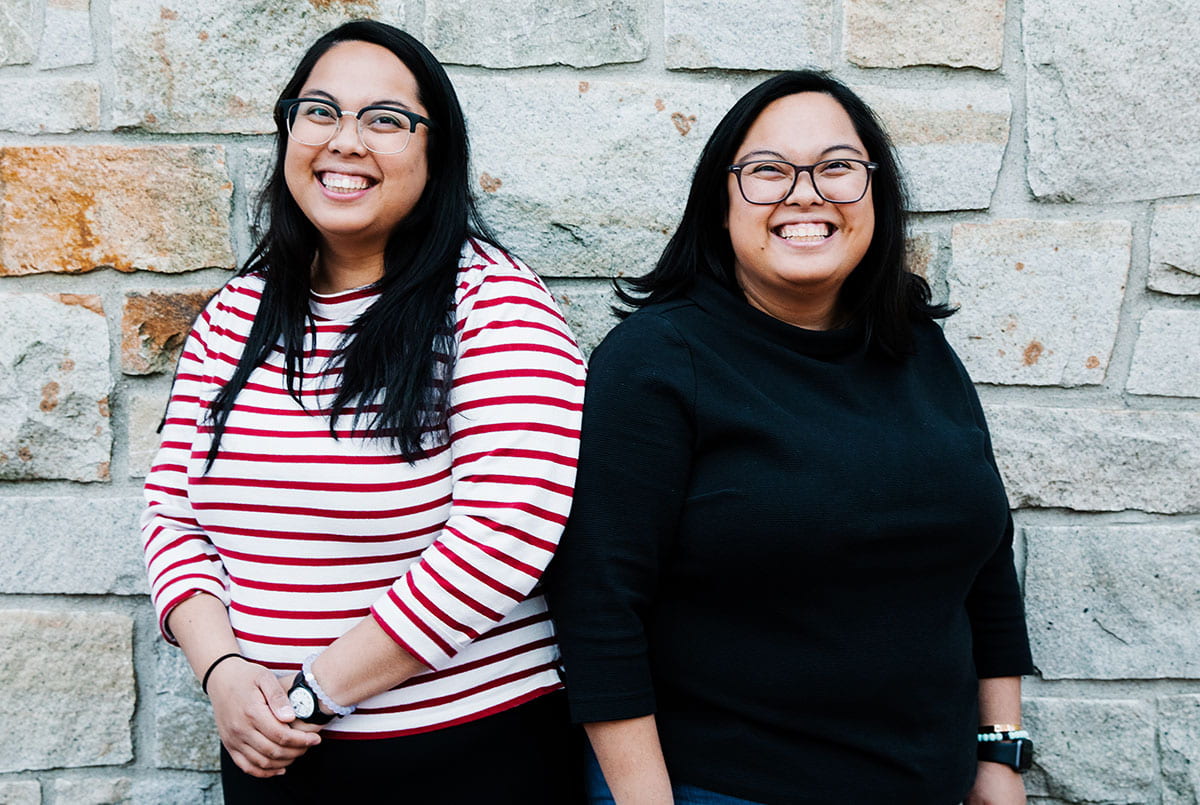 By Vicki-Ann Downing
Twin sisters Katrina Dayaw '19 and Judith Dayaw '19 (Bellingham, Mass.) spent four years at Providence College completing the same double major — biology and psychology — and the same minor — neuroscience — while working in the research laboratory of the same professor.
Now the sisters will begin a five-year doctoral program in clinical psychology at the same graduate school, William James College in Newton, Mass. Judith will pursue a concentration in geriatrics while Katrina will focus on pediatrics.
"We are as independent as we are dependent on each other," said Katrina, who is one minute older than Judith, and a bit taller. "We have our own interests, goals, and lives."
"As much as we're alike, we find a balance in order to challenge ourselves," added Judith.
Since January 2016, the sisters have worked in the Neuroscience and Animal Cognition Laboratory of Dr. Victoria Templer, assistant professor of psychology.
This year, because the PC Science Complex was undergoing renovations, they used a laboratory at Brown University and worked with Templer and a Brown Ph.D. student, Taylor B. Wise, on their research and paper, "Neurotoxic Lesions to Rats' Posterior Parietal Cortex Lead to Social Recognition Deficits." In April, the sisters presented the results at the 26th International Conference on Comparative Cognition in Melbourne Beach, Fla.
They studied whether better housing can slow the mental deterioration of aging rats, Katrina said. The study showed that living socially, with others, and having the opportunity to run and play in open spaces helps cognition and the mind, Judith said.
It was the second time the Dayaws attended the international conference, Templer said. On their first trip, when they were sophomores, those viewing their poster assumed they were graduate students. An editor of the Journal of Comparative Psychology, a major scientific journal in their field, encouraged them to submit their research for publication. They did, and their paper was published, marking their first publication in a peer-reviewed journal.
Templer said Katrina and Judith increased the lab's productivity by their willingness to do everything from cleaning cages to running statistical analyses.
"They were so reliable and helpful," Templer said. "They are as hardworking as they are personable and intelligent. They were both an absolute pleasure to work with and watch grow as scientists. I will miss hearing their (loud) contagious laughs from the other side of the building. I am so sad to see them go, but could not be more proud or more sure that they will succeed in their future careers as psychologists. I am excited to hear about them being an integral part of their graduate program and doing their part to reduce the mental health crisis in this country."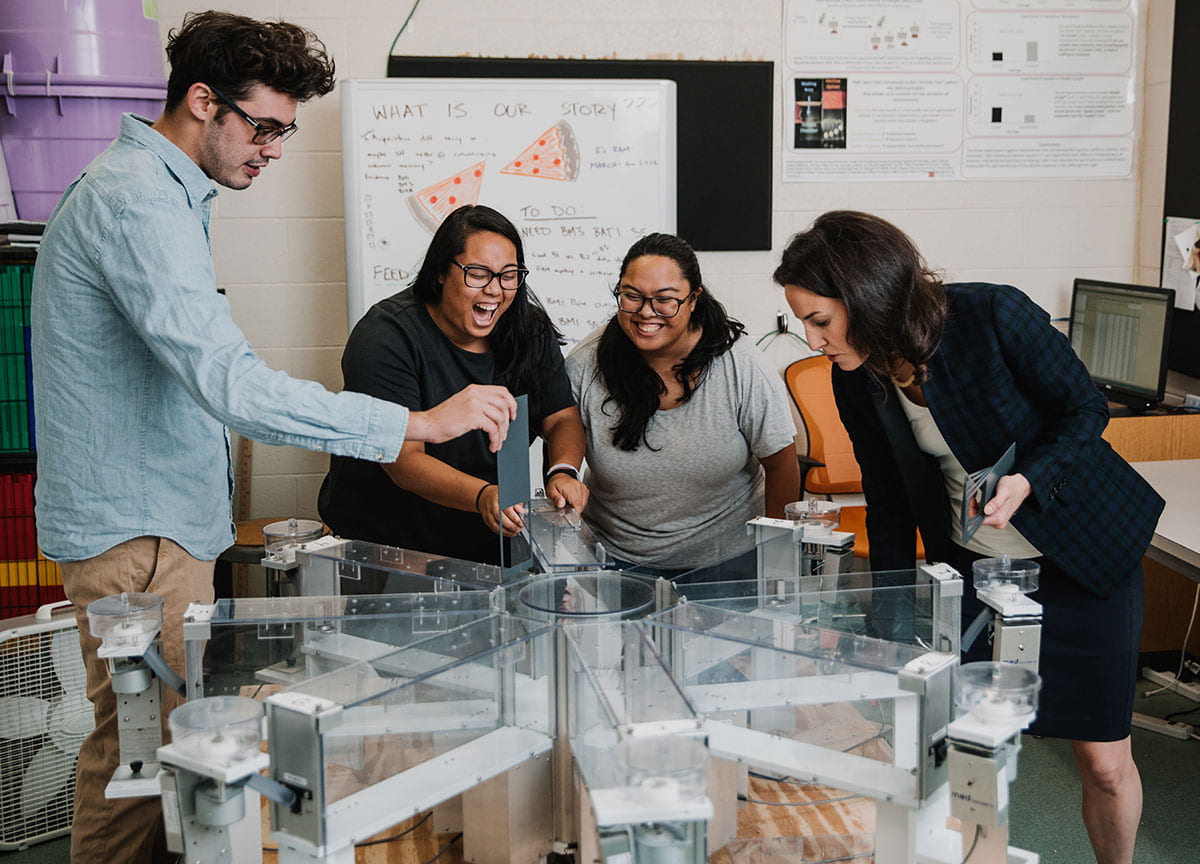 The sisters were inspired to study science by their mother, Maria Dayaw, M.D., a neurologist at Milford Regional Medical Center in Massachusetts who specializes in multiple sclerosis.
"She would bring us to her lectures, and people would come up to us and say, 'Your mom has changed my life.' We wanted that," said Katrina.
Their mother and father, Jomil, who is an engineer, were educated in the Philippines, where the sisters were born. When it was time to apply to college, their parents were unsure of the process, and so "we were like first-generation college students," Katrina said. They applied to more than a dozen schools. A guidance counselor at their high school, Mount Saint Charles Academy in Woonsocket, R.I., knew they wanted to study science and recommended PC.
"It was just as important for us to be together as it was to find a good school," said Katrina. "In Providence, we were lucky enough to have both."
Their mother told them they would know which school was right when they visited.
"I still remember walking by the Ruane Center for the Humanities for the first time," said Judith. "It was a weird feeling, but I knew it was right for us."
They were roommates in McVinney Hall that first year.
"Moving to college is such a huge transition," said Judith. "It was very comforting knowing another individual."
They both loved PC's two-year Development of Western Civilization Program, taught by faculty from English, history, philosophy, and theology.
"It taught me to question things I would never have questioned before," said Judith.
"I think becoming well-rounded is an important part of being at PC," said Katrina. "Civ changed our perspective and taught us how to think in different ways."
For their sophomore DWC colloquium, the sisters took The Myth of the Warrior (East and West), taught by Dr. Colin Jaundrill, associate professor of history, and Dr. Robert Stretter, associate professor of English.
"We looked at what we consider an Eastern warrior and contrasted that with chivalry in Europe," said Katrina.
"It was one of the favorite courses I've ever taken," said Judith.
The sisters, who are competitive, helped each other study, especially at exam time. Judith could fill in the gaps of what Katrina didn't understand, or Katrina could think of a different way to explain something to Judith.
"It's a healthy competition. It pushed us to do well," said Judith. "It was never in a bad manner. It was cooperation and support."
"In college, it became more collaborative," agreed Katrina. "We do have some disagreements, mostly about how to approach a situation."
The sisters decided to live at home sophomore year and commuted to PC after that. Each had her own car, but they usually chose to ride together.
They found student employment in the information technology department, where Katrina staffed the Help Desk and Judith assisted faculty and staff.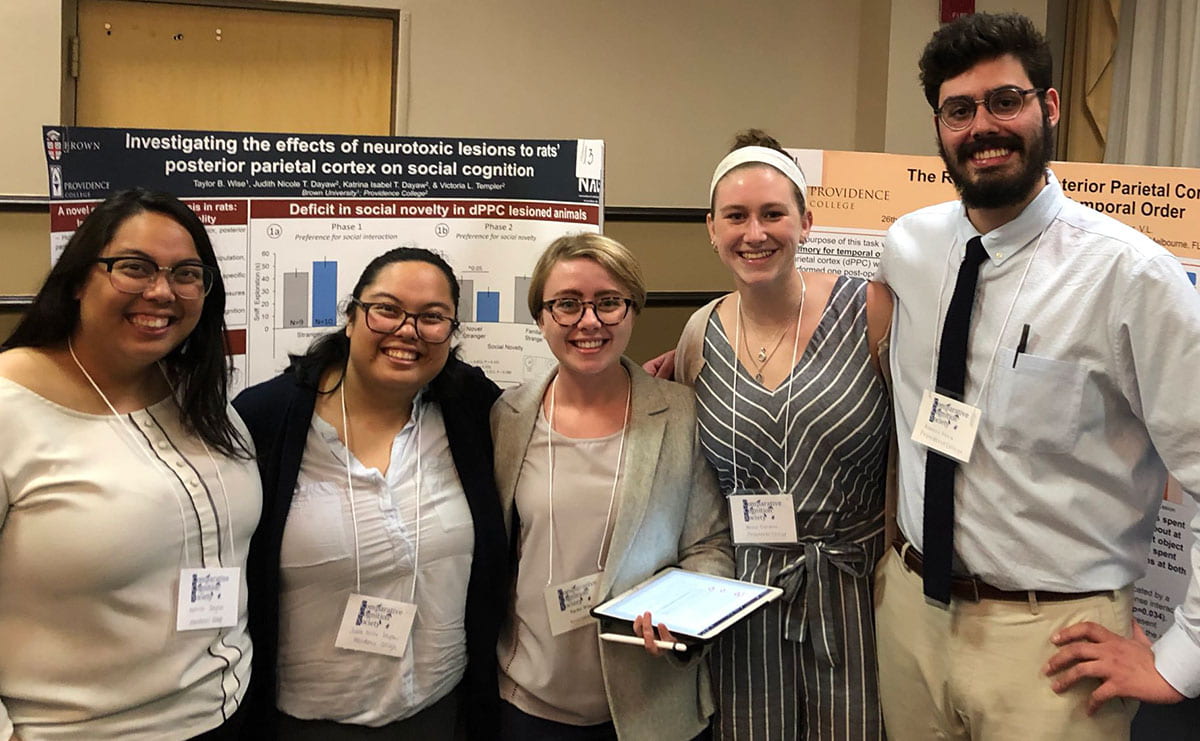 The sisters do have some different interests. Judith likes computers and playing video games, and as a child, Katrina was more likely to be found outdoors playing sports, especially lacrosse. Katrina also plays more musical instruments, including ukulele, piano, saxophone and guitar.
But both play clarinet, and did so competitively beginning in fifth grade. They played duets, which allowed them to practice together. At PC, they were members of Symphonic Winds for three years, performing concerts each semester.
Their Catholic faith and Filipino heritage are important. The sisters are part of an informal group at PC called Filipino and Friends, moderated by Rev. Nicanor Austriaco, O.P., professor of biology and of theology. Each student in the group invites a friend to join them for dinner. They cook traditional foods and explain how the ingredients reflect the country and its culture.
Commuting to college allowed the sisters to continue another hobby: competitive horseback riding. They began riding at age 8 at a barn in Cumberland. They loved it so much they were dubbed "barn rats," willing to do every task from cleaning stalls to working horses to finding brushes.
Weekends usually finds the sisters rising early to compete throughout New England in equitation (horsemanship), dressage (training tests), and pleasure (how the horse carries itself).
This spring, they began learning something new: mounted archery.
"I just looked up at Judith one day and there she was, sitting on Sweetie, her horse, holding a bow and arrow," said Katrina.
Injuries are part of the sport. Katrina tore her ACL during a fall in high school, and though they wear helmets, Judith has suffered concussions.
"They say you need the stamina of a hockey player and the grace of a ballerina to compete," said Katrina.
When it was time to make post-graduate plans, Judith and Katrina planned to separate. Katrina was focused on medical school. Judith wondered whether she would have the stamina and dedication to complete a medical degree and looked at doctor of psychology programs. Each took the MCAT and the GRE.
"We wanted to work with people. We didn't have to be together," said Katrina.
"We took that jump," said Judith. "Things get serious with a career."
They applied to only a few of the same colleges. Then Katrina discovered William James, formerly the Massachusetts School of Professional Psychology. It had expanded graduate programs and offered clinical experience as early as the first year. It offered a concentration in pediatrics for Katrina and a geriatric program for Judith. As part of the application process, they spent a full day undergoing a group interview, individual interview, and a writing assessment.
They were at work in Phillips Memorial Library in April when Katrina received an email that her decision letter was ready. She went to find Judith. They had both been accepted.
They will commute from home, which will allow them to save money and pursue their hobbies.
"We won't have same concentration or major, so we won't be in the same classes or have the same schedule," said Judith.
Each will be in a five-year program followed by two years of post-doctoral work.
After that?
"We'll always have each other," said Judith.