September 09, 2020
Victoria Haak '20 working in cancer research before beginning medical school
By Vicki-Ann Downing
Before beginning medical school, Victoria Haak '20 is working as a cancer researcher at Beth Israel Deaconess Medical Center in Boston, thanks to a connection forged at Providence College.
Haak is studying the role that reducing inflammation plays in cancer, heart disease, and COVID-19 under the principal investigator, Dipak Panigrahy, M.D. She moved to Boston and began work in June. Because of the pandemic, the number of people allowed in her laboratory is limited, and all wear masks. She will continue in the position for a full year.
Haak was recommended for the job by her former classmate, Victoria Hallisey '18, who worked in the Boston lab before leaving to study for a Ph.D. at New York University.
"I feel lucky and blessed with the connections I made in Providence," Haak said. "Tori graduated two years before me and was a great mentor and resource. She contacted me to tell me she would love to recommend me to replace her in the lab. That was crazy, huge, and so nice of her to give me a reference like that. I interviewed and they hired me."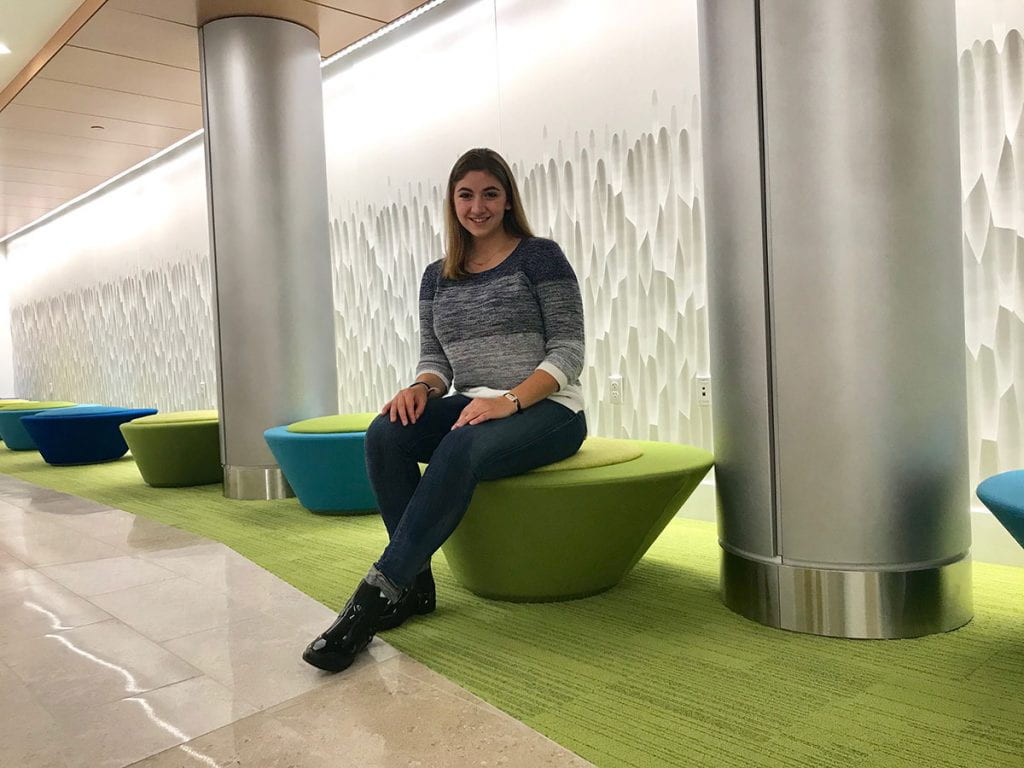 Haak's four years at PC were characterized by academic success, as a biology major in the Liberal Arts Honors Program; by research into Parkinson's disease in the lab of Rev. Nicanor Austriaco, O.P. '20G, professor of biology and of theology; and by social interaction and leadership, as a member of Friars Club, editor of the yearbook, social media ambassador, and resident assistant in residence halls.
When her schedule didn't permit her to spend a semester abroad, she went during the summer of 2019 instead through an Atlantis Fellowship, which offers "shadowing experiences for adventurous pre-med students." She spent three weeks before her senior year in Mantova, Italy, shadowing a vascular surgeon, a thoracic surgeon, and a neurosurgeon in a hospital.
Haak always has had a passion for science and the study of medicine. When she was a baby, her mother noticed that she cried excessively and asked her pediatrician about it. He said Haak was just colicky. But her mother persisted until other physicians diagnosed Haak with a ureteropelvic obstruction, a disorder of the kidneys that required surgery.
"My dream is to be a pediatrician who allows patients who don't have a voice to have one, and to never just dismiss a mother's concerns," Haak said.
In Father Austriaco's research laboratory, students study yeast cell death to learn more about cancer cells. Haak joined the lab her first year at PC. She worked under a senior, Trevor McBride '17, who had begun using yeast cells as a model for studying Parkinson's disease. (He now is a fourth-year medical student at Thomas Jefferson University.)
"We took the proteins found in the Lewy bodies of patients with Parkinson's, Lewy body dementia, and Alzheimer's disease, and overexpressed those proteins in yeast to see how they aggregate and how that affects the survival or death of the yeast," Haak said. "Now almost half the lab is dedicated to this project. We have no definitive results, but we are looking into using the drug we synthesized for cancer treatment, with help from the organic chemistry labs, as a drug intervention for Parkinson's."
Haak presented her research at the annual Experimental Biology 2018 conference in San Diego at the end of her sophomore year.
"I am grateful that God sent Victoria to our lab," Father Nic said. "She single-handedly opened another area of research for my students and me. Because of Victoria, we are now studying the underlying basis for Parkinson's disease."
Haak had never thought much about research before, "but I knew if I started in the lab my first year, my interests and opportunities would be widened," she said. "I never thought that would include research at a Harvard Medical School teaching hospital" like Beth Israel Deaconess.
Despite the pandemic that sent students home in mid-March, the research lab kept going. Using Zoom video conferencing, Father Nic and the students met on Saturday mornings to read papers and "keep our minds in research mode, learning and coming up with new ideas."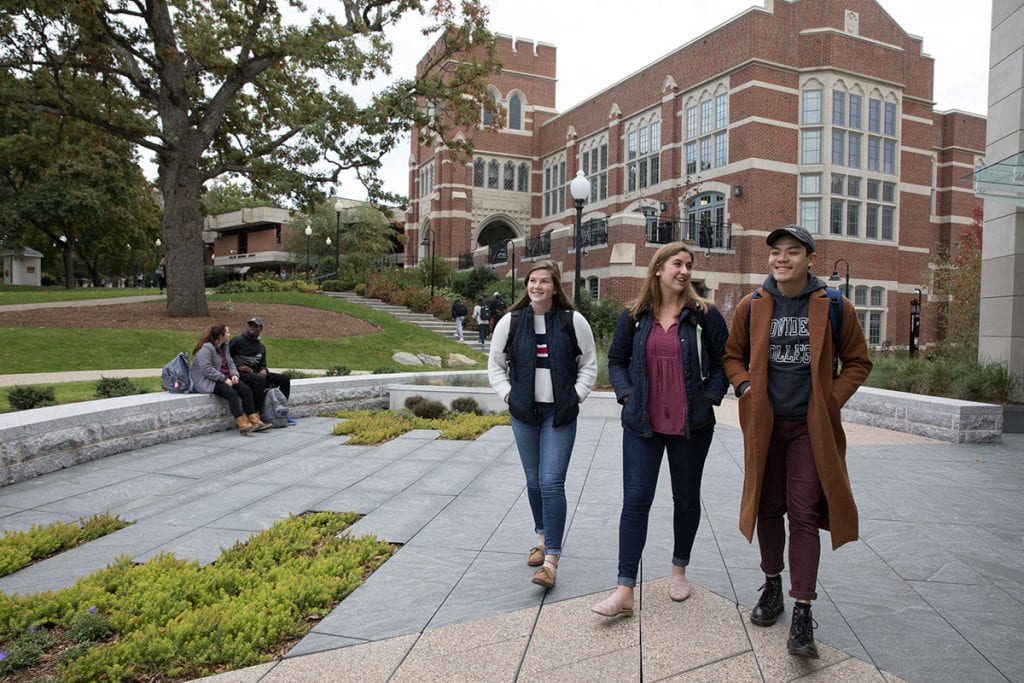 Haak is from Lockport, N.Y., not far from Buffalo. She didn't know anyone else who had attended PC, though a student who graduated from high school before her had toured the College and recommended it. Haak did not visit campus until April of her senior year.
"I couldn't pinpoint one thing that made me decide to attend," Haak said. "It was this feeling of family and love that I don't think I had anywhere else. I just chose PC on May 1 without a definitive reason. I found my family and I found the right school, and I'm so glad I chose it."
She was able to share her appreciation for PC as a member of Friars Club during her junior and senior years.
"I loved talking to prospective students," Haak said. "I loved the opportunity to give tours and to show them the campus that I love and the great people I've met. Although I only did it for a short time, it had a big impact on me. I am honored that I was chosen to be part of it."
Haak was a resident assistant in Meagher Hall her sophomore year, in Suites Hall her junior year, and in McVinney Hall her senior year.
"Being an RA made me mature and taught me patience and understanding," Haak said. "I was able to meet so many people and understand them, and be a resource and role model for incoming students, which I absolutely loved. Nothing can beat helping first-year students find their way around, understand their schedules, and help them with homesickness. I was happy to be a resource for them whenever they needed it."
Haak signed up to work on the school yearbook, Veritas, during her first year, believing it would serve as a creative outlet. She wound up editing yearbooks for the classes of 2017-2020, eventually building a staff of 13 dedicated students. This year proved a challenge when on-campus classes were suspended in mid-March before many seniors were able to be photographed.
The College has decided to make all yearbooks free to the Class of 2020. Those who already paid will receive refunds. Students who weren't photographed may upload their own photographs. There will be a section called "Senior Zoom Spotlight" in which students may include a Zoom photo and answer questions about their experience in social distancing.
Haak was one of the first social media ambassadors chosen to advise and assist the Division of Marketing and Communications in maintaining the College's social media accounts. She was an ambassador for three years. Her contributions included PC's first TikTok video and researching "senior flashbacks" each year for Instagram.
"As a biology major I knew nothing about marketing and very little about social media, but being a social media ambassador allowed me to be in touch with alumni and current students and touch prospective students as well," Haak said. "One of my favorite parts was when we were able to be a little artsy-craftsy, carving pumpkins and decorating Easter eggs."
Haak was president of the PC chapter of the American Medical Student Association and a member of the Alpha Epsilon Delta Honor Society and Sigma Xi Honor Society. She had Father Nic as a professor every year — General Biology her first year, Growth in Christian Life as a sophomore, Biology of Cancer as a junior, and Contemporary Moral Problems as a senior.
For her honors program colloquium she chose Science and Literature, taught by Dr. Alexander Moffett, associate professor of English. They studied the evolution of literature and science from the 16th century to the present, reading such works as Frankenstein, The Island of Dr. Moreau, and Dr. Faustus, and watching films like Metropolis, Ex Machina, and Jurassic Park.
"At Providence we place a big emphasis on the humanities, and we take our theology, philosophy, and our English," Haak said. "My passion has always been science. This class allows you to bring those different subjects together and to see how one influences the other. They really do influence each other, and great things come from it."