April 17, 2018
Vietnam veteran  Daniel Walsh '64 wears allegiance to Red Sox great Williams 
There was only one uniform of choice for Vietnam War veteran Daniel M. Walsh, III '64 when the Boston Red Sox held a "Welcome Home Vietnam Veterans" ceremony before a game at Fenway Park last July.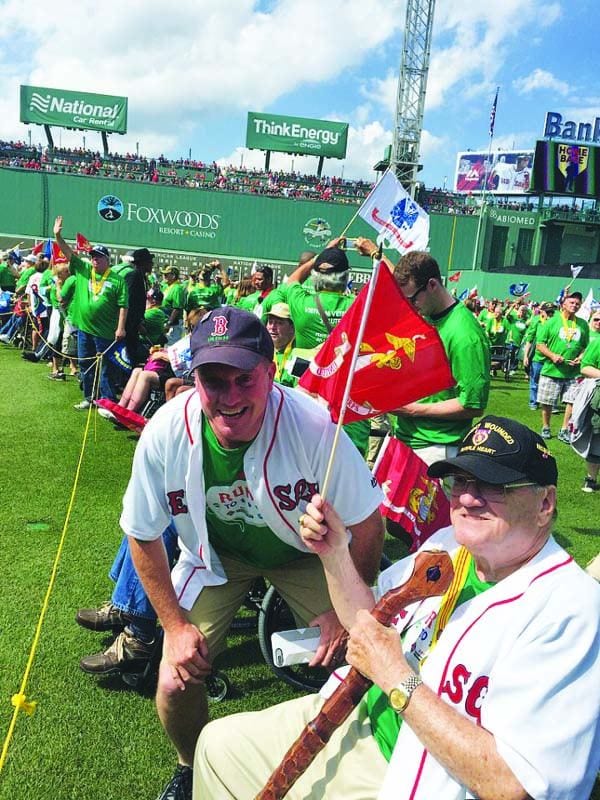 The retired U.S. Marine Corps captain proudly wore a Red Sox shirt emblazoned with the number 9 on the back — in honor of his idol, famed left-handed slugger Ted Williams. Walsh said the shirt had been given to him for his birthday about 10 years ago by his seven children, four of whom graduated from Providence College: Daniel M. Walsh, IV '91, Bennett W. Walsh '92, Michael J. Walsh '97, and Mary Lee Walsh '99.
Bennett, a retired Marine Corps lieutenant colonel, accompanied his father onto the field and also wore a Red Sox uniform shirt. Walsh, a lifelong Springfield, Mass., resident, and Vietnam veterans from 40 other states basked in the bright sunshine and appreciative cheers from the crowd. The tribute was organized by Sarah M. (Keaney) McKenna '96, Red Sox senior vice president for fan services and ballpark entertainment.
"It was overwhelming … the applause would not stop, and it kept getting louder and louder," said Walsh. "Chills went up and down my back. It went on for what seemed like 15 to 20 minutes."
Walsh, who has a "9" license plate adorned with a Purple Heart symbol on his car, explained his admiration for Williams stemmed from his love of baseball and the Red Sox, but that he admired the star for his military commitment as well. Walsh and Williams both saw combat action as Marines. Walsh was awarded the Bronze Star with Combat "V" and the Purple Heart for his courageous action under machine-gun fire during a March 1966 battle in Vietnam. A fighter pilot, Williams flew missions in World War II and the Korean War.
The Red Sox legend lost "five-plus prime baseball years" due to his military service for his country, said Walsh.
"If he played in those prime years, I felt he would have hit 175 more home runs," said Walsh, adding that Williams possessed "the smoothest baseball swing I ever saw."
Walsh worked in the financial services, insurance, and stocks and bonds fields and co-owned a large commercial printing company before selling his businesses in the mid-1990s. A former City Council president, he then served as Springfield's director of veterans services for approximately 15 years. His wife, Kateri, a longtime city councilor, and he celebrated their 50th wedding anniversary last June.