April 23, 2016
When in Rome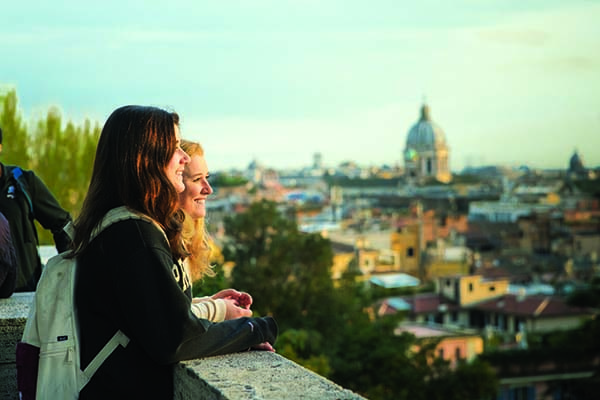 Providence College Magazine visited the Providence College Center for Theology and Religious Studies in Rome, where PC students are studying with Dr. Aurelie A. Hagstrom '85, associate professor of theology, in the shadow of St. Peter's Basilica. The location allows them to explore the history and legacy of Catholicism while experiencing Italian culture. We share their conclusion — there's no place like Rome.
By Vicki-Ann Downing
It's a cool morning in early spring, three hours after dawn. Twenty-nine Providence College students and their professor are ascending the Aventine Hill, climbing a steep, walled street in one of the oldest neighborhoods in the ancient city of Rome.
As they reach the courtyard of Santa Sabina, the world headquarters of the Order of Preachers — the Dominicans who founded PC almost 100 years ago — the students pass through a grove of orange trees to take in the view from a scenic overlook. Before them, the skies are clearing all the way to the dome of St. Peter's Basilica, the highest point in the city.
Perspective is just one benefit of international study. The students visiting Santa Sabina are enrolled this semester at the PC Center for Theology and Religious Studies in Rome, the College's first signature study abroad program since Providence-in-Europe was established at the University of Fribourg in Switzerland in 1968. Since the Rome program began in 2011, more than 200 students from PC have taken part.
PC in Rome is unique because it features a PC professor as faculty resident director. Since fall 2013, the director has been Dr. Aurelie A. Hagstrom '85, associate professor of theology, who teaches a course called The New Testament in the Eternal City, a requirement for every PC student in Rome.
On Monday mornings, students listen to Hagstrom lecture on a theological theme. On Wednesday mornings, they visit a site directly related to the lecture, including historic locations in ancient Rome; early Christian cemeteries, shrines, and basilicas; and the Renaissance churches.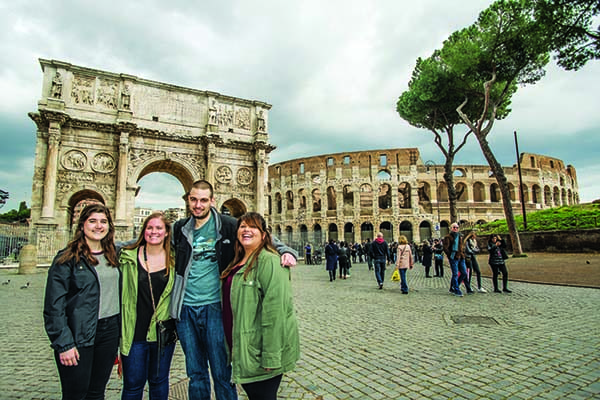 "Theology is something taught in a classroom, but the beauty of this program is that you experience theology in person," said Bryan Blum '17 (Seaford, N.Y.), a psychology major. "I never understood the term 'jaw-dropping' until I went to St. Peter's Basilica. It's the most beautiful place I've ever seen. I grew up Catholic, and I went to a Catholic high school, but I have to say that it's nice to see theology come together in person."
PC in Rome is located on two floors of an office building in the Prati neighborhood of northwest Rome, about a mile from the Vatican. The center is run under contract with Cultural Experiences Abroad (CEA), an organization charged with scheduling courses and hiring faculty, finding apartments for students, planning excursions for them throughout Italy, and providing social programming.
The streets outside the PC center may be old, but the students study in bright classrooms with modern furnishings and light wood floors. The center includes two student lounges, one with computers, and a reference library. When Hagstrom is teaching and wants the students to read a passage from Paul's First Letter to the Corinthians, she tells them, "Pull that up on your Bible app."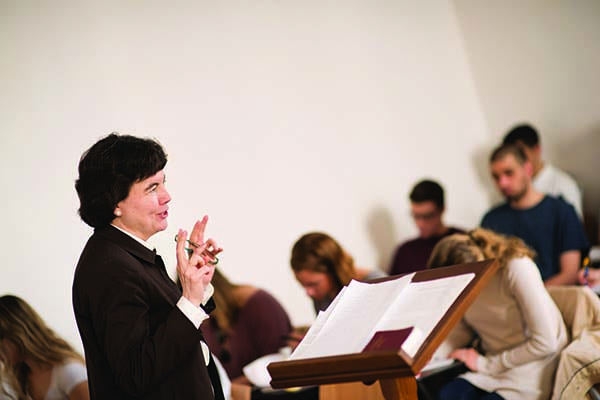 From Monday to Thursday, students are in classes from 9 a.m. to 6 p.m. Each takes five courses, including two requirements, The New Testament in the Eternal City and an Italian language class. For electives, they can select from business courses, such as Business Ethics in Global Management or International Marketing; art history courses, such as Angels, Demons, and Artists in Rome; theology courses, such as History and Theology of the Papacy; and general courses, like Photography in Rome. Their classmates are students from other colleges and universities also studying through CEA.
Nicholas Berardi '17 (Cheshire, Conn.) and Connor Bubolo '17 (Cortlandt Manor, N.Y.), business majors are enrolled in an appealing elective, The Culture of Food and Wine in Italian Society. Each three-hour class begins with a 90-minute history lesson about a region of Italy and its food. Then a professional chef prepares two meals for the students, each with a wine pairing. The students record their reactions to the tastes, aromas, and wine pairings in journals.
For their final exam, they have been organized into groups and assigned a region of Italy. They must plan a three-course meal from that region, shop for the ingredients in an assigned market, prepare the food for their classmates, and make an oral presentation.
Berardi, a finance major, said "there are plenty of positives to take away" from his semester in Rome.
"I'm more confident," Berardi said. "I'm able to travel on my own. I'm not intimidated by the language barrier. It has made me more culturally aware and less ignorant about things."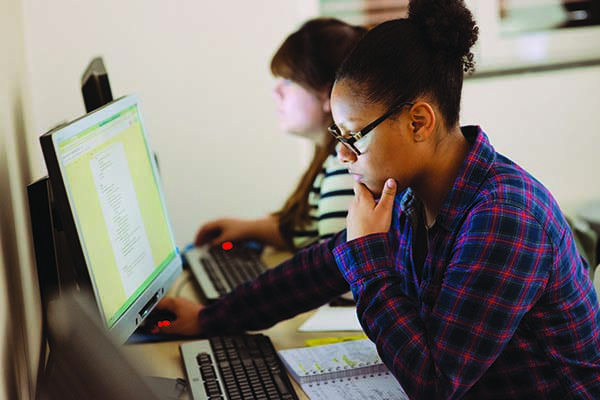 Students who decide to study in Rome are a special group, Hagstrom said. They're independent and fearless enough to tackle international travel and study in a country where most people don't speak their language.
Blum said he needed a push to leave PC for a semester. It came from a friend who attends the University of Notre Dame and is studying in Rome.
"I wanted the incentive," said Blum. "My main fear is change. Change is scary. I'd always wanted to go to Rome, to see Paris and Germany, and this is the best chance I'll ever have."
The opportunity to travel, both within Italy and throughout Europe, is a benefit of study abroad. The students are granted occasional Fridays free from academic programming to make travel easier. Airfare is inexpensive throughout Europe, and affordable lodging is available in hostels. The students have taken advantage, visiting Amsterdam and Copenhagen, Barcelona and Paris, Greece and Morocco. They even caught a country music concert in Dublin.
Selena Ainzuain '17 (Broad Brook, Conn.), a psychology major, knew she wanted to study in Europe after a high school trip to London, Paris, and Rome.
"I knew from freshman year that I wanted to go," said Ainzuain. "I wanted to learn about different cultures. Reading about it in textbooks is completely different from living it. Now, I feel that just being in Rome is what I like best. We've all created our personal memories and experiences here."
Ashlee Robinson '17 (Canton, Conn.), a social work major, said she felt drawn to Europe as well.
"I wanted to be able to travel," Robinson said. "I like all the history here in Rome — and the history here kind of explains it all."
For students, much of life is adjusting to crazy, madcap Rome. Tiny cars and motorbikes tear around corners on roads paved with cube-shaped cobblestones hewn from volcanic rock. American students learn quickly that coffee isn't sold iced, or in jumbo cups to go, and that a typical Italian breakfast special is a cappuccino and cornetto — a croissant-shaped pastry — for €1.50, no eggs, bacon, or toast in sight.
The PC in Rome program encourages students to learn all they can about Rome and Italy. Through the program, they journey for weekend trips to Assisi, Florence, and Venice. Monthly passes allow them to ride free throughout Rome by bus and Metro. CEA sponsors an orientation tour of Rome, a "pizza and gelato crawl," lectures on special academic topics, and sessions on pasta making and clay making.
For fun, there are typically Roman adventures. The students buy cones of gelato or slices of thin, crispy pizza from shops. They rent Segways and ride them around the gardens of the 226-acre Villa Borghese. They watch international soccer stars, such as Cristiano Ronaldo, play A.S. Roma at Stadio Olimpico. And there's the weekly karaoke night at Scholars Lounge, an Irish pub that is a favorite of American students.
Student apartments are scattered throughout the Prati neighborhood, but all are about a 15-minute walk from the PC in Rome center. The PC students room with students from other American colleges and universities studying with CEA. Other building tenants are working professionals and families. Motorbikes line the courtyards. Each apartment has a tiny washing machine, but none has a clothes dryer. Like Romans, the students hang their wet laundry on drying racks — or out the window, when the weather permits.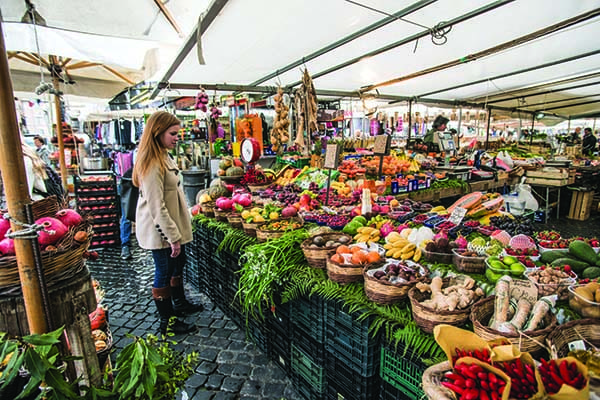 For tourists, food is a highlight of travel to Italy, but when you're a student, you must eventually cook in your own kitchen. The 10 men enrolled in PC in Rome, along with other male students studying through CEA, have collaborated to plan weekly dinner nights, with each apartment taking a turn hosting.
Caragh Corcoran '17 (Chester, N.J.), a public and community service studies major who is the oldest of five siblings, is confident in the kitchen and shops with ease in the local grocery stores and open-air markets. Her roommates have enjoyed her tortellini soup and zucchini pasta boats.
In contrast, "my shopping list is basically pesto and things you can put pesto on," said her roommate, Alexandra Harbour '17 (North Attleboro, Mass.).
Harbour is majoring in both biology and secondary education. From the time she arrived at PC as a freshman, she knew she wanted to study abroad, and she scheduled her science and education classes to make it happen.
"I had never been to Europe before, and my family doesn't travel a lot," said Harbour. "When I got to PC freshman year, I said, 'I want to go abroad.' They said that in Rome I could take two theology classes, ethics, and philosophy, taking care of those requirements. So I arranged my schedule around that. I've been to Prague, Barcelona, and Ireland, and my parents visited me here and loved it."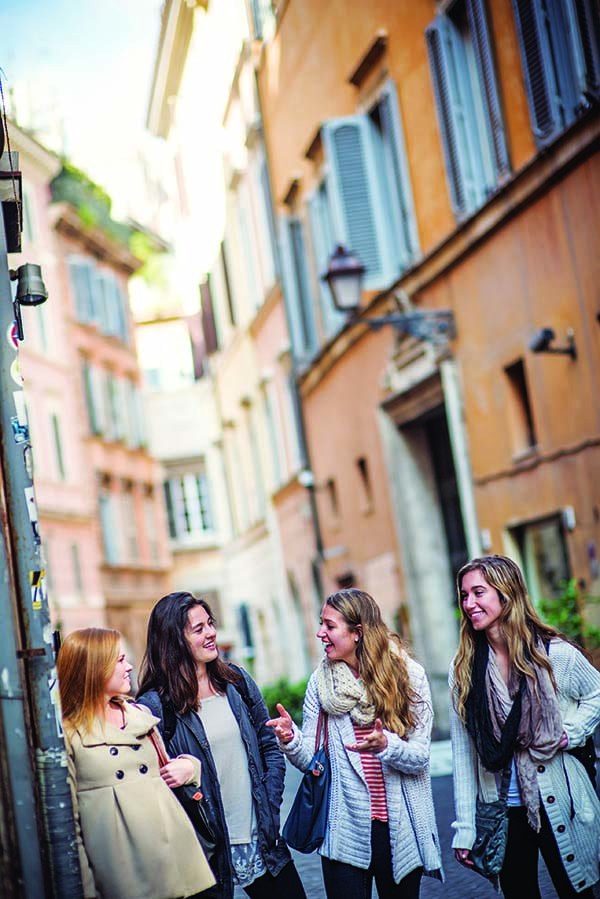 Alexandra Brady '17 (Cross River, N.Y.) also is a biology major, studying for a neuroscience certificate on a pre-med track. She, too, arranged her schedule so that she could study abroad. Is study in Rome applicable to her major?
"It's more like it's applicable to life in general," Brady said. "I feel like people on the science route are stuck in the sense that they feel they have to follow a plan. In Rome, life isn't like that. Things don't always work out. You have to change your plans."
Hagstrom said having a theology class in common has helped the PC students to bond. They bring "tons of school spirit" to their audience with Pope Francis in St. Peter's Square, wearing PC attire and leaping up to cheer when the College is welcomed on the loudspeaker.
"Being in theology class together has been good," said Paige Silengo '17 (Madison, Conn.), a public and community service studies major. "It gave us a chance to see places we wouldn't normally visit."
"Theology has brought our whole program together," said Brady. "I've become friends with everybody."
The program also welcomes the occasional visitor from PC. In the three years that Hagstrom has taught at the center, two Dominicans — Rev. Kenneth Sicard, O.P. '78 & '82G, executive vice president and treasurer, and Rev. John C. Vidmar, O.P., associate professor of history — have taken time to visit the program.
"Rome, as the center of the Catholic Church, is the perfect place to study the history, spirituality, theology, and legacy of Catholicism," said Hagstrom. "More than ever, it's my firm conviction that this program flows from the very heart of the Catholic and Dominican mission of the College. If the project of Catholic colleges and universities is to train students to take part in the Church's mission to the world, then an experience abroad is critical to fulfill that project."
More about PC in Rome
More from the Spring 2016 Magazine