April 18, 2017
Retired Col. Noel Doyle '58, wife create scholarship fund for SCE student-veterans
By Rebecca Keister
A life well lived is often the catalyst for paying good fortune forward.
So is the case with retired U.S. Army Col. and Mrs. Noel J. Doyle, Jr., whose gift to the School of Continuing Education recently established a new scholarship fund for veterans of military service who are SCE students or who have dependents who study in the school. The Doyles also have included Providence College in their estate plans, designating a portion of their finances to enhance the scholarship fund.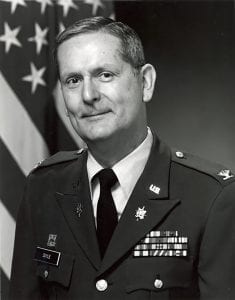 "In establishing the Military Service Scholarship Fund within the SCE, it is my intention to both recognize and reward these dedicated individuals who put service before self by providing financial support to enable them to achieve their goals," said Doyle '58, who was a first-generation college student. "It is an honor for me to recognize the contributions of our student veterans who have given so much to ensure the continued security of our great nation."
Doyle, who served in the Army for 30 years after graduating from PC with a bachelor's degree in economics, said he had long considered the best possible way to support student scholarship at the College.
The Military Service Scholarship Fund will benefit SCE students who are honorably discharged military veterans, or dependents of such veterans, and is meant to supplement any costs not covered by Veterans Affairs education benefits. Preference will be given to those who have served in Afghanistan, Iraq, or other Middle East combat zones during the past 20 years.
Dr. Janet L. Castleman, SCE dean, said the College is "overwhelmed" by the Doyles' generosity.
"Their gift will help veterans whose needs may exceed their VA educational benefits or whose benefits may have run out," said Castleman. "This wonderful new scholarship will allow SCE to give back to those who have given so much to their country."
Doyle was a member of the ROTC during his undergraduate years at the College. Upon graduation, he entered his required two-year service with the Army at Fort Holabird in Baltimore, Md. Extending his service, he moved with his new wife, Carolyn, to serve overseas in Germany in 1960.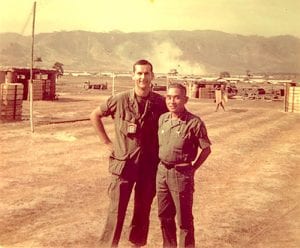 The family welcomed two of their three children while living in Germany for three years before returning to the United States to a station assignment in Baltimore. In the years that followed — the Vietnam era — Doyle served two tours during the war and then was accepted into the Army's Foreign Area Program with a concentration in Eastern Europe. He served as the U.S. Army attaché in Prague, Czechoslovakia, in the mid-1980s before retiring in 1989 and going to work for the CIA in Langley, Va.
In explaining his desire to acknowledge student-veterans who have served during the last two decades, Doyle drew a distinction between those who served their country during his time and the often back-to-back, unstable deployments overseas that many of today's military personnel face.
"In the early years of my service there was less turmoil in the world than we are experiencing today, and military personnel had more time for family, education, training, and travel. Even during the Vietnam era, the increased commitment of citizen-soldiers seemed to allow for greater spacing between repetitive tours in that combat zone," he said.
"Our young servicemen go into harm's way, and they come back, but they often find themselves turning around and going back very quickly, and it disrupts their life plans," he said.
"PC provided me the opportunity to be the first in my family to go to college, and I want to help provide others the opportunity to achieve whatever goals they want to achieve after life in the service."
Now living in Leesburg, Va., the Doyles have enjoyed the rewards that retirement and a loving family provide. Grandparents to four children, they most enjoy family travel. Though Doyle says their octogenarian status has "slowed them down a bit," they took a Caribbean cruise earlier this year.
Doyle last visited the College for his 55th reunion in 2013, though he put his love of travel to good use during an international trip with the College's alumni travel program, Friar Explorations, in 2015.
"When I visited the College, I thought, 'What a change.' The developments the College has made over the last five or so decades are just astounding. It's such a privilege to see what they've achieved," he said.