October 18, 2018
A Friar family: The story of the Dillons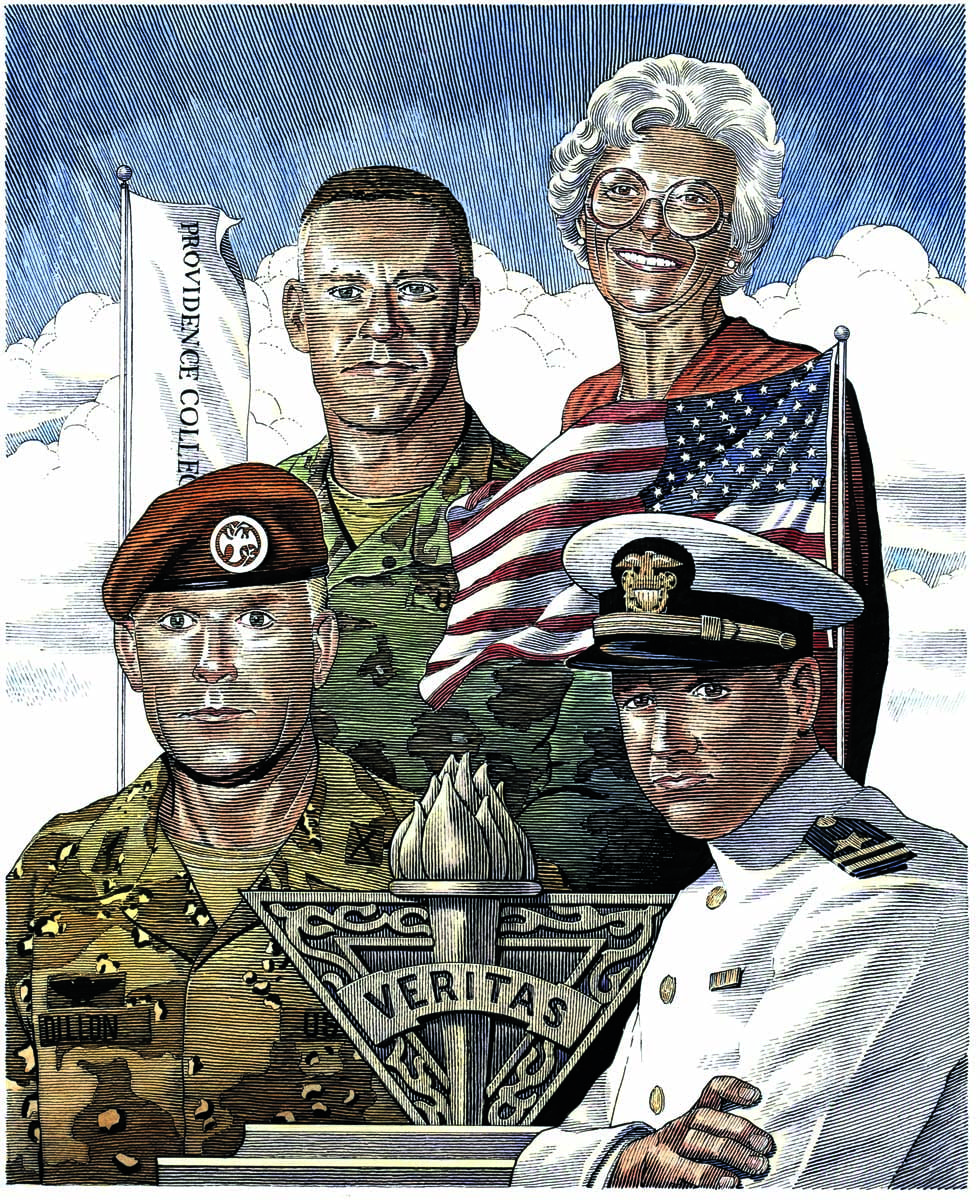 By Vicki-Ann Downing
The house at 54 Lyndhurst Ave. in Providence was a perfect place for James J. Dillon '33 & '35G and his wife, Kathleen, to raise their two sons and three daughters. It was close to St. Pius V church and elementary school, a half mile from La Salle Academy, and best of all, across Eaton Street from Providence College, where Jim Dillon had earned bachelor's and master's degrees in chemistry and maintained close ties.
Dominican priests were frequent guests for Sunday dinner at the Dillon house, especially Rev. Francis C. Hickey, O.P., a chemistry professor and director of the science department.
Like Father Hickey, Jim Dillon was a research chemist. He developed fabric and textile structures for NASA's Apollo Program and worked for Owens-Corning Fiberglas Corp.; Berkshire Hathaway, the textile company that eventually was acquired by investor Warren Buffet; and the Rhode Island Department of Health.
"As a very young boy, I thought Father Hickey was really cool because he would walk me up to campus and let me play with the laboratory mice and look at things under a microscope," said Gerald F. Dillon '68 & '74G, one of the five Dillon children.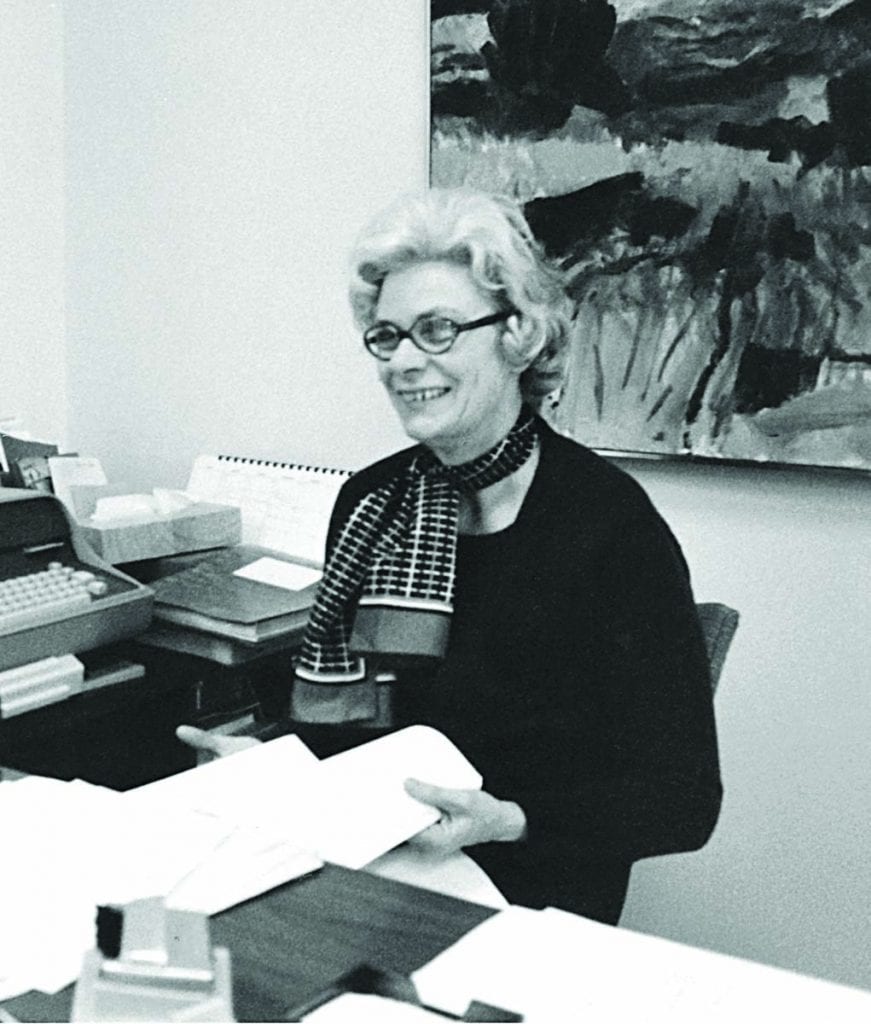 Kathleen Dillon, known as "Kay," found a place at PC, too. She joined the Veridames, an organization of wives and mothers who sponsored events and raised money for the College. A graduate of Regis College, she worked in the president's office from 1967-1980, then became administrative assistant to the executive vice president, Rev. Robert A. Morris, O.P. '46 & '82Hon. In 1982, she left Harkins Hall to be secretary to the prior at St. Thomas Aquinas Priory, a position she held until her retirement in 2004.
"Should she write a novel, it would undoubtedly become a movie," College President Rev. Thomas R. Peterson, O.P. '51 wrote when Kay left for the priory. "Her service to the College has been a delightful intermingling of the beautiful combination of laughter and serious concern."
Gerry Dillon decided to follow his father's lead and attend PC. He studied sociology and joined the ROTC Program. The Vietnam conflict was heating up. In the Dillon family, service to the country was a given. Jim Dillon earned the Bronze Star as a Navy commander during World War II, and Jim's brother, Very Rev. Msgr. Gerald F. Dillon, resigned his position as dean of men at The Catholic University of America to become a military chaplain on an aircraft carrier. While Gerry Dillon was a student at PC, his older brother, James J. Dillon, Jr. '76G, was already in the Army; he went to Officer Candidate School and served in Italy.
The 96 ROTC candidates in the Class of 1968 didn't talk about Vietnam, but "realistically, we all knew where we were headed," Gerry Dillon said. "There was a mix of excitement in it."
But the reality of Vietnam could not have been more different than the loving, supportive, Catholic world he knew at 54 Lyndhurst Ave.
"I had never heard a shot fired in anger before, and all of a sudden they were all directed at me and my men," Gerry Dillon said. "War is a horrible, gross, gruesome, awful experience. You're fighting for your life, and those of your men, against someone you have never met before. You see death and destruction and savage fighting all around you, and you're praying that it will all go away."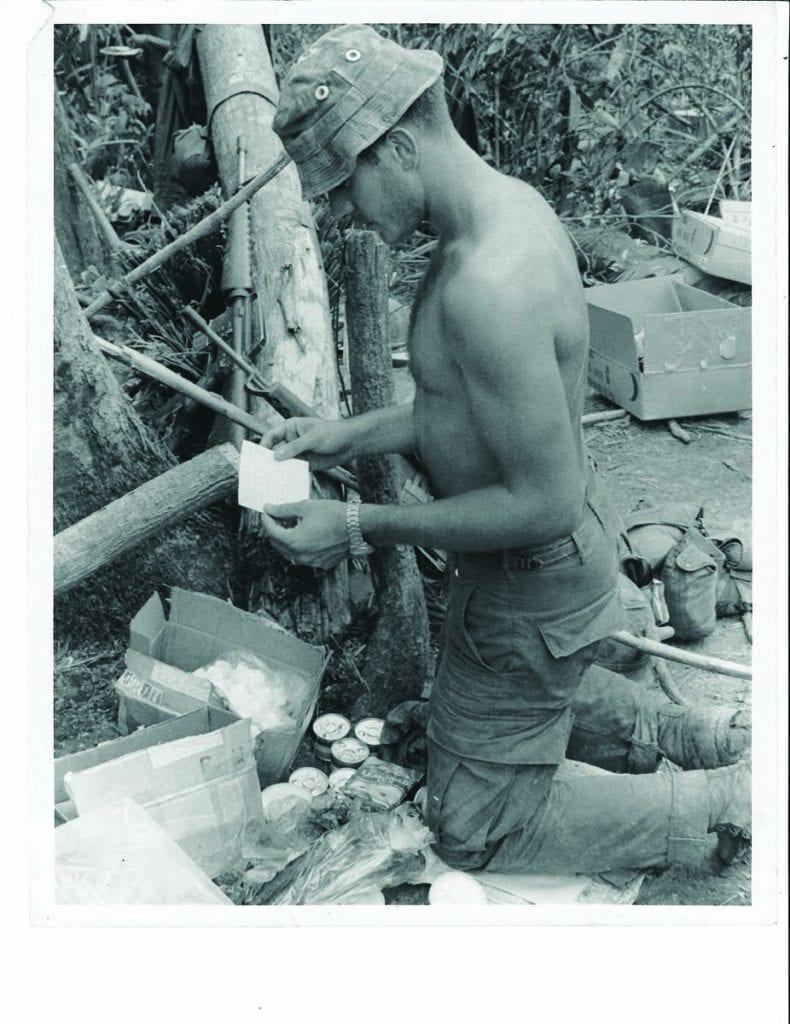 Gerry Dillon was wounded in May 1970 while commanding Charlie Company, 502nd Parachute Regiment, in the 101st Airborne. In three days of fighting, 15 men died and many more were wounded. Enemy casualties were even higher. The battle became the subject of a book, Mighty Men of Valor, published in 2012 by veteran John G. Roberts. Gerry Dillon was 22 years old. He received two Silver Stars, two Bronze Stars with Valor, and the Purple Heart.
His healing came in Providence. He returned to PC to teach in the ROTC Program and to earn a master's degree in educational counseling. In the summers, he taught at the Airborne Ranger School at Fort Benning, Ga. He loved the camaraderie and the work of special operations — being an Army Ranger, a pathfinder, and a master parachutist.
In a 30-year military career, he rose to the rank of colonel while commanding companies, battalions, and brigades throughout the United States, Europe, and Egypt. He studied at the U.S. Army War College in Carlisle, Pa., and the U.S. Naval War College in Newport, and he taught at the Naval War College and at the U.S. Military Academy at West Point.
In 1989, when the Berlin Wall fell, Gerry Dillon was in Berlin as deputy commander of the U.S. Army Berlin Brigade, which he later commanded. His children, Ryan S. Dillon '95 and Kelly (Dillon) Fitzpatrick, who were in high school then, joined revelers dancing atop the ruins of the wall. Ryan Dillon remembers spending two full days "out living history."
The family maintained a home in Narragansett, so their vacations home always included trips to see their grandparents, "Jim-Jim" and "Gams," at 54 Lyndhurst Ave., and to visit their Dominican friends on the PC campus.
When it came time for college, Ryan Dillon decided to follow his father and grandfather to PC. At the time, his chief interest was the opportunity to play NCAA Division I soccer. He studied history and German, but what he learned most was character.
"You know what you know based on your experiences, but looking back, I was incredibly fortunate to attend Providence College," Ryan said.
He wasn't interested in ROTC at first. But at the end of his sophomore year, when his sister was a first-year student at Salve Regina University, he applied for an ROTC scholarship to help his family financially. Like his father, he discovered that he loved the camaraderie and the challenge of military service.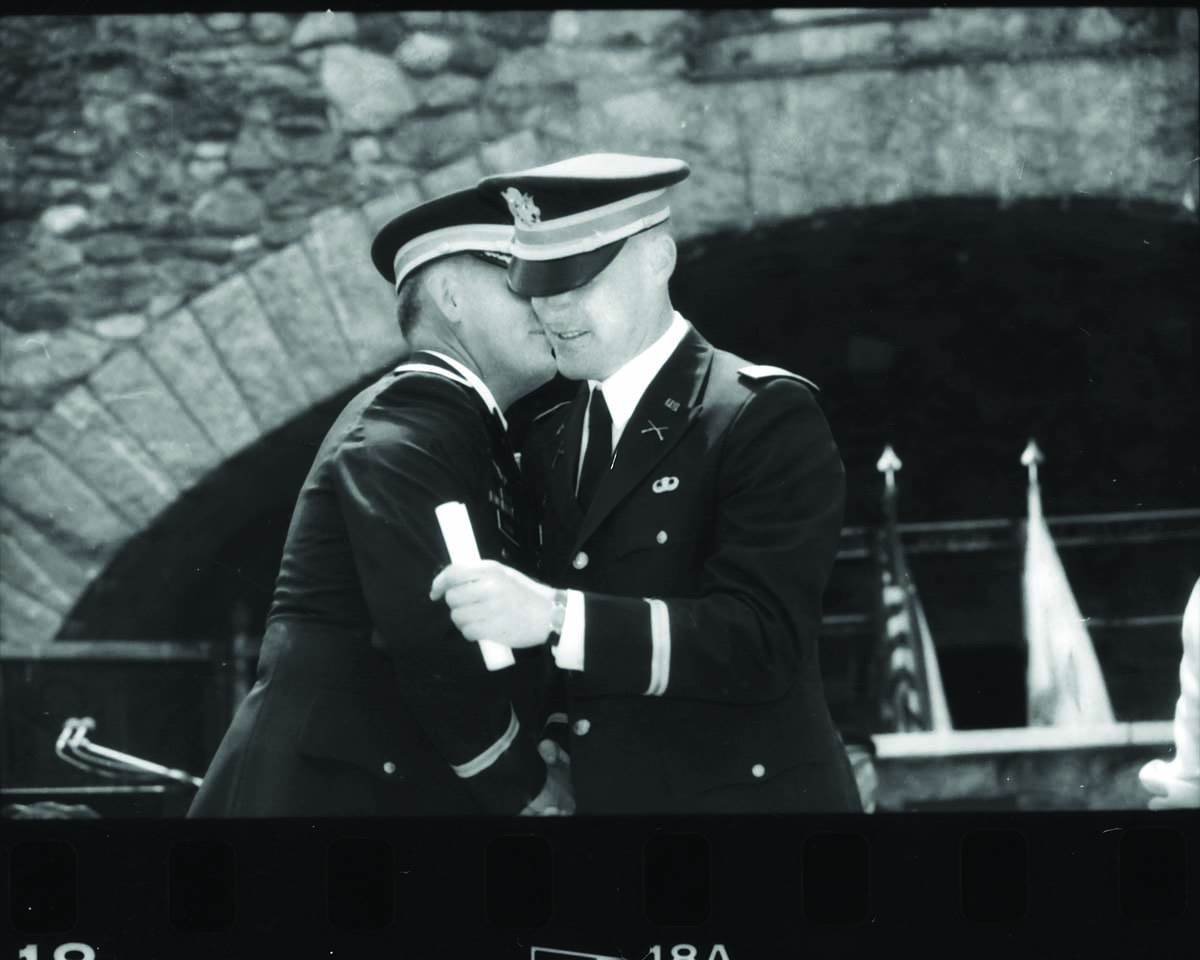 After PC, Ryan Dillon was assigned to the 82nd Airborne Division. When he graduated from parachute training at Fort Benning, his father, then stationed in Louisiana, joined him for his final two jumps and personally pinned his wings to his uniform.
"I really enjoyed what I was doing, and I felt it was my duty to also serve," Ryan Dillon said. "In Germany, I had seen East Germans walking into West Berlin after the wall fell with their mouths agape. As I matured, I realized I had witnessed firsthand what freedom means."
As an airborne infantry officer with the 173rd Airborne Brigade, Ryan Dillon led soldiers parachuting into combat at the start of the Iraq war. He served two combat tours there along with combat tours in Afghanistan and Pakistan.
"I was able to make the right decisions — critical, life-and-death decisions — largely because of what I learned at Providence," Ryan said. "Courses like ethics, logic, and critical reasoning helped me to think quickly on the battlefield while maintaining the moral high ground. What I learned at PC contributed to what I knew I would stand for and what I would not tolerate. On more than one occasion, I had the fortitude and the confidence to say, 'I don't think that's right.'"
Gerry Dillon retired from the Army in 1998 but found ways to serve. From 2000-2010, he was in Rome as director of operations at the headquarters of the Multinational Force and Observers, an independent organization monitoring the peace between Israel and Egypt. He also maintained the tradition of inviting visiting priests to dinner. Father Morris was a guest, as was Rev. James F. Quigley, O.P. '60, now an associate alumni chaplain, who was teaching in Rome at the time.
In 2006, the Army had Ryan Dillon switch gears and become a public affairs officer. He was sent to study for a master's degree in public relations and corporate communications at Georgetown University and a second master's degree in international military strategy at the Italian Institute for Strategic Studies in Rome.
Ryan Dillon, promoted to colonel, stepped into the international spotlight in 2017 when he was named the secretary of defense's spokesman for the multinational coalition fighting ISIS in Iraq and Syria through Operation Inherent Resolve. Working out of the U.S. Embassy in Baghdad, he gave 1,500 media interviews in 13 months, many of them televised on major national and international news networks.
"I was there at the crescendo of the fight against ISIS," Ryan said. "I was there for the liberation of Mosul and Raqqa, the former ISIS twin capitals. It was arguably the most intense, historic, and noteworthy time of the entire campaign."
While Ryan Dillon was in Iraq, his wife, Cristina, and their two daughters, Zoe, 9, and Eva, 5, remained at their home in Vicenza, Italy, near the U.S. Army Garrison where Ryan is based. The family speaks fluent Italian.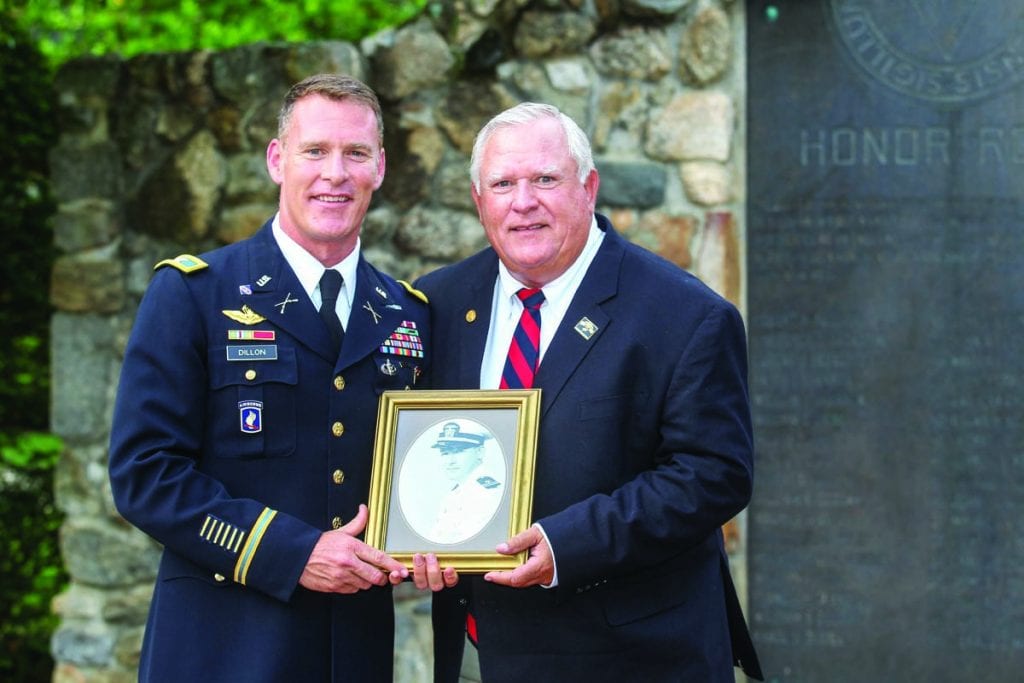 Ryan completed his assignment in Iraq at the end of May, just in time to return to PC to see his father receive the Personal Achievement Award from PC's National Alumni Association during the 50th reunion of the Class of 1968.
"There is no way I would miss it," Ryan said. "My dad is my dad, but he's also my mentor and my best friend."
Before beginning his new assignment in Vicenza as the public affairs officer for the U.S. Army in Africa, Ryan Dillon brought his wife and children to Rhode Island for a vacation. It included a stop at the PC campus, where Ryan carefully removed a photograph from a manila envelope and held it out to his daughters.
The photo showed Jim and Kay Dillon on their 50th wedding anniversary, after a Mass at the priory with their family and Dominican friends. Jim died a year later, in 1993. Father Thomas Peterson officiated at his funeral. Kay died in 2008. Her funeral was celebrated by Father Morris, who also came to pray with her in her home during her final illness.
Ryan Dillon showed the photo to his daughters.
"Do you remember what I told you about Jim-Jim and Gams?" he asked. They nodded, then ran across the Slavin Center lawn to play in the sunshine.
To be born free is a blessing
To live free is a privilege
To die free is an obligation
– Adage often quoted to Ryan S. Dillon '95 by Gerald F. Dillon '68 & '74G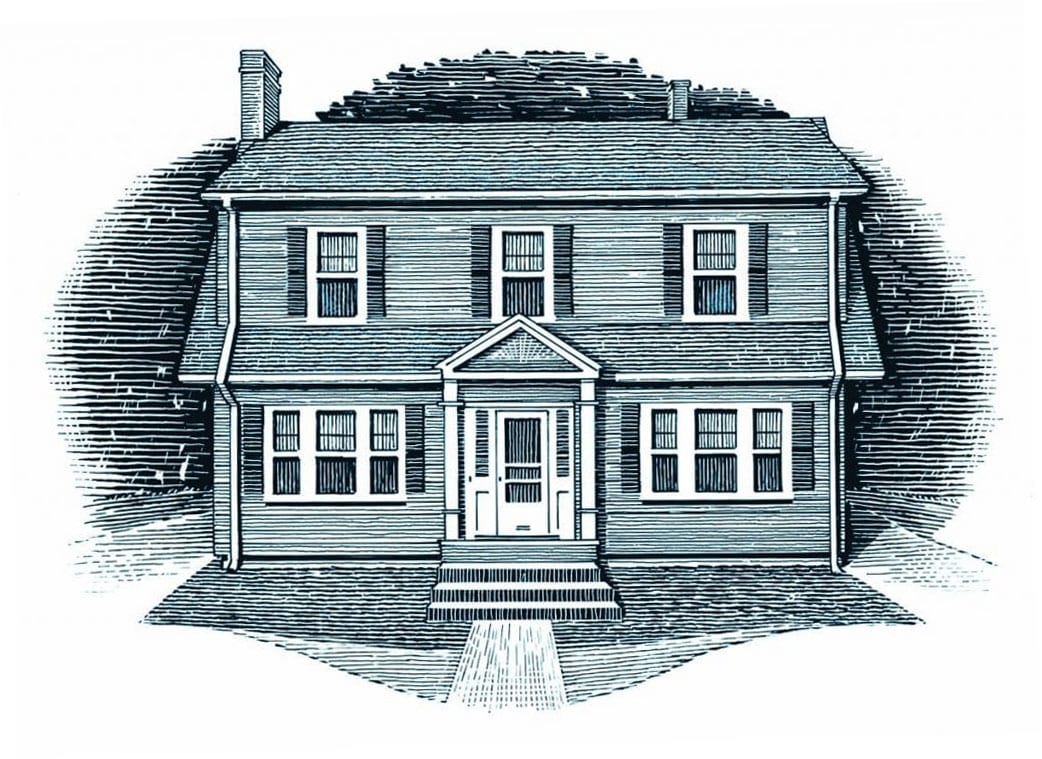 Friar Family: The Dillons