April 18, 2017
Class Notes: Spring 2017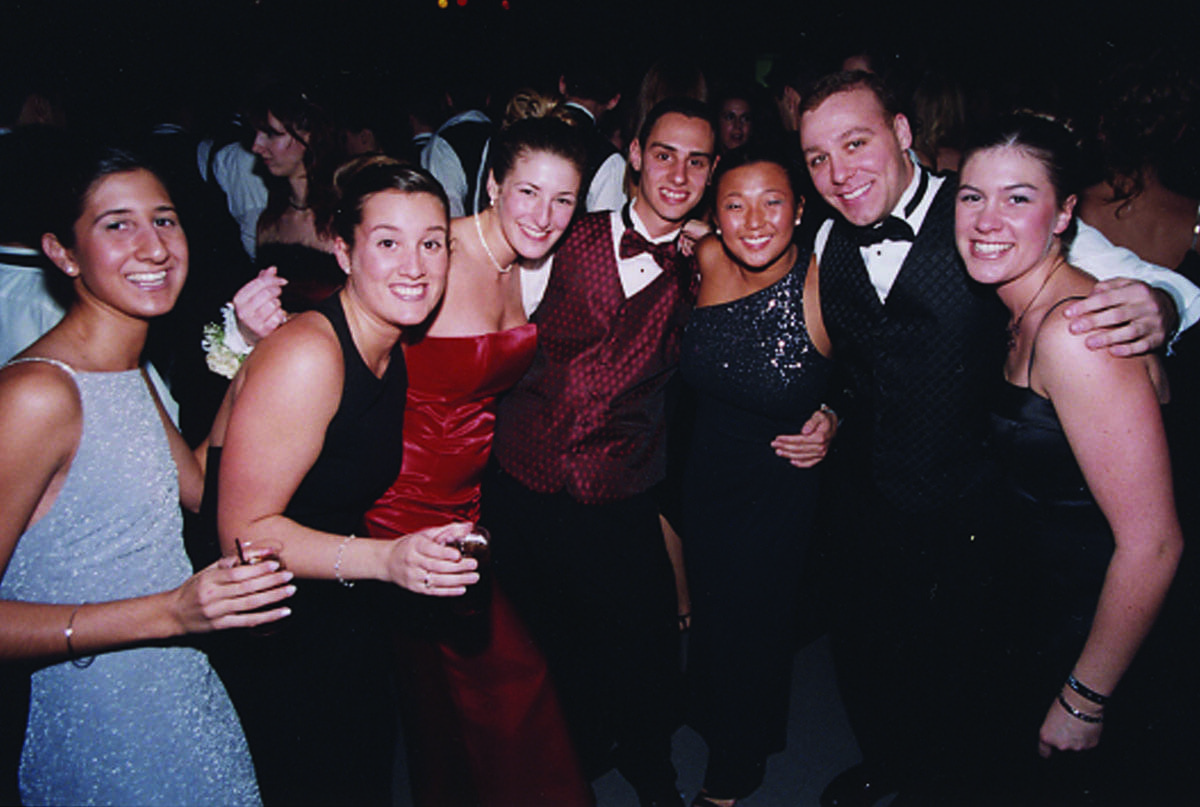 Jump to: 1960s | 1970s | 1980s | 1990s | 2000s | 2010s
1940s
(Memorial Tribute) The late John F. McBurney, Jr., Esq. '48 and the late Lionel J. Jenkins '58 were among 14 prominent, deceased Rhode Islanders to be inducted into the Rhode Island Heritage Hall of Fame. Dating as far back as Roger Williams in the 1600s, the hall of fame now consists of 757 Rhode Islanders who have "brought credit to the state, brought Rhode Island into prominence, and contributed to the history and heritage of the state." Mr. McBurney, who lived in Pawtucket, was a World War II hero who received the Bronze Star and the French Legion of Honour. An All-America baseball player at PC, he was a state senator and a prominent trial attorney. Mr. Jenkins, who played basketball at PC and lived in Smithfield, was a champion of civil rights. He was a regional director of the U.S. Department of Housing and Urban Development and a member of the Housing Board in Smithfield.

1950s
'57 (60th Reunion — June 2-4, 2017)
John P. Collins '57 of Shrewsbury, Mass., was presented the prestigious "Louie" award, The Society Award, by the International Thomas Merton Society at the Thomas Merton Centenary Conference in Louisville, Ky. The award, a bronze bust of Father Merton, is given biannually to an ITMS member whose distinguished service has furthered the goals of the society. He also received the Cardinal Wright Award from Bishop Robert J. Mc-Manus of the Roman Catholic Diocese of Worcester for his years of service in bringing Father Merton's message to the diocese and beyond. Collins wrote a monthly column for the Worcester Catholic Free Press, led an ITMS chapter in Shrewsbury, and founded the ITMS chapter at the Massachusetts Correctional Institution in Shirley, the society's only chapter located in a prison. He has written more than 120 columns and more than two-dozen scholarly articles on Merton's life and thought, most of them since retiring as superintendent of schools in Shrewsbury and professor of education at the College of the Holy Cross.

1960s
'61
Richard J. Panagrossi '61 of Branford, Conn., was appointed by Connecticut Gov. Dannel Malloy to serve as a labor arbitrator on the Connecticut State Mediation and Arbitration Board. He worked as a labor representative for the International Brother-ood of Electrical Workers for 40 years.
'66
Kevin C. Phelan '66 & '15Hon. of Wellesley, Mass., received the 2016 James Landauer/John White Award from The Counselors of Real Estate® professional association. Co-chairman of Colliers International since 2010, he was chosen by his peers for his leadership in the real estate field and his contributions to the community. He leads Colliers' Capital Markets group, which is one of the most successful in the country and comprises 14 professionals. Phelan serves on numerous boards and committees in Greater Boston, including Crossroads, the Boys & Girls Club of Boston, the Archdiocese of Boston, and the Greater Boston Chamber of Commerce. He is a member of PC's Board of Trustees and the School of Business Advisory Board, and he is co-chair of the $140-million Our Moment: The Next Century Campaign for Providence College.
'67 (50th Reunion — June 2-4, 2017)
Sam D'Ambruoso '67 of Middlebury, Conn., a landscape and portrait painter with his own studio, completed his 31st annual Art Instruction Workshop series in Italy. For more than 20 years, he has been teaching landscape and portrait painting while his wife, Mary Ann, simultaneously conducts regional cooking classes in Amalfi, Tuscany, and Sicily. D'Ambruoso's paintings of the Connecticut River are now in the State of Connecticut's permanent art collection at the governor's residence in Hartford.
1970s
'70
Kevin M. O'Connell, Esq. '70 of Severna Park, Md., is the author of Beyond Derrynane: A Novel of Eighteenth Century Europe (The Gortcullinane Press, 2016). The first of a contemplated series of four works of historical fiction, Derrynane — and the books to follow, which together will constitute The Derrynane Saga — dramatizes the roles played by a small number of expatriate Irish Catholics of the fallen "Gaelic Aristocracy" at the courts of Catholic Europe, as well as relating their complex lives at home in Protestant Ascendancy-ruled Ireland. A Washington, D.C., attorney who holds Irish and American citizenship, he is senior counsel at Cameron LLP O'Connells, where he practices international business-transactional law, primarily involving direct-investment matters, throughout Asia, Europe, and the Middle East.
'71
(Memorial Tribute) The legacy of the late Timothy R. Auch '71, formerly of Raywick, Ky., was honored with the presentation of the first Tim Auch Spirit of Enterprise Awards to four students at Marion County High School in Kentucky. The four were among 24 juniors who took part in a two-day intensive study of the American Private Enterprise System sponsored by the University of Kentucky's College of Agriculture, Food and Environment. Mr. Auch, who died in August 2014, was an executive with three companies, the founder of Serenity Farms in Raywick, and a pioneer in the state's alpaca industry. He was commissioned as a Kentucky Colonel by Gov. Steve Beshear before his death. His family established the spirit award to honor youths who exhibit Mr. Auch's spirit of enterprise. Mr. Auch's grand-uncle was the late Rev. Frederick C. Hickey, O.P., a chemistry professor for whom Hickey Hall in the PC Sciences Complex is named.
'72 (45th Reunion — June 2-4, 2017)
Raymond J. Sheehan, Esq. '72 of Woodbridge, Va., wrote his first book, The Original Sins: America's Fight Against Corruption in the Era of Manifest Destiny (Xulon Press, 2016). The book tells stories about public-sector corruption in the late 18th through early 20th centuries — major scandals and events that forced Congress to enact anti-corruption/ethics legislation. The retired director of the Office of Ethics of the U.S. Department of Agriculture, Sheehan also plays guitar and sings with the quartet Wicked Olde. The Americana musical combo released its first CD, Hannigan's Mountain, in 2016.
Charles J. "Chuck" Wielgus, Jr. '72 of Colorado Springs, Colo., announced his retirement as executive director of USA Swimming, effective Aug. 31, 2017. Executive director since 1997, he is credited with taking the sport's governing body to unparalleled heights within the Olympic movement. Highlights of his term include the U.S. Olympic Swim Team achieving an average of 31 medals during the past five Olympic Games; establishment of the USA Swimming Foundation, which Wielgus has served as CEO since its inception in 2004; and doubling the membership of the organization to more than 400,000 members. Wielgus also was awarded a 2016 honorary doctorate by the U.S. Sports Academy for his lifetime of service to the world of sport.
'73
Thomas W. Boyce, Jr., Esq. '73 of Waterford, Conn., was named to the 2016 Super Lawyers list, a nationally accredited rating service of lawyers who have attained a high degree of peer recognition and professional achievement. A partner with Halloran & Sage LLP, headquartered in Hartford, he manages the newly established New London office. He is a trial attorney who primarily defends members of the local medical community in malpractice cases.
'74
Kenneth P. Binder '74 of Lexington, Mass., was named chair of the board of directors of Sacred Heart School in Kingston. He joined the board in 2012, served the past two years as vice chair, and chaired the board's Advancement Subcommittee. Sacred Heart is a private, Catholic, co-educational school that serves approximately 725 students in preschool through grade 12 from 35 communities throughout southeastern Massachusetts and Cape Cod. He is a major gifts officer at Saint Anselm College in Manchester, N.H.
Anthony V. Riccio '74 of Westbrook, Conn., had his book of photographs published by the State University of New York Press this spring. From Italy to Boston's North End — The Photographs of Anthony V. Riccio 1972-1982 visually tells the story of immigration from small-village life in southern Italy (1972-1974) to daily life in Boston's North End (1978-1982). He is the collections management supervisor at Yale University's Sterling Memorial Library, the flagship and largest in Yale's library system.
'77 (40th Reunion — June 2-4, 2017)
Paul F. Caranci '77 of North Providence, R.I., wrote a book on corruption in his town government, Wired: A Shocking True Story of Political Corruption and the FBI Informant Who Risked Everything to Expose It (Stillwater River Publications, 2017). It chronicles his 40 years in government service, culminating with 17 months of undercover work with the FBI to expose a vast political corruption ring in North Providence. At the conclusion of the investigations and legal processes, six current or former town officials pled guilty to political crimes and misconduct, a seventh was found guilty at trial, and three other people caught up in the scandals also pled guilty. A third-generation resident of North Providence, Caranci served as Rhode Island's deputy secretary of state from 2007 until 2015 and served on the Town Council from 1994-2010. A history buff, he has six other published books to his credit.
'78
Mary Ann Mozzone '78 & '88G of Taunton, Mass., was appointed director of the Providence College Graduate School of Counseling after serving as interim director for 10 months. After retiring in 2013 following a 35-year career as a teacher, counselor, and administrator in the Bridgewater-Raynham School District, she became a special lecturer in the PC graduate school counseling program and continues to teach. "I feel so very blessed to be back with the PC family. I believe my success in my career was based on the foundation I received from Providence College," she says.
1980s
'80
James M. Long, Jr. '80 of Odessa, Fla., was promoted to vice president and general manager of Sypris Electronics, LLC in Tampa, where he previously served as vice president of operations.The company is a subsidiary of Sypris Solutions, Inc., a provider of outsourced services and specialty products, including a wide range of manufacturing, engineering, and other technical services.
Anne M. Thomas '80 of Hampden, Mass., was named president and CEO of Glenmeadow in Longmeadow. Glenmeadow is a continuing care retirement community that serves the residents who live there as well as those in the surrounding community. She has more than 25 years of experience working with seniors and most recently served as vice president of residential health at JGS Lifecare in Longmeadow.
'81
Stephen J. Caldeira '81 of Potomac, Md., was named president and CEO of the Consumer Specialty Products Association in Washington, D.C. He will lead the implementation of the 101-year-old organization's new strategic plan on behalf of the world's largest household and institutional chemical product manufacturers. He was previously the president and CEO of the International Franchise Association.
'82 (35th Reunion — June 2-4, 2017)
Lisa L. Bonnardi Keefe, R.N. '82 of Natick, Mass., and Tanya C. Smith Sullivan '96 of Medfield, Mass., jointly presented "Assessing Student Emotional Vital Signs During Urgent Care Triage" at the 2016 New England College Health Association Annual Conference in Newport, R.I. They work at Wellesley College Health Services. Keefe is the nurse clinical coordinator of health services, and Sullivan is a family nurse practitioner and the associate director of health services. Sullivan is married to Brian F.X. Sullivan '96.
Paul F. Mercurio '82 of New York City, a headlining comedian, returned to his Rhode Island roots with three shows at the Comedy Connection in East Providence, R.I. A graduate of Georgetown Law School and a former Wall Street mergers and acquisitions lawyer, he has made multiple appearances and works on The Late Show with Stephen Colbert, does commentary for CBS Sunday Morning, and hosts a podcast called "Two Chairs and a Microphone." Mercurio is an Emmy and a Peabody award winner for The Daily Show with Jon Stewart and can be seen opposite Golden Globe winner Liev Schreiber in the upcoming film, The Bleeder.
'83
Mary Catherine (Arnold) Clifford, J.D. '83 of Setauket, N.Y., joined the faculty of Farmingdale State College as a lecturer of business law in the Department of Business Management. She is a member of the American Bar Association and the Colorado Bar Association. Her areas of research include the impact of constitutional law in business
Claire C. (Banisch) Flaherty '83 of Warwick, R.I., was elected a trustee and the treasurer of the board of trustees of Saint Elizabeth Community, an organization dedicated to providing exceptional, compassionate care for seniors in a variety of settings. She is the executive director of VOWS, Inc., the Vol-unteers of Warwick Schools. She is married to Robert E. Flaherty, Esq. '70.
'84
Michael F. Connolly, Esq. '84 of Milton, Mass., joined the Boston office of Rubin and Rudman LLP as a partner and co-chair of the Litigation Department. A litigator with extensive trial experience, he is leading the effort to develop a business litigation practice that assists clients with a broad range of commercial litigation needs. Connolly joins Rubin and Rudman after 27 years at Mintz, Levin, Cohn, Ferris, Glovsky and Popeo, P.C., in Boston. He is a member of the Providence College Boston President's Council.
'86
Jeffrey C. Carter '86 of Washington, D.C., was named executive director of Physicians for Social Responsibility, based in Washington. PSR works to reduce the health risks and threats to human survival posed by nuclear weapons, climate change, and toxic degradation of the environment. Carter also was elected vice president of the Committee for Education Funding, a Washington-based coalition of educational associations, institutions, and other organizations that advocates for greater federal investment in education.
Carolyn R. Bledsoe Holmes '86 of Athens, Ga., was elected president of the Association of Medical Illustrators. A Certified Medical Illustrator and a fellow of the AMI, she has volunteered with the association since 1990 and has served on several committees and at regional and national meetings. She holds a B.A. in biology from PC and an M.S. in medical illustration from the Medical College of Georgia.
Anne C. (D'Andrea) Ring '86 and her husband, David V. Ring '86, of Columbus, Ohio, shared recent career news. Anne was appointed director of marketing and communications at Equity, a national, full-service, commercial real estate company in Hilliard, Ohio. She is responsible for creating and implementing strategic marketing plans and overall communications strategy. She previously served as director of communications and development at the YMCA of Central and Northern Westchester in White Plains, N.Y. David was named executive vice president of Middle Market Banking, Not-for-Profit Banking, and Huntington Business Credit at The Huntington National Bank. He is responsible for the bank's eight-state Midwest footprint, as well as offices in Nashville, Atlanta, Philadelphia, and New York. He joins Huntington from First Niagara Financial Group, where he was managing director of Enterprise Banking.
'87 (30th Reunion — June 2-4, 2017)
Timothy E. Crafts '87 of Smithtown, N.Y., former chief of the Smithtown Fire Department, assisted with a childbirth miracle. After hearing the alarm for a maternity call, he recognized the address as being close to his home and drove to the scene to help before an ambulance arrived. Crafts and another member of the department assisted with the delivery of a healthy baby boy. A few minutes later, the ambulance arrived and transported the mother and baby to Stony Brook University Hospital. "In over 28 years in the fire service, this was the first time I assisted in a delivery. It was an amazing experience. With the daily adversity we face fighting fires and emergencies, a happy occasion such as this is a special moment to relish," he said. Crafts is an area vice president for Olympus Corpo-ration of the Americas.
Carmen A. DelGuercio '87 of Cockeysville, Md., was appointed president and CEO of the Maryland Food Bank, the largest charitable food provider in the state and the first food bank on the East Coast. He leads the entire operation of the food bank, with an annual budget of $78 million and a 37-year history of feeding the hungry in Maryland. In addition to a strong record of volunteer leadership in the nonprofit sector, he has had a 29-year career in the banking industry, including several leadership roles at M&T Bank. He is the husband of Alicia M. (Kunisch) DelGuercio '87.
'88Eric Ziady '88 was named chief financial officer of the American Athletic Conference in Providence. He was previously director of intercollegiate athletics and recreation services at the University of Delaware, over-seeing 21 athletic programs.
'89
Christopher R. Daly '89 of Hingham, Mass., was appointed to the Boston Harbor Islands Advisory Council, an affiliate of the National Park Service. The council was created by Congress to represent the communities that have islands and lands within the Boston Harbor Islands National Park. Daly, who was on the sailing team at PC, is the global marketing manager of Eurotainer US, Inc.
Robert W. Wolfenden '89G of Coopersburg, Pa., was named director of major gifts at Northampton Community College in Bethlehem. He previously worked at Lehigh University as assistant vice president for alumni relations and annual giving. He is a retired U.S. Army lieutenant colonel.
1990s
'90
Peter Thompson '90 of Chicago, Ill.,was named chief commercial officer of Inner-Workings (NASDAQ: INWK), a leading global marketing execution firm that serves Fortune 1000 brands and is based in Chicago. He leads the company's global sales and marketing efforts. Thompson, a member of the PC Board of Trustees, formerly served as CEO of Perkins Investment Management.
'91
Scott S. De Rossi, D.M.D. '91 of Evans, Ga., was chosen dean of the School of Dentistry at the University of North Carolina. He previously served as the chair of the Oral Health and Diagnostic Sciences Department at Augusta University's Dental College of Georgia, where he held appointments at Augusta University and the Medical College of Georgia. He also is an adjunct professor of oral medicine at the University of Pennsylvania's School of Dental Medicine. "It's amazing how much my Providence College education prepared me for both professional and personal success," he said.
Richard P. Diegnan, Jr., Esq. '91 of Mendham, N.J., was named senior vice president, general counsel, and corporate secretary of Internap Corporation, a global internet infrastructure company. He is responsible for all legal, regulatory, and compliance matters.
David Higgins '91 of Atlanta, Ga., a member of Ponder, Higgins, Jowers & Associates in Atlanta, a wealth management team within the Private Banking and Investment Group at Merrill Lynch, was recognized in Barron's annual "America's Top 1,200 Financial Advisors: 2016 State-by-State List" for the eighth consecutive year. A certified private wealth adviser, he has been with Merrill Lynch since 1993, is a member of its Circle of Champions, and serves on the Merrill Lynch Advisory Council to Management.
Katherine M. O'Brien '91 of Trumbull, Conn., was named to Lawdragon's 2016 list of "100 Legal Consultants and Strategists." She is senior vice president of public relations at Jaffe, the legal industry's full-service market-ing, branding, and PR agency, based in Wash-ington, D.C. She said her Providence College education provided a strong foundation for future success, and in particular, the oppor-tunity to study abroad at the University of Salamanca in Spain during her junior year offered her a unique perspective of the U.S. role in the global community. She is married to Kevin M. O'Brien '88.
'92 (25th Reunion — June 2-4, 2017)
George F. Bailey '92 of Arlington, Va., joined Lockton Companies as senior vice president in the Washington, D.C., office. The company is the world's largest privately held, independent insurance broker. He has nearly 25 years of experience in the areas of employee benefits and risk management. He was previously at Mercer for 16 years.
Kristin J. DeAngelis '92 of Jersey City, N.J., and her husband, Matt Schmidt, launched 107 Bowers Gallery & ArtSpace in Jersey City. It is an art gallery and art space that "embraces the creative journey, encouraging participation in the arts through advocacy, education, and outreach … a place for artists to connect with one another and the community," said Kristin, who is both owner and curator.
'93
Amy B. Goggin '93 & '13G of Cumberland, R.I., was appointed clerk of the Cumberland School Committee and appointed to the board's achievement subcommittee. Goggin, who was elected to the committee in November 2016, also serves as the committee's liaison to North Cumberland Middle School and Community School. She is the digital services coordinator in the Division of Marketing and Communications at Providence College. She is married to Jeffrey J. Goggin '84.
Justin Teague '93 of Hingham, Mass., was recently named CEO and board member of SmartBear Software, a high-growth software quality tools company in Somerville. He oversees more than 350 people across several global locations. He was previously chief operating officer at Bullhorn, Inc., a CRM company located in Boston which employed more than 10 PC alumni while he was there. He is married to Jean M. (Sullivan) Teague '93.
Paul G. Tremblay '93 of Stoughton, Mass., received the Massachusetts Center for the Book's 2016 Fiction Award for his horror novel, A Head Full of Ghosts (William Morrow; 2015). The center recognizes Massachusetts literary works that are written by state residents. Tremblay's story focuses on a family's struggles with their 14-year-old daughter's/sister's mental illness and is written from the perspective of an 8-year-old. A teacher and coach at St. Sebastian's School in Needham Heights, Tremblay is married to Lisa A. (Carroll) Tremblay '93.
'94
Hollie B. Lussier, Esq. '94 of North Kingstown, R.I., was named executive vice president, chief risk officer, and general counsel at Bristol County Savings Bank, headquartered in Taunton, Mass. She is responsible for implementing an enterprise risk management strategy, handling all legal matters for the bank, and providing counsel on strategic initiatives. She has extensive experience in financial services and was previously general counsel with AAA Southern New England/AAA Southern New England Bank as well as senior counsel and senior vice president with Citizens Financial Group.
David G. Richards '94 of Little Silver, N.J., joined Medley Management, Inc. in New York, a leading credit-focused asset management firm, as managing director and portfolio manager of the Sierra Total Return Fund. He was previously a portfolio manager with Pine River Capital Management, L.P. He served as a member of the board of directors at American Capital LTD, including its executive, audit, and strategic review committees.
'95
Deborah M. Griffin, LNHA '95SCE of Somerset, Mass., was elected to a two-year term as chairperson of the board of directors of the Rhode Island Health Care Association. She is the administrator of the Hattie Ide Chaffee Home in East Providence, R.I. Last fall, she was chosen by her peers as the recipient of the 2016 Rhode Island Health Care Association Administrator of the Year award. She is a licensed nursing home administrator in Massachusetts and Rhode Island.
Braden C. "Brady" Kramer '95 of Philadelphia, Pa., married Paula Mita on Sept. 10, 2016, in Philadelphia. A former coordinator of corporate travel programs in San Diego, Calif., he was named athletics director at Archbishop John Carroll High School in Philadelphia last year. The athletics program is composed of 55 teams, including varsity, junior varsity, 9th grade, and junior varsity 'B' teams. More than 600 students participate in at least one sport. A former ice hockey player with the Friars, Kramer said, "My career in hockey at Providence and professionally has given me a great platform to reach out to kids and help them in a manner that far transcends sports."
Dr. Jim Mello '95 of Steubenville, Ohio, executive director for institutional effectiveness at Franciscan University of Steubenville, and his son, Franciscan University student-athlete James Mello of the Class of 2019, co-presented at the inaugural Global Congress on Sports and Christianity at York St. John University in the United Kingdom. Their presentation shared how the vision and mission of Franciscan University are experienced through intercollegiate athletics.
Dr. Kristen E. Stringfellow '95G of Coventry, R.I., the superintendent of schools in South Kingstown since 2009, was named the 2017 Rhode Island Superintendent of the Year by the R.I. School Superintendents' Association. She was selected for her outstanding achievement in school district leadership, dedication to the education of children, commitment to the community, and service to the superintendents' association. She previously served as assistant superintendent of the Scituate School District. She is an adjunct professor in the PC Graduate Education Program and has taught the School Finance course since 2007.
'96
Eileen Madda Sethna, J.D. '96 of Chicago, Ill., chaired the Misericordia Heart of Mercy Ball in November 2016. As a result of the fundraising efforts, the Women's Board was able to present a check for $1,018,000 to benefit the children and adults with developmental and intellectual disabilities who call Misericordia home. The Heart of Mercy Ball total represented the single-biggest collection in the history of Misericordia's Women's Board. Sethna is the Banking Practice Group leader and principal attorney with Chuhak & Tecson, P.C. in Chicago.
Scott M. Tucker '96 of Marlborough, Mass., was promoted from principal to man-ging director of The Onstott Group, a 30-year-old retained executive search firm based in Wellesley. He joined Onstott in 2010.
'97 (20th Reunion — June 2-4, 2017)
Christy Polacko Durant '97 of Wilton, N.Y., was promoted from senior living consultant to community manager of the Summit at Saratoga, an independent senior-living community for adults 55 and over in Saratoga Springs. She supervises the day-to-day property management, including hiring and training new staff. She also is responsible for leasing the facility's 110 apartments and oversees the community's marketing activities.
Marta E. (Makuc) Starczewski '97 of Great Barrington, Mass., and her husband, Gabriel Starczewski, became parents to a fifth child, Monica Mary Starczewski, who was born on July 5, 2016. Her siblings are Andrew, age 10; Bernadette 8; Timothy 5; and Bridget 3.
'98
Joseph E. Fournier, J.D., MHA '98 of Ann Arbor, Mich., was appointed to the management committee of Intermountain Healthcare as its new vice president and chief people officer. Intermountain Healthcare is a Utah-based health system with 22 hospitals, 185 clinics, a Medical Group, and a health plan, Select Health. With more than $6.7 billion in annual revenues and more than 39,000 caregivers, Intermountain is widely recognized as a national leader in transforming healthcare through high quality and sustainable costs. He was chief human resources officer for the University of Michigan Health System most recently. He is a U.S. Air Force veteran.
Heather R. (Phillips) Lemieux '98 of Brookfield, Mass., was appointed town manager of Lunenburg, a community of approximately 11,000 citizens in Worcester County. She had been serving as town administrator of Barre, a smaller community in central Massachusetts, since 2012.
Frank W. Mills, Jr. '98 of Washington, D.C., was named co-head of school of the Chelsea School in Hyattsville, Md. Chelsea serves students with language-based learning disabilities in a rigorous, college-preparatory program. Mills started teaching English at Chelsea in 2005 and has served as upper school coordinator and director of education. He says he tries to incorporate the values he developed at PC in his career and personal life, as well as a Thomistic perspective "that helps shape my views on education."
'99
Joseph "Jay" Arcata, III '99 of West Hartford, Conn., received recognition by two legal sources. He was named to the 2016 Super Lawyers list, a nationally accredited rating service of lawyers who have attained a high degree of peer recognition and professional achievement. He also was selected to the Connecticut Law Tribune's "New Leaders in the Law" Class of 2016. He was recognized in four areas: development of the law, advocacy/community contributions, service to the bar, and peer/public recognition. A partner at Halloran & Sage LLP in Hartford, he is a member of the firm's Litigation, Insurance, and Corporate Business & Transactions practice groups and chairs the Cybersecurity & Data Privacy practice groups. His practice centers on commercial litigation, insurance coverage, cyber security, and professional liability.
Jodie L. (Zdrok) Boduch '99 & '00G of Northampton, Mass., has signed a two-book publishing agreement with Macmillan/Tor Teen for a young adult historical fantasy called SPECTACLE. It is scheduled to be published in 2018, with a second novel anticipated in 2019. "I'm putting my history degree to good use!" said Boduch, who is the director of marketing and communications at The MacDuffie School in Granby.
Dr. Daniel A. Dentino '99G of Wheeling, W.Va., was named Wheeling Jesuit University's vice president of student services. He oversees all aspects of campus life and supervises the departments of residence life, student activities, athletics, campus ministry, performing arts, global services, and career services, as well as the university's health center and campus security. He was previously vice president for student life at the University of Saint Mary in Leavenworth, Kan. Dentino and his wife, Mary (Helgeson) Dentino '04G, are the proud parents of three children.
Jonathan P. Miller '99 of Rutland, Mass., was one of four PC graduates recognized as a "40 Under 40" honoree for 2016 by the Worcester Business Journal. He is the chief information and compliance officer at YOU, Inc. (Youth Opportunities Upheld) in Worcester. In his six-plus years there, he has developed systems and practices to streamline operations and improve efficiencies, and in the past two years, his efforts have resulted in a 60 percent reduction in agency write-offs. Miller also is the secretary and a coach in the Rutland Little League.
Tara B. (Lenhart) Rego '99 of North Attleboro, Mass., opened Little Scholars Pre-school in Rumford, R.I. The school, now in its second year, has 30 children, three teachers, and an assistant. She continues to work as a kindergarten special-education teacher at M.V. Cunningham School in Pawtucket, R.I.
2000s
'00
Jodie L. (Salzano) Driscoll '00 of Monroe, Conn., joined the law firm of Murtha Cullina LLP and is counsel in the firm's business and finance department. She assists clients in the areas of commercial real estate and banking, as well as affordable housing and municipal law. She was formerly with Berchem, Moses & Devlin, LLP in Milford. In 2015, Driscoll was recognized by the Connecticut Law Tribune as one of its "New Leaders of the Law."
Gwendolyn C. (Lascelles) Fernald '00 of York, Maine, and her husband, Jason Fernald, became parents of a third child, Levi John, who was born on Oct. 6, 2015. He joins older sisters Chloe, age 9, and Kaia, 6.
Karen M. ( Witiw) Rueda '00 of Philadelphia, Pa., and her husband, Oscar Rueda, welcomed a third son, Nicolas Francisco Rueda, in May 2016. He joins big brothers Martin and Sebastian Rueda. Karen has launched her own business as a freelance writer specializing in nonprofit communications.
Danielle M. (Sasson) Thomas '00 of Orlando, Fla., graduated from the University of Central Florida with a doctor of education (Ed.D.) degree with an emphasis in educational leadership. She is the director of Professional Development and Community Engagement at Footsteps2Brilliance, an early learning technology company dedicated to helping children becoming proficient readers by third grade.
Kerry (Leonard) Trotter '00 of Highwood, Ill., has been working as the director of communications for Northwestern University's School of Communication since September 2015. The school houses the institution's world-renowned theatre and film departments. She previously worked as a freelance writer and staff reporter for various news sources. She received her master's degree from Northwestern's Medill School of Journalism in 2008.
'01
Jamie M. (Donoghue) Bellenoit '01 of West Hartford, Conn., was selected as the new executive director at Community Child Guidance Clinic, Inc., of Manchester. She was selected as the clinic's third executive director in its history and is proud to be the first woman in the role. She oversees an outpatient behavioral health clinic for children and adolescents that serves more than 600 families annually, as well as the Intensive Outpatient Program and Intensive In-Home Clinical Services. The agency also has a licensed special-education school for children in grades K-8. She previously worked in executive-level positions with non-profits in Connecticut. Bellenoit and her husband, Dan, have three boys, Jack (5), CJ (4), and Finn (3).
Michael V. DeCastro '01 of Lausanne, Switzerland, was appointed planning and coordination manager for the 2020 Summer Olympics Games in Tokyo, Japan, by the International Olympic Committee. He pre-viously served the IOC as a project coordina-tor within the Games Coordination Unit of the Olympic Games Department and as-sisted with the 2016 Summer Olympics in Rio de Janeiro, Brazil.
Rocco DiRico '01 of Reading, Mass., was named director of government and community relations at Tufts University. He works to build, cultivate, and maintain relationships with Tufts' host communities of Medford, Somerville, and Boston. The office also manages the logistics of the Tufts Community Appeal campaign, the Tufts Neighborhood Service Fund grant program, and the Community Audit program. He previously served as deputy state director for U.S. Sen. Edward J. Markey, D-Mass. He is married to Christine L. Malone '01.
Donna M. Pennacchia, Ed.D. '01G of Cranston, R.I., was named assistant principal of Johnston High School. She was previously a math teacher and chair of the math department at Scituate High School. She was named Scituate's Teacher of the Year in 2013.
'02 (15th Reunion — June 2-4, 2017)
Thomas Bezigian, Jr., J.D. '02 of Syracuse, N.Y., joined Scolaro, Fetter, Grizanti, McGough & King, P.C. as an attorney in Syracuse. He works in the firm's Estate Planning & Wealth Preservation and Business & Tax Practice groups. He was previously a vice president in the trust department of a private bank in Boston.
Michael A. Grande '02 of Orange, Conn., was named to the Milford Regional Chamber of Commerce board of directors. He is the managing director at TBNG Consulting, an IT consulting company with offices in Connecticut and Rhode Island, and is also the co-founder and managing partner of Zentific, a next-generation cyber security startup in Milford. He currently serves as the chairman of the board of directors at Notre Dame High School in West Haven.
'03
Julie A. Holstrom '03 of Shrewsbury, Mass., was one of four PC graduates recognized as a "40 Under 40" honoree for 2016 by the Worcester Business Journal. A senior project manager with the Worcester Business Development Corporation, she has overseen several major economic development projects in Worcester. These include the redevelopment of a former newspaper facility and the cleanup of a former manufacturing facility. She is married to Jonathan R. DeFusco '03.
Kham Inthirath '03 of Northbridge, Mass., was one of four PC graduates recognized as a "40 Under 40" honoree for 2016 by the Worcester Business Journal. He is the founder and president of Envision Digital Group in Worcester, a company which helps businesses create marketing plans. His team focuses on clients' online presence in order to humanize the digital experience for customers. Inthirath also was appointed to the board of directors of the Blackstone Valley Chamber of Commerce. He is a business counselor for the chamber, a member of the marketing committee of Discover Central Massachusetts, and an ambassador for Real Men Making Strides in Worcester, which supports the American Cancer Society. He is married to Melissa A. Laganelli '03.
Jeffrey P. Matrullo '03 of Cromwell, Conn., was named a "2016 New Leader in the Law" by the Connecticut Law Tribune. He practices real estate law at the Hartford office of McCarter & English, LLP. He is an elected member of the Cromwell Board of Education. He is married to Danielle C. Budion '03.
Brendan W. McGair '03 of Cranston, R.I., was recognized as the 2016 Media Award recipient by the Rhode Island Interscholastic Athletic Administrators Association. He is a sportswriter and columnist who covers the Pawtucket Red Sox and college and high school sports for The Call of Woonsocket and The Times of Pawtucket.
Colin Murray, CFP, CLU '03 of Edgewood, R.I., accepted a position as vice president with Santander Investment Services, the wealth management division of Santander Bank, in Providence. He previously worked as a financial consultant with Citizens Wealth Management, a subsidiary of Citizens Bank.
'04
Allyson L. Chesebro, M.D. '04 of Boston, Mass., completed her diagnostic radiology fellowships in breast imaging and in oncologic imaging at Brigham and Women's Hospital and Dana-Farber Cancer Institute through Harvard Medical School. She is a staff radiologist, specializing in breast imaging, at Boston Medical Center and an assistant professor of radiology at Boston University School of Medicine.
Kenneth A. Duva '04G of North Kingstown, R.I., was appointed superintendent of schools in Jamestown, where he had been serving as the district's director of student services. He said his chief areas of focus will be educational policy, supervision, and curriculum development. He has spent 16 years in various educational positions in Rhode Island. Duva will graduate from the doctoral program at Johnson & Wales University this May.
Deborah C. Plytynski Livingston '04 of Wilder, Ky., joined the Mayfield Education & Research Foundation in Cincinnati, Ohio, as development director. The foundation works to advance the care of patients with brain and spine disorders. She oversees continued expansion of the foundation's commitment to neuroscience research, injury prevention, neurological health, and the education and training of neurosurgeons. Livingston previously served as the executive director of development for the Purdue School of Science at Indiana University-Purdue University Indianapolis.
Karen T. Venditto '04 of Boston, Mass., coordinator of the Best Buddies chapter at Wellesley Middle School, led a group of more than 50 students, teachers, and family members participating in the Best Buddies 5K Gobbler Road Race. Their team took the award for top fundraising chapter for the second straight year, raising more than $7,000 in that time. Funds benefit the Best Buddies organization, which supports people with intellectual and development disabilities. Venditto is a speech language pathologist at the school.
'05
Chris Facey '05 of Milton, Mass., is the owner of the freight shipping company FreightSavvy, based in Boston, and has started a blog about shipping at www.freightsavvy.com/blog.
'06
Abigail A. Long '06 of Leadville, Colo., was named executive director of the Leadville Trail 100 Legacy Foundation, a charitable trust created to aid the needs of the Leadville and Lake County communities. She has worked in the nonprofit sector for more than eight years, drawing from the education she gained through the Feinstein Institute for Public Service at PC. She also serves on several community boards including the Mineral Belt Trail System, Lake County Community Fund, and as chair of the Lake County Democrats.
Martha E. McCahill Sprague '06 of Gorham, Maine, passed her exam to become a Licensed Clinical Social Worker. She is a social worker at Spring Harbor Hospital, a non-profit psychiatric hospital affiliated with Maine Behavioral Healthcare, where she works with PC grad Lillian J. Shields '11. Sprague and her husband, Christopher, have a 2-year-old daughter, Monica.
Emanuel Vasconcelos, OFM Conv. '06 & '08G of Silver Spring, Md., made his solemn vows with the Franciscans (Order of Friars Minor Conventual) on Aug. 15, 2016, at The Shrine of Saint Anthony in Ellicott City, Md. This makes Friar Manny a full member of the Franciscan Order, living for the rest of his life in obedience, without anything of his own, and in chastity. He is currently finishing his theological studies at The Catholic University of America in Washington, D.C., in preparation for his ordination to the priesthood, which is scheduled in 2018. He is studying at CUA with three PC classmates: Rev. John D. "Jack" Dickinson '06, Anthony Federico '06, and Elise Italiano '06.
FOLD: Friars of the Last Decade
FOLD '07 (10th Reunion — June 2-4, 2017)
Samantha K. Harvey '07 and Paul F. Porter '07 of Randolph, Mass., were married on May 14, 2016, at Saint Elizabeth Seton Church in North Falmouth, Mass. Many alumni joined them to celebrate the occasion, including the Hon. William C. Leary '60 & '10Hon. Samantha is a research librarian at Babson College, and Paul is a licensed captain and the purchasing manager at Falmouth Marine and the Falmouth-Edgartown Ferry.
Susan M. (Lusher) Macione, CPA '07 of Waterford, Conn., was named a partner with Austin & Macione CPAs LLC (formerly James Austin, CPA) in Gales Ferry. She began her career at Deloitte & Touche, LLP.
Dominic Spinelli '07 of Boston, Mass., was named a 2017 "Super Lawyers Rising Star" by the Super Lawyers rating service. He is an associate with Peabody & Arnold LLP, based in Boston. He concentrates his practice in insurance coverage.
Brittany L. Stalsburg, Ph.D. '07 of East Haven, Conn., co-authored a book, 52 Reasons To Vote For Hillary (Prospecta Press, 2016), with Bernard Whitman. The book is a guide and reintroduction to Hillary Clinton's career and life history and was intended to help voters understand why Clinton was the best candidate for the presidency in 2016. A communications strategist, Stalsburg is the owner of BLS Research & Consulting. A political science and women's studies double major at PC, she says, "This book was the culmination of the journey I began in Howley Hall."
FOLD '08
Amanda M. Baer '08 of North Grafton, Mass., was one of four PC graduates recognized as a "40 Under 40" honoree for 2016 by the Worcester Business Journal. An associate attorney at Mirick O'Connell Attorneys at Law in Westborough, she represents employers in state and federal court and before administrative industries. She serves on the board of the YWCA of Central Massachusetts.
Lauren M. (Miano) Crowley '08 and Christopher M. Crowley, Esq. '08 of Tolland, Conn., are the parents of their first child, Hadley Rose Crowley, who was born on July 22, 2016. "We are having so much fun with her," exclaimed Lauren. Lauren works as a real estate agent, and Christopher is a real-estate attorney in Massachusetts, Rhode Island, and Connecticut.
Sister Mary Veronica Keller, O.P. '08G of Dumfries, Va., was named principal of Saint John Paul the Great Catholic High School in Dumfries, in the Arlington, Va., diocese. She is a member of the Dominican Sisters of St. Cecilia in Nashville, Tenn. She has more than 15 years of teaching experience and was the principal of St. Pius V School in Providence for five years until 2016.
Shaun M. Najarian '08 of Shelton, Conn., earned a doctor of osteopathic medicine degree from the Philadelphia College of Osteopathic Medicine at its 125th commencement in June 2016. He is continuing his medical training in internal medicine at Hackensack University Medical Center Palisades in North Bergen, N.J.
Michael J. Springer '08 of Daytona Beach, Fla., is WFTV's Volusia County reporter in Orlando. He joined the ABC affiliate in 2016 and previously worked at ABC affiliate KOAT in Albuquerque, N.M. He began his reporting career as a multi-media journalist at WCTV, the CBS/Fox affiliate in Tallahassee.
FOLD '09
Morgan B. (McCallin) Pater '09 and Christopher J. Pater '10 of Jersey City, N.J., were married on July 29, 2016, at Maritime Parc in Jersey City. Morgan is a doctoral student in criminal justice at Rutgers University. Chris recently was promoted from associate to vice president of accounting at a hedge fund in New York City.
Anne E. Rondoni Tavernier, J.D. '09 of Minneapolis, Minn., earned her juris doctor degree from the University of St. Thomas Law School and has joined Fredrikson & Byron, P.A. as an associate in its Minneapolis office, working in its Intellectual Property, Litigation, and Trade Secrets groups. She litigates patent, trademark, and copyright suits, as well as anti-counterfeiting actions.
FOLD '10
Joseph P. Carnevale, IV Esq. '10 of Providence, R.I., has joined the Providence office of Lewis Brisbois Bisgaard & Smith LLP as an associate. He has served as a judicial law clerk for the Appellate Division of the Workers' Compensation Court and as an associate at Heald & LeBoeuf, Ltd., where he repre-sented clients in general contract disputes throughout Rhode Island and Massachusetts.
Deacon Dennis P. McCarthy '10G of Jamaica Plain, Mass., is serving as a deacon at Our Lady of Perpetual Help Melkite Catholic Church, an affiliate of the Eastern Catholic Church, in Worcester. He is enrolled in an advanced theology certificate program at Boston College School of Theology and Ministry. He expects to be ordained to the priesthood this spring.
FOLD '11
Marissa D. Barrera '11 of Washington, D.C., joined the U.S. Senate Budget Committee as a health policy analyst, working for ranking member Sen. Bernie Sanders, I-Vt. She conducts health policy and legislative research for the committee and Sanders, as part of his larger health team. One priority has been tracking efforts to repeal and replace the Affordable Care Act. She previously worked for the U.S. Government Accountability Office.
Katelyn C. (Churchill) McLaughlin '11 and Joseph K. McLaughlin '11 of Mansfield, Mass., were married on June 11, 2016, at The Flying Bridge in Falmouth. Approximately 25 PC alumni attended. They met at McPhail's on campus in their senior year. Katie is a math teacher at North Attleboro High School, and Joe works at State Street Bank.
FOLD '12 (5th Reunion — June 2-4, 2017)
Skye (Hawkins) Mendes '12 and Anthony J. Mendes '12G of West Warwick, R.I., were married on July 2, 2016, in Burrillville, R.I. They met while working in PC's Office of Academic Services when Skye was a tutor and Anthony was a graduate assistant. Currently, Skye is the assistant director of the Academic Enhancement Center at the University of Rhode Island, and Anthony is the academic coordinator for student-athletes in the OAS.
FOLD '13
Justine L. (Rivet) Cote '13SCE of North Smithfield, R.I., was named manager of prevention for the Brain Injury Association of Massachusetts. In this role, she hopes to educate and add programs for brain injury awareness for schools and the community. She has worked extensively with the Autism Project and as a substitute teacher.
Kyle P. Murphy '13 & '16G of Providence, R.I., was promoted to associate athletic director for men's and women's ice hockey/Schneider Arena in the PC Department of Athletics. He spent the last two years as PC's coordinator of men's ice hockey operations. In his new position, he oversees and manages all facets of the men's and women's ice hockey programs and is responsible for the overall operation and strategic vision of Schneider Arena. Murphy played hockey for the Friars for two seasons and was a captain with the 2012-13 team.
FOLD '15
David A. Gagnon '15 of Manchester, N.H., was sworn in as a police officer in Derry by Police Chief Edward Garone.
FOLD '16
Michael T. Barry, Jr. '16G of Franklin, Mass., produced a film, The Universal Soldier: Vietnam, which was named Best Feature (films over 40 minutes) at the fifth annual Nyack (N.Y.) Film Festival in August 2016. He used archival footage and interviews to tell the story of a war that continues to trouble American, South Vietnamese, and North Vietnamese soldiers. Barry hosted a screening and discussion on campus in February 2017.
Francisco J. Oller Garcia '16 of San Juan, Puerto Rico, a graduate student at the University of Tampa, was named to the board of trustees of The PMD Foundation, dedicated to those affected by Prelizaeus-Merzbacher Disease, a rare central nervous system disorder. The foundation serves those affected by PMD, supporting programs of education, research, service, and advocacy. Garcia, who is afflicted with PMD, volunteered to serve as foundation secretary and wrote an article about his journey with PMD for the foundation newsletter.
Stephen C. Graziano '16 of Mendham, N.J., is a new associate at Colliers International Group Inc., a global commercial brokerage firm in Parsippany. He specializes in office tenant and landlord representation. He previously performed property demolition and pre-construction preparation for Harrington Construction.