October 18, 2018
Faith, family guide Billy Donovan '87 and Christine D'Auria Donovan '86 in the NBA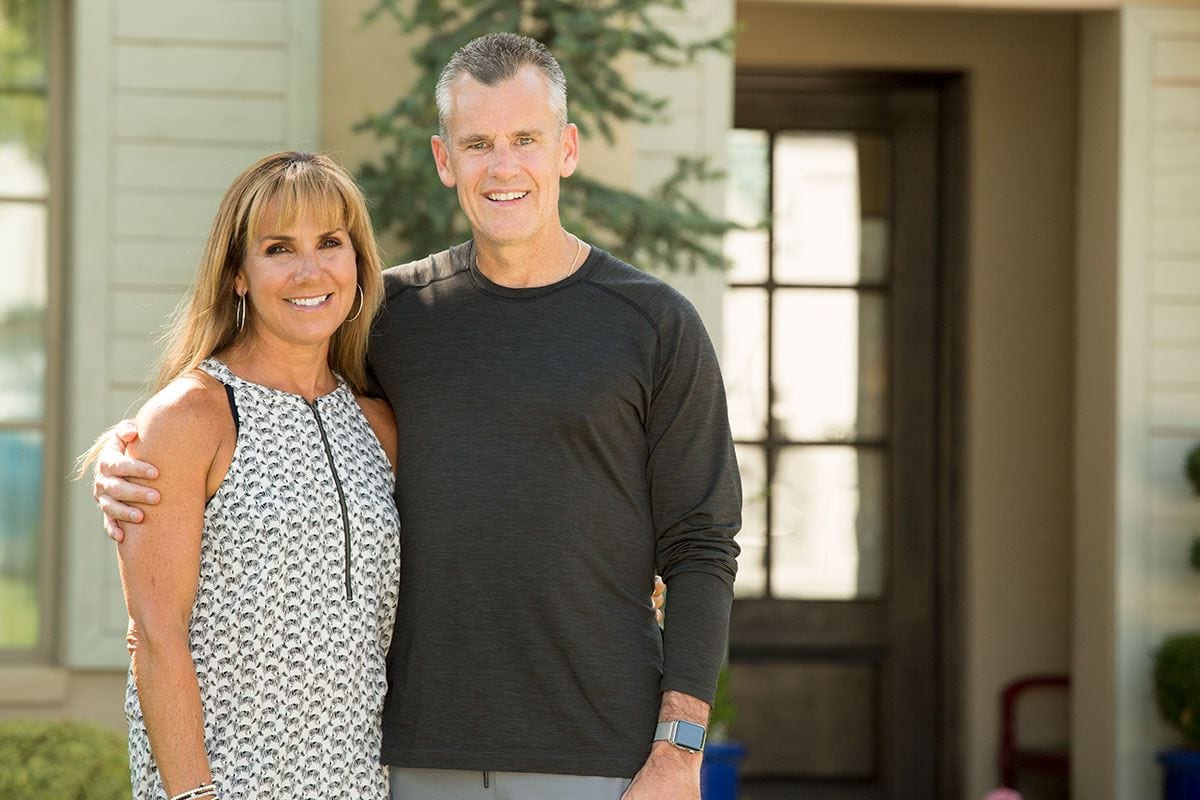 By Vicki-Ann Downing
The coach is home.
It's a 90-degree, mid-summer afternoon in Oklahoma City. A door opens and he strides into the kitchen, extending a hand in greeting: Billy Donovan '87, whose three-point shooting led Providence College to the NCAA Final Four in 1987.
Donovan and his wife, Christine D'Auria Donovan '86, are welcoming visitors from Providence College to discuss their $1 million gift to create one of two basketball practice courts in the new Ruane Friar Development Center. (The other court is a gift from George and Karen Oliver '09P.)
After 19 seasons at the University of Florida, Donovan moved to the NBA in 2015. He signed a five-year contract as head coach of the Oklahoma City Thunder, who play at Chesapeake Energy Arena in downtown Oklahoma City, about 10 miles from the Donovan home in Nichols Hills. The team draws 18,200 fans per game. Their rallying cry is "Thunder Up!"
It's been a busy summer for Donovan and the front office with multiple free-agent signings. In Donovan's first season in the NBA, the Thunder went all the way to the seventh game of the conference finals before losing to the Golden State Warriors. In the last two seasons, they exited the playoffs early. When the coach brings work home, he does it at the kitchen table, where he also talks to his guests.
Moving to Oklahoma City after almost 20 years in Gainesville has been an adjustment, especially for Christine. She was invested in the community there, leading an effort to raise more than $1 million to add 10 classrooms to St. Francis Catholic High School, which her children attended.
She especially enjoyed being a surrogate mom to college players away from home for the first time.
"You're a caretaker as a college coach's wife," Billy said. "We would have players to the house for dinner to make sure they were doing OK. When they were sick or got hurt, Christine would check in with them. She was an asset in recruiting. Parents want to see what kind of family the coach has."
"I am definitely a college coach's wife," Christine said. "I loved that."
She has worked to build community within the Thunder organization. To bring women together, she created a Bible study group and a dinner club. She knew that Nina Westbrook, wife of Thunder point guard Russell Westbrook, is a talented cook, so she wanted Nina to meet Oklahoma's most famous cook, Ree Drummond, host of The Pioneer Woman on the Food Network.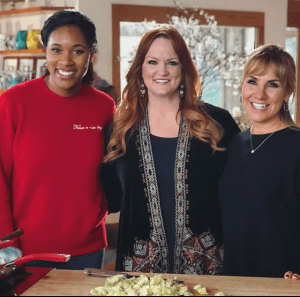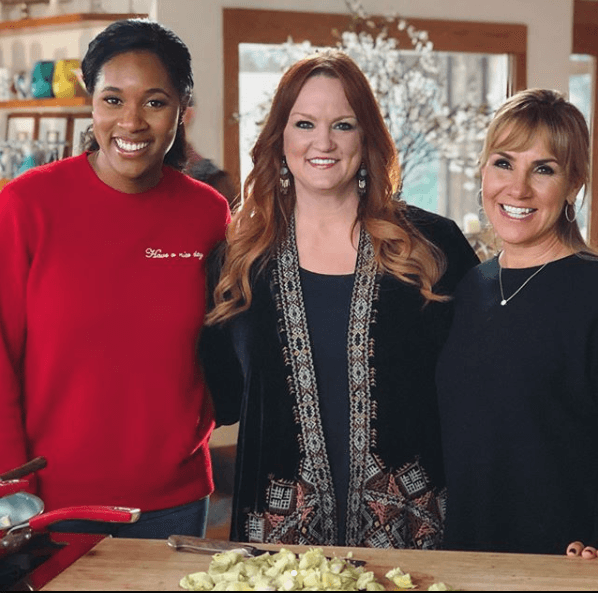 Twenty-eight women from the Thunder traveled 150 miles northeast to Pawhuska to visit Drummond's store and have lunch with her. Drummond then invited Christine and Nina Westbrook to cook with her on a Food Network episode, which aired in March.
"She couldn't have been kinder," said Christine. "We cooked with her for the day and they filmed it."
The Donovans' house also is a little quieter because their children have grown. Billy, 26, who played basketball for his father at Florida, married last year and works in Austin for the San Antonio Spurs organization as an assistant coach in the G-League. Daughter Hasbrouck — it's a family name on Christine's side — is 24, lives in Florida, and is an Orangetheory Fitness coach. She won a national championship, too, with the equestrian team at Auburn University. Bryan, 21, whose basketball career was limited by two knee surgeries in high school, is playing for Roger Williams University after spending a year with Coach Ed Cooley at PC.
Connor misses them all. She is 16 and a junior at Bishop McGuinness High School in Oklahoma City, where she plays volleyball and tennis. She was recently confirmed at the Donovans' new parish, Christ the King.
Faith is important to the family.
"Everything revolves around that," Billy said. "The more we're centered in God and our faith, we have a little more internal peace, and we're more reflective of what God wants us to be."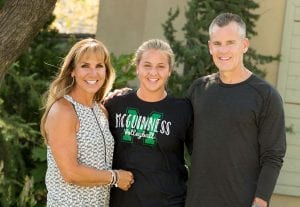 The Donovans grew up 20 minutes apart on Long Island, Billy in Rockville Centre and Christine in Port Washington, but they did not know each other. At PC, where they both majored in general social studies, they had mutual friends but were seldom together. Christine, a member of Friars Club all four years, was social and loved going out. Billy was shy; he spent much of his time in the gym.
Friars united them. In May 1988, they sat at the same table at the wedding of Friar forward Alan Roth '86 and Anne Vinton '87. They talked, he asked her out, and a little over a year later, in August 1989, they were married on Long Island.
Christine was a fourth-grade teacher. After PC, she earned a master's degree in elementary education from the C.W. Post campus of Long Island University. Billy was longing for a basketball career. He had been drafted in the third round by the Utah Jazz, then released from the team. He spent a season playing as a reserve guard with the New York Knicks under his PC coach, Rick Pitino, then worked on Wall Street.
If Billy couldn't play basketball, he wanted to coach it. When Pitino left the Knicks for the University of Kentucky in 1989, he gave Donovan a chance, bringing him on as a graduate assistant while Christine taught children in an inner-city school in Lexington.
Donovan's rise through coaching was meteoric. Within three years, he was associate coach in Kentucky. In 1994, Marshall University in West Virginia, a Division I team, hired him as head coach, and he compiled a 35-20 record over two seasons. In 1996, he became head coach at the University of Florida, tasked with rebuilding a slumping program. He was just 31 years old.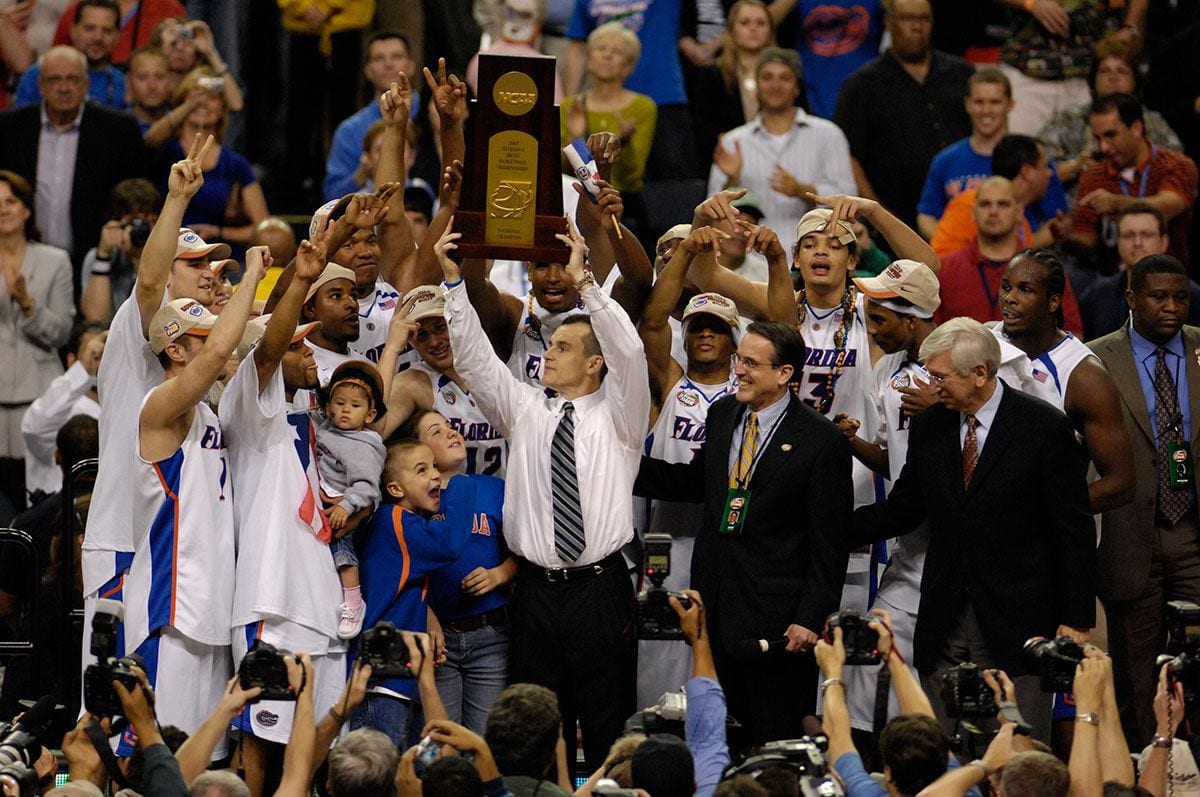 In 19 seasons, Donovan took Florida to the NCAA Tournament 14 times. That included back-to-back national championships in 2006 and 2007, four Final Fours, and seven Elite Eights. He is one of only four men to have appeared in the NCAA Final Four as a player and to have won the NCAA Tournament as a coach.
"I feel like I experienced everything I could have experienced in Florida," Donovan said. "We experienced incredible highs and lows. Our kids being born. The comfortable thing would have been just to stay. I wasn't going to leave for just anywhere. … I wanted to be stretched in a different way. I wanted to feel good about the values of the organization. I didn't know many people here. It was a little bit of blind faith."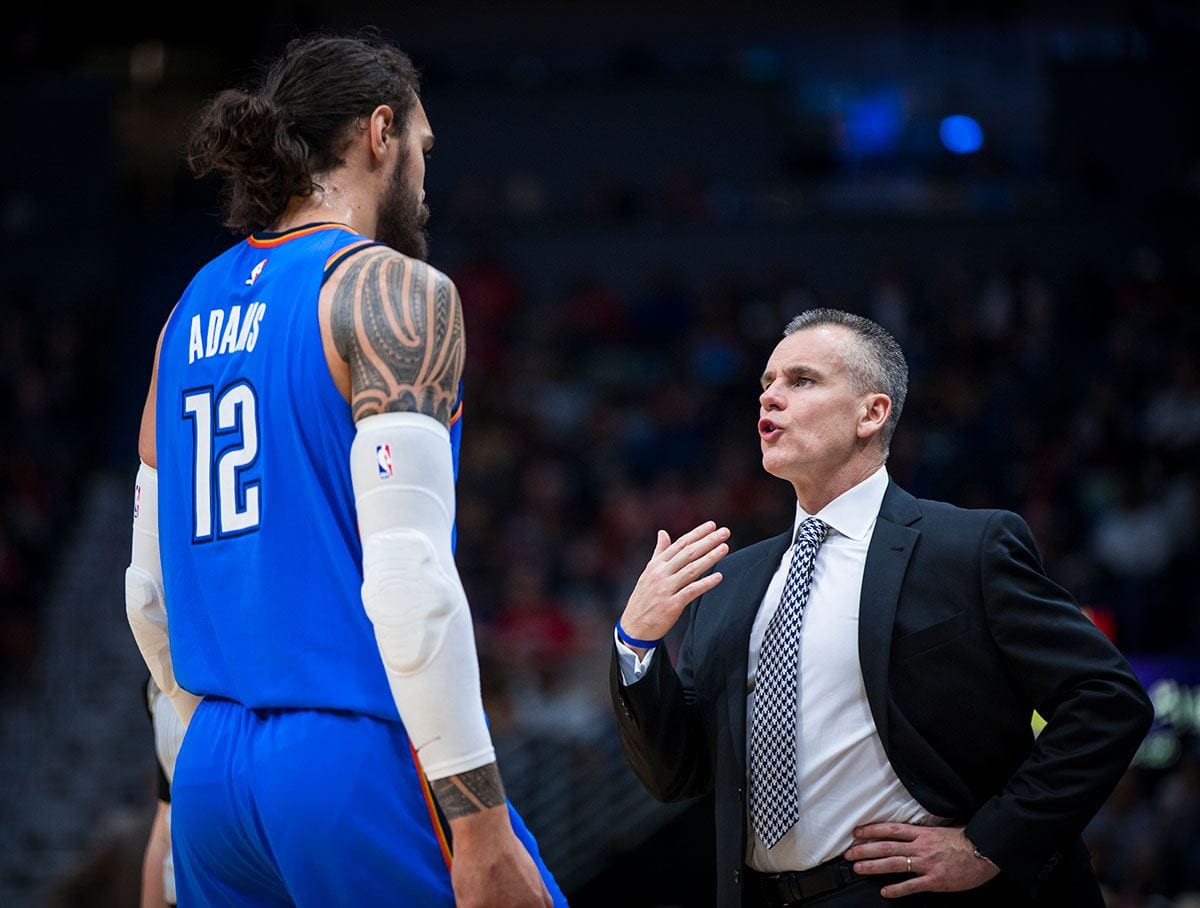 Coaching professional athletes is different, Billy acknowledges, but "it's a misconception that you can't work with them."
"They have pride," he said. "They have opportunity. Some have played for six, eight, 10 years, playing 82 games a year, every other night. They have to be up emotionally for that. They have experienced everything possible in the game, including adversity. They come from different backgrounds. They know when you are not being straight with them. They are the best in the world, competitive, want to do well, and they take it very seriously."
"One thing Providence College taught me was what goes into being successful as a team," Billy said.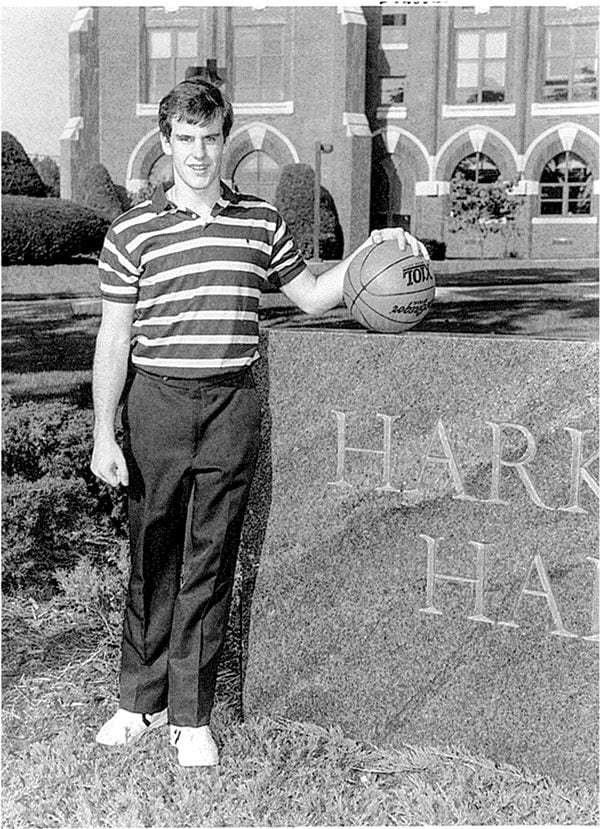 When Donovan arrived at PC in 1983, he joined a basketball program that hadn't known much success since the founding of the BIG EAST Conference. In his first two seasons, the Friars won a total of eight BIG EAST games. The hiring of Pitino in 1985 energized them. The new coach, only 32, came from Boston University, but he had an NBA background, and he knew that the three-point shot would be a factor in college basketball.
Donovan remembers that Pitino had the three-point line painted onto the floor of Mullaney Gym and ordered players not to take a shot unless they were behind it.
"It probably offset some lack of talent," Donovan said. "We took a lot of them."
Donovan worked harder under Pitino. He intensified his workouts and lost more than 20 pounds. His shooting earned him the nickname "Billy the Kid." In his junior year, fans were excited that the Friars qualified for the NIT. In his senior year, the team had a 25-9 record, went 10-6 in the BIG EAST, and reached the NCAA Tournament for the first time since 1978.
In the BIG EAST Tournament at Madison Square Garden, Donovan scored 34 points against St. John's, setting a single-game scoring record.
"It was fun, because, you know, we had been getting crushed," Donovan said. "The BIG EAST was the best thing, but in a way also the worst thing, that happened to Providence. We were losing to St. John's, Villanova, Syracuse, Georgetown. That season gave everybody hope that the program was going to turn around and return to the success it had known before."
In the NCAA Tournament, the sixth-seeded Friars beat Alabama-Birmingham, Austin Peay State University, and Alabama. To make it to the Final Four, they had to get past Georgetown, a BIG EAST nemesis.
In their first regular-season encounter with the Hoyas, the Friars won on a thrilling, last-minute, three-point shot by Ernie "Pop" Lewis '87, then dropped the second meeting, 90-79, to close out the regular season. A week later, in the semifinal round of the BIG EAST tournament, Providence was again blown away by Georgetown, 84-66.
Before the Elite Eight game, Pitino and assistant coach Stu Jackson met with Donovan and guard Delray Brooks '88 in the locker room.
"If you shoot, we can't win," Pitino told them.
It was a tough message to hear. Donovan and Brooks were stars. Donovan averaged 20.6 points per game and Brooks 14.4. Donovan would finish the season with 97 successful three-pointers. To be asked not to shoot, to give up the ball to other players, in the biggest game of their college careers?
But Pitino knew that the Georgetown coach, John Thompson '64, had figured out how to guard Donovan and Brooks. To score, Providence needed to get the ball inside, to players under the basket. The strategy worked. In the first half, the Friars scored 54 points, 40 from the bench, to take a 17-point lead. Donovan shot only twice in the half, for four points. Brooks had no points at all. But the Friars won, 88-73. They were headed to the Final Four, to face second-seeded Syracuse in New Orleans, for only the second time in College history.
"Pitino and Jackson sold us on what you have to do to win the game," Donovan said. "It's not about you, it's about team. They were able to talk to you. They got you to buy into a vision."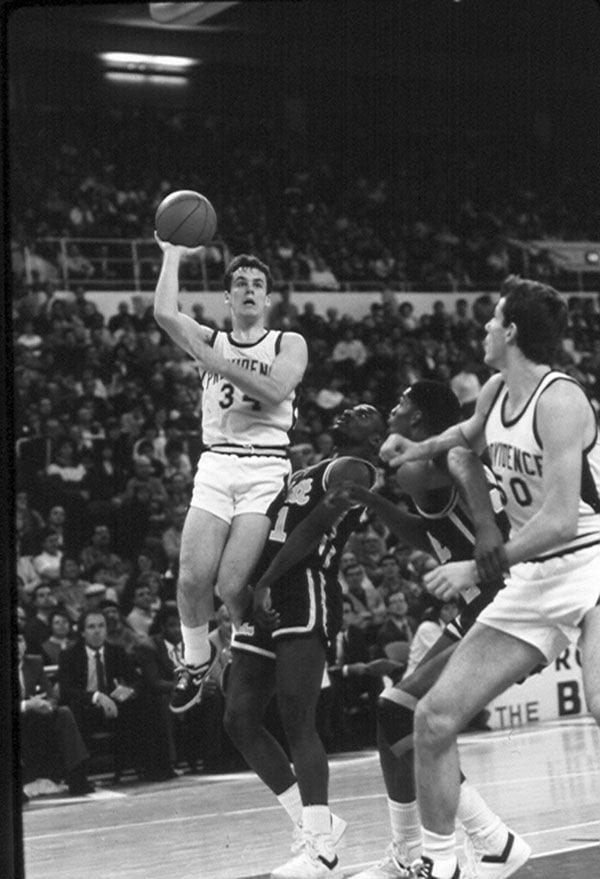 Donovan thinks a lot about how to get players to buy into that vision. With the same focus he once brought to drills in the gym, he studies coaching. He reaches out to experts for advice, including Rick Carlisle, Pat Riley, Tony La Russa, Pete Carroll, Terry Francona — and Bill Belichick.
Donovan met Belichick through Ryan Ford '89, his Friar teammate, now a sales representative for Jostens, the company that made the Patriots' Super Bowl rings.
"I told Ryan that I'd like to sit down with Bill Belichick, and he said, 'I'll tell him,'" Donovan said.
Donovan and Belichick met for dinner at a restaurant in Chestnut Hill, Mass., and spent six hours talking coaching. Belichick was a guest at the Donovan home in Florida, where he also spoke to the team a couple of times.
"These are coaches who like talking on a different level," Donovan said. "As a coach, you're dealing with completely different personalities. You talk ideas, approaches."
This is typical of her husband, says Christine: "He's always learning, seeking people out. He's always talking to you, and listening, and hearing other people's ideas."
People forget about the talented coaching staff that Pitino assembled, Donovan said. Jackson, Herb Sendek, Gordie Chiesa, and Jeff Van Gundy all later coached at the college level or in the NBA, and Donovan remains close to most of them. He also has been a longtime friend of classmate Doris Burke '87, '92G, & '05Hon., Friar guard and basketball analyst for ESPN.
"Doris Burke and I were close. We came in together as freshmen," Billy said. "We were both shy. We crossed paths all the time. We lived in the gym. The difference was that I sat on the bench for two years while she started as a freshman."
In a 2015 interview with The Oklahoman newspaper, Van Gundy said he and the other coaches "all owe Bill" for their success, "because everybody's career benefitted from that Final Four year. He and coach Pitino were the reasons we all ascended to where we got to, there's no question."
The basketball careers of Donovan and Pitino are forever intertwined. After the 1986-87 season, Pitino left PC to set coaching records elsewhere. In October 2017, he was forced out of the University of Louisville in the midst of a federal investigation involving player recruitment.
Pitino is a great friend, Donovan says.
"I'm always going to be biased because I know him at a deeper level," Donovan said. "We're all flawed. We all have difficulties. He's had some things he's had to deal with, with his family.
"I wasn't at Louisville. I don't know all the details. I believe that he didn't know what was going on there. You can argue that he should have known, but I don't believe he did know. He would never tolerate that. He would never look the other way or ask anybody to do that.
"People who don't know him will pass judgment. Because I know him, I love him, and I'm always going to be by his side. What most people don't know about Coach Pitino is the countless number of former players he has gone out of his way to support with career help, or financially in a moment of need."
The Donovans' PC connections remain strong. Billy's niece, Kathleen Daly '16, and Christine's niece, Faith McVicker '17, are alumni. Now, the new practice facility for men's basketball will have two courts, and one will bear the name Billy Donovan.
"It's a small Catholic school with incredible people, offering an incredible education," Billy Donovan said. "You go to those beautiful Masses with the Dominican priests and you grow spiritually. The experience on campus is really life-altering, from a spiritual standpoint and a relationship standpoint.
"If it wasn't for Providence College, we wouldn't be sitting here having this conversation right now."
This story was originally published in the Fall 2018 edition of Providence College Magazine.