February 24, 2023
Game Day in Friartown
More than faces in the crowd, fans contribute to a decisive homecourt advantage
By Michael Hagan '15, '19G
The Providence College men's basketball team has enjoyed impressive achievements since its return to Amica Mutual Pavilion, formerly the Dunkin' Donuts Center, following two COVID-19-affected seasons. Since November 2021, the Friars have a 36-1 home record, 15-0 in the 2022-2023 season. The record speaks volumes about the talent and determination of players and coaches, but it also speaks to the volume of fans — in number and in decibels.
"It's really not just a game anymore. It's become an event," said head coach Ed Cooley. "We have 4,300 undergrad students at Providence. It feels like 4,000 are at our games."
Meet some of the more than 12,000 voices that make the AMP one of the toughest road games — and one of the best places to be a student — in college basketball.
Jenna Cobb '24
Friar Fanatic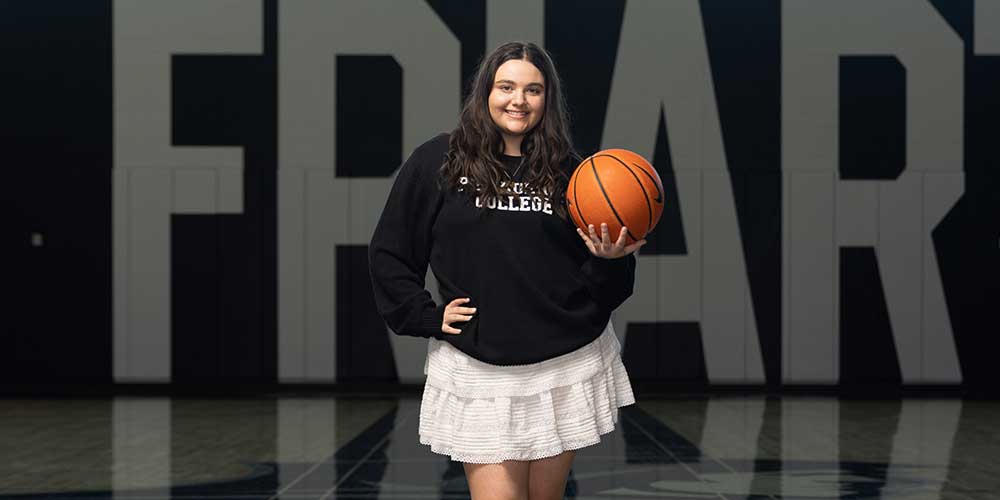 Gametime comes early for Jenna Cobb '24, a management and marketing major from Revere, Massachusetts, who catches the first bus from campus to the AMP with cheerleaders, the Dance Team, and 15 other representatives of Friar Fanatics — the student club that coordinates game day themes and distributes spirit materials to the student section. Upon arrival, the Friar Fanatics get to work distributing spirit materials and preparing the massive, section-spanning banner the student section unfurls during player introductions.
Soon, the gates open to students who fill the sections behind both baskets. Most dress for the theme selected and advertised by Friar Fanatics. This year's themes have included neon colors, jersey night, and the always-popular "Pink Out" game supporting the Gloria Gemma Breast Cancer Resource Foundation.
Cobb's favorite memory is the victory over Creighton University on senior night in February 2022, when the Friars captured the BIG EAST regular season title for the first time in history. It also was one of Friar Fanatics' finest hours. The group selected "Luck of the Friars" as the night's theme, poking fun at sports writers and broadcasters who repeatedly wrote off the team as "lucky." The student section dressed for St. Patrick's Day in February.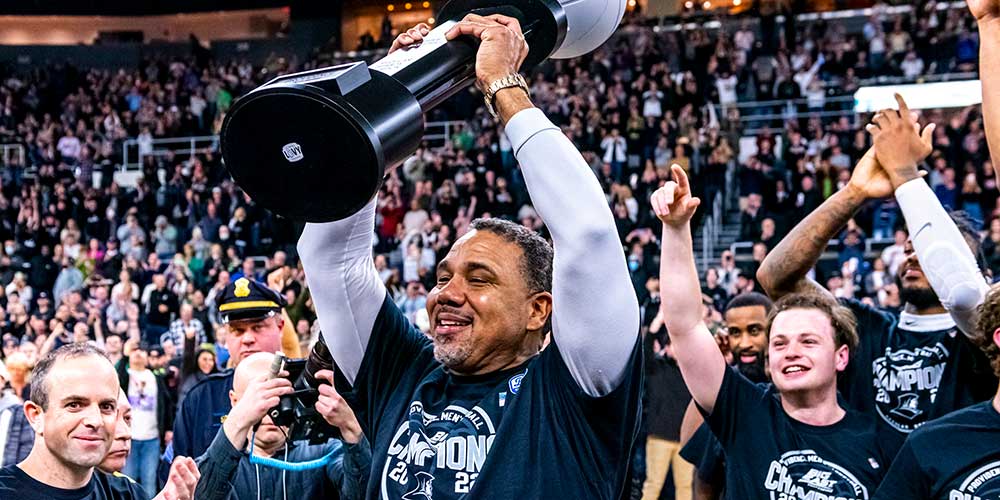 When the clock ran out and the Friars officially secured the BIG EAST title, students celebrated on the court with players and coaches as head coach Ed Cooley cut down the net.
"You know what? We are lucky," Cobb said. "We're lucky and good enough to make it to the Sweet Sixteen," referencing the 2022 postseason run into the second weekend of the NCAA Tournament.
"But we're lucky to be Friars fans. We're lucky to have this experience."
Kamryn "Kam" Kerr '26
Pep Band drummer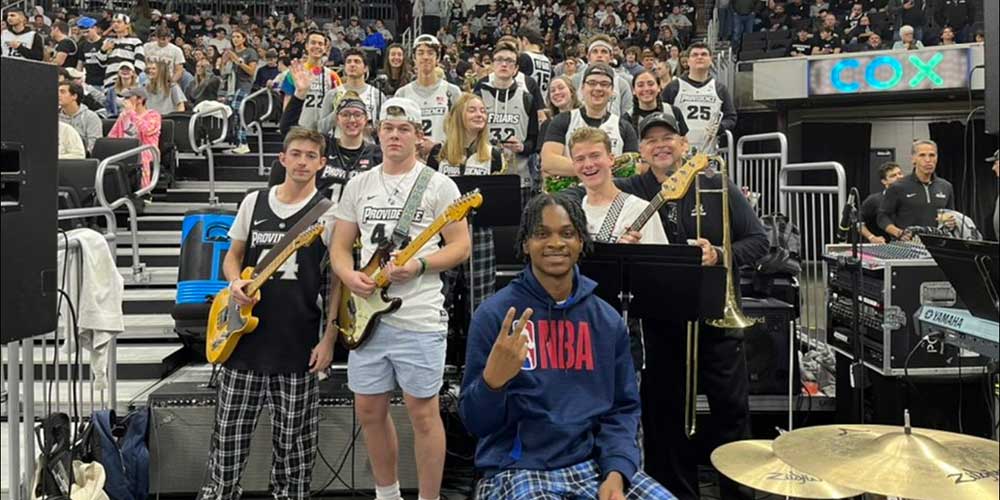 Kam Kerr '26, a student from Randolph, Massachusetts, who has not yet chosen a major, has been drumming his entire life. His parents tell stories of how he'd bang on pots and pans as a child and rhythmically kick the back of the seats in the family car so much he'd leave a permanent indent.
He's been a basketball fan nearly as long as he's been a drummer, so playing drums at games seemed a natural fit. As a first-year student, he's the very beat of the PC Pep Band, frequently pictured drumming on the display screen at the AMP and on television broadcasts.
Pep Band, a 26-member ensemble including trombones, trumpets, saxophones, mellophones, guitars, bass, and keyboard, performs from the student section at each men's basketball game when classes are in session. Their most recognizable number is "When the Saints Go Marching In," the Friars' fight song.
"It's been a great way to meet new people and bond over music, which has always been an outlet for me. It brings me so much joy when I hear everybody singing along with what we're playing at the AMP," said Kerr.
It's an experience I'll remember for the rest of my life.

Kam Kerr '26
Kerr's favorite song to play at games is "September" by Earth, Wind & Fire. He looks forward to playing it in March at the BIG EAST Tournament at Madison Square Garden in New York City.
"I can't even imagine what I'll be feeling when I walk into that arena. I've come so far. Playing somewhere like Madison Square Garden is something I've always wanted to do," he said.
"It's an experience I'll remember for the rest of my life."
Rev. Jordan Zajac, O.P. '04
Friar fan, real-life friar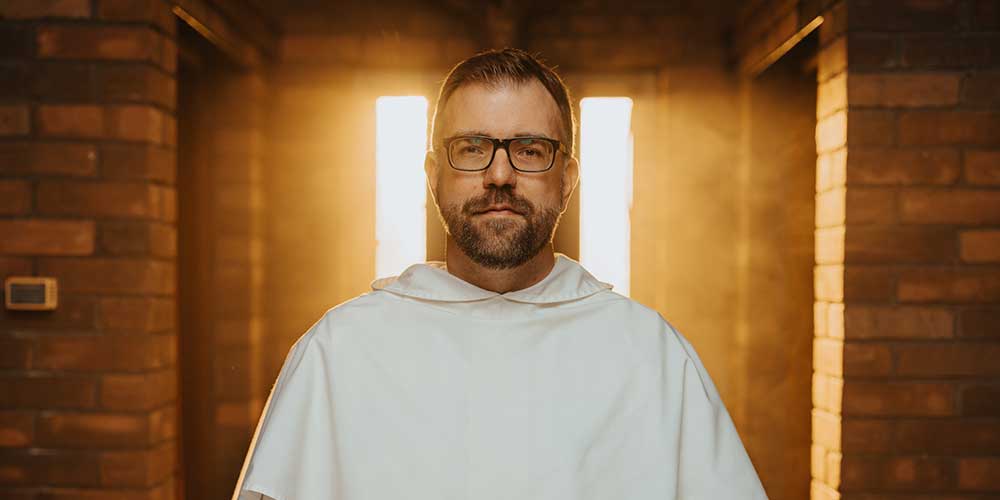 Not to be confused with Friar Dom, who is the college's beloved Dominican-inspired mascot, Rev. Jordan Zajac, O.P. '04, assistant professor of English, is an ordained Dominican priest. Game day begins like most days, with morning prayer and Mass at St. Thomas Aquinas Priory on campus. He'll spend a few minutes at the beginning or end of his classes talking with students about the game and their predictions. He returns to the priory for prayer and dinner, and then it's off to the AMP.
As a student two decades ago, Father Jordan was one of the first to line up outside the Dunkin Donuts Center. He recalls bringing texts to study while waiting for the gates to open.
Then, as now, attending Friars games was "a non-negotiable part of my calendar," said Father Jordan.
"As a priest, going to games and cheering on the Friars is a ministry of presence," he said. "We friars are primarily here for the students, as well as alumni, faculty, and staff. Basketball is something so many people at PC care about and we share that with them. Hopefully it makes us more relatable and accessible."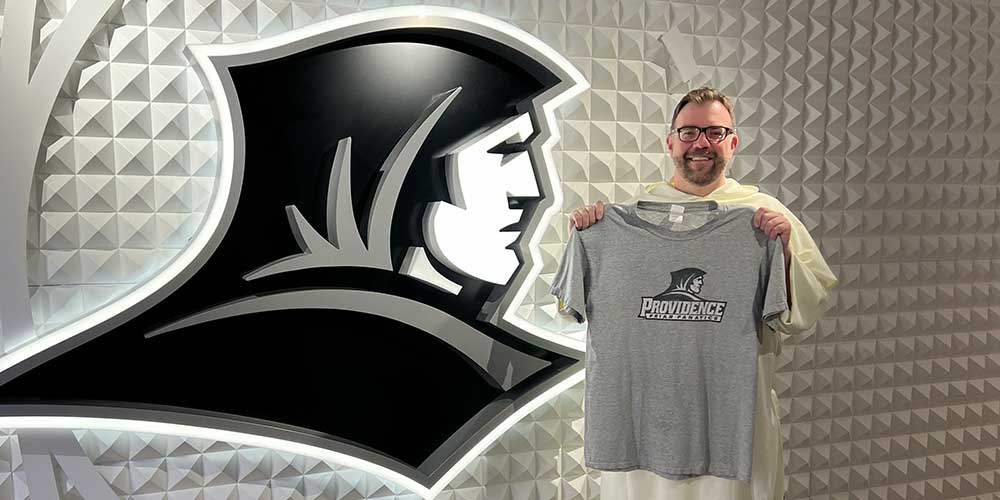 Basketball has something to teach fans about faith, Father Jordan said. It teaches about struggle, joys, sorrows — and perspective.
"Look at everything athletes do to train to win a crown that fades," Father Jordan said. "How much more should we all strive to win the ultimate race?"
Father Jordan occasionally boos the visiting team, which sometimes draws looks from others in his section. But he is clear:
"I want them to be eternally happy, just not happy today."
Katie Labovitz '24
Dance Team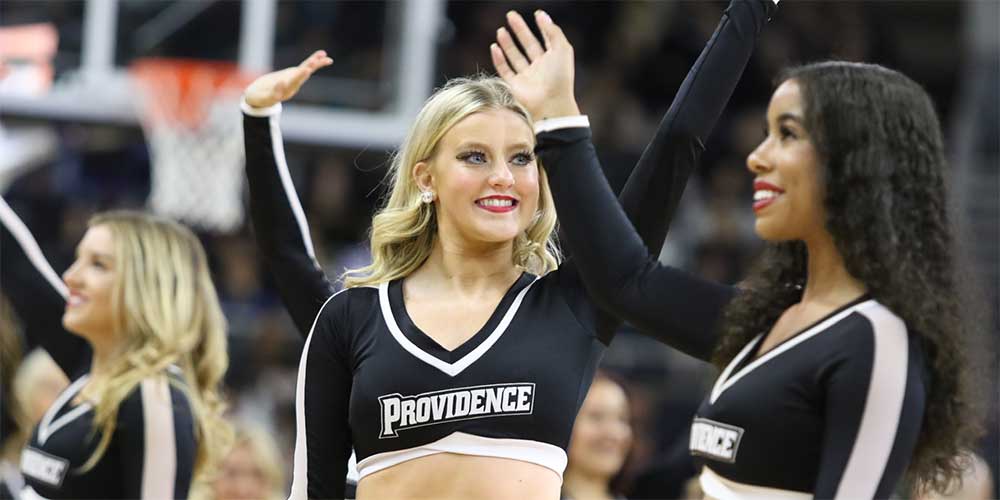 For Katie Labovitz '24, a psychology major from Holden, Massachusetts, game day begins when her phone buzzes in the morning. It's a message in the Dance Team group chat.
"Happy game day," the message reads, often in capital letters or with exclamation points and emojis for emphasis.
The PC Dance Team is part of a spirit squad that includes cheerleaders and the Pep Band. Along with Mason Santos, better known as Thee Dj Finesse, and emcee Harry Grigsby, these teams are responsible for entertainment and atmosphere during timeouts and other clock stoppages.
"We all know people are coming to watch the basketball team play, but being part of that atmosphere is amazing and I wouldn't trade it for anything," Labovitz said.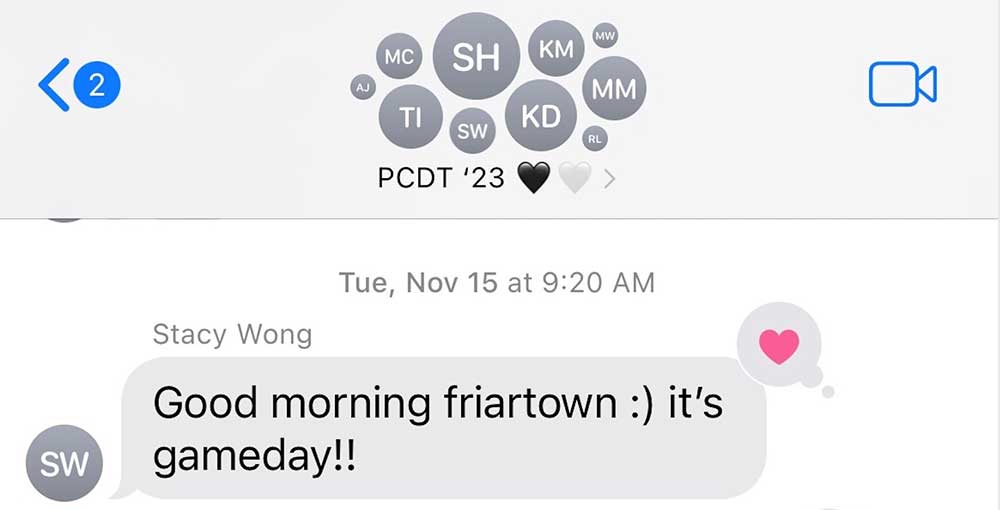 The Dance Team practices a minimum of four days each week and members commit to additional individual exercise routines to prepare to perform. After basketball season wraps up in March, there's little time until the National Dance Alliance College Nationals competition begins in April.
Among Dance Team's biggest fans: Coach Cooley and his wife, Nurys Cooley '19SCE, who happened to be enjoying lunch at the same restaurant as the Dance Team ahead of the Friars' first and second round NCAA tournament games in Buffalo, New York, in 2022. They greeted the Dance Team and paid for their meal.
"There's so much pressure on Coach Cooley and the team, but he makes it a point to greet the cheerleaders, Dance Team, and Pep Band whenever he can and to tell us how much he appreciates us," Labovitz said.
"Not every college basketball coach would do that."
The Students
More than 2,000 strong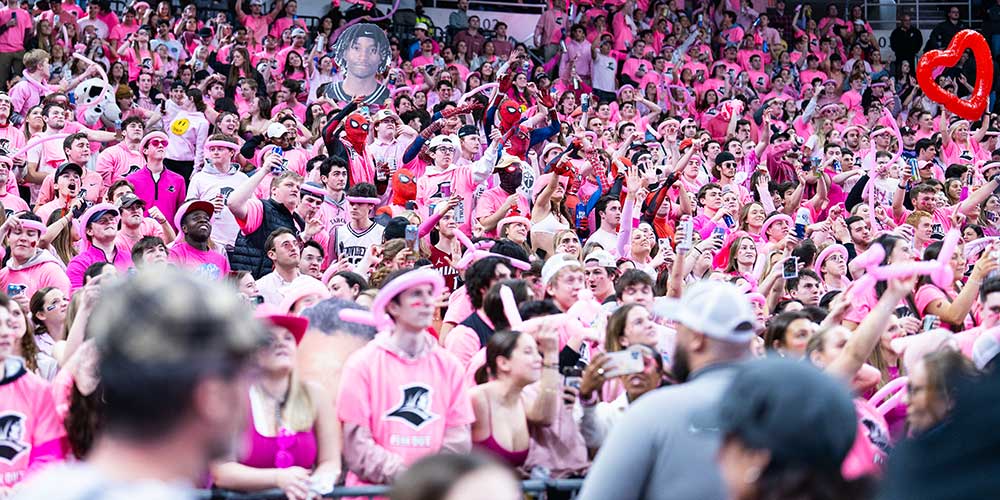 Rain, snow, or sunshine; temperate or bitterly cold — student Friars fans amass outside the AMP hours before tipoff. Many make the two-mile trip in buses provided by the college. By the time gates open, hundreds of students are waiting to enter.
The sections behind each basket are reserved for students. Home games attract as many as 2,200 student fans, roughly half the undergraduate student body. According to sports journalist Kevin McNamara, "Percentage-wise, they have the largest student turnout in the country."
"The student section is on a whole different level. We're passionate and loud. We're there to see — and help — the Friars win," said Ryan Hanewich '23, a marketing major from Wrentham, Massachusetts. "In a big moment, I'll be screaming at the top of my lungs. The energy is infectious."
In 2022, the student section adopted Taylor Swift's 2009 single, "You Belong With Me," as its anthem after three students requested it during a game against the University of Rhode Island. It was an instant hit and became a second half staple, instantly pumping up the crowd at critical junctures in the game. The arena speakers play the first verse and chorus, and students often continue singing a cappella.
"That is the most electric arena I ever spun for … It was the most crazy energy I've ever been a part of," Dj Finesse said after a game against Villanova University.
This season, fans belted out Swift during the second half of the #24 Friars vs. #16 Creighton Bluejays game on February 14. The double-overtime game in which neither team led by more than four points from early in the first half until the final minutes of the second overtime period was an instant classic and an important win for the Friars, who were looking forward to the BIG EAST Tournament and an NCAA Tournament bid.
The approaching end of the regular season and home games at the AMP every year is bittersweet, especially for graduating seniors like Hanewich. But with the Friars, there are always postseason hopes.
"These last two seasons have been some of the most exciting experiences in my four years at PC," Hanewich said.
"I can't wait to see what happens in March."
More Providence College news