February 15, 2022
"God means for us to have friends:" Meet Linda Ineus '22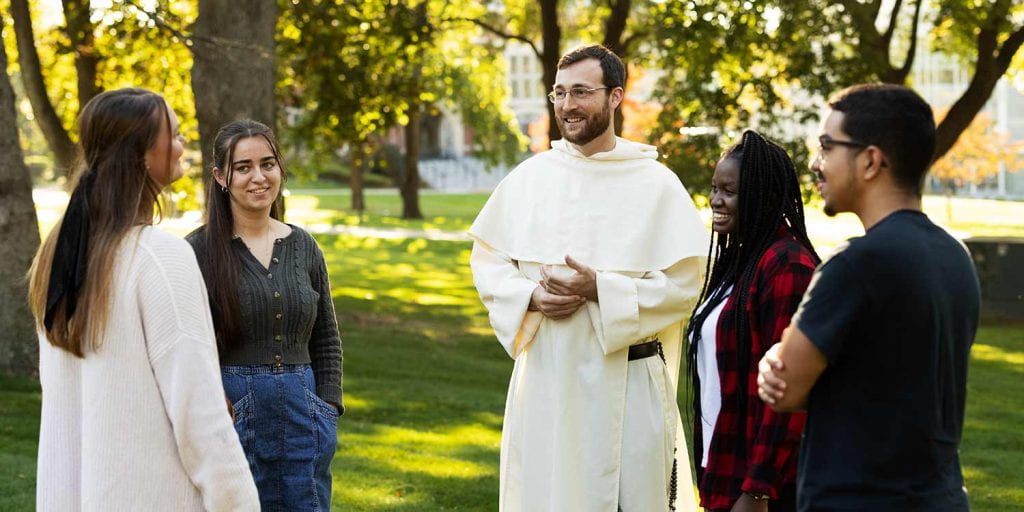 By Michael Hagan '15, '19G
Linda Ineus '22 (Brooklyn, N.Y.) is a campus leader in both service and scholarship. The biology major and theology minor is president of Campus Ministry. She is one of three recipients of the Ronald and Janet Stride Family Scholarship, which provides full tuition, room, and board to three alumni of Bishop Loughlin Memorial High School in Brooklyn, N.Y., Mr. Stride's alma mater. Linda is also a member of the Dance Club and Student Alumni Ambassadors.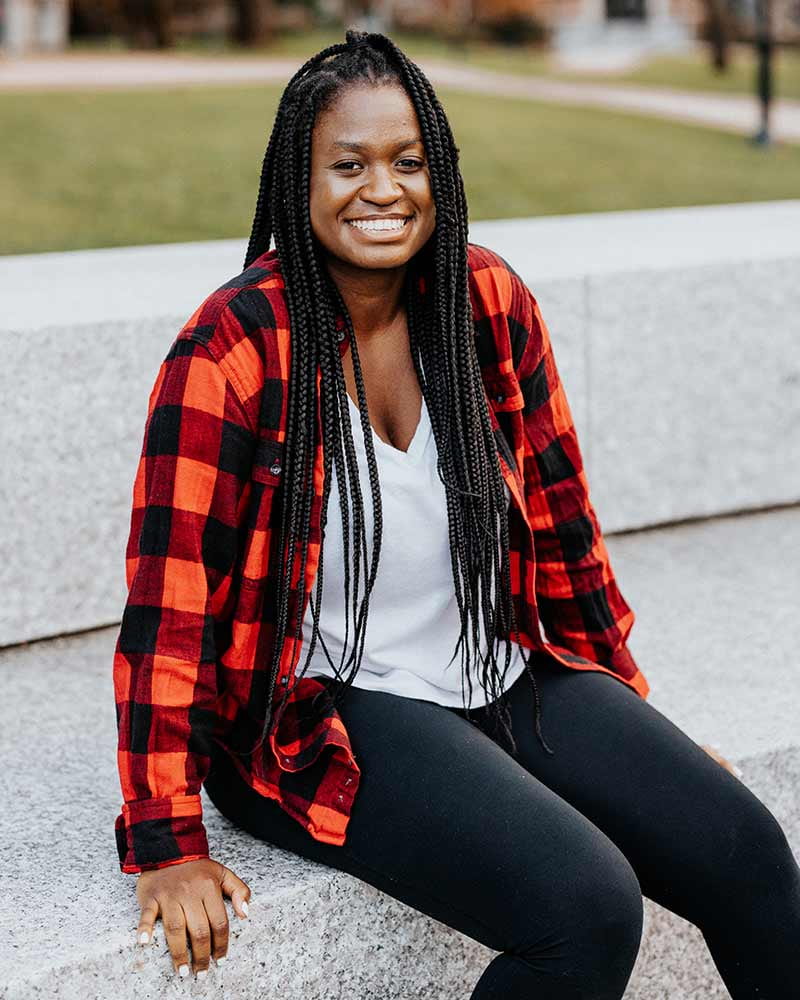 Tell me about your path to Providence College.
My senior year of high school, I wanted to stay close to home in Brooklyn. I didn't really see myself leaving the New York area, much less going somewhere three and a half hours away. My guidance counselor suggested I take a look at Providence College, mentioning a scholarship opportunity. I was skeptical, but I interviewed for the scholarship. It was offered to me, and suddenly, I had a choice to make.
How did you make that choice?
I was very involved at my high school, and admitted students day at Providence was the same day as a retreat at school. I chose the retreat. So I never ended up visiting or touring PC. I looked around the website and thought, "I guess I can see myself there."
What were your first impressions of the college when you finally did get to campus?
My first time on campus was the summer First Day in Friartown program. And to be honest, I was still skeptical. I was excited to start something new but sad to leave home.
The hardest part was when my family left on Move In Day. We went to the Welcome Mass, but then had to say goodbye. My brother repeatedly told me, "It's not goodbye. It's see you later. You're going to be fine. You'll make friends." But it felt like so many of my peers already knew each other. I didn't really feel at home at first.
When did you begin to feel more at home?
After months of just doing the work I needed to do and taking the bus home many weekends, I took Father Michael's advice to join Peer Ministry. I sort of waded in at first — didn't go to all the meetings. But the people were really nice, and that's where I started to feel at home.
Editor's note: Rev. Michael Weibley, O.P. was formerly chaplain of Meagher Hall. Learn more about Providence College's residence hall chaplaincy program.
And once involved, you were pretty hooked, right? You were a Peer Ministry leader before long.
Yes, at the last Peer Min meeting of the semester, my leader told me, "You should apply to be a leader." I did so on a whim and didn't tell anybody. I got the role, and everything really clicked at spring semester leadership training. Everyone was so genuine, caring, and kind. They wanted to get to know me, and I wanted to get to know them. When we'd talk, they'd recall specific things I mentioned in conversations before. It was so clear that they cared.
How did that experience in Peer Ministry impact your overall experience here?
It gave me genuine friendships. Midway through my first year, I thought I might transfer. By the summer after my first year, I couldn't wait to come back for year two. And it didn't disappoint. One of the best parts of sophomore year was guiding first-year students, some of whom had experiences and feelings similar to mine.

So how has your involvement in Peer Ministry and Campus Ministry more broadly evolved over time?
I realized quickly that a lot of people don't know how to talk about their faith, or even that they can. Giving them a space for that when they come to college is one of the most important things we can do. And that's why I kept getting more involved as a Peer Min coordinator my junior year. And then, going into senior year, it took a lot of prayer and thought, but I applied for Campus Ministry president — the role I serve in now. It's a big responsibility, but it allows me to give back to an organization that has given so much to me.
When I applied for president, I didn't know where the path would lead me, but I'm so happy that I did. We've accomplished so much this year. Ministering to people is great, but as a leader, seeing the joy that my peers in Campus Ministry bring to others is even better. It brings me a lot of joy.
How does your perspective as a Black, Roman Catholic woman inform your faith and ministry?
There's strength in being Black and being Catholic. I can offer up much in prayer, and I have hope that God will help us through whatever struggles we experience. I'm all the more thankful for my ability to witness to and advocate for others. I'm also thankful for the women leaders at Providence College who have paved the way for leaders like me.
In my junior year, someone pointed out that I was the only Black person in Peer Ministry leadership, suggesting that I had a special responsibility to help bring people of color to the church. That didn't sit right with me. I turned the question around; said we need to ask why many people of color are uncomfortable in the church. We need to meet them where they are. And this can't be done by one person or one group within the church.
At Campus Ministry, our policy is that all are welcome. You don't need to be a practicing Catholic. You don't need to be Catholic or Christian at all. You just need to be willing to be a friend. God means for us to have friends.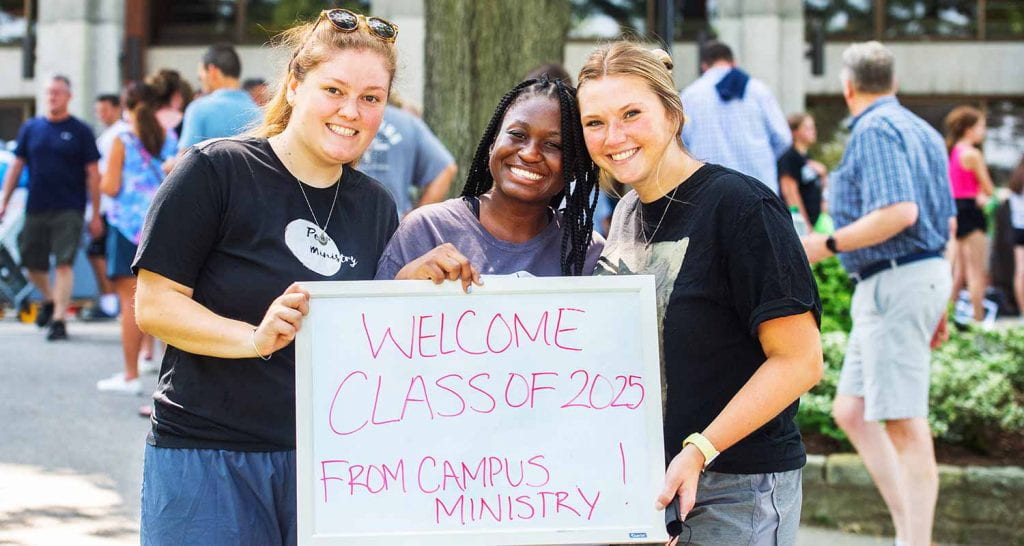 You study biology and theology. Do you find that inquiry in either discipline informs the other?
I arrived a declared biology major, but I found theology so exciting when I took a course on Catholic Social Thought with Father Albino. I learned so much about this area of the church's tradition and teaching that was until then unfamiliar to me. Experiences like that inspired me to add a theology minor.
Theology and biology intersected in my independent study with Father Nic. We studied biomedical ethics. Understanding the biology helped me to understand the theology, and understanding the theology deepened my appreciation for the biology.
Editor's note: Rev. Albino Barrera, O.P. is professor with a dual appointment in economics and theology. Rev. Nicanor Austriaco, O.P. '20G is professor with a dual appointment in biology and theology. Learn more about the priest in the biology lab.
In a Campus Ministry Instagram post, you quoted Saint Catherine of Siena: "Be who God meant you to be and you will set the world on fire." What does this mean to you?
God is calling you to be yourself. We set the world on fire through little things. Being there for people, praying with people. Offering up our struggles to God. Thanking him for everything beginning with waking up.
Start little fires. They will grow into a greater flame.
You graduate in May, so I have to ask: What's next?
My goal is to become a pediatrician. I'm going to take a gap year or two while I study for the MCAT. I hope to work an entry-level research position in the meantime.
As much as I missed home when I first arrived in New England, I've realized that it's really not that far away. What felt like 10 hours my first year feels much closer now. So I may go back to New York, or I may stay in New England. I have great friends in both places, and I'm very thankful for that.
I am so thankful for the ways I've grown as a person in these four short years thanks to the people I've met here. I've had opportunities that I couldn't have had elsewhere, and there's only more to come.
More Providence College news