November 09, 2021
Three students from Brooklyn, N.Y., benefit from full Stride scholarship
By Maeve Hickey '21, '22G
Three active students are recipients of the Ronald and Janet Stride Family Scholarship at Providence College. Ronald P. Stride '62 and his wife, Janet, have contributed the full cost of tuition, room and board at PC annually since 2018 for a student from Bishop Loughlin Memorial High School in Brooklyn, N.Y., Mr. Stride's alma mater. This year, they increased the number of scholarship recipients from one to three.
The Strides are residents of Singapore. Ronald Stride, now retired, was senior vice president and managing partner for Asia of Booz Allen Hamilton, a management consulting firm specializing in financial services. He is chair of the board of supervisors for Afghanistan National Bank and chair of Food from the Heart, a Singapore-based charity that distributes food to the needy.
The Strides' philanthropy is motivated by a desire to provide promising students with a chance for educational opportunity. The Stride scholarship benefits Linda Ineus '22, Anastasia Hussett '24, and Ronan McGouran '25, all alumni of Bishop Loughlin Memorial High School.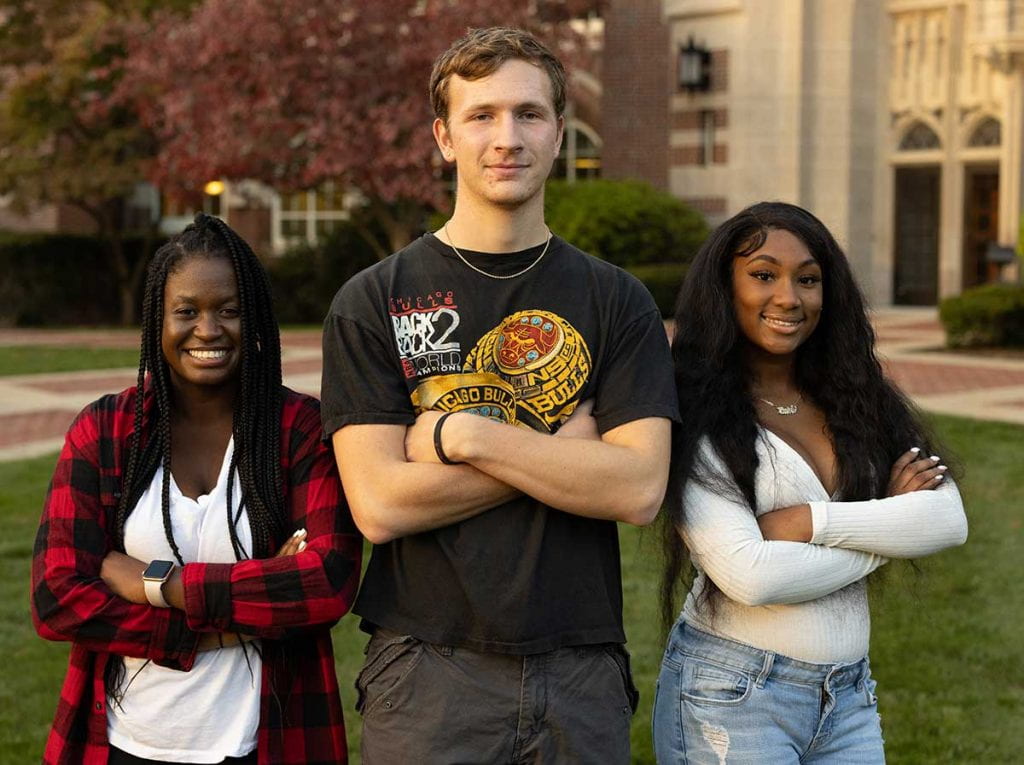 Linda Ineus '22 is from Brooklyn and graduated from Bishop Loughlin in 2018. She is a senior studying biology on a pre-med track and aspires to a career as a pediatrician. She was among the top of her class during her senior year at Bishop Loughlin, so her guidance counselor thought she would be a good candidate for the Stride Scholarship. Ineus did not originally intend to apply to PC, which she now calls her "home away from home." She said Friartown encourages her to be the best person she can be. "With my degree, I hope to impact the world around me and make a difference, especially in the lives of underprivileged people," she said. Ineus was involved in school ministry at Bishop Loughlin and now is president of Campus Ministry at PC. Campus Ministry is her support system, allowing her to keep her faith as part of her college life. Ineus also is a member of the Dance Club and Student Alumni Ambassadors. She also is a student worker in the Office of Institutional Advancement.
Anastasia Hussett '24, also a Brooklyn native, graduated from Bishop Loughlin in 2020 and is a sophomore and political science major. The possibility of receiving the Stride Scholarship was presented by her guidance counselor during her senior year based on the grades she earned throughout high school. Hussett described PC as a "huge blessing." She admires the professors she had during her first year and met her best friend at the college. Hussett plans to attend law school after graduation and someday have a career as a lawyer.
Ronan McGouran '25 graduated from Bishop Loughlin in June and is an economics major. He is a Brooklyn native, born and raised a mile from the high school. McGouran credits the close relationships he built with the staff at Bishop Loughlin for his procurement of the Stride Scholarship. He described the PC campus environment as "warm and welcoming." He is a member of Best Buddies, the Fashion Club, Club Basketball, and Peer Ministry. He hopes to pursue his master's degree in economics after graduation, with hopes of becoming an economist or financial advisor. One of his short-term goals is to obtain a spot on the Providence College men's basketball team as a walk-on player.
More Providence College news